Lamborghini - page 16
Lamborghini Huracan EVO
1/18 by Ravensburger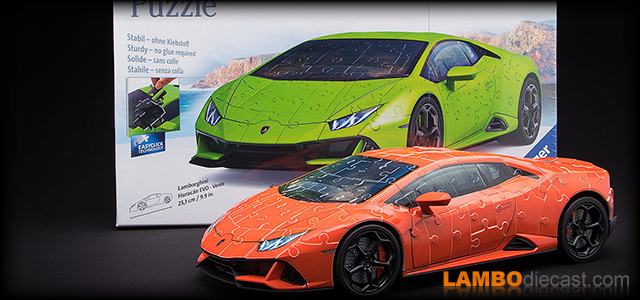 I already own the orange version of this 3D puzzle of the Lamborghini Huracán EVO from Ravensburger, so when I saw this green one being released I just had to add it to the collection too.
Lamborghini Countach LP500S
1/18 by Kyosho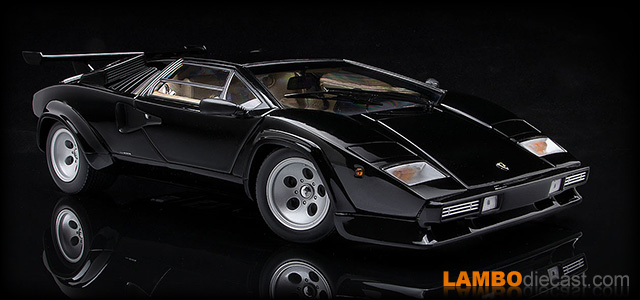 I never got around to buying the black Lamborghini Countach from Kyosho as I opted for the AUTOart one many years ago, but today I added this extremely rare model to the collection anyway.
Lamborghini Diablo GTR
1/18 by Hotwheels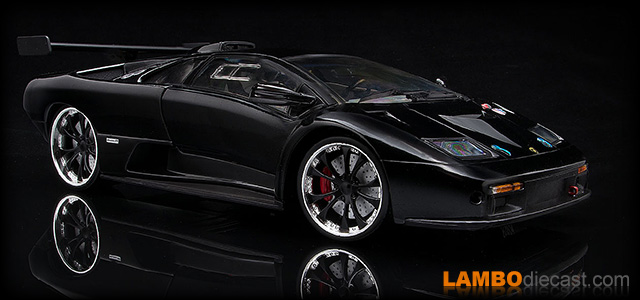 In Europe this black Lamborghini Diablo GTR from Hotwheels in their Whips series is extremely rare, this 310 Motoring edition seemed to be sold in the US only, but I managed to add one to the collection anyway.
Lamborghini Huracan EVO
1/18 by MR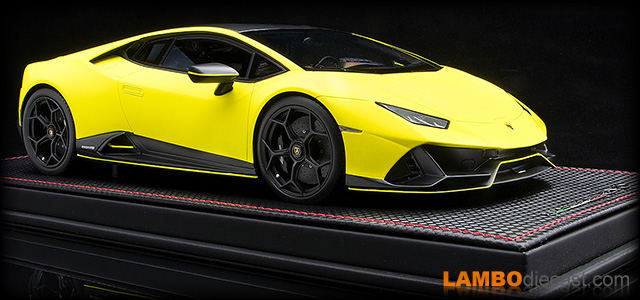 This is an extremely rare, limited edition model from MR on the Lamborghini Huracán EVO Fluo Capsule, this specific model is finished in Giallo Clarus, a matte yellow, this one is nr 10/25
Lamborghini Murcielago LP640
1/18 by Maisto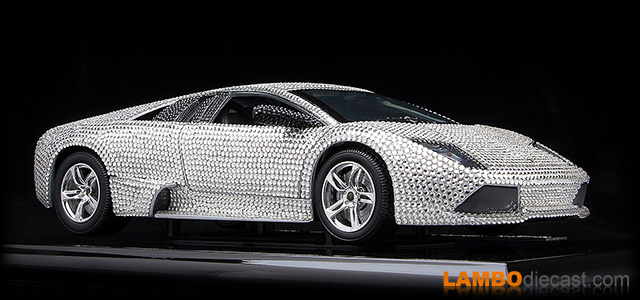 This isn't your regular Maisto-made 1/18 scale Lamborghini Murciélago LP640 model, this one is a limited-edition 'bedazzled' version.
Lamborghini Diablo SE30 Jota
1/18 by AUTOart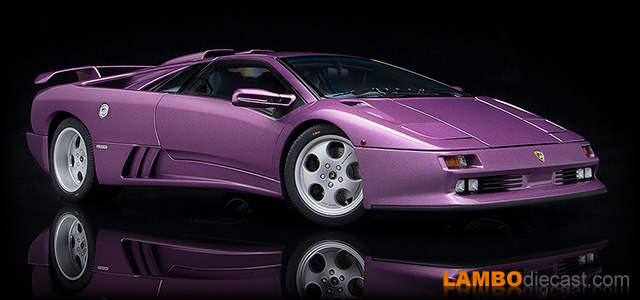 Finally, AUTOart create a new release of the Lamborghini Diablo series, the first one to arrive is this stunning-looking Diablo SE30 Jota in the classic 30th-anniversary purple.
Lamborghini Aventador SVJ
1/18 by AUTOart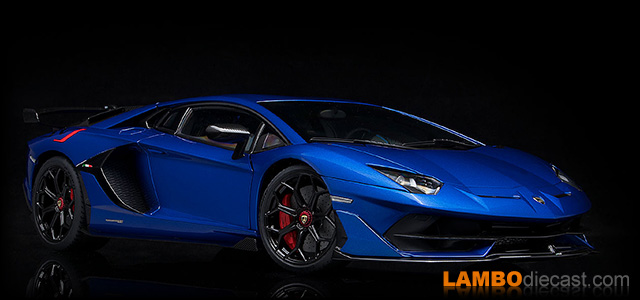 After the initial five shades from AUTOart on the Lamborghini Aventador SVJ on a 1/18 scale, they released this Blu Nethuns as a sixth one, and she looks amazing.
Lamborghini Diablo SE30 Jota
1/18 by AUTOart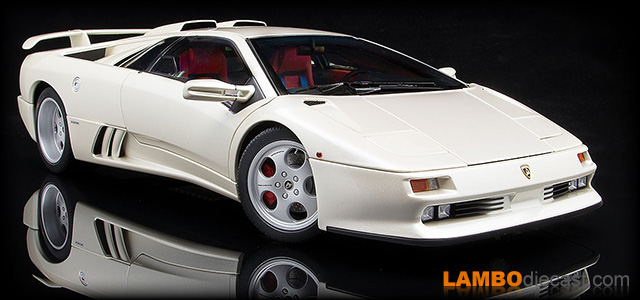 I really like the Diablo SE30, especially in the classic Viola 30th shade, but I have to admit this Balloon White on red Diablo SE30 JOTA by AUTOart is simply stunning.
Lamborghini Diablo SE30 Jota
1/18 by AUTOart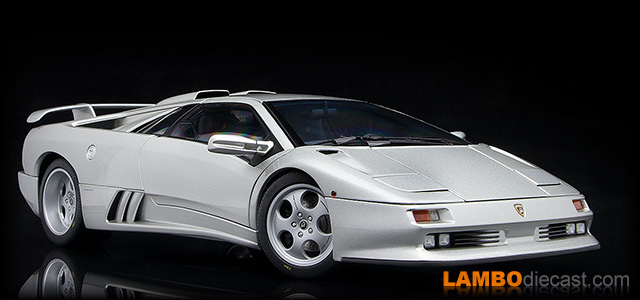 This color on the AUTOart 1/18 scale Lamborghini Diablo SE30 JOTA is called Titanio, which is Italian for titanium, and despite having a simple black interior, the blue seatbelts make her look really nice.
Lamborghini Miura P400
1/18 by AB Models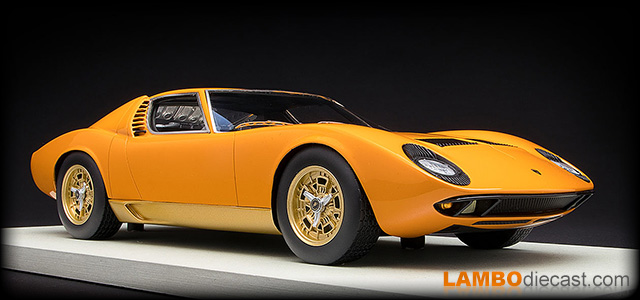 This orange Lamborghini Miura in 1/18 scale seems to be a replica of an early prototype, hence the transparent engine cover and the 'boxed' air filters
Lamborghini Countach LP400S
1/32 by Lego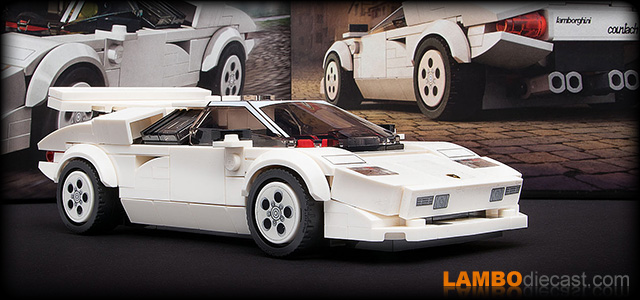 These Speed Champion models from LEGO are just too good to pass, especially when they release a model of the legendary Lamborghini Countach.
Lamborghini Murcielago LP670-4 R-SV
1/18 by Spark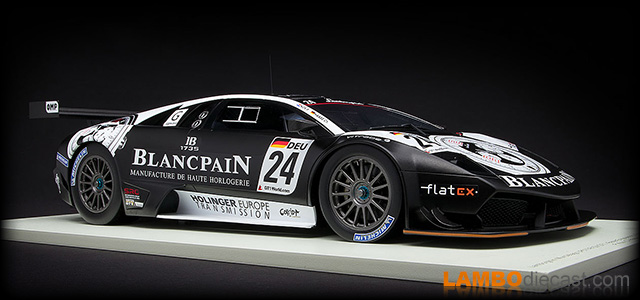 I have bought the presentation version of the 2010 Lamborghini Murciélago R-SV by Reiter Engineering made by MR when it came out, but this race livery version from Spark just had to join the collection, and she looks great.
Lamborghini Murcielago 6.2
1/18 by Hotwheels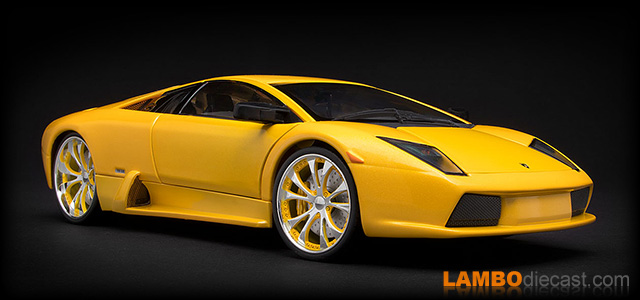 This bright yellow 1/18 scale Lamborghini Murciélago by Hotwheels isn't your regular 6.2 model, this one comes from their Whips series and appears to be made by West Coast Customs
Lamborghini Essenza SCV12
1/18 by MR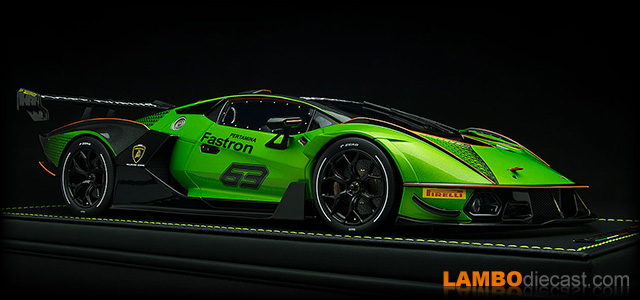 When Lamborghini unveiled the Essenza SCV12, a track-only model based on the Aventador tub, created by Squadra Corse, I just knew I had to add a model of this amazing car to my collection.
Lamborghini Huracan STO
1/18 by MR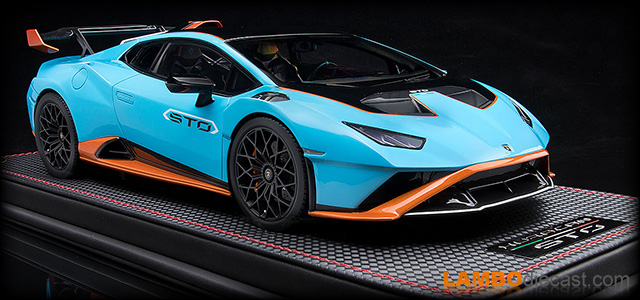 It took a very long time to arrive, but I finally was able to add the Blu Laufey finished Lamborghini Huracán STO made by MR on a 1/18 scale to my collection, and she's absolutely stunning.