Lamborghini - page 60
Lamborghini Reventon
1/24 by Mondo Motors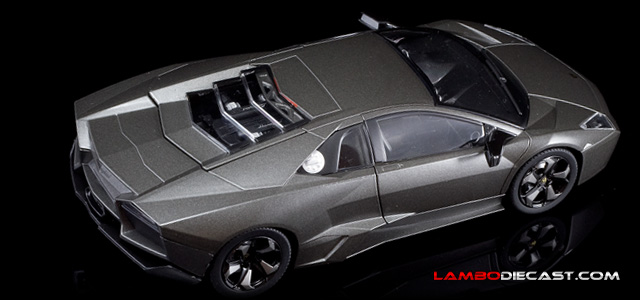 Yet another Lamborghini Reventon made by Mondo Motors, this time in a smaller 1/24 scale however, and frankly it looks really nice, especially if you display it together with it's larger and smaller counterparts.
Lamborghini Countach LP400
1/43 by Kyosho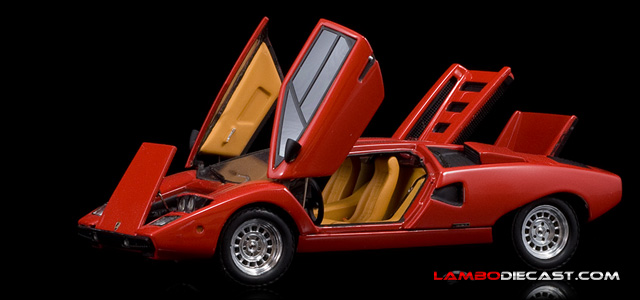 This very special 1/43 scale model of the classic Lamborghini Countach LP400 is made by Kyosho but it has been designed with the help of MR ... and it features opening parts, very special in this small scale.
Lamborghini Miura Jota
1/43 by Minichamps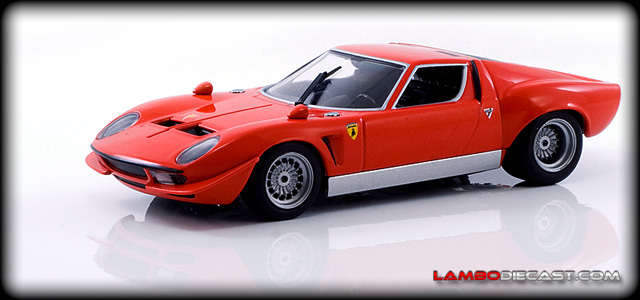 The original Lamborghini Miura Jota built by Bob Wallace has now been very nicely rebuilt in a 1/43 scale model by Minichamps ... if they would only offer it in large 1/18 too, that would be great.
Lamborghini Gallardo LP560-4
1/43 by Looksmart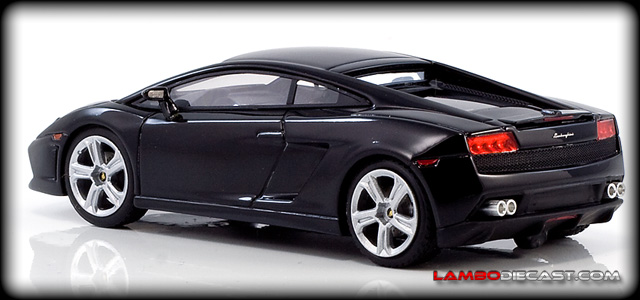 The stunning Lamborghini Gallardo LP560-4 finally made it into a scale model, this stunning 1/43 unit made by Looksmart is an excellent addition to your collection.
Lamborghini Miura SVJ Roadster
1/43 by Looksmart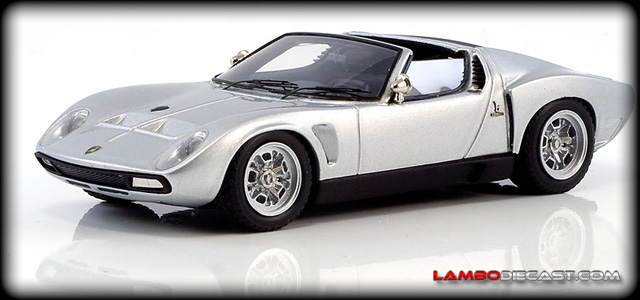 This is a one of a kind Lamborghini Miura, it is actually a factory built SVJ that has been converted into a Roadster edition, perfectly rendered in 1/43 scale by Looksmart.
Lamborghini Canto L147
1/43 by Looksmart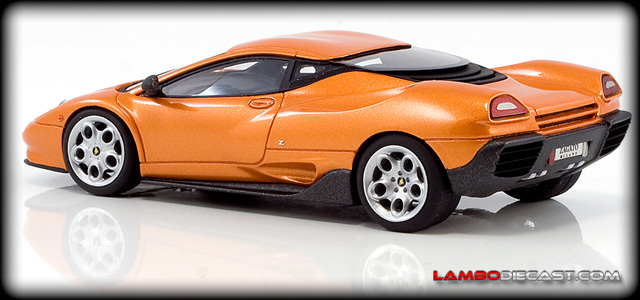 When the Diablo was reaching it's end of production the successor wasn't ready yet, however Zagato did make the L147 Canto prototype that was fully functional.
Lamborghini Murcielago Roadster
1/18 by AUTOart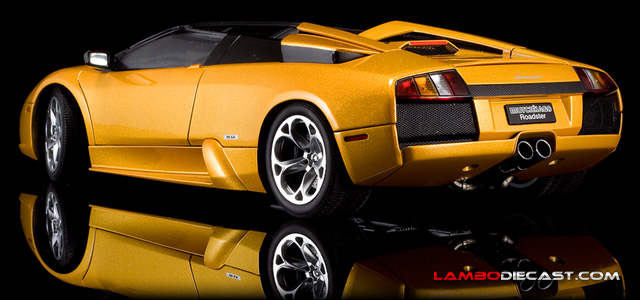 This is a very special color on the 1/18 reproduction of the stunning Lamborghini Murcielago Roadster by AutoArt, a nice gold metallic shade really makes the design of this convertible stand out.
Lamborghini Gallardo 5.0
1/18 by AUTOart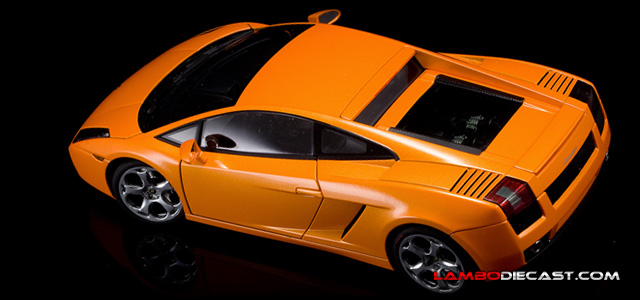 Arancio Borealis, a pearl metallic orange shade sure looks great on the Lamborghini Gallardo, even in 1/18 scale made by AutoArt. Note that this is the model with a glass engine cover.
Lamborghini Reventon
1/43 by Hotwheels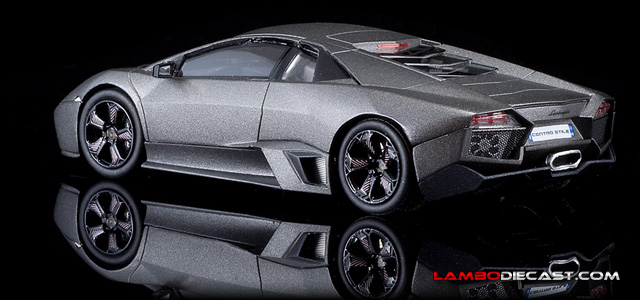 This is a 1/43 limited edition scale model from Hotwheels in their Elite range, the model depicts the very rare, 1 million Euro Lamborghini Reventon super car as it was shown on the 2007 Frankfurt IAA.
Lamborghini Diablo GTR
1/18 by Hotwheels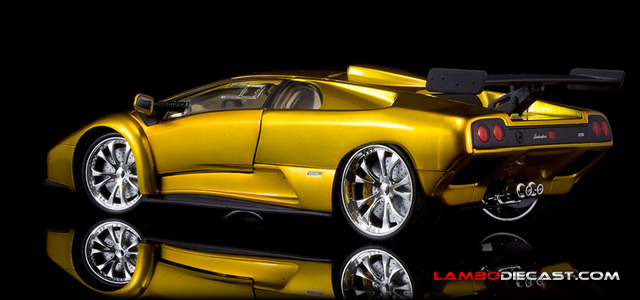 This is one of the more special models made by Hotwheels in their Whips tuning series, a 1/18 scale model of the Lamborghini Diablo GTR, highly tuned and finished in a special metallic shade.
Lamborghini Countach LP400S
1/43 by IXO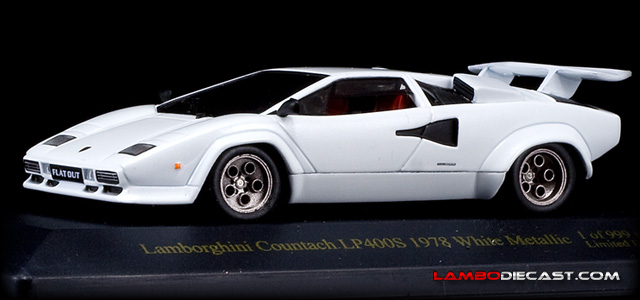 This limited edition scale model of the legendary Lamborghini Countach LP400S was built by IXO for ZiL, this is the only LP400S model from IXO that has those amazing Bravo style wheels.
Lamborghini Countach Quattrovalvole
1/43 by IXO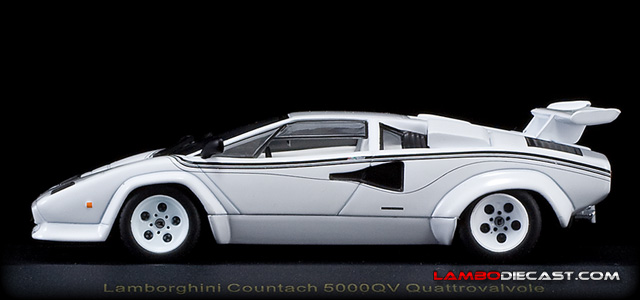 This stunning looking white 1/43 scale model of the Lamborghini Countach Quattrovalvole is actually based on a very special model as it is located in Japan.
Lamborghini Diablo GTR
1/43 by Kyosho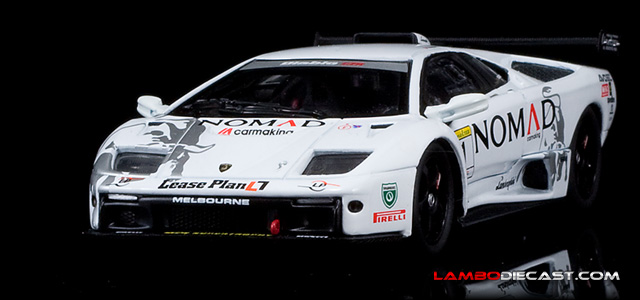 This magnificent looking Lamborghini Diablo GTR was actually racing in Japan, the Nomad was rather well known, now nicely reproduced in 1/43 scale by none other than Kyosho.
Lamborghini Gallardo Raeder Motorsport
1/43 by Minichamps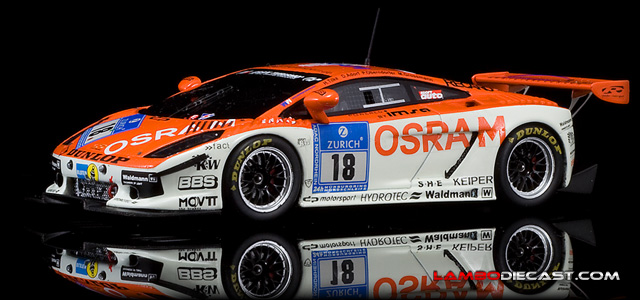 This highly customized Lamborghini Gallardo ran in the 2007 Nurnburgring 24h race, were it was entered by Raeder Motorsport. Minichamps made a stunning 1/43 scale model of this unique V10.
Lamborghini Miura Concept
1/43 by Mondo Motors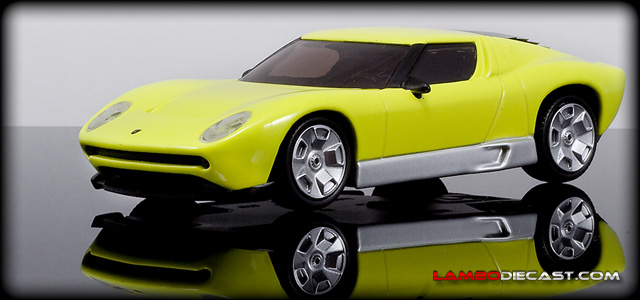 Back in 2006 Lamborghini unveiled an amazing concept, a stunning car based on the legendary Miura from the Sixties, unfortunately it would never be built, so we have to revert to a scale model.