| | |
| --- | --- |
| 83 items listed | Page : 1 2 3 4 5 6 |
Green - page 1
Lamborghini 350 GTV
1/43 by Starline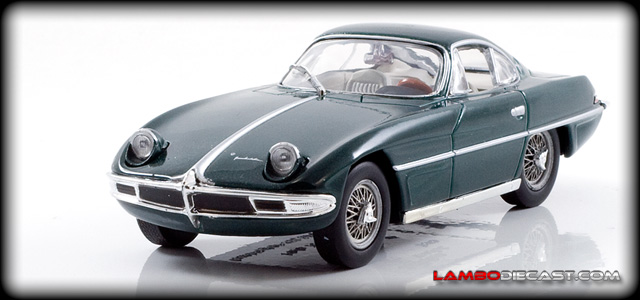 After being in storage the original Lamborghini 350 GTV prototype was restored to it's former glory at great expense, this 1/43 scale model from Starline is a really nice opportunity to admire it in your collection.
Lamborghini Aventador LB-Works
1/18 by GT Spirit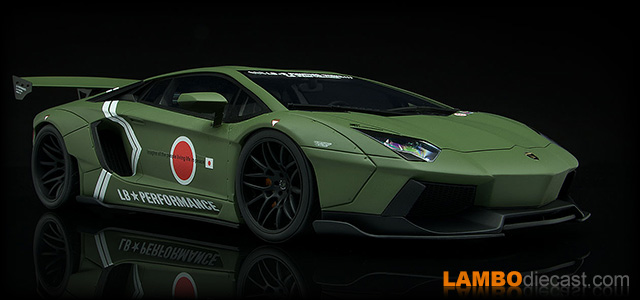 This Khaki version on the Lamborghini Aventador LB-Works by GT Spirit was released a little after the initial grey Zero Fighter version, this is number 359/500
Lamborghini Aventador S
1/18 by AUTOart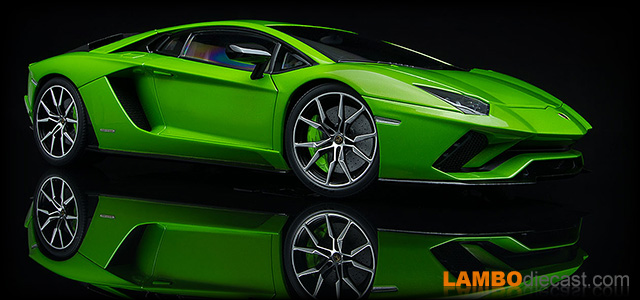 When Lamborghini had a dynamic launch for the new Aventador S, one of the four shades available was this Verde Mantis, AUTOart created a beautiful 1/18 replica of that car.
Lamborghini Aventador SVJ
1/18 by AUTOart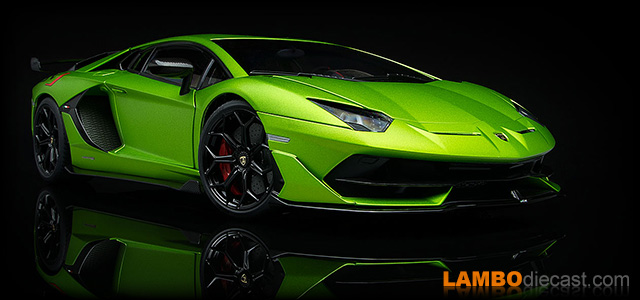 Right from the start, I knew this Verde Alceo was the shade to get for the 1/18 AUTOart Lamborghini Aventador SVJ because it was the press release color, and I love adding those to the collection.
Lamborghini Aventador SVJ
1/64 by Tomica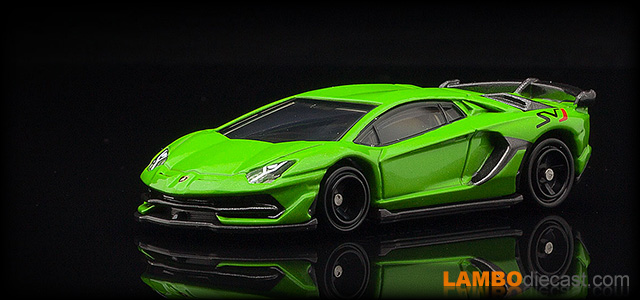 Bright green toy model of the Lamborghini Aventador SVJ made by Takara Tomy Tomica
Lamborghini Bravo
1/64 by Kyosho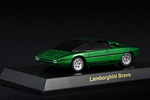 The one of a kind Lamborghini Bravo concept built by Bertone now in a small 1/64 scale by Kyosho, finished in green metallic.
Lamborghini Carabo
1/43 by Solido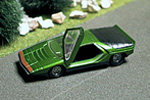 The Carabo concept car from Bertone would show the doors that would later on be used on the Countach.
Lamborghini Carabo
1/43 by Dinky Toys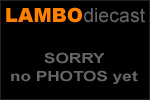 An original Dinky Toys scale replica of the Bertone Carabo concept car which would be the inspiration for the Countach door system
Lamborghini Centenario LP770-4
1/18 by AUTOart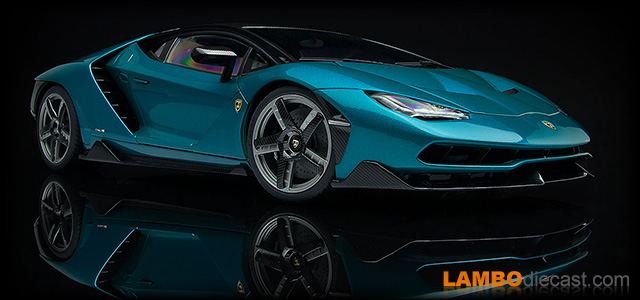 We all know Verde Artemis as the very special shade used by Lamborghini on their 40th Anniversary Murciélago edition, but AUTOart now released it on the Centenario too on a 1/18 scale, and it's still a great looking metallic paint.
Lamborghini Centenario LP770-4
1/18 by Maisto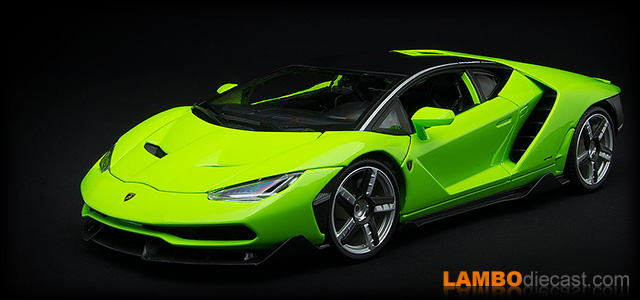 Another shade from Maisto on the 1/18 scale Lamborghini Centenario LP770-4, this time a bright green, I just had to buy it to keep my other Maisto Centenario company.
Lamborghini Centenario LP770-4
1/64 by Maisto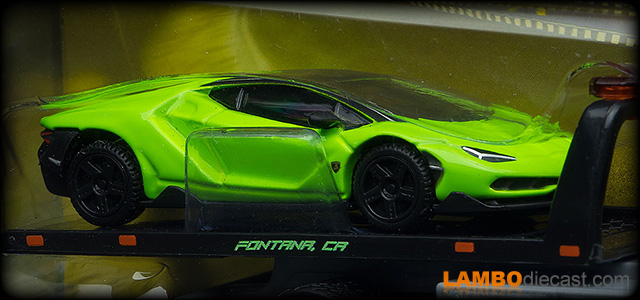 I sometimes buy these models when I order something more expensive to offset shipping costs, but these 1/64 scale models are just too much fun not to add, like this Centenario on a flatbed hauler.
Lamborghini Centenario LP770-4 Roadster
1/18 by AUTOart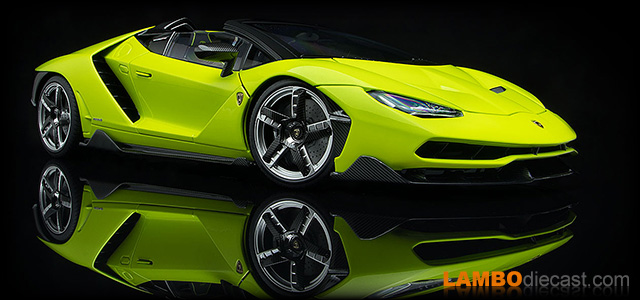 AUTOart calls this shade Verde Scandal, and I have to say, it fits the Lamborghini Centenario Roadster perfectly, it's a great addition to the collection.
Lamborghini Countach LP400S
1/32 by Unknown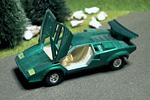 A mere toy, but it still depicts a Lamborghini Countach LP400S
Lamborghini Countach LP500S
1/64 by Matchbox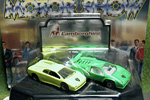 A special set from Matchbox featuring a Diablo and a Countach in 1/64 scale.
Lamborghini Countach Production prototype
1/18 by Kyosho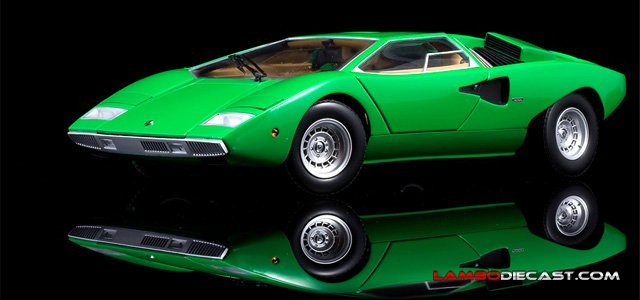 This green over brown interior 1/18 model from Kyosho nicely reproduced the original factory production prototype for the Countach LP400 model, a few things would be changed on the production car.
| | |
| --- | --- |
| 83 items listed | Page : 1 2 3 4 5 6 |