| | |
| --- | --- |
| 99 items listed | Page : 1 2 3 4 5 6 7 |
Grey - page 2
Lamborghini Aventador Ultimae
1/18 by MR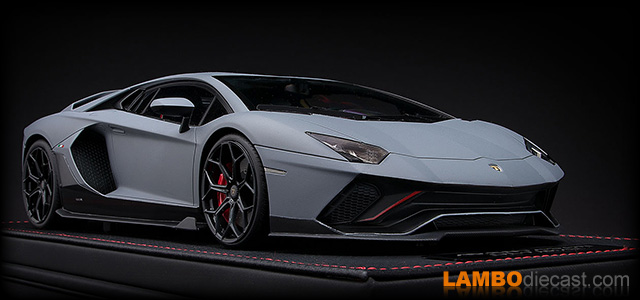 This is the 1/18 MR-made scale model of the final NA V12 model Lamborghini will ever build, the Aventador Ultimae. This is the press release shade, Grigio Acheso. #110/149
Lamborghini Centenario LP770-4
1/18 by Maisto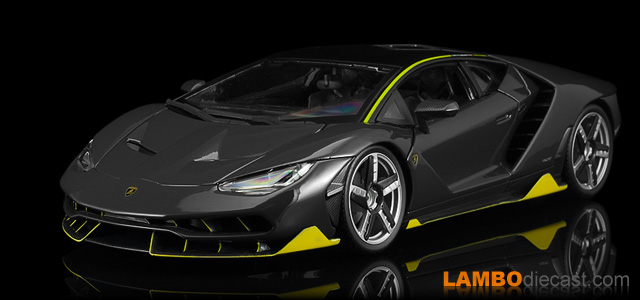 When I heard about Maisto releasing a 1/18 scale model for the limited edition Lamborghini Centenario I was rather happy, finally a low cost model of this important car.
Lamborghini Centenario LP770-4
1/64 by Bburago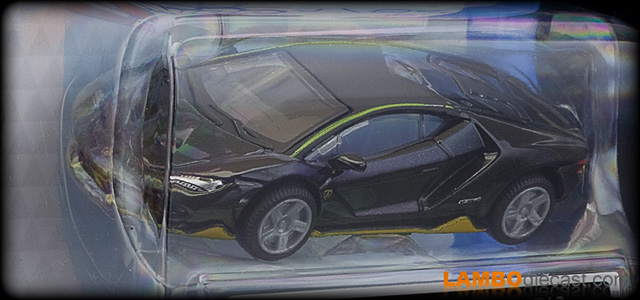 Bburago also has a series of smaller, 1/64 scale models, this grey Lamborghini Centenario is one of those.
Lamborghini Centenario LP770-4
1/64 by Kyosho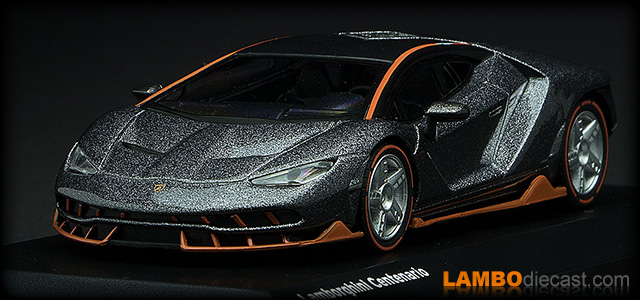 These 1/64 scale Kyosho models aren't toys, they are actual collectable models, and this Lamborghini Centenario in grey looks really nice
Lamborghini Countach Evoluzione
1/43 by White Box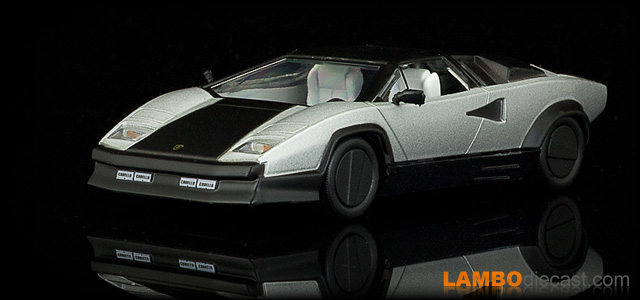 The 1987 Lamborghini Countach Evoluzione was a test bed for a composite chassis car, the Bull of the future.
Lamborghini Countach Quattrovalvole
1/43 by Ixo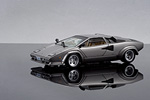 A rather unusual shade on the Countach Quattrovalvole, but this 1/43 model made by Ixo sure looks nice in this shade.
Lamborghini Diablo 2wd
1/18 by Bburago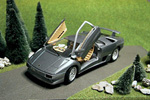 Yet another shade from Bburago on the Lamborghini Diablo, this grey metallic does suit the car well to be honest.
Lamborghini Diablo 2wd
1/43 by Macadam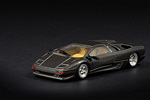 A really nice gun metal grey shade on this 1/43 scale model of the Lamborghini Diablo made by Macadam.
Lamborghini Diablo VT
1/24 by Revell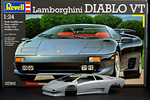 A very nice 1/24 scale plastic kit released by Revell on the then new Lamborghini Diablo VT.
Lamborghini Egoista
1/18 by MR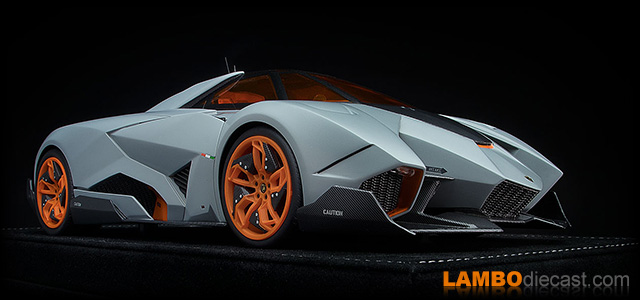 I couldn't afford to buy the MR-made 1/18 scale Lamborghini Egoista when released and afterward, prices went ballistic, so I was extremely happy to be able to find this one locally for a reasonable price.
Lamborghini Estoque
1/18 by Mondo Motors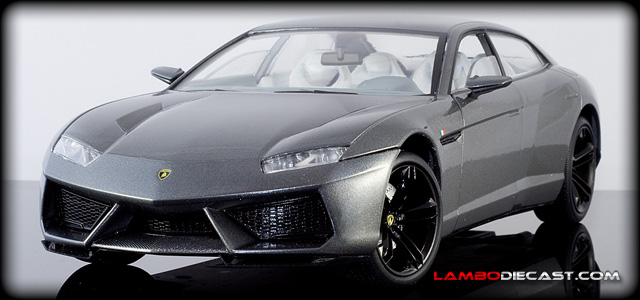 I have personally seen the Lamborghini Estoque when it was unveiled in Paris in 2008, so when I heard about Mondo Motors bringing a big 1/18 scale model of this concept I didn't hesitate to order one for my collection.
Lamborghini Estoque
1/24 by Mondo Motors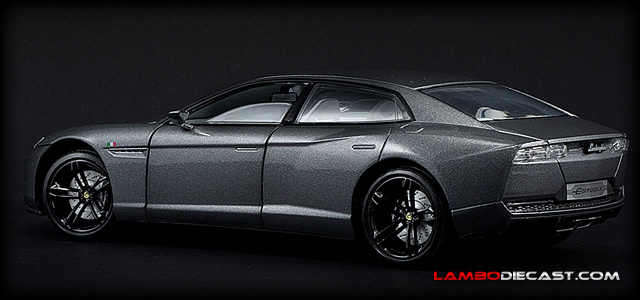 Mondo Motors is just about the only company that is building scale models of the amazing Lamborghini Estoque in both 1/18 and 1/24 scale, and for the price these models go for you should get one.
Lamborghini Estoque
1/43 by Mondo Motors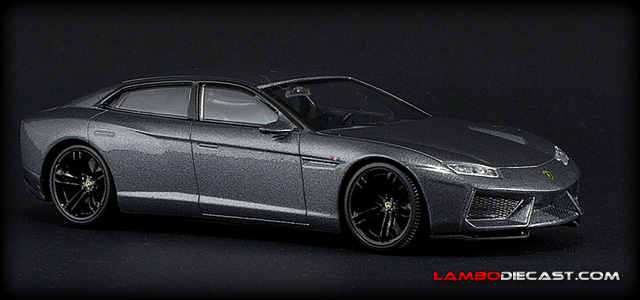 Perhaps not the most exciting 1/43 model of the Lamborghini Estoque, but Mondo Motors sure did a nice job with this one, too bad they put a black interior in it.
Lamborghini Estoque
1/64 by Hotwheels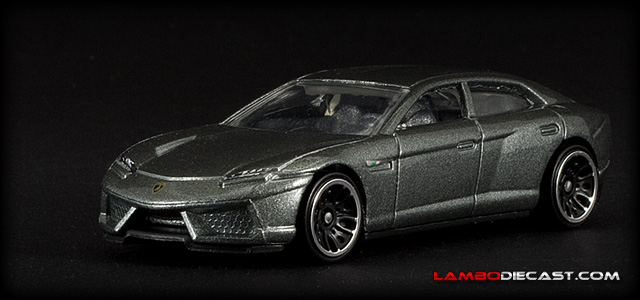 A nice, small toy car made by Hotwheels in 1/64 on the Lamborghini Estoque concept car from the Paris Auto Show.
Lamborghini Gallardo GT3 FL2
1/18 by AUTOart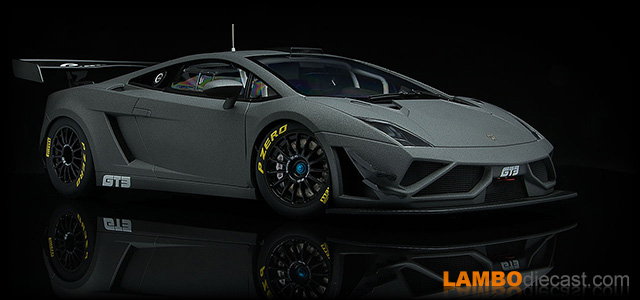 This matt grey version of the 2013 Lamborghini Gallardo GT3 FL2 completes my collection of all four shades AUTOar made this 1/18 scale model in.
| | |
| --- | --- |
| 99 items listed | Page : 1 2 3 4 5 6 7 |