The year 2013 was a very important year for Automobili Lamborghini SpA, as they were celebrating their 50th Anniversary that year, being founded by the late Ferruccio Lamborghini in 1963, fifty years later they gathered an unseen amount of Lamborghini cars to participate in the Grande Giro, a road trip through Italy that would culminate in a massive celebration right at the factory, and 2013 was also the year they introduced quite a few special edition models to celebrate their anniversary.
It all started in March at the Geneva Motor Show with the LeMans-inspired Veneno LP750-4, a true masterpiece, limited to just 3 units, all sold out even before any of us even saw the actual car, later on, there was a limited-edition Aventador LP720-4 shown at the Shanghai Motor Show, finished in a beautiful Giallo Maggio over a two-tone black and yellow interior, with Q-Citura stitching, the quilted style, which wasn't available before on the Aventador.
The Aventador LP720-4 50th Anniversary also came with a bespoke front and rear bumper design to set it apart from the standard LP700-4 at the time, and more importantly, production was limited to just 100 units, and that exclusivity came with a premium, the Lamborghini Aventador LP720-4 had an MSRP of US$ 497,650 … which happened to be $100,150 more than the standard Aventador LP700-4.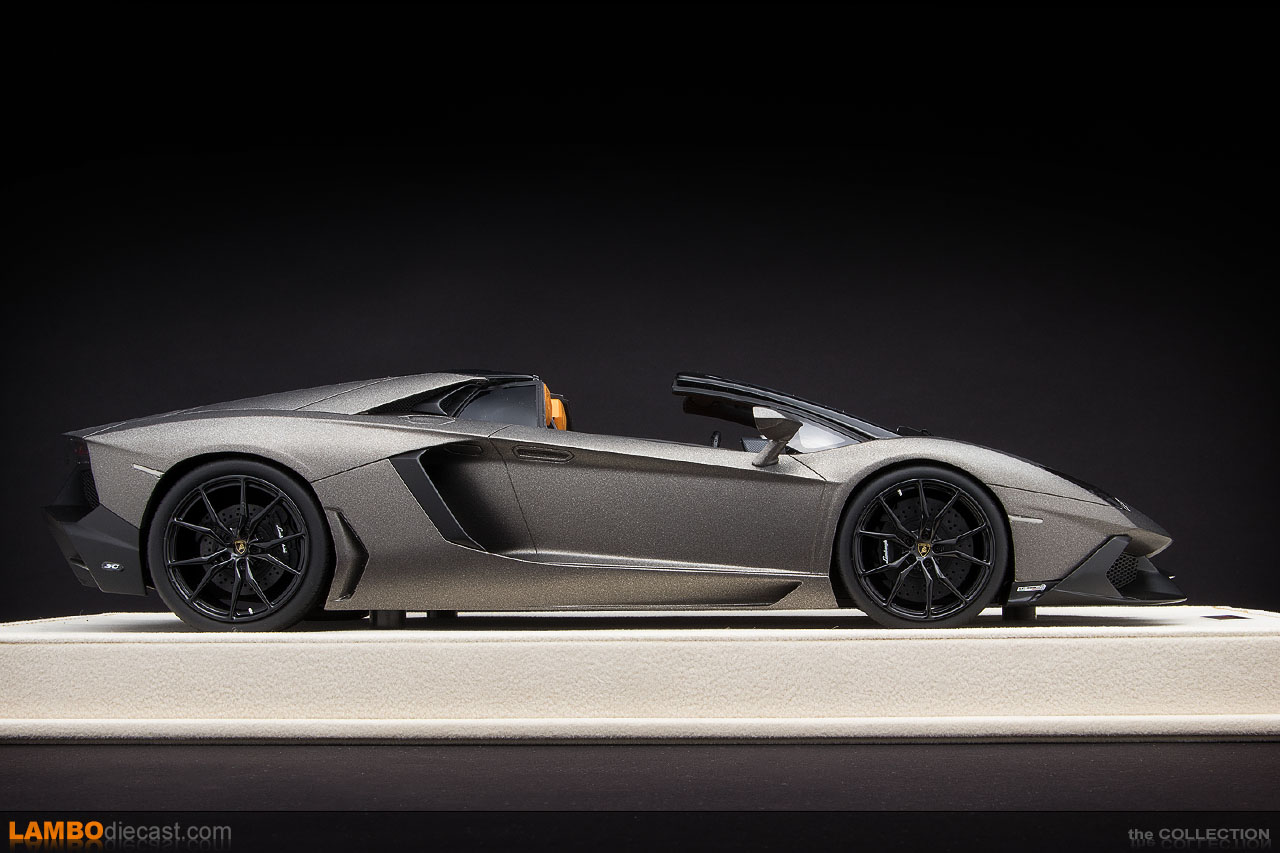 Back to the Grande Giro I mentioned earlier, it ran from Milan to Bologna on May 7 to 11, 2013, and when participants arrived at the factory for the Gala Dinner on Saturday, where they would get to see the Egoista for the first time, they were also greeted not only by the Giallo Maggio Coupe but a Grigio Titans Roadster, the Aventador LP720-4 50th Anniversary Roadster, once again limited to just 100 units, this one was priced at US$ 548,000 … a hefty premium of $150,500 over the standard Aventador LP700-4 and $106,300 more than the Aventador LP700-4 Roadster back in 2013.
The official reveal of the Lamborghini Aventador LP720-4 Roadster was during the 2013 Monterey Car Week in August of that year, as the Grande Giro Gala Dinner was a closed venue, so most of the public only got to see this special edition in August, and I have to admit this one looks amazing with that satin grey paint, which isn't the same shade found on the Reventon or Reventon Roadster mind you, combined with an amazing Nero Ade with Terra Emilia interior, also featuring the special Q-Citura stitching of course.
MR released this model not at the LAMBO14A, which is usually the press release/show car color combination, that item code was the LP720-4 Roadster in Giallo Maggio, for this correct show car version they went with LAMBO14SE, for Special Edition I guess, and it was limited to just 75 units, so this is a very rare, older model indeed, and I was really fortunate to be able to add it, and at a rather reasonable price too.
As AUTOart never released the Roadster version of this specific Aventador model, you are limited to finding one of these rare, sealed resin models from MR, but I haven't seen it listed often over the last few years, so
Originally released in April 2014.
our RATING
| | | |
| --- | --- | --- |
| Exterior | | 9/10 |
| Interior | | 9/10 |
| Engine | | 8/10 |
| Accuracy | | 9/10 |
| Overall rating | | 9/10 |
Original price on August 8, 2022 : € 322