Lamborghini
Lamborghini Gallardo Spyder
1/18 by Bburago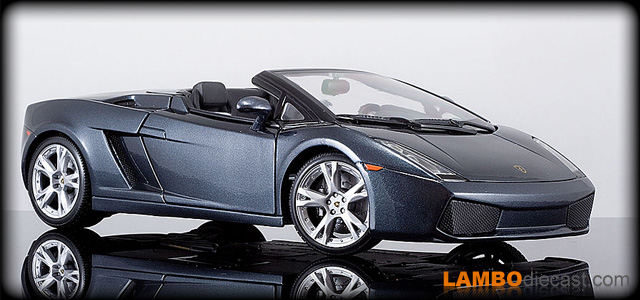 Personally I like a black Lamborghini, so when Bburago made a black Gallardo Spyder in large 1/18 scale I didn't hesitate to add it to my collection, and with the dual tone interior it looks amazing too.
Lamborghini Gallardo Spyder
1/18 by Norev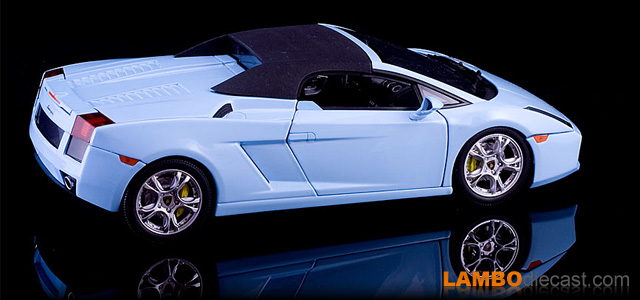 The Lamborghini Gallardo Spyder became available in a special shade of blue when Norev made it's 1/18 model, and best of all they even included a nice little roof.
Lamborghini Gallardo Spyder
1/18 by Maisto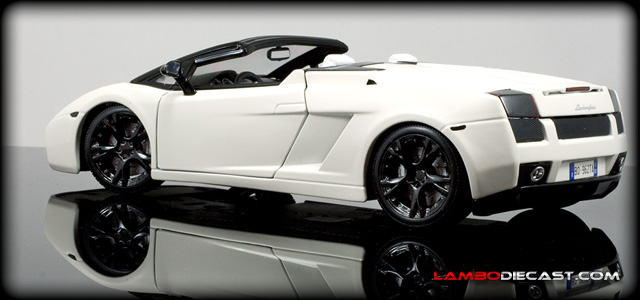 This 1/18 scale model from Maisto of the Lamborghini Gallardo has been customized by me, actually I painted several parts of this model to make it stand out in my collection.
Lamborghini Gallardo 5.0
1/18 by AUTOart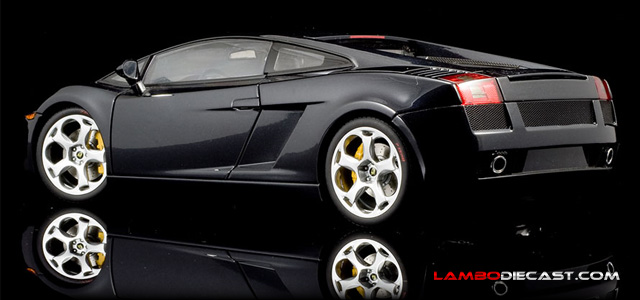 I specifically got this black edition of the Lamborghini Gallardo from AutoArt because it features the optional glass engine cover so we can admire that V10 power unit.
Lamborghini Gallardo 5.0
1/18 by AUTOart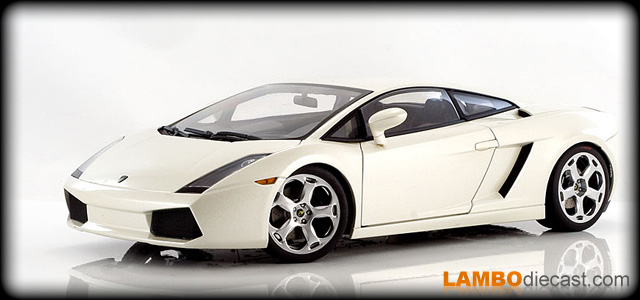 This very special edition of the 1/18 model from AutoArt for the Lamborghini Gallardo is finished in Balloon White, a pearl metallic white shade, subsequently it is rather rare.
Lamborghini Gallardo 5.0
1/18 by Maisto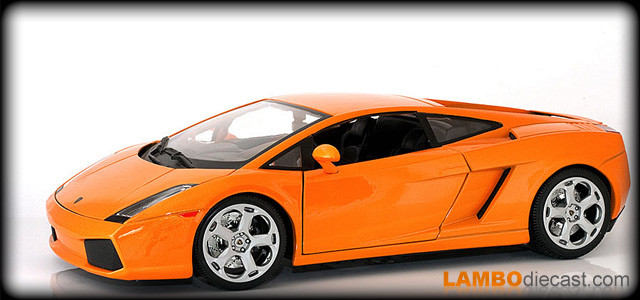 The amazing Lamborghini Gallardo in 1/18 scale model by Maisto finished in bright orange metallic. A shade that has become very popular on this V10 'baby' Lamborghini.
Lamborghini Gallardo 5.0
1/18 by Bburago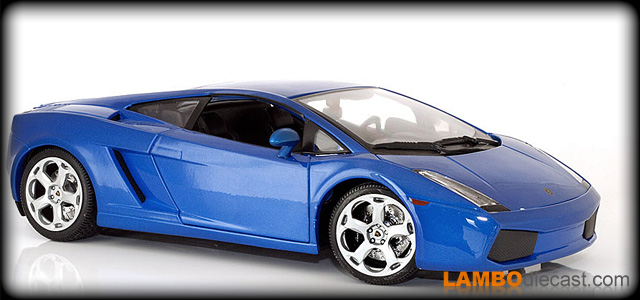 A bright blue metallic version of the great looking Lamborghini Gallardo made by Italian based Bburago, a shade that actually doesn't look out of place on this V10 powered Raging Bull.
Lamborghini Gallardo 5.0
1/18 by Maisto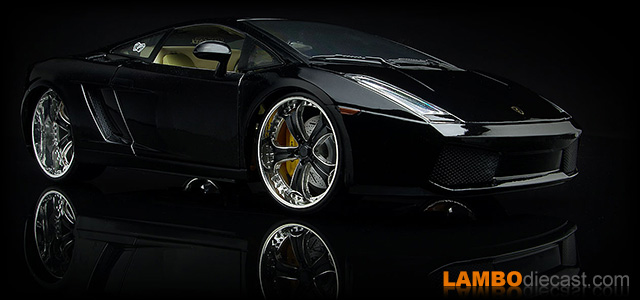 This black Lamborghini Gallardo in 1/18 scale from Maisto is actually part of their Playerz editions, which means that large wheels have been mounted together with impressive audio and visual equipment.
Lamborghini Gallardo Polizia
1/18 by Maisto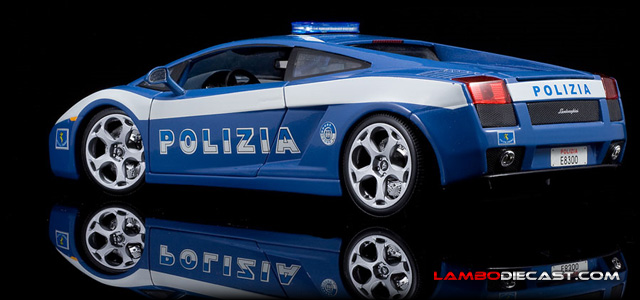 Back in 2004 the Italian State Police force actually received a Lamborghini Gallardo from the factory, Maisto made a really nice 1/18 scale model from this very special V10.
Lamborghini Gallardo Cesam
1/18 by Norev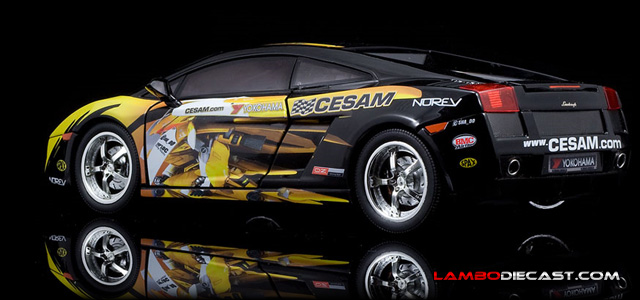 At the 2007 Paris tuning show the French based tuner showed a customized Lamborghini Gallardo featuring chrome wheels and impressive decals, this 1/18 model from Norev shows it off nicely.
Lamborghini Murcielago R-GT
1/24 by Motorama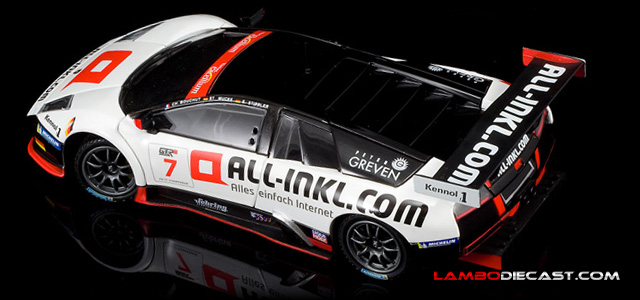 This white Lamborghini Murcielago R-GT competed in the 2007 FIA GT Championship with All-Inkl.com sponsoring, Motorama made a stunning 1/24 scale model from it.
Lamborghini Countach LP500S
1/18 by Kyosho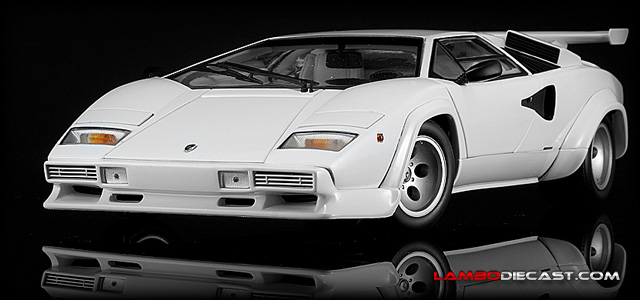 The classic Lamborghini Countach LP500S finished in the very popular color combination of a white body over a white interior, back in those days one of the most sold shades.
Lamborghini Countach 25th Anniversary
1/18 by Ricko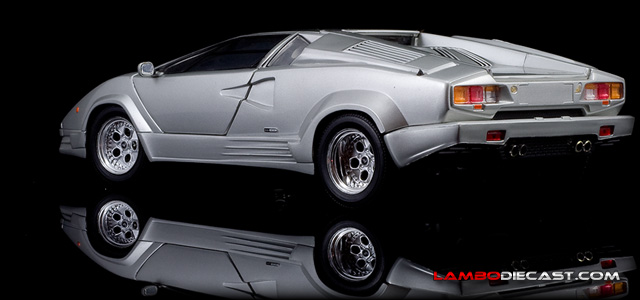 As far as I know this silver metallic car is the only 1/18 scale model available on the market for the very special 25th Anniversary edition of the Lamborghini Countach.
Lamborghini Countach Production prototype
1/18 by Kyosho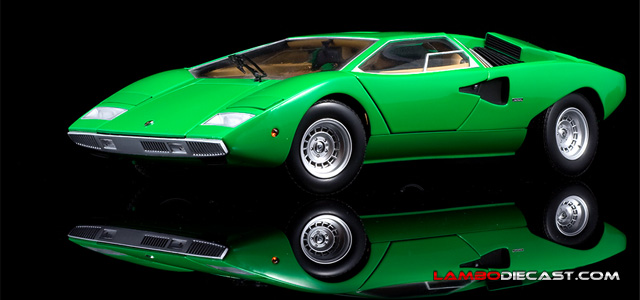 This green over brown interior 1/18 model from Kyosho nicely reproduced the original factory production prototype for the Countach LP400 model, a few things would be changed on the production car.
Lamborghini Countach LP400
1/18 by Kyosho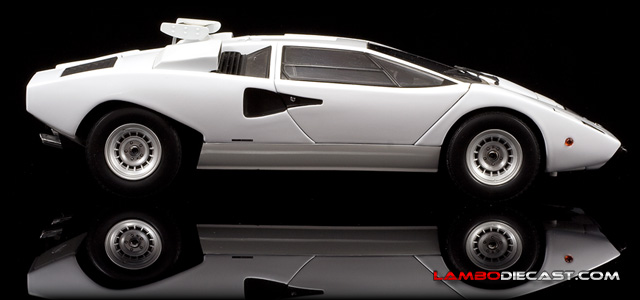 This white Lamborghini Countach was in fact the first car customized for Walter Wolf, a Canadian Race team owner that would order several custom Countach afterwards.