Lamborghini
Lamborghini Diablo GT
1/43 by Kyosho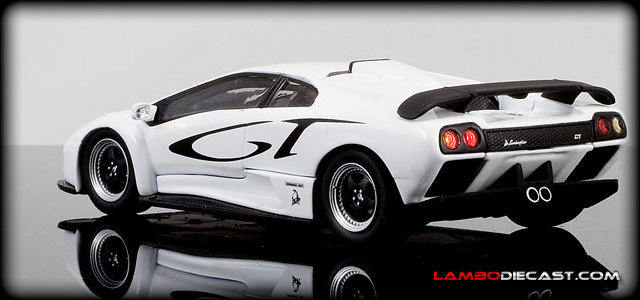 This nice little 1/43 scale model of the limited edition Lamborghini Diablo GT made by Kyosho even features an opening engine cover revealing a small V12 reproduction
Lamborghini LM 002
1/43 by Provence Moulage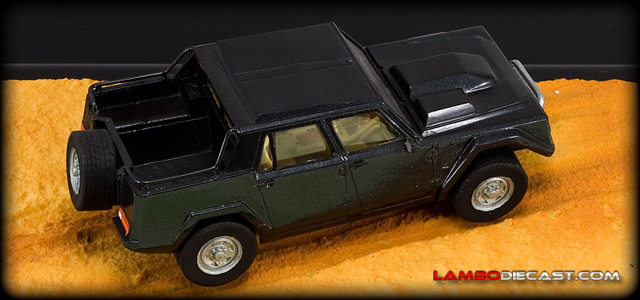 This is a very rare kit, made by French based Provence Moulage, this 1/43 scale model of the impressive Lamborghini LM002 is highly sought after today.
Lamborghini LM 002
1/64 by Kyosho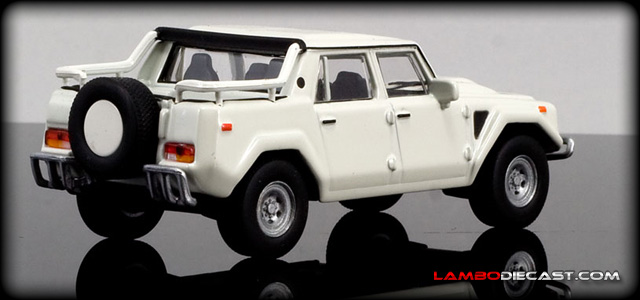 This might be a very small, 1/64 scale model of the Lamborghini LM002 by Kyosho, but it is still nicely detailed, and deserves it's place in the collection like any other model.
Lamborghini Diablo SV
1/18 by AUTOart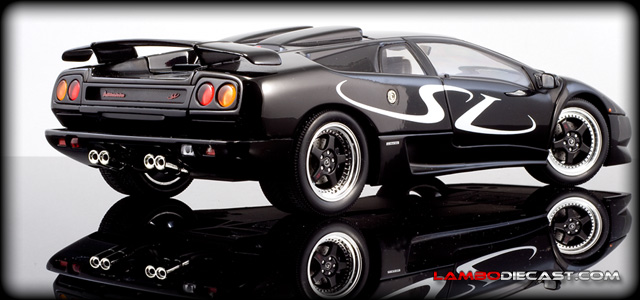 The Lamborghini Diablo is one of my personal favorites among the Diablo range together with the limited edition Diablo GT. This black model from AutoArt is just magnificent.
Lamborghini Diablo VT
1/18 by AUTOart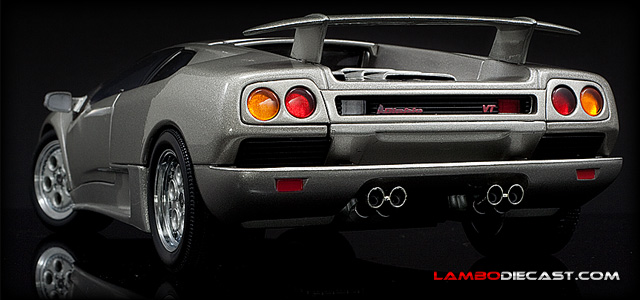 One of the most beautiful 1/18 scale models of the Lamborghini Diablo VT, this silver metallic version by AutoArt is truly amazing and should be present in every Lamborghini collection.
Lamborghini 350 GT
1/18 by Ricko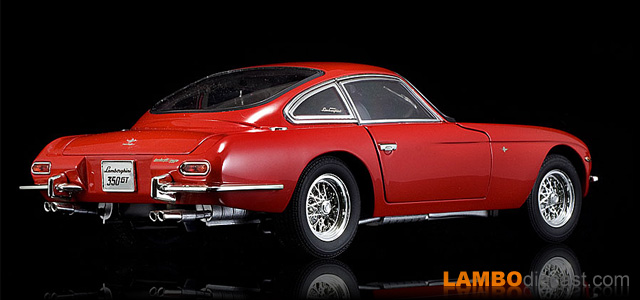 Back in 2009 there was only one builder making a 1/18 model of the Lamborghini 350 GT, Ricko and I must admit that it looks really nice with some great details.
Lamborghini Concept S
1/18 by Mondo Motors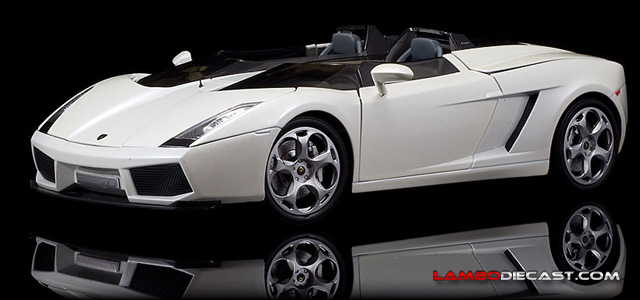 It took a long time, but finally Mondo Motors built a big 1/18 scale model of the one and only Lamborghini Concept S, a stunning design study based on the Gallardo model.
Lamborghini Murcielago 6.2
1/18 by AUTOart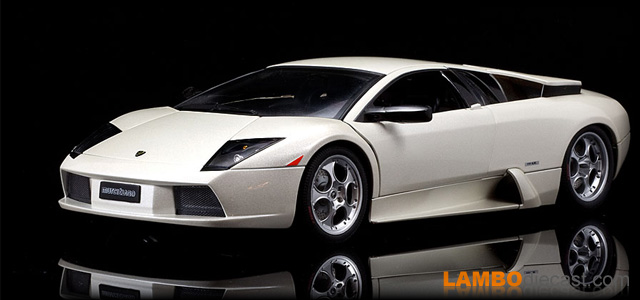 Finished in stunning Balloon White, this 1/18 AutoArt model of the Lamborghini Murcielago 6.2 is really very nice, the color looks just amazing on this V12 flagship.
Lamborghini Murcielago 6.2
1/18 by Hotwheels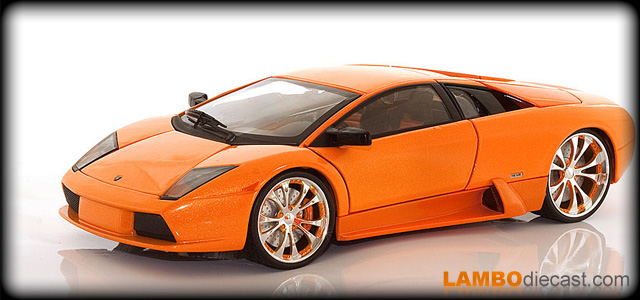 This orange metallic 1/18 scale model by Hothweels of the Lamborghini Murcielago is not your average model, in fact it is a reproduction of a 310 Motoring tuning version.
Lamborghini Murcielago 6.2
1/18 by Bburago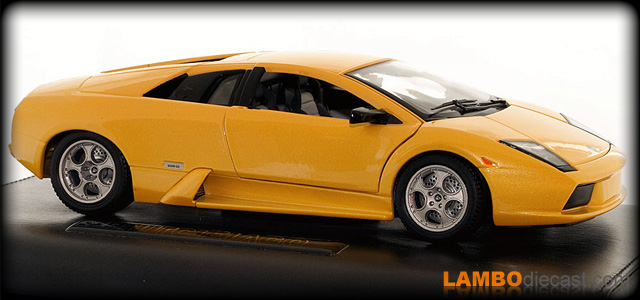 Bburago was the first company to have a 1/18 model of the Lamborghini Murcielago when it was introduced in 2001, this specific model is a factory special, mounted on a leather base.
Lamborghini Murcielago Concept
1/18 by AUTOart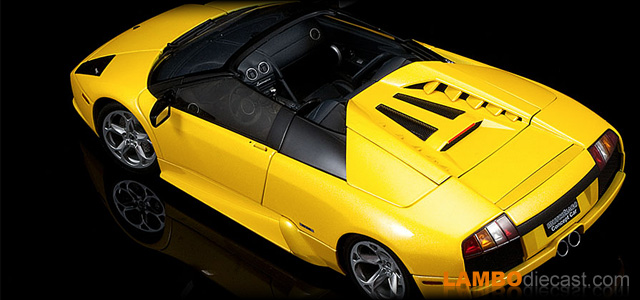 Shortly after the introduction of the original Murcielago Lamborghini unveiled an open top concept, this yellow prototype was re-created by AutoArt in 1/18 scale.
Lamborghini Murcielago Roadster
1/18 by AUTOart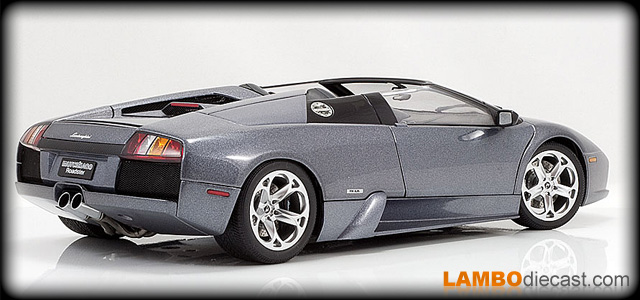 The production version of the Lamborghini Murcielago Roadster looks really nice, and this dark grey metallic reproduction in 1/18 from AutoArt does the Bull justice !
Lamborghini Murcielago Roadster
1/18 by Bburago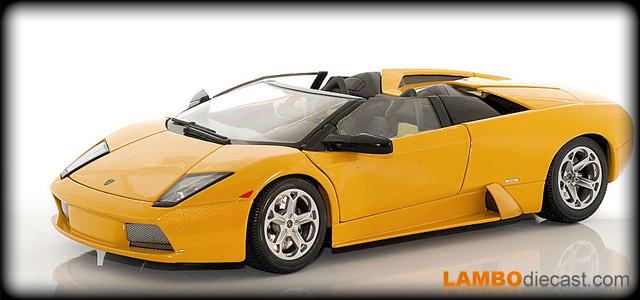 First made by Maisto, the Lamborghini Roadster is now also available from Bburago in large 1/18 scale, they do look very similar however so you should at least add one of them to your collection.
Lamborghini Murcielago Roadster
1/18 by Maisto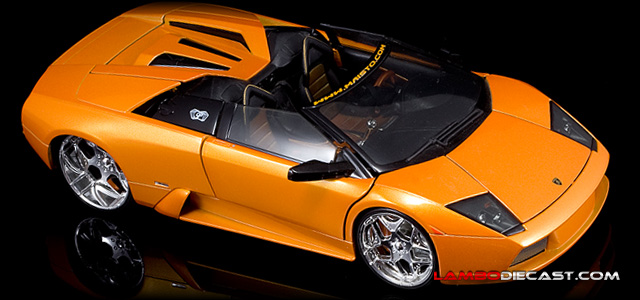 A very special, custom version of the stunning Lamborghini Murcielago Roadster, made by Maisto in their Playerz range which features massive wheels and special, metallic bodywork.
Lamborghini Murcielago LP640
1/18 by Maisto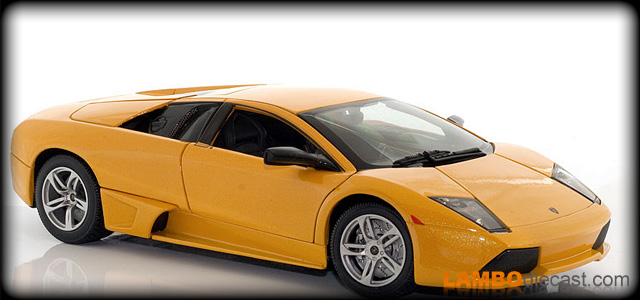 The Lamborghini Murcielago LP640 is without a doubt to most stunning V12 made at Sant'Agata, it did take a while, but now Maisto is offering this 1/18 scale model to complete our collection.