In 2020 Mansory celebrated its 30th Anniversary, and for that occasion, they created an extremely limited production version of their Aventador based complete conversion package, Mansory offers aero packages you can add to a factory original Lamborghini Aventador, but if you want to go more extreme, Mansory released their Carbrera, a full rebody of an Aventador SVJ, and only three would be built.
Mansory even went as far as replacing the headlights on the Aventador base car, and naturally all panels are now Mansory carbon fiber units, made in-house, engine tuning raised total power output to 810 hp with 780 Nm of torque, up from the original 770 hp from the SVJ, the two exhausts from the base car just didn't cut it, so Mansory doubled that number for the Carbrera.
In terms of wheels we get the Lamborghin Veneno inspired wheels in massive 13x21 inch at the rear, front ones are 9x20 inch, naturally fitted with Pirelli P-Zero in 255/30SR20 and 355/25ZR21 respectively to the front and the rear.
As usual the entire interior has been redone by Mansory to the utmost highest standards, now featuring leather and Alcantara combined with their bespoke 'B2 Bomber'-style carbon fiber, and while the intention was to build three units of the Mansory Carbrera, I've only seen this green one, they did show a 'second' unit a while ago finished in a more subtle exterior and an orange interior, but that was just a render it seems, so as far as I know only one single unit was ever built.
I know these Mansory 'specials' aren't to everyone's liking, but I do admire the workmanship seen on these cars, I've been fortunate enough to see several of Mansory's Aventador customizations in real life at events like the Geneva Motor Show, and while some choices might seem questionable, you really can't find a flaw in the execution, the bodypanels all line up perfectly, the interior is simply amazing, and that 'B2 Bomber' pattern of their carbon fiber weave just looks amazing in real life, a 1/18 scale model just isn't able to convey that look.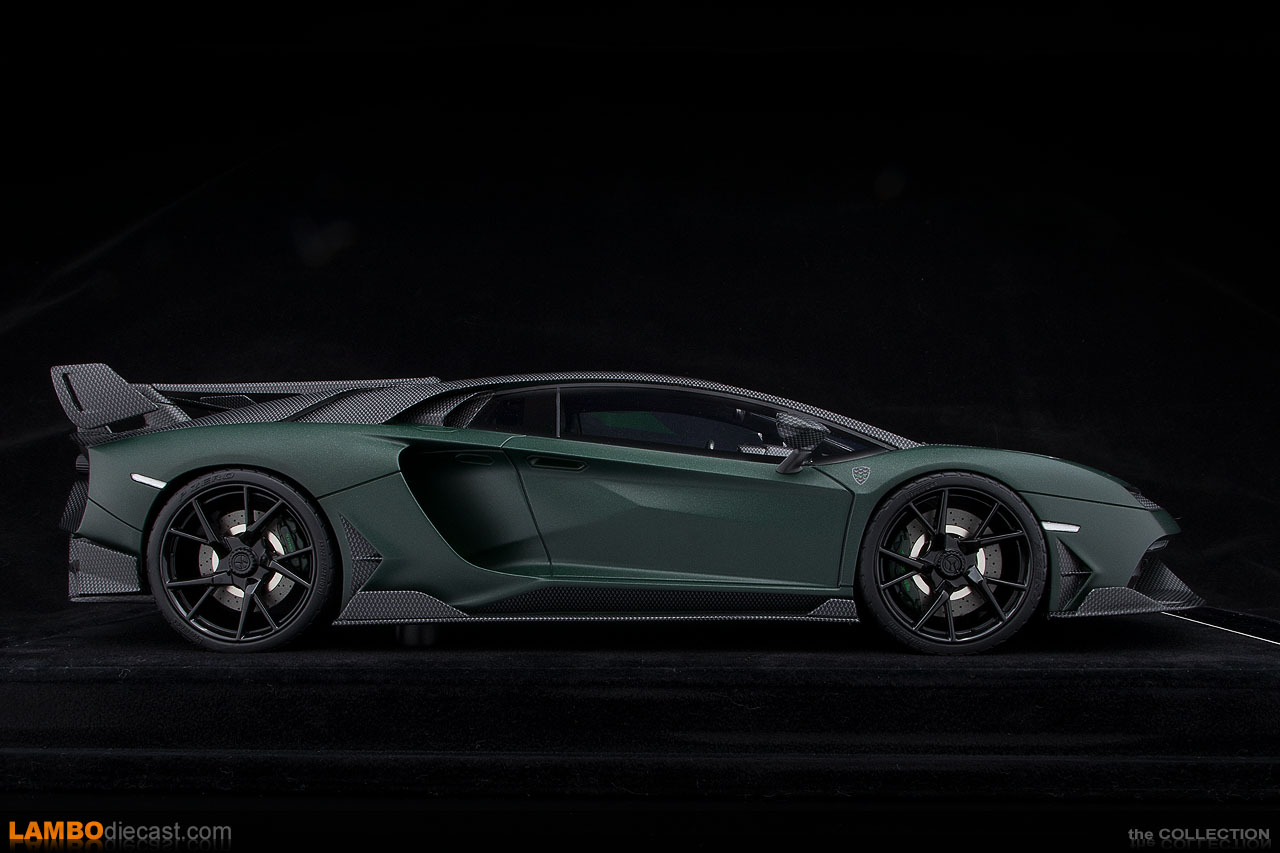 Which brings me to this Timothy & Pierre sealed resin model, limited to just 99 units in this original color combination, these are expensive models that come with a very nice high-end display case, several certifications depicting this is an official Mansory aproved model, they even put the client's name on the certificate when you buy this model, and while I do like these cars, I never got around to buying one when they came out, for one because they cost too much, and secondly I have other priorities in models at that time.
But when a good friend decided to part with some of his models, including the Mansory Venatus and this Mansory Carbrera, I pulled the trigger and added two Timothy & Pierre 1/18 models to the collection, still expensive, but especially this Carbrera is worth it in my opinion, read my review on the Venatus to see why I'm not so happy with that one.
Timothy & Pierre even managed to show the B2 Bomber pattern on the seats inside this model, and the numerous grilles on the exterior of the Mansory Carbrera all very nicely reproduced in smaller scale here, even the tires comes with Pirelli P-Zero scripting and include the tire sizes on the sides, that's an amazing detail many scale model manufacturers just don't bother with.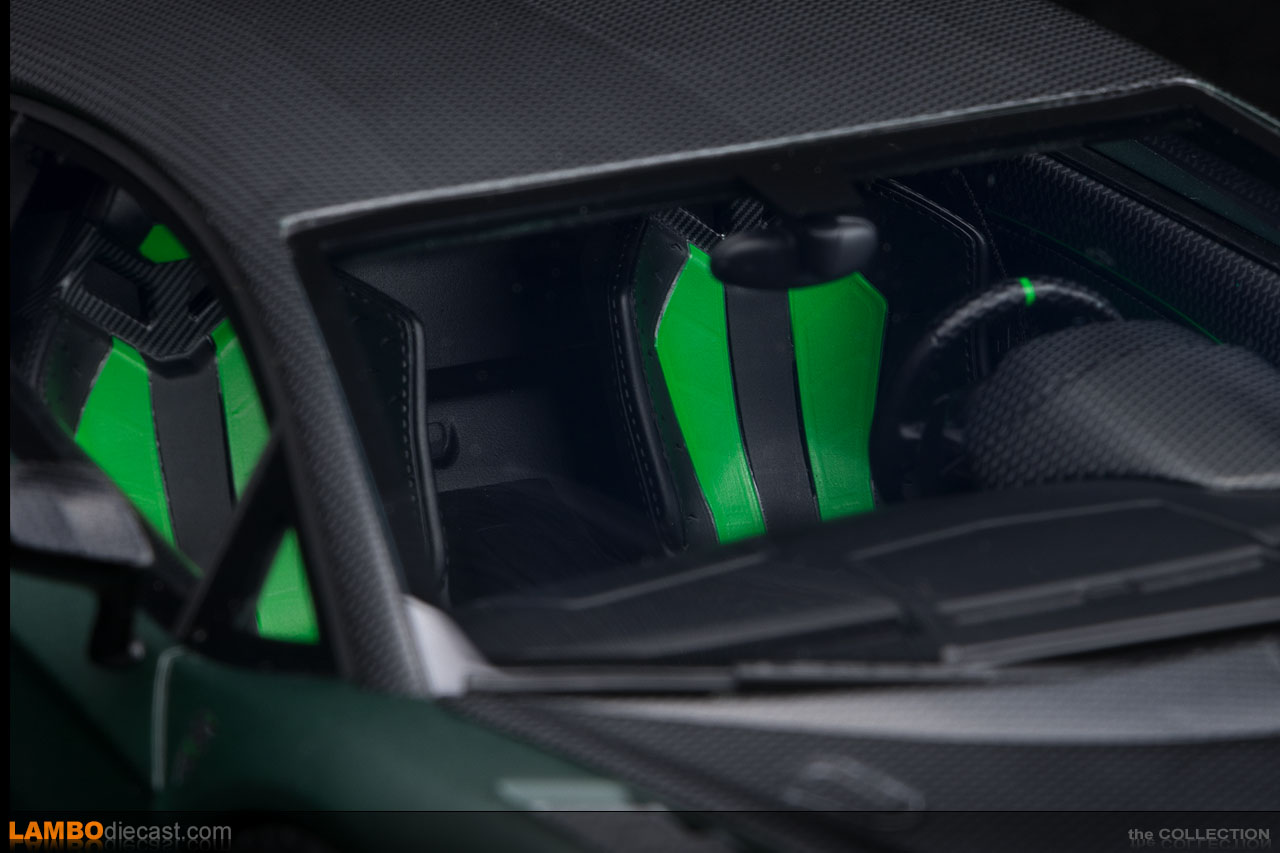 Personally, I think the carbon fiber pattern isn't scaled down enough, but I do understand that if Timothy & Pierre would really scale it to 1/18 we would probably not be able to distinguish the small B2 Bombers anymore, so it's a choice they had to make.
Being a sealed resin model, there is no way to check out the tuned V12 engine underneath that very stylish engine cover, nor take a better look at the custom Mansory interior that retained the Aventador SVJ carbon fiber lightweigth seats, just note the small 'Mansory' script on the headrests, another nice touch from Timothy & Pierre.
All in all I rather like this model, sure it's an expensive model, but it's the only 1/18 scale model of the Mansory Carbrera, and at list this one isn't a fantasy shade as Timothy & Pierre also did a Gulf Oil version, but that doesn't exist in real life as far as I know, so wether you love or hate with Mansory did with this Aventador SVJ, I'm happy to have been able to add this model #15/99 to the collection.
our RATING
Exterior
9/10
Interior
8/10
Engine
Not visible
Accuracy
9/10
Overall rating
9/10
Original price on February 17, 2023 : € 500