Mansory revealed their complete transformation for the Lamborghini Urus at the 2019 Geneva Motor Show, a complete restyle for the exterior, but also a customized interior finished in satin black with a lot of exposed dry carbon and orange pinstriping while the interior got bespoke stitching and a lot of carbon fiber combined with orange details too, I rather liked it, but the Mansory Venatus shown at that time was a 1/1, only one would be made.
But soon after that Mansory came up with the Venatus EVO, an evolution of the one-off car shown in Geneva, and the EVO version wasn't limited, you could just bring your factory standard Lamborghini Urus to Mansory and have them change the car into a Venatus EVO, with a plethora of exterior and interior colors to choose from, the workmanship by Mansory was second to none, and some really wild Venatus EVO were built, like a yellow one with a completely yellow leather interior, right up to the luggage space.
Now I do understand that the typical Mansory styling isn't to everyones taste, usually these custom-built supercars are just a little over the top, and the Urus-based Venatus EVO is no different, just check out the very aggressively styled, deep front bumper, or the tripple exhaust tips mounted in the center of the rear diffuser, which remind me of the exhausts seen on the Apollo IE.
Over the last few years, I've seen a few 1/18 scale models of various Mansory Venatus being listed online, including the original satin black one, but also some of the more wild iterations, usually branded Mansory official, but these are all made by Timothy & Pierre, it seems they are the only manufacturer that has the official license from Mansory, but most of them are rather expensive, and while I always looked at these as a nice to have, I had other priorities at that time.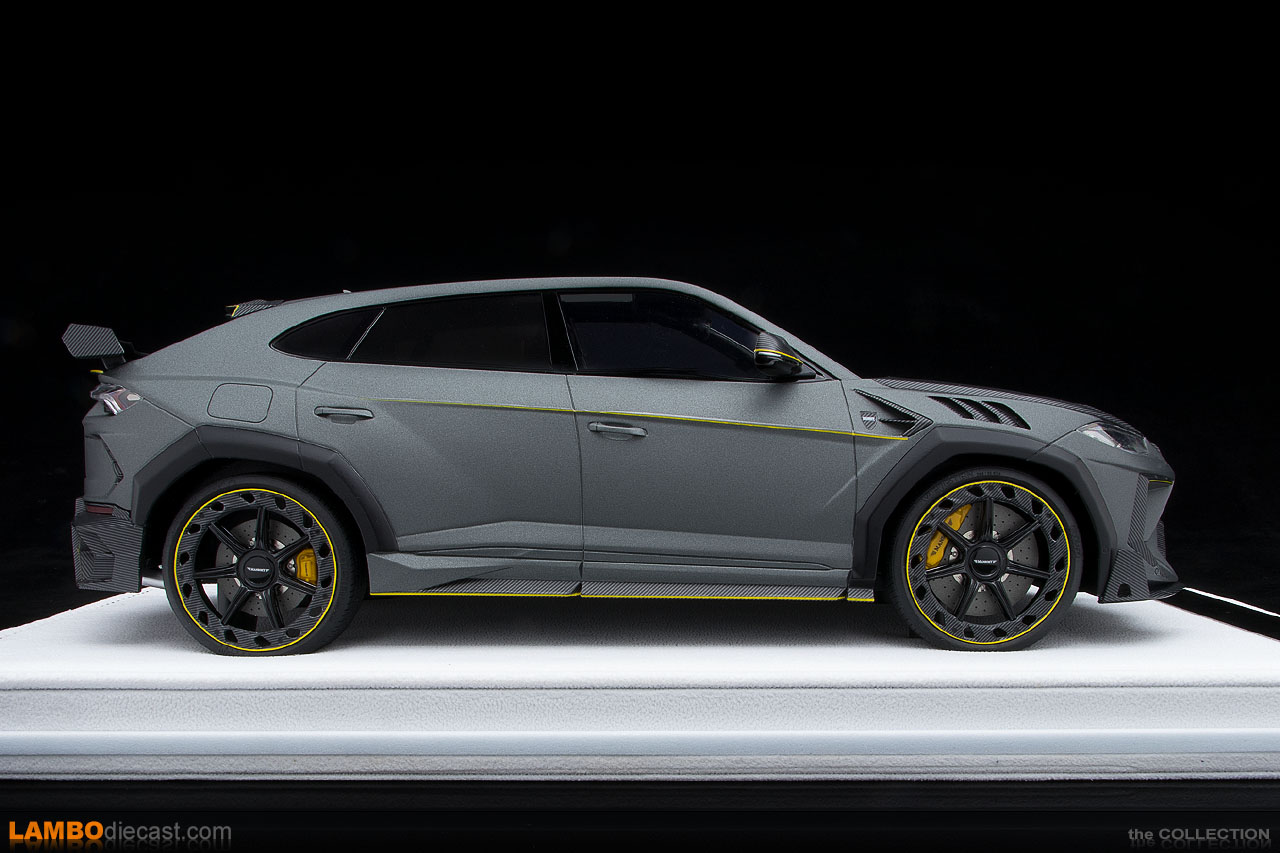 Until a friend contacted me asking if I wanted to buy a few models from his collection, including a rather nice satin grey Mansory Venatus EVO, only 19 were made in this specific color, and this was number 18, so after a bit of negatiating, I've been able to add this rare model to the collection, my first Timothy & Pierre 1/18 scale model in fact.
The detail and finishing on this model is second to none, it's a really nice model, the carbon fiber decals might have been scaled-down just a little more in my opinion, and the all-black interior isn't the most interesting inside a sealed model, but I guess this is how the real car was ordered too, so I can't complain about that too much.
But there is one thing that really surprized me for such a high-end model, these Timothy & Pierre Mansory Venatus EVO are still available in other colors, and they tend to be listed at €499, so these aren't cheap by any means ... and still they suffer from even worse window bulging than a decade old MR, while these models are still relatively new.
Now I know I can carefully remove the side windows and glue them back in place to resolve this problem, but it shouldn't happen so quickly on such an expensive model, other than that, this is a great model, my first Mansory Lamborghini and my first Timothy & Pierre.
our RATING
Exterior
7/10
Interior
8/10
Engine
Not visible
Accuracy
9/10
Overall rating
8/10
Original price on February 18, 2023 : € 400