Back in December 2015 GT Spirit announced two new models, a red Ferrari and a blue Lamborghini, both custom builds by famous LB-Works or Liberty Walk, one thing these Kato-san specials had in common were the bolt-on wide fenders and massive rear wing, and both models were available in pre-order, I remember the blue Lamborghini Aventador LB-Works being €99 at the time, but I decided to wait it out until it arrived on my favorite online model car shop ... that was a big mistake on my part as it turned out.
I don't know if this is really the reason, but I did hear GT Spirit had an issue with a license to produce this specific Lamborghini Aventador LB-Works in the baby blue shade, which actually is a near-perfect replica of the very first LB-Works wide body Aventador Kato-san ever built, so this model never made it into the shops, it was sold in pre-order through there own website only, and I didn't get one when they were shipped out in early 2016.
And things went from bad to worse after that, in the end only 504 units were made, each individually numbered, and when some did show up on eBay or other second-hand sites, the price was inflated and I just wasn't prepared to pay that kind of money for a sealed GT Spirit model, in 2016 I hadn't seen one of their models in real life yet, so I didn't know anything about the detail, the finishes, and how good ... or bad these were.
Make no mistake, these rare GT Spirit Lamborghini Aventador LB-Works in blue were changing hands for €400 and €500 from 2016 to 2019, and then things changed considerably, and their value plumetted considerably, mainly because AUTOart released their Aventador LB-Works in blue, with opening doors, priced at €190, needless to say I bought the AUTOart version in a heartbeat.
By the time AUTOart had their Lamborghini Aventador LB-Works ready in late 2018, early 2019, GT Spirit had managed to sort things out too, and they were able to release the 'Zero Fighter' version on this car in early 2018, I just had to get that one at €119 as their original 2016 blue one was still selling at stupendously high prices.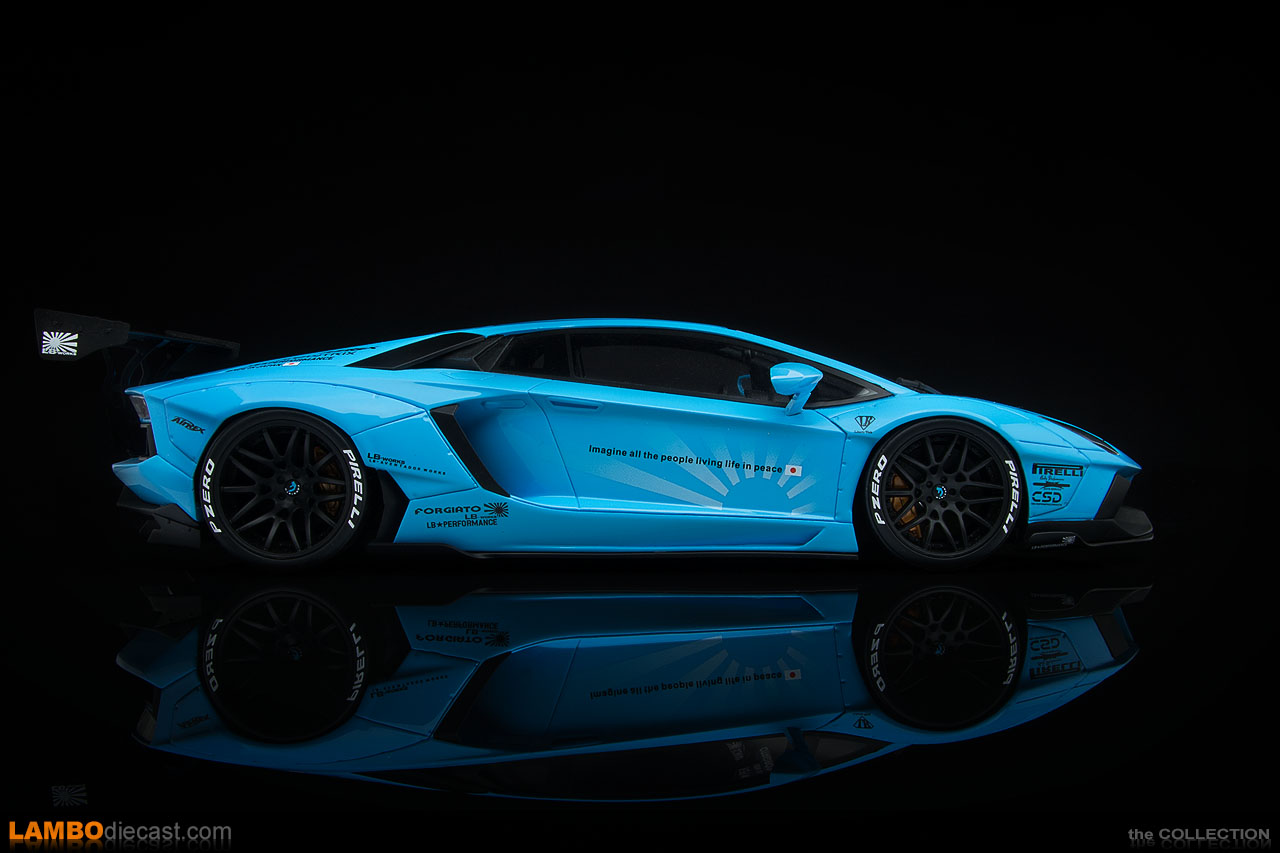 Fast forward to late 2021, and that original blue metallic GT Spirit Lamborghini Aventador LB-Works was still rare, however, prices had dropped considerably, and when I was able to find one for just €160 I just couldn't resist adding the model that got away from me five years ago, and at a price I was comfortable with too ... and I managed to find a very early production number too, 036/504.
So is this intial GT Spirit Lamborghini Aventador LB-Works worth the hype? Remember these were being sold between €400 and €500 at a time where an all opening AUTOart was about €200 ... my response after having added one to the collection now would be ... no, it isn't worth that kind of money.
This is a GT Spirit model built nearly six years ago, and it shows, it is far from perfect, don't get me wrong, she looks great from a distance, but under the harsh light of my studio setup all the little defect and flaws show up, so my reaction is that this model was a perfect €99 model as sold in pre-order, but it is nowhere a €400 to €500 model like an MR at that time, the difference in quality is huge.
Even today, if you want to add a blue Lamborghini Aventador LB-Works on a 1/18 scale, get the AUTOart one, it is much nicer and worth double what this GT Spirit one should be worth, and let's not forget AUTOart got the interior right as the real car from Liberty Walk had a two-tone Bicolore Sportivo in Nero Ade and Bianco Leda, the GT Spirit version comes with an all-black interior.
How I do have to admit GT Spirit did get other details correct that AUTOart didn't, like the wheels, both models come with satin black Forgiato wheels, but the F on the center cap was blue on the real car, only GT Spirit got it right, AUTOart gave the car a white F. And secondly, that massive rear wing, the real car had 'open' struts, as we can see on the GT Spirit model, while AUTOart had closed struts ... but other than that I would still advice you to get the AUTOart one, at least the doors open and it's a much better quality model in the end.
Bottom line
From reading the above you might get the idea I am a bit disappointed with this original GT Spirit Lamborghini Aventador LB-Works, but I'm not, I was expecting this, we are talking about an early GT Spirit model, and we all know these had issues, especially with the windshield, now furtunately mine is perfectly flat, but there is some dust in the paint, the matt black isn't as nicely finished as it could have been ... but I specifically got this model right now because it was listed at a nice price, and I wanted to get 'the one that got away', finally, and it completes the Aventador LB-Works series from GT Spirit.
Check out these side by side photos of the GT Spirit version and the AUTOart version, naturally the latter one has the doors open, and you'll notice the shade of blue is slightly different between the two, now I haven't seen the real car myself, so I'm not going to comment on this, one is probably correct, but I'm in no position to state which one.
Originally released in December 2015.
our RATING
| | | |
| --- | --- | --- |
| Exterior | | 7/10 |
| Interior | | 8/10 |
| Engine | | 7/10 |
| Accuracy | | 7/10 |
| Overall rating | | 7/10 |
Original price on November 19, 2021 : € 160