About a year ago I added a Lamborghini Aventador LB-Works in 1/18 scale by GT Spirit to my collection, the famous 'Zero Fighter' livery, and I was rather happy with that model, it arrived with a few issues, but I was able to correct the most important one (the massive rear wing), and I was still thinking about the fact I actually missed out on the first release GTS did of this model, the baby blue one.
Initially GT Spirit intended to build 1,500 units of their GT073 model, the baby blue Lamborghini Aventador LB-Works, but in the end, they ran into a licensing issue, hence the model was never sold in shops and only those that pre-ordered directly from GT Spirit received their models ... one of only 504 made, and as you would expect, prices for this specific version went through the roof ... some listed at €500, while initially this model was sold for €99 ... but as I said, I missed out and didn't want to pay €500 for a sealed model that had some errors anyway.
Fast forward to 2018 ... AUTOart releases their 1/18 Lamborghini Aventador LB-Works, she comes with opening doors only, but that also means the model isn't as expensive as the regular Aventador by AUTOart, so I'm happy with that, I can admire the engine on other models I have, and LB-Works didn't tune the V12 anyway, so no loss for me in that regard ... and what's even better ... AUTOart lists the blue metallic version, I will finally be able to add the original LB-Works Aventador to my collection.
The scale model
So I was happy to get the blue metallic Lamborghini Aventador LB-Works for my collection without paying a stupidly high price for the original GT Spirit model ... and quite honestly the AUTOart model is closer to the actual car Kato-san unveiled as his first Aventador LB-Works ... AUTOart got the interior right being a two-tone Nero Ade over Bianco Leda Bicolore Sportivo ... GT Spirit got it wrong by putting an all-black interior in their model.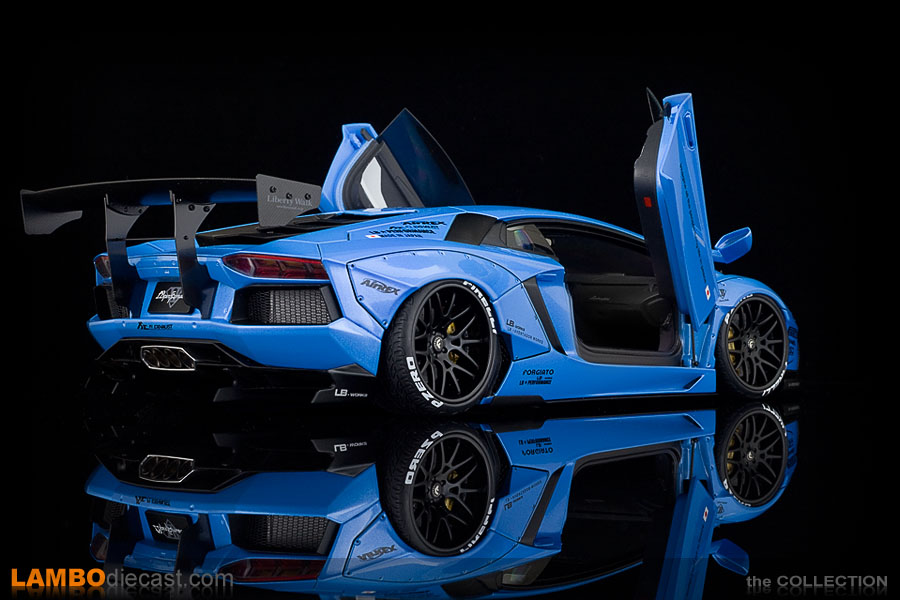 Liberty Walk unveiled their first Lamborghini Aventador LB-Works at the 2014 SEMA show in the United States, and rumor has it this was actually Kato-san's own car, not a customer car, finished in a bright blue metallic over the aforementioned two-tone black and white interior, rolling on black Forgiato wheels and showing the standard, black louvred engine cover, so the V12 wasn't visible anyway which probably made AUTOart decide to not feature an opening engine cover in the end.
Now there is one thing that AUTOart changed on their 1/18 model compared to the real, initial Aventador LB-Works ... the massive rear wing. If you look really close you'll notice this is, in fact, the Rear wing version 2 from Liberty Walk while originally this car would have the Rear wing version 1 installed, the Zero Fighter livery from GT Spirit has the version 1 rear wing installed, the biggest difference is seen on the large struts ... version 1 comes with openings in the struts, version 2 has plain, closed struts.
Also note this AUTOart version clearly has the special plate between the taillights on the Aventador to support the high downforce of the massive rear wing, just as seen on the real car ... the GT Spirit model doesn't have this, a serious fault on this highly customized version of the Lamborghini Aventador.
I had to be patient to add this specific AUTOart to my collection as they decided to release other shades before this blue metallic, but I specifically wanted to add a model of the first Aventador LB-Works, and when she finally arrived I couldn't be happier ... the lines on this model are so crisp and finely detailed, it is simply amazing ... this AUTOart version of the Aventador LB-Works is on a different level when compared to the GT Spirit model, the body lines on this AUTOart model are much, much better, and the blue metallic paint is amazing, a deep shine and those metallic flakes are just right ... we often see metallic flakes that are too large for a scale model, but AUTOart got it right ... I love this shade.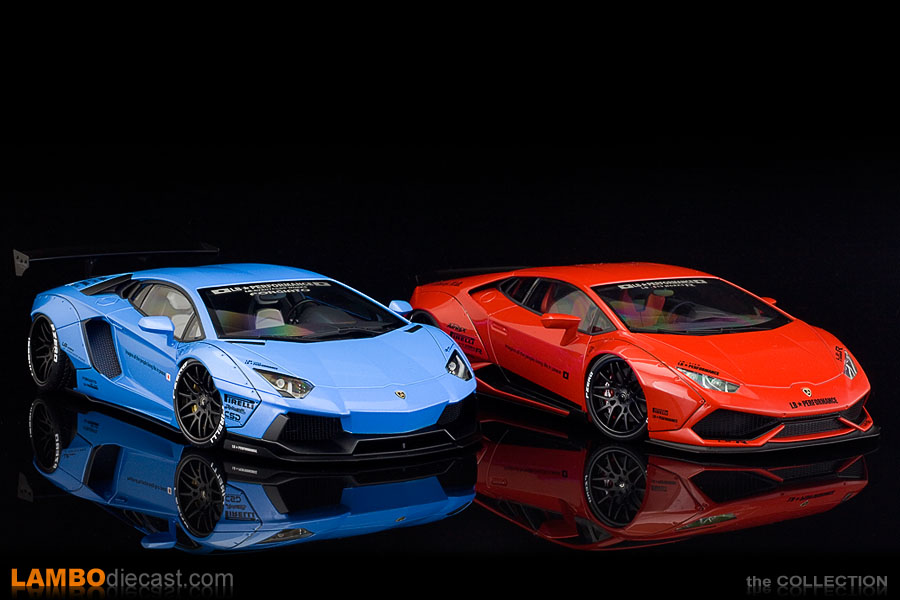 Liberty Walk usually installs Airrex suspension on these cars, so they tend to scrape the street on their lowest setting, and that was something I didn't like about the GT Spirit version, they had the ride height set too high on their scale model, AUTOart, on the other hand, has put this Aventador LB-Works very, very low to the ground ... but the wheels still turn and you can move the model around without scraping the floor ... AUTOart got it just right on this model (as they did on their Huracan LB-Works version by the way).
And while talking about the suspension, take a look at those amazing, deep concave, Forgiato wheels, absolutely amazingly reproduced in 1/18 scale by AUTOart, and covering yellow/gold brake calipers, just like on the real car ... and exactly as in real life, the handbrake caliper on the rear discs is left black ... that is identical to the way Lamborghini delivers the Aventador when you opt for colored brake calipers, a very nice detail AUTOart got just right ... and let's not forget those stunning Pirelli P-Zero decals on the tires ... GT Spirit didn't mount these, but AUTOart sure did, and they are perfectly identical to the real car. One tiny detail that isn't identical to the real car ... the F from Forgiato on the wheel cap was blue in real life, on this AUTOart model it is white.
So how about those numerous decals on these Aventador LB-Works, we already know GT Spirit didn't put the Pirelli logo on the car either, but AUTOart got just about all of them right, the initial LB-Works Aventador came with an Armytrix exhaust, so it had a decal for that make, while later LB-Works Aventador was fitted with FI-Exhaust systems, AUTOart put the latter on the shoulder intake. Also on the front wheel arch extension, the blue car had a different decal between the Pirelli and the CSD logo ... but those are tiny details, overall this AUTOart version of the Aventador LB-Works is extremely good.
Bottom line
This is a model you really should add to your collection, the overall stance and shelve presence is just amazing on this 1/18 scale AUTOart Lamborghini Aventador LB-Works ... should you get her in this blue metallic shade? That's totally up to your personal preference, AUTOart has an amazing looking satin black version too, the white looks good too with all those black parts, and recently AUTOart released a stunning red metallic shade that looks even better if you ask me, so make sure to add at least one of these low-riding, wide body Aventador LB-Works in your display case.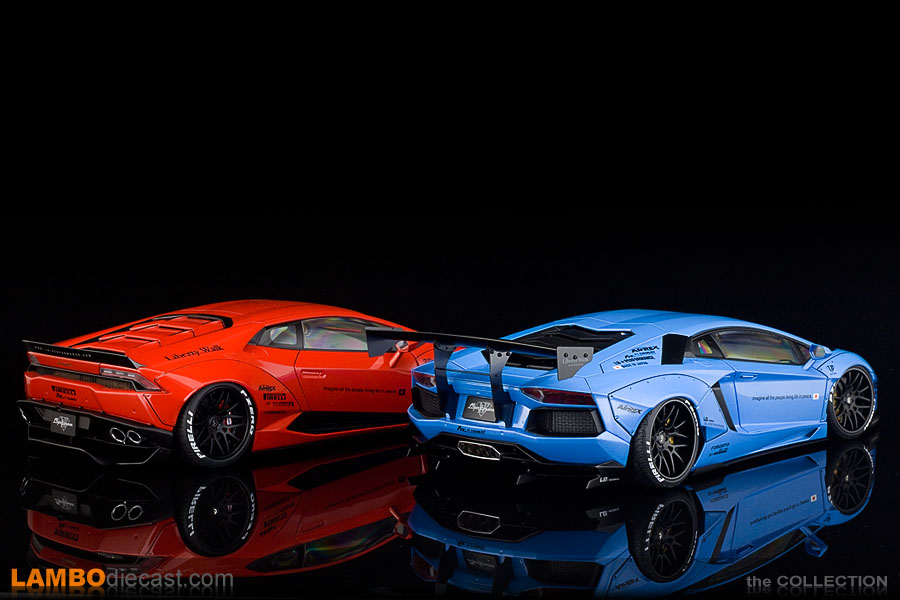 In fact, you really should get both the Huracan LB-Works and the Aventador LB-Works from AUTOart for your collection. I couldn't resist adding the initial presentation shade for both models to my collection, the very first Huracan LB-Works was finished in Rosso Mars, and she looks amazing next to this blue metallic Aventador LB-Works.
I still see listings offering the original GT Spirit GT073 baby blue Lamborghini Aventador LB-Works online, prices have seriously dropped since AUTOart released this model, and honestly, I don't see the interest in adding the GTS model anymore. Sure it is rare and in fact an illegal, nonlicensed, model ... but this AUTOart model is so much better on so many levels ... and it's even cheaper than her GT Spirit counterpart ... so I'm no longer interested in adding that blue GT Spirit model, I couldn't be happier with my AUTOart model.
Originally released in November 2018.
our RATING
Exterior
9/10
Interior
8/10
Engine
Not visible
Accuracy
8/10
Overall rating
8/10
Original price on November 18, 2018 : € 190