Some call this livery the 'Zero Fighter' on the Lamborghini Aventador by LB Works, and while some makes offer this one in a more 'worn out' look, GT Spirit went for a clean grey finish ...
You have surely seen the work of Kato-san, or Wataru Kato, owner of Liberty Walk - LB Performance in Japan ... his very special style is well-known in the Japanese tuning scene as the classic "Zokusha" where owners of older Japanese cars add wide wheel arches and drop them to the ground to create a more impressive looking car without spending too much money on it.
The latter might not really fall in line with the things Kato-san is doing these days, the part of the wider add-on fenders is still true, but LB Works now uses some of the most exotic Italian made cars as a basis, and these kits don't come cheap either at prices around the US $30,000 mark, and that's without the special Airrex suspension (about US $10,000), Armytrix Racing titanium Valvetronic exhaust system (also about $10,000) and a set of matching wheels in a staggered 20-21 inch setup, preferably made by Forgiato if you ask Kato-san (probably another $5,000 for the wheels and about $3,000 for the Pirelli P Zero tires).
So a quick math gets us at a grand total of about $58,000 for the entire LB Works aero kit with exhaust, suspension, wheels, and tires ... but without the donor car, which in this case is a $400,000 Lamborghini Aventador LP700-4, and the required paint and fitment ... and trust me, fitting an LB Works wide finder kit onto an Aventador isn't for the faint-hearted ... it involves actually cutting into all four wheel arches with an angle grinder ... however today you can get a set of 'replacement fenders' from LB-Works, thus avoiding the cut into your expensive Aventador.
The first Aventador by LB-Works was finished just hours before the 2014 Sema Show in Las Vegas, and it was a blue metallic car over a Bicolore Sportivo interior in Nero and Bianco, a stunning car, and in fact, GT Spirit created a 1/18 scale model of this specific, initial LB-Works Aventador ... sadly I missed out on adding one to my collection.
Fast forward to 2018 when GT Spirit is doing a re-run of this model, this time in the Zero Fighter livery seen here, naturally I couldn't resist adding one to my collection ... this one wasn't going to slip through my fingers twice.
Note that GT Spirit is working together with Kyosho these days, and under the Kyosho label they released this model in glossy yellow ... and at the time of writing GT Spirit released a matt army green version too ... but I do prefer this grey one to be honest.
The scale model
So how did GT Spirit do with this 'older' model (I don't think they changed a lot compared to the initial run of blue ones)?
At first glance this looks like a really nice model indeed, unlike the Diablo SE30 Jota they did which looks odd at first glance (and doesn't get much better, unfortunately), this Aventador boasts a really nice stance, sitting low to the ground and showing that wide, aggressive look from the front.
Looking at the profile that low-slung design is still clearly visible while a view from the rear is naturally dominated by probably the largest rear wing to be fitted onto an Aventador.
Look from a higher angle and you can clearly see the nicely detailed engine through the glass louvers of the engine cover, even the special painted 'X' over the engine has been replicated by GT Spirit, while the exhaust also shows this 'burned' look ... very nice.
But once again my copy of a GT Spirit Lamborghini 1/18 didn't come without her problems ... that massive rear wing is also a weak point on this model, being too large and heavy, when I opened my box that rear wing wasn't sitting perfectly horizontal anymore, and it was even a little slanted from the rear ... I could fix it without tearing it off, but still.
Another point I noticed on my model ... look closely at the black section in front of the adjustable air intakes above the rear wheels ... they aren't really flush with the rest of the body, as they should be ... and that's something I didn't attempt to fix ... it is unfortunate for such a model.
Bottom line
But what if we compare this scale model against the real 'Zero Fighter' LB-Works Aventador ... for one the struts that hold up the rear wing aren't exactly the same as on the real car, the fitment of the struts onto the bottom of the wing is different.
Most of the decals are there, but a few are missing, like a Pirelli script on the front fender, or a label on the engine cover ... but most importantly ... the massive Pirelli script on the tires ... which makes me wonder ... did GT Spirit have a problem with getting a license to put Pirelli on this model?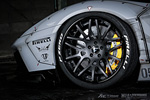 One thing that is just different on the scale model compared to the real car ... the wheels ... look closer ... these are satin black, which looks nice, don't get me wrong ... but on the real deal, they put carbon fiber wheels under the wide body.
Now GT Spirit did put yellow/gold brake calipers behind the wheels, which looks good ... but on the real car, you'll find yellow calipers with an LB-R Fighters logo ... a nice detail that GTS missed.
One thing that I would have liked would be an even lower suspension ... LB-Works installed an Airrex on their Aventador capable of lowering the car completely onto the floor, on all the photos we see of the actual car it sits really low ... it would have been nice if this GT Spirit model was sitting a bit lower too.
Conclusion
So should you get this model for your collection?
Well ... yes and no. I would say yes because I really like this livery ... but no because it sure isn't flawless, and at the price these are being offered today (the production run is sold out) I would actually wait for AUTOart to release their LB-Works Aventador, which has opening doors while this GT Spirit is a sealed resin model ... and AUTOart will release the blue one with the correct two-tone interior.
So in the end it is really up to your personal preferences ... this GT Spirit made Aventador by LB-Works looks really nice, but I'm sure the AUTOart one will look at least as good, probably better ... but it remains to be seen at what price they will offer it in the end.
our RATING
| | | |
| --- | --- | --- |
| Exterior | | 7/10 |
| Interior | | 8/10 |
| Engine | | 8/10 |
| Accuracy | | 7/10 |
| Overall rating | | 7/10 |
Original price : € 119