A for me unknown company called Cult Scale Models has released a 1/18 scale Lamborghini Islero S in two shades, a nice silver metallic over red version, and this stunning brown metallic over tan interior, a classic color on early Lamborghini GT models, but I've been told there was only one real Lamborghini Islero S finished in this Luci del Bosco (Italian for lights of the wood) over Senape, and more importantly, this was the actual 1969 Paris Motor Show car, making it even more special to have in my collection, thank you Victor for this information.
As I already mentioned in my review of the silver metallic version, the Lamborghini Islero S was built between 1969 and 1970, only 100 units were made during that year of production before the Islero was replaced by the Jarama.
Powered by a 4-Liter V12 engine with 350 hp, the Islero S had an improved interior compared to the earlier Islero and featured a horizontal air vent on the side fender, despite being one of Ferruccio's favorite models, the Islero hasn't gained large popularity yet, unlike the 350 GT which is usually valued at twice the price of an Islero at auction.
The scale model
Back to this brown metallic Cult Scale Models 1/18 version of the Lamborghini Islero S, as you might have seen in my review of the silver version, this brown one came with an issue, something was rattling inside the box, and that usually means trouble, in this case, one of the exhausts was loose inside the box, fortunately, it didn't seem to have caused damage to the metallic paint, so that's a good thing.
If you look closely at the position of the four screws that hold the model down to the plinth it comes on, you'll understand why as there is literally no space between the studs and these exhausts, if you move the screw less than a milimeter in the wrong direction you'll hit the exhaust and it will break away from the chassis, a biut of Micro Kristal Klear solved this issue in a matter of minutes.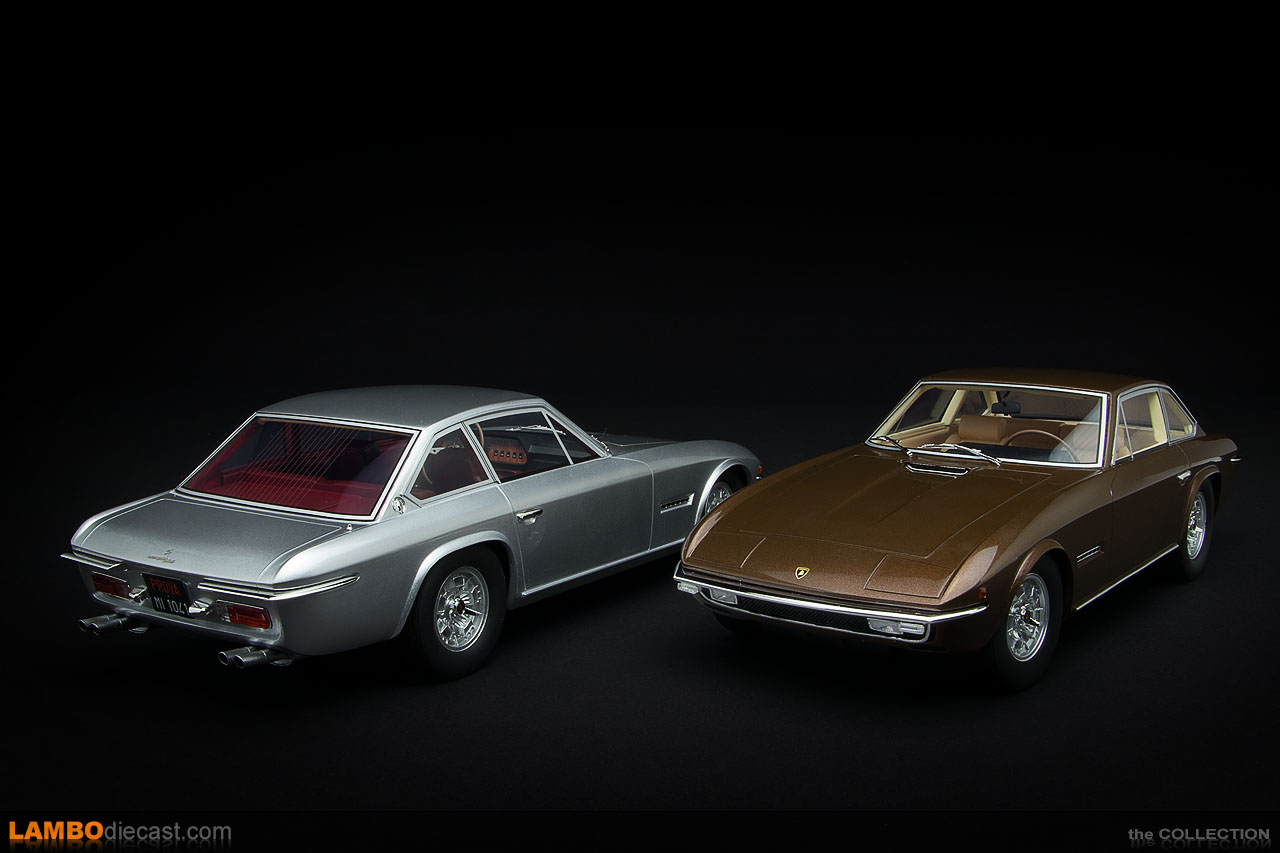 But just like the silver metallic one, this brown metallic needed a good clean and a wax to bring out the paint, and this one boasts a really nice deep shine, my impression is that this one is painted a lot better than the silver version.
Also the chrome on this one seems better compared to the silver model, however, one of the wheels has some black spots on the outer rim, other than that I love the wheels on these Cult Scale Models, they are really very nicely done.
The interior inside this brown metallic version is a light brown, almost tan looking shade, with the wooden steering wheel it looks nice, but it could have been finished a little better, but it looks great on display so I'm not complaining, and no, you can't open the doors, nor see the engine, these are sealed models.
Bottom line
I have said it in my review of the silver one, and I will say it again here, these are €99 models in my opinion, and while I paid €149 for each I have seen them listed at €179 apiece, and that's really just too much for these models, they are not worth that much.
Unfortunately these are the only 1/18 scale Lamborghini Islero S models available on the market, so I just had to add both of them, they are part of the Lamborghini history, and mark an era when they were building fast V12 Gran Turismo cars in Sant'Agata, something that was lost back in 1978 when the last Lamborghini Espada left the factory doors ... there hasn't been a front-engined V12 GT from Lamborghini ever since.
Originally released in October 2021.
our RATING
Exterior
7/10
Interior
7/10
Engine
Not visible
Accuracy
9/10
Overall rating
8/10
Original price on October 14, 2021 : € 149