I like Lamborghini racecars, and when I saw this specific Huracán GT3 from Grasser Racing Team that competed in the 24h de Spa in 2015 I just couldn't resist adding it, I have visited the 24h de Spa several times as a photographer, but I missed the 2015 edition, at least now I have a model of the car that competed in that race.
Grasser Racing Team entered two Lamborghini Huracán GT3 in the 2015 edition of the Total 24h de Spa, part of the Blancpain Endurance Series, four hours into the grueling race, the nr 63 Huracán driven by factory driver Mirko Bortolotti managed to secure second place, while the nr19 car, driven by Squadra Corse's Fabio Babini, took 10th place overall after 3 hours of racing ... as usual for Belgium, heavy rain came down during the first two hours at Spa Francorchamps.
But the night would bring bad luck for both V10 Lamborghini GT3 cars, nr19 hit the barriers hard while trying to hold onto 10th place, forcing the Huracán to retire after 129 laps on the Belgian track, sadly by 3:15 the nr63 car was also involved in an accident caused by heavy fog at the end of the Kemmel straight ... at that time this Lamborghini was in the top five of the race.
Adrian Zaugg limped the damaged Lamborghini Huracán back to the pits, where they were able to repair the car and return to the race ... having been out for 24 laps, Bortolotti, Zaugg, and Giovanni Venturini managed to get back eight positions before an oil cooling issue as a result of the earlier crash forced them to retire after 364 laps.
This 1/43 scale model made by Spark is a replica of the nr19 Lamborghini Huracán GT3, driven by Fabio Babini, Jeroen Mul, and Andrew Palmer, and compared to the official Lamborghini Squadra Corse photos of this car, this model looks spot on, I couldn't find a difference between the real car and this little scale model ... a very impressive feat from Spark.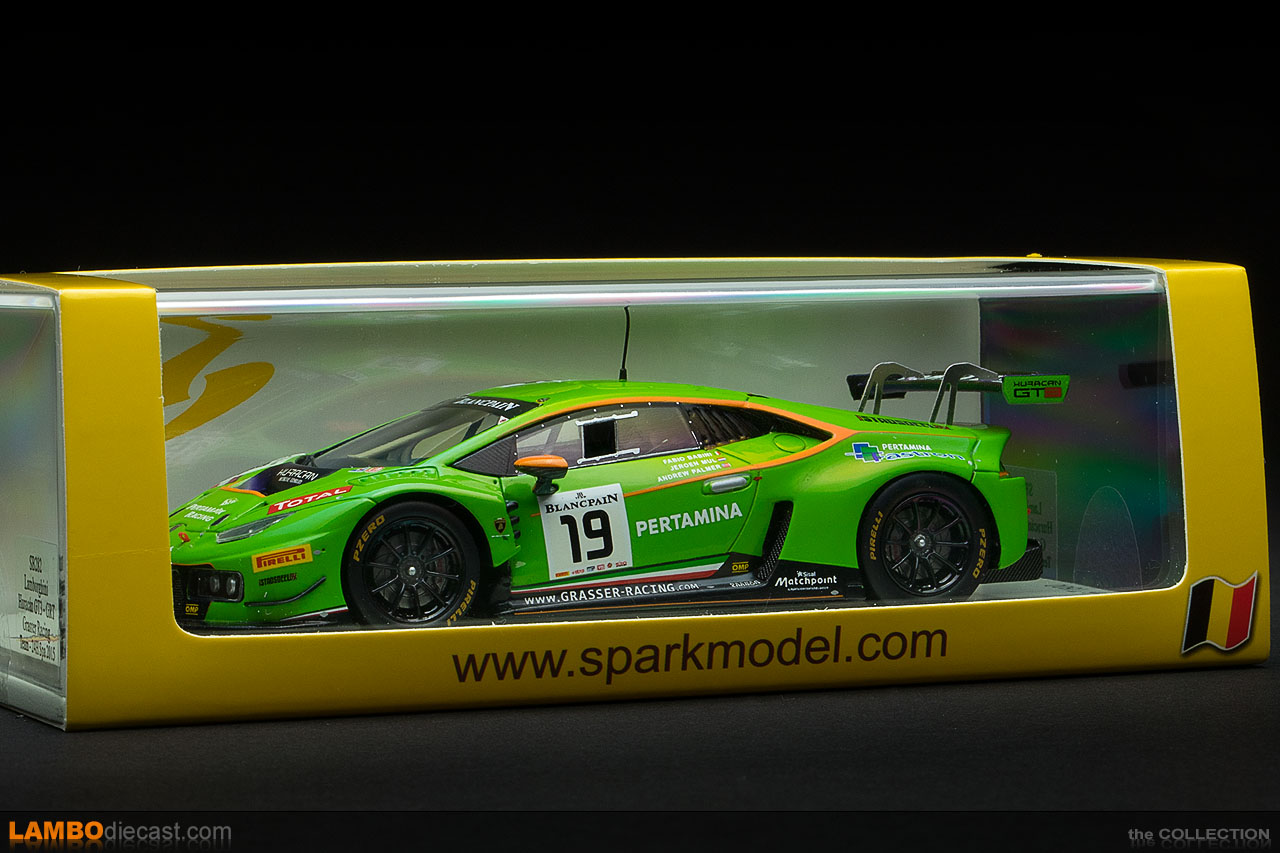 Spark has an entire series of Lamborghini Huracán GT3 racecars in this 1/43 scale, and they have several upcoming releases still planned, but I like this car from the Total 25h de Spa because the track is about an hour drive from my home, and I have fond memories of photographing the Lamborghini racecars several years in a row during this lengthy race.
This specific Spark Lamborghini model is limited to 300 units, all numbered, mine in nr 137/300, and it is the first Spark model in my collection, but I don't think it will be my last Spark made Lamborghini as a Murciélago R-SV in 1/43 from 2010 is in the planning, and I've seen they are also preparing some 1/18 Huracan GT Evo models for next year.
Originally released in December 2020.
our RATING
Exterior
9/10
Interior
8/10
Engine
Not visible
Accuracy
9/10
Overall rating
9/10
Original price on December 23, 2020 : € 63