About a year ago, by the end of January 2020, the LEGO Group and Automobili Lamborghini SpA announced they would partner up and give us a large 1/8 scale LEGO Technic model of a Raging Bull, listed as number 42115, with a suggested retail price of €379.99 to be available by June 2020 in the online LEGO store and by August 2020 in retail stores.
LEGO Technic partnered up with Automobili Lamborghini SpA and created a stunning, bright green 1/8 scale version of the Sián, complete with working suspension, moving pistons ... even the doors open in the traditional Lamborghini was to unveil a detailed interior, the model is over 5" (13 cm) high, 23" (60 cm) long and 9" (25 cm) wide and consists of no less than 3,696 LEGO pieces, several bespoke for this model.
The LEGO Technic Lamborghini Sian is an interesting model, in the same series they already released the Bugatti Chiron (42083) and the Porsche 911 GT3 RS (42056), and both have been popular ever since, but also expensive, and while I did put my hands on the Lamborghini Sian set in my local store, at €397.99 I was tempted, but I felt it was a lot of money for a model that in the end didn't really look that close to the real car ... in my opinion.
So I left the shop without this big LEGO box, and the Lamborghini Sian LEGO Technic box is big and heavy, and quite beautiful to be honest, inside you'll find six separate boxes, shaped like a Lamborghini engine cover, and the construction manual comes in a two-part paperback edition, and aside from over 500 steps to complete the model taking 12 hours on average, it also contains background information on the making of the LEGO Technic Lamborghini Sian, which was done together with the Lamborghini Centro Stile ... even Mitja Bortkert, Head of Design at Lamborghini Centro Stile, was involved in the development.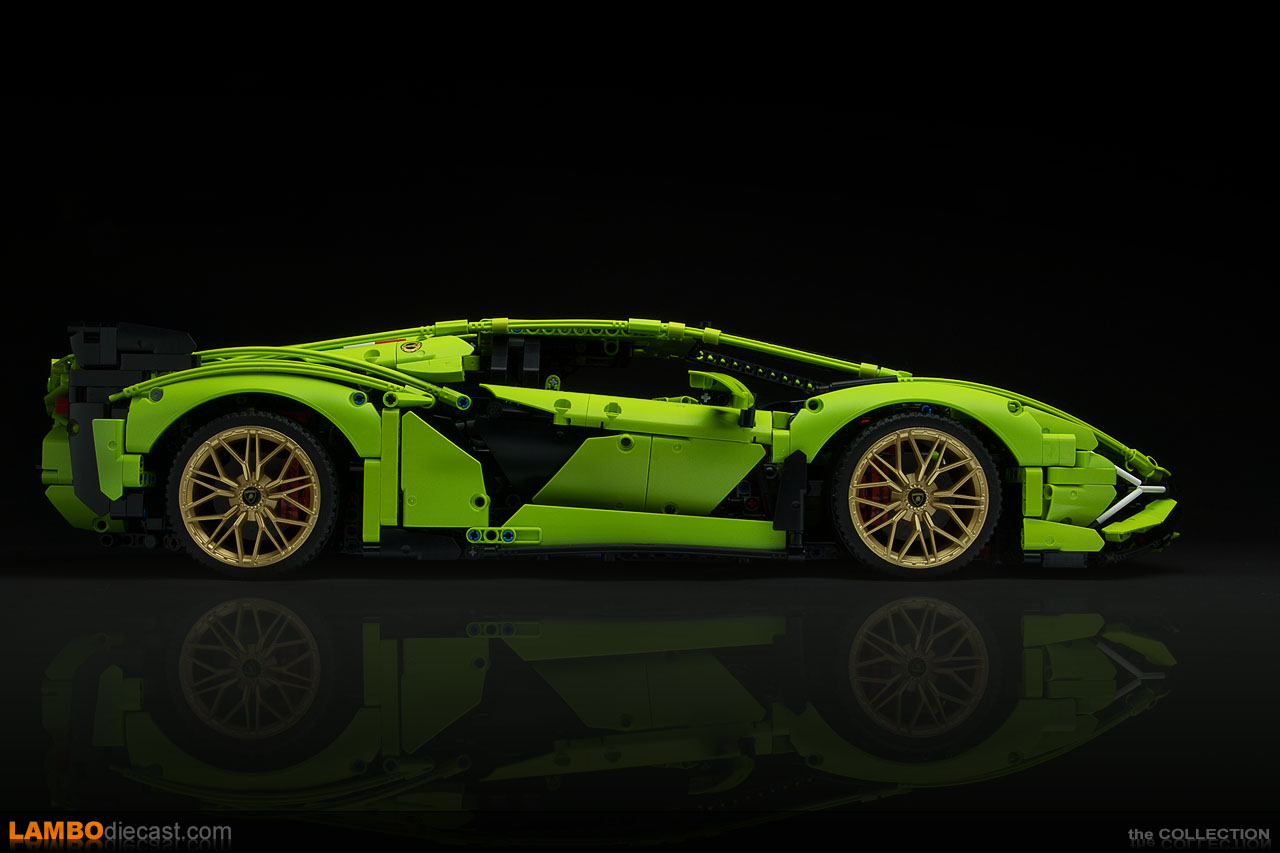 I waited for a shop to offer this kit at a discount, and much to my surprise it didn't take that long until I found it listed online at €260, that's a €120 difference with the MSRP, I thought about it a few days, and went for it, ordered it, and received a massive brown box a few days later containing the very nice, green LEGO Lamborghini Sian box ... I couldn't wait to get started putting this one together.
The scale model
And, to be honest, building this massive LEGO Technic kit is fun, a lot of fun, when I was a kid I enjoyed playing with LEGO and my Matchbox cars a lot, I was building showrooms and car lots and trading Matchbox, Corgi, and Majorette toy cars with friends on Wednesday afternoon and in the weekend ... putting this LEGO Technic Lamborghini together took me back decades ... I know, I'm getting old.
I did read the information on the box, and I viewed several videos on this LEGO Technic kit before I bought it, but while putting it together it dawned on me just how big this thing was going to be, it kept growing and growing on my kitchen table ... I spent a few hours each day on it, putting it away each evening as we need our kitchen table to eat on (like most people I guess ... lol), and it took me little over a week to complete the model ... which is heavy once finished, the suspension of the model is compressed when you put it down, and you have to be careful where you lift it when moving.
Building the LEGO Technic Lamborghini Sian is a great experience, you have to take a very close look at some of the instructions as it's easy to make a mistake you'll only notice minutes or even hours later, and that might mean you'll have to take it apart again, fortunately, I only made one small mistake, which didn't pose a problem in the end.
A lot of fun is putting together the gearbox and the engine, which comes as a V12 with 12 pistons that move up and down as you turn the dial, if you put the model 'in gear' with the gearshift inside, the pistons even work when you move the car front or rear ... that's just really interesting ... it is a Technic kit after all, so there's some very nice technology to discover during the build, sadly once complete you'll have covered a lot of this interesting stuff.
This model comes with an adjustable rear wing too, and there's a lever in front of the passenger seat on the interior that allows you to raise or lower the wing, the engine cover even has a TriColore on either side thanks to three tiles in red, white and green, and the entire cover lifts off to reveal the engine ... next to the engine you'll find two levers on either side that allow you to open the doors by pushing them down, and the doors open as on the real car, up and a little outward ... do note they are a little flimsy on this LEGO Technic set, but they open.
The luggage compartment can be reached by opening the cover, inside you'll find the serial number of this specific LEGO Technic Lamborghini Sian, each of these building kits has its own number you can register with LEGO to get access to the owner's only information on their website, inside the luggage space they even put a grey bag ... sadly without Lamborghini logo, but it's a nice touch anyway.
Talking about the Lamborghini Raging Bull logo, there is a crest at the front, a Lamborghini script at the rear, the crest is also present on each of the four bespoke wheels, and on the headrests inside. As I already mentioned, there is a working suspension both front and rear on this LEGO Technic set, but also a working steering wheel coupled to turnable front wheels, there is a gearknob on the central console to engage so the pistons work when you move the car, and behind the steering wheel, you'll find the gearbox controls ... all really nice details on this model.
The bottom line
So what's my opinion on the LEGO Technic Lamborghini Sian? You want to know my opinion as a Lamborghini scale model collector or an opinion as a LEGO collector? I'm not a LEGO collector by any means, so I might not be the best person to judge this set from that point of view, but judging from the amount of fun I had putting this together I would say it's a really interesting LEGO set, keeping in mind not all the lime green LEGO bricks are exactly the same shade, there is some room for improvement ... but then again, this might not be the purpose for this kit from LEGO, I don't know.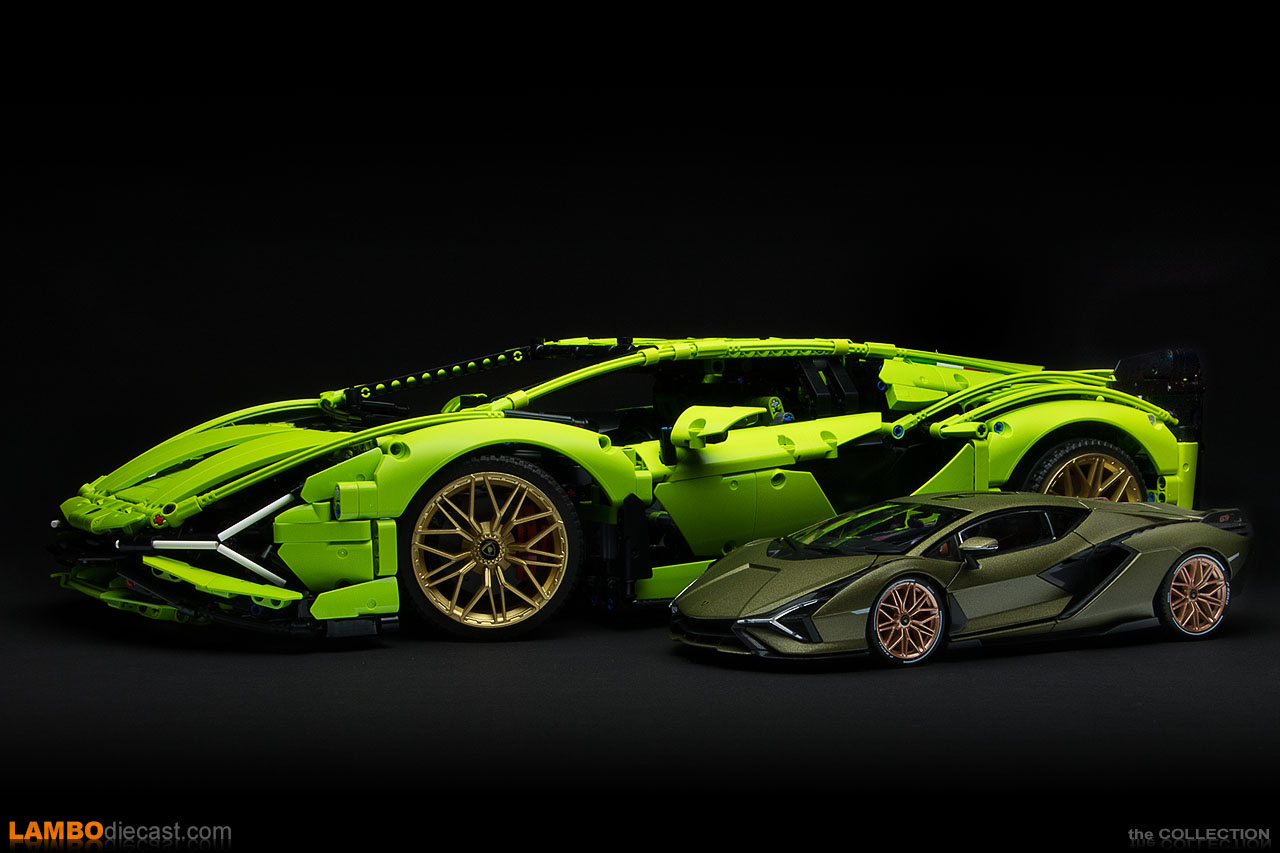 However, as a Lamborghini scale car collector ... this isn't a really interesting model to add to the collection, sorry. The shade of green is so wrong compared to the real car, I have put this massive (about 1/8 scale) LEGO Technic Lamborghini Sian next to my 1/18 Bburago version just so you can see the size difference, but also the difference in tint.
And, to be really honest, it doesn't look a lot like the real car, sure, the overall impression is there, and LEGO went to the trouble to create bespoke wheels for this set, but all four wheels are the same width, the interior isn't even close to the real car, not in shade, nor in design ... it's all a very 'liberal' representation of the very special Lamborghini Sian, also keep in mind this model is so large it will probably not fit into any of the display cabinets you'll have for your collection, so I had to buy a massive 1/8 scale display case ... which was over €100, add shipping, and if I would have bought this model at €380 I would be looking at close to €500 in total, for a model that doesn't even look close to a real Lamborghini.
So as a Lamborghini model this wouldn't really be an interesting set to add to the collection, but I really had fun building it, and in the end, inside her bespoke display case, this LEGO Technic Lamborghini Sian sits proudly on my table in the living room, so I can admire her from my sofa ...and that's worth something too I guess.
(PS note the four 'building' photos were made with a cellphone, so they aren't as detailed as the studio shots)
Originally released in August 2020.
our RATING
| | | |
| --- | --- | --- |
| Exterior | | 6/10 |
| Interior | | 4/10 |
| Engine | | 5/10 |
| Accuracy | | 5/10 |
| Overall rating | | 6/10 |
Original price on October 21, 2020 : € 260