Back in 2001 when the original Lamborghini Murciélago 6.2 was introduced at the factory I was able to attend this VIP event in Sant'Agata together with my wife ... after a magnificent day surrounded by lots of Raging Bulls we were having dinner in a large hall at the factory where one of these new models would be driven on stage … it took the poor guy behind the wheel three attempts to get onto the ramp (the engine stalled twice) to show us a magnificent new V12 flagship finished in the most amazing green metallic shade I ever saw on a car … Verde Ithaca.
So when AutoArt released the Murciélago LP640 evolution in this shade I naturally just had to put an order in … Rob from Carmodelz.nl shipped it on to us the day he received the box from AutoArt, this stupendously bright green Lamborghini arrived together with the orange one … and as much as I like that Arancio shade I have to admit this green blows it out of the water.
If you want to have a car that is noticed a Mile away go for this Verde Ithaca shade … it doesn't ask for attention … it will scream for attention, that's how ferocious this color is on a car like the Murciélago … even more so in the LP640 evolution. I have red the Verde Ithaca shade on the original Murciélago 6.2 model from AutoArt isn't the same shade as this one … I don't own the 6.2 in green so I can't compare.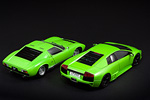 I do have the Gallardo LP550-2 Valentino Balboni special edition in Verde Ithaca, and that's is exactly the same shade, I also saw photos of the LP670-4 Super Veloce in Verde Sandag next to this LP640 and I must admit it comes close, do note however the Verde Ithaca is a metallic shade, the Verde Sandag is a flat paint with a glossy top coat … so I decided to put this new Murciélago next to the Miura SV made by Kyosho … in green, the latter also being a flat paint, no metallic, and sure there is a slight difference in hue … but it is small, so I think I now have an idea how the LP670-4 Super Veloce in Verde Sandag looks like … I did hear AutoArt will be releasing the Super Veloce in Verde Ithaca in 2012, so I'll wait for that one.
But now back to this LP640 made by AutoArt, what is there more to say that hasn't been said about the orange or yellow one we also own … all the details are the same, there are no color coded brake calipers, the wheels are also black on this one … and there are big license plates on it, that leave two holes when removed we've learnt.
Next will be the Nera Aldebaran shade on this model … and being black on the outside, black on the inside and rolling on black wheels, it will be one intimidating car … in all honesty I must admit I prefer the orange shade over the yellow one, but that's my personal taste so you should be deciding for yourself which shade to add to your collection … but I can advise you to get at least one of these 1/18 AutoArt made Murciélago LP640.
So am I crazy getting all four shades AutoArt released on this new Raging Bull model ? Probably yes I guess, but if they would release the LP640 in Grigio Telesto I would buy a fifth shade, after all this grey paint was used on the car unveiled at Geneva and featured in the official press release kit … fortunately we also have the Norev made LP640 … both in grey and in white, which aren't too bad, not at the same level as this new AutoArt model, but still very nice … and being the only grey painted LP640 on the market, the Norev is a must have for me too.
our RATING
| | | |
| --- | --- | --- |
| Overall rating | | 8/10 |
Original price : € 105