Collecting scale models is often a game of pure luck, sometimes helped by fellow collectors, so when I saw a post on Facebook by a good friend mentioning a new Lamborghini model I wasn't even aware there would be a 1/18 scale model, I had to think about it for an hour or so as it isn't the cheapest out there, but being limited to just 25 units, and offered in the launch livery, I just had to find a way to be able to afford it, and ordered it online, straight from the manufacturer's shop.
We're talking about the Lamborghini SC63, the Squadra Corse 63 LMDh race car that will be entering the 2024 Endurance Championships, more importantly, the famous 24 Hours of Le Mans in France and the 24 hours of Daytona in the United States, and while this is a Ligier monocoque, the outside styling and powertrain are a Lamborghini development, the latter being a 3.8-Liter twin-turbo 90° V8 hybrid with rear-wheel drive.
There are parts of the exterior that have been specified in the rulebook, like the size of the cabin and the main 'look', but other than that Centro Style was free to design a true Lamborghini Le Mans racer, which explains the front and rear Y-shaped signature look we've become accustomed to from Sant'Agata.
The Lamborghini SC63 will race in the LMDh class, which restricts power output to 500kW(680 CV) and while the gearbox itself has to be the same for all LMDh entries, the gear ratios and limited slip differentials can be bespoke to this Lamborghini, note that overall weight is just 1,030 kg.
While a test car has been spotted on the track running completely black, the actual race cars will come with a livery very similar to the launch specifications: the body will be finished in Verde Mantis green, with a black Nero Noctis strip over the cabin, front hood, carbon diffuser, rear fin, and wing, naturally the Italian Tricolore colors will be fitted too.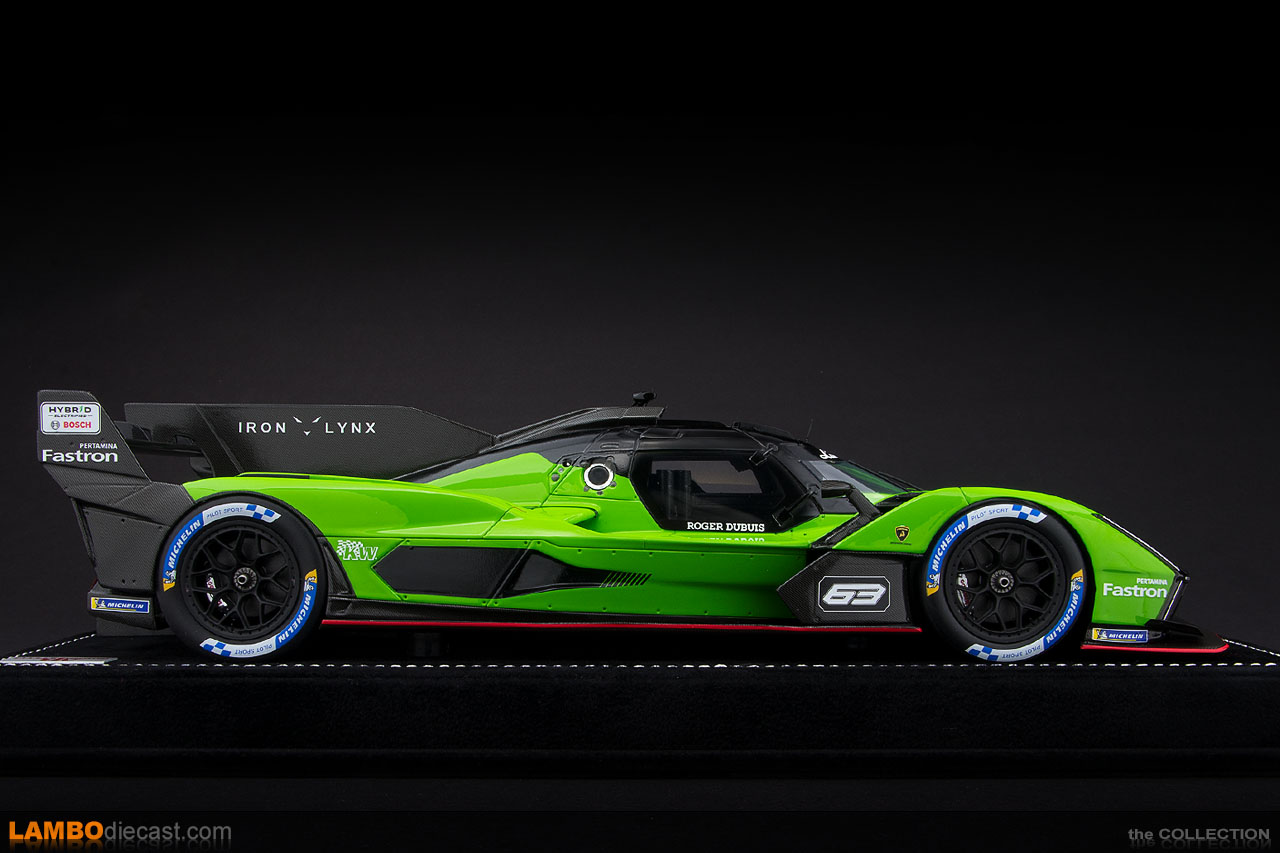 So back to this 1/18 scale model made by MR, as mentioned earlier, this model was only made available in the official MR online store, and furthermore, just 25 units would be made, so you had to make up your mind quickly as they sold out in a matter of hours. If I was the sixth person to order one or not, I don't really know, but I did get the #06/25 only a few days later, delivered by FedEx straight from Italy.
It is a typical MR sealed model for sure, comes in the traditional black box with MR and Lamborghini Raging Bull logo, and sits on a classic black plinth with a plexiglass dust cover, things were are used to from MR, but what does seem odd is the fact they've put it off-center width-wise on the plinth to put the models's name alongside, now that's something I haven't seen before from MR.
Being a race car you can hardly call it a beautiful car, I have put this model next to the Lamborghini Essenza SCV12 from MR in the green livery, and I still think the latter is the better-looking model, but that doesn't mean the SC63 isn't an impressive model, and I couldn't be happier to have been able to add it to the collection.
Originally released in October 2023.
our RATING
Exterior
9/10
Interior
7/10
Engine
Not visible
Accuracy
9/10
Overall rating
9/10
Original price on October 30, 2023 : € 389