About two years ago, I set out to add a rather special model to the collection, the 1/18 scale Lamborghini Huracan LP610-4 made by Kyosho, but not the ones from their Ousia series, the sealed diecast models which sold for around €99 when new, instead I was specifically looking for the 1/18 scale Kyosho resin model, the high-end version of the Huracan they made in a collaboration with FrontiArt.
At one point in time, Kyosho teamed up with FrontiArt and created some amazing €499 models on a 1/18 scale, as far as I know, they did two shades on the Huracan and a single version of the Lamborghini Veneno, all sealed resin, and extremely rare these days, two years ago I managed to buy the yellow metallic Huracan LP610-4 from a collector who was selling part of his models, paid just €245 for it at that time, a steal in my book as these are truly stunning models, right up there with MR in terms of quality.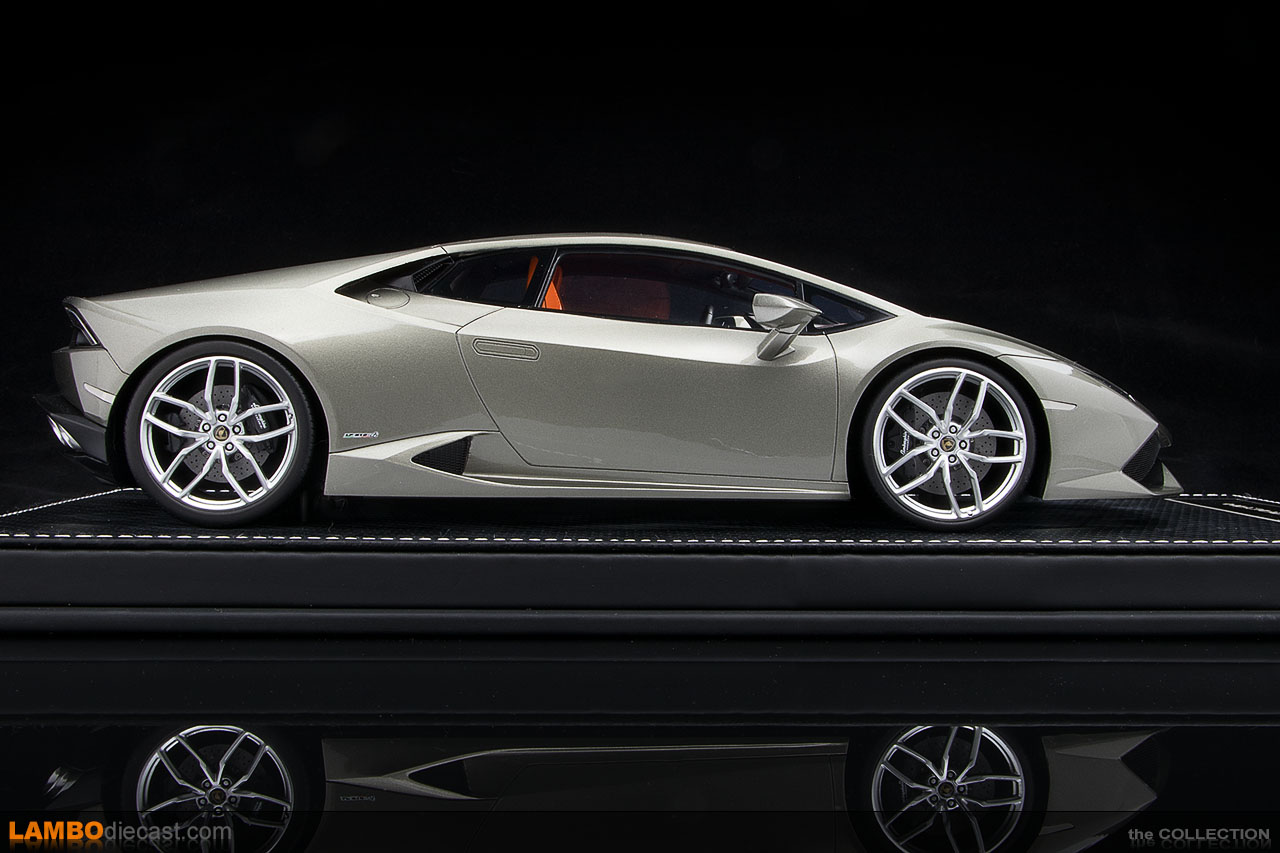 Fast forward to 2023, and I notice a listing on eBay for the grey metallic version of the Kyosho/FrontiArt Lamborghini Huracan LP610-4, the one I wanted to add all along, but at €499 I just couldn't justify adding another Huracan into my collection, and the reason why I really wanted this bright metallic one was the interior ... while the yellow one came with a very nice two-tone yellow and black interior, this grey metallic one had a stunning all-orange interior.
This time the listing was an auction, and I put in an elevated bid because let's face it, this is a stunning-looking model in this specific color combination ... and when the auction ended I was the high-bidder, at just €120, I couldn't be happier.
I now own both 1/18 scale high-end Kyosho-made Lamborghini Huracan LP610-4 models they once released, now I have to keep an eye out for the Lamborghini Veneno from this series, just to have all three of the Kyosho high-end sealed resin models.
our RATING
| | | |
| --- | --- | --- |
| Exterior | | 9/10 |
| Interior | | 7/10 |
| Engine | | 7/10 |
| Accuracy | | 9/10 |
| Overall rating | | 8/10 |
Original price on May 3, 2023 : € 120