To be honest, I wasn't really looking to add this model to my collection, I knew it existed, but I wasn't sure it would be a worthwhile investment, more importantly, because these usually get listed at €499 apiece, and that's a lot of money for a sealed resin model of a Lamborghini Huracan that isn't too different to several 1/18 scale models I already had in my collection.
This is the high-end Kyosho sealed resin 1/18 scale model of the original Lamborghini Huracan LP610-4 version finished in Giallo Midas over a two-tone black and yellow interior, the Bicolore Sportivo version, with inverted stitching.
Not too many of these models have been built, and they don't come up for sale too often, some might call these a limited edition, but there is no serial number or a certificate with it as far as I know ... or mine just didn't have it, which could be possible as I paid very little for this one in comparison with others listed on eBay.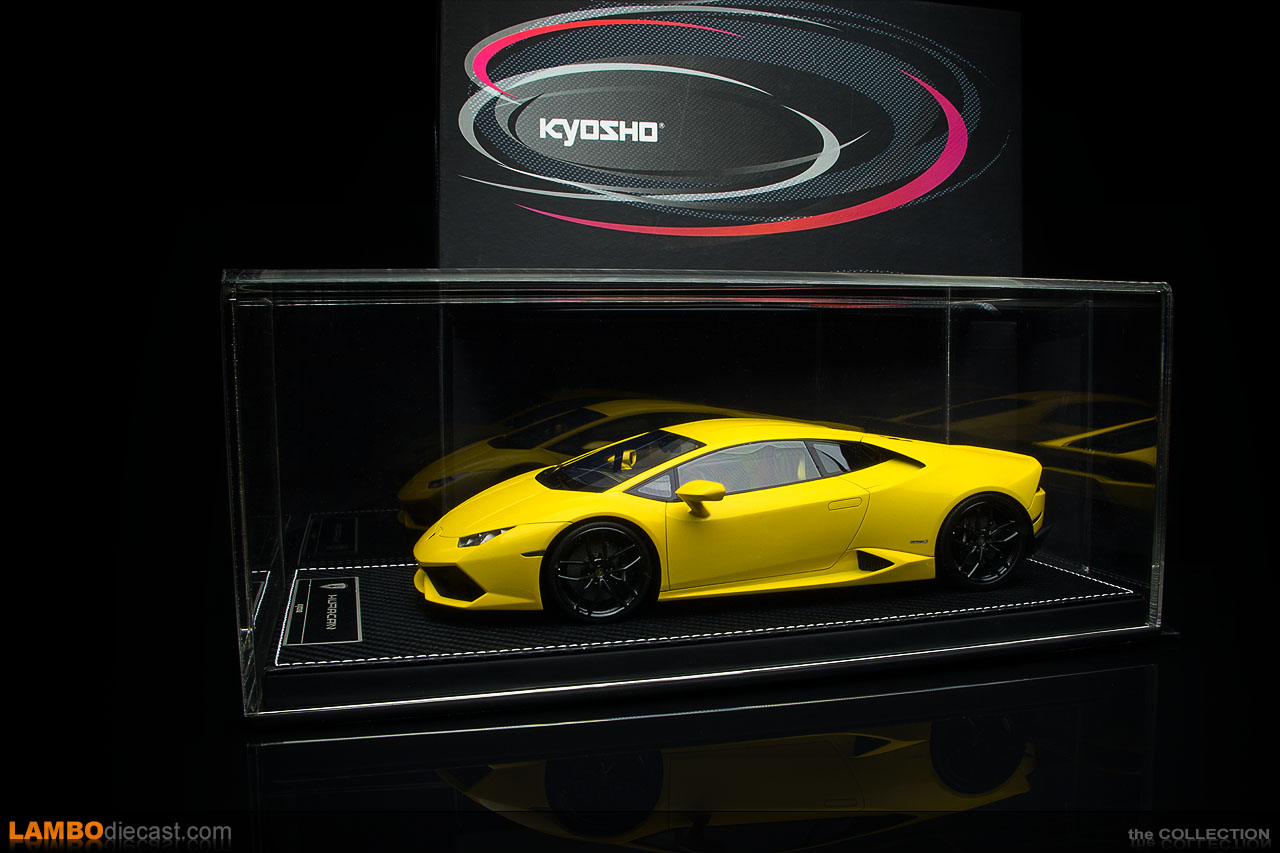 When I got interested in this model I did a quick eBay search, a few of the grey metallic showed up, all at €499, only two yellow were listed at that time, one at €599 and this one at €245 ... so I had a second look at the listing, it seemed ok, it did say 1/18, but the photos didn't show the display cover nor the box ... so as usual I wasn't too sure about this one, if it sounds too good to be true, it usually is.
I contacted the seller, he sent me photos of the display and the box, it all seemed fine, so I got it from eBay, used PayPal to have some protection, as I still wasn't sure this would be true ... but the model arrived in a big box, very well packed, and in perfect condition apart from a crease on the outer box, but I'm fine with that, this is AUTOart money for a model that's usually at least twice as expensive.
This model isn't made by Kyosho, but rather by FrontiArt for Kyosho, and that's also mentioned on the box, the blue and red FrontiArt logo is present, but the main brand is Kyosho, and as mentioned there are two models, this yellow metallic one and a rather nice grey metallic over orange or red version (KY-J004G), perhaps someday I might add that one too as it does look very nice, but I couldn't resist the deal on this yellow, despite already owning several yellow 1/18 scale Huracan.
This model can't be compared to the yellow Kyosho Ousia version mind you, the Ousia is intended for a different market segment, they are very nice for the money, but this FrontiArt/Kyosho version is on MR level, at least, if not even better ... it's not at a D&G level, however, let's not give it too much credit.
Also, keep in mind this model has been released a few years ago, I'm not sure exactly when, but I remember seeing these shortly after the real car was unveiled, and that was early 2014 in Geneva, so my guess is these FrontiArt/Kyosho arrive in Europe by 2015, but I've never seen them in any of the shops I frequent, so despite not being numbered, these are quite rare indeed.
The scale model
The paint finish on this model is extremely nice, the pearl metallic flakes aren't too big which can happen on scale models, but this one is done very nicely, even gloss over the entire body and no obvious flaws or dust in the topcoat, so that's a plus already.
While the Ousia version features silver-finished Mimas wheels, this high-end version comes with glossy black wheels, both look good, but on the latter, the rims and tires are a lot better detailed, and they even have air valves fitted while the disc brakes really look like carbon-ceramic units ... personally, I would have preferred yellow calipers, but you can't win them all, even the yellow AUTOart version of the Huracan has black wheels on black brake calipers.
On the front bumper, rear diffuser, side intakes, and underneath the taillights, this FrontiArt/Kyosho version comes with metal grilles, in the correct hexagon form too, just the small intake behind the side windows is a sealed unit, which is a pity they didn't put a grille in there too, but overall the exterior looks amazing.
The headlights and taillights look near perfect and judging from the clear lens sidelights, this is a Euro-specifications model of the Lamborghini Huracan LP610-4, if you look closely at the exhausts you'll notice that not only do they look real, there is even an inner tube inside them, exactly as seen on the real car with the factory original exhaust.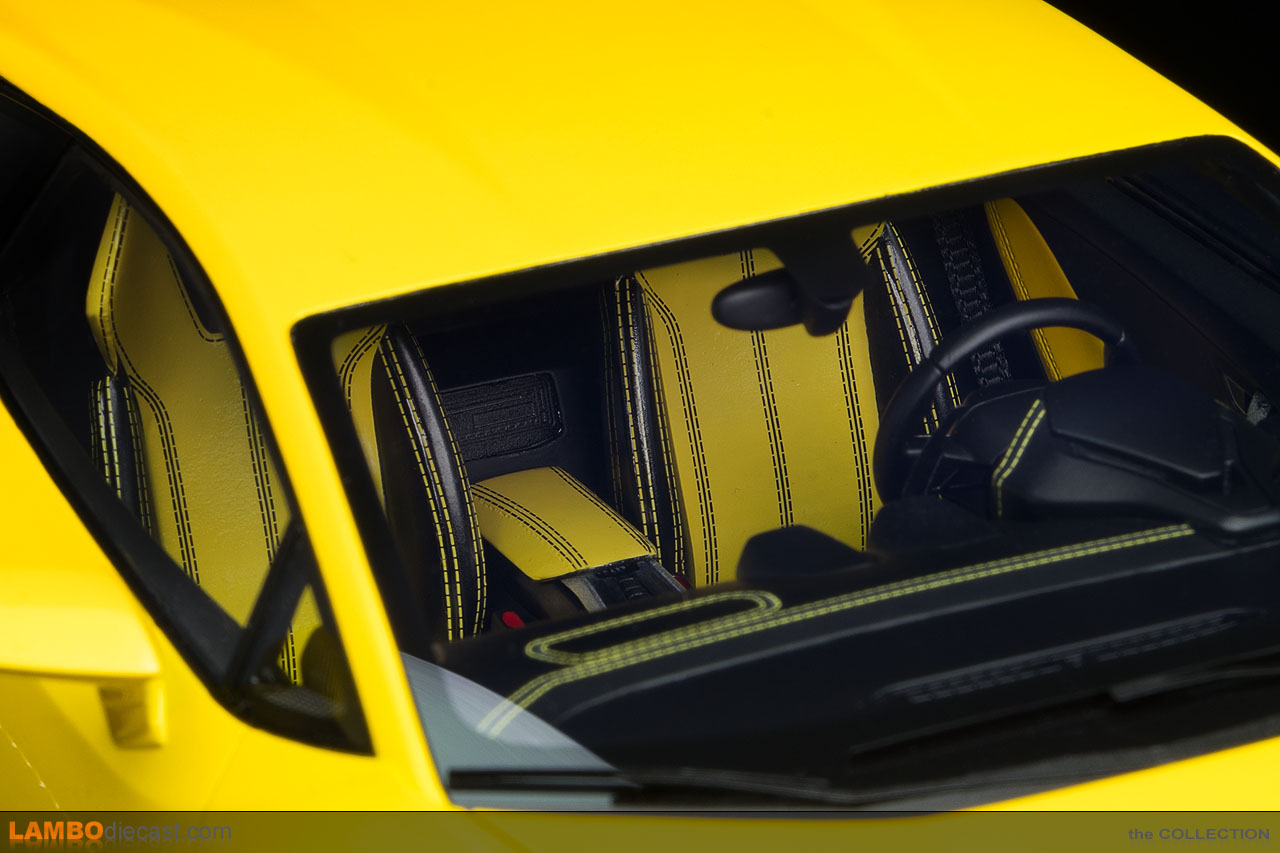 And then you glance inside this model to admire that two-tone Bicolore Sportivo interior in Nero Ade and Giallo Taurus ... if you look really closely you'll even notice they fitted 'inverted stitching' on this model, which means on black parts there is yellow stitching while on the yellow parts there is black stitching, that's an expensive option in real life.
I can't happen but compare this model to my Kyosho Ousia model and to the AUTOart model I recently added, when new the Ousia set me back €70, while the AUTOart I didn't add until it was listed at a serious discount a year ago for only €90 (the normal price was €199). The Ousia version comes with a plain black interior that doesn't even have seat belts, the AUTOart on the other hand comes with a Bicolore Elegante interior in Giallo Taurus, this means the entire seat is yellow, which I don't like too much ... that's another reason I got this FrontiArt/Kyosho version as I love this two-tone interior.
I admit the stitching pattern is a bit coarse on this model, they could have used a finer 'stitch', but nonetheless, it looks really nice, if you look at the central console, it even shows the lettering on the buttons, and this model does come with black cloth seatbelts on the interior, this is a beautiful model overall and I have no regrets finally adding this to my collection.
our RATING
| | | |
| --- | --- | --- |
| Exterior | | 9/10 |
| Interior | | 7/10 |
| Engine | | 7/10 |
| Accuracy | | 9/10 |
| Overall rating | | 8/10 |
Original price on June 15, 2021 : € 245