We all know the Lamborghini Huracán STO is the wildest street-legal version of the V10 in the lineup to date, the Tecnica might have the same amount of horsepower, but the exterior has been seriously detuned from the race-inspired STO, or Super Trofeo Omologata, and when Lamborghini unveiled this road version of the Super Trofeo race car, they did so in a very special Blu Laufey with Arancio details, and while many owners ordered their STO in some rather questionable color schemes, I rather like the blue and orange look.
So when I found out MR would be releasing a 1/18 scale model of the Huracán STO I got my order in very quickly, but it took ages for that one to finally arrive, but it did, and she's a stunning model, and so far the only 1/18 model of this top-of-the-line V10 from Sant'Agata ... until I saw a listing for a Rastar version, and more importantly, the latter had opening doors, a removeable engine cover ... and the Cofango at the front could also be opened.
The only issue, most listings on eBay came from Asia, and they were rather expensive, even before I took into account the additional import costs, so I turned to AliExpress, where I found this one, complete with box, which is important as you can also order it without a box for a little less money.
So I had been enjoying my €400 MR made Lamborghini Huracán STO for a while before this Raster arrived, and initially I was quite happy with it, even for a much lower price, the Rastar one didn't look too bad, until a took a closer look.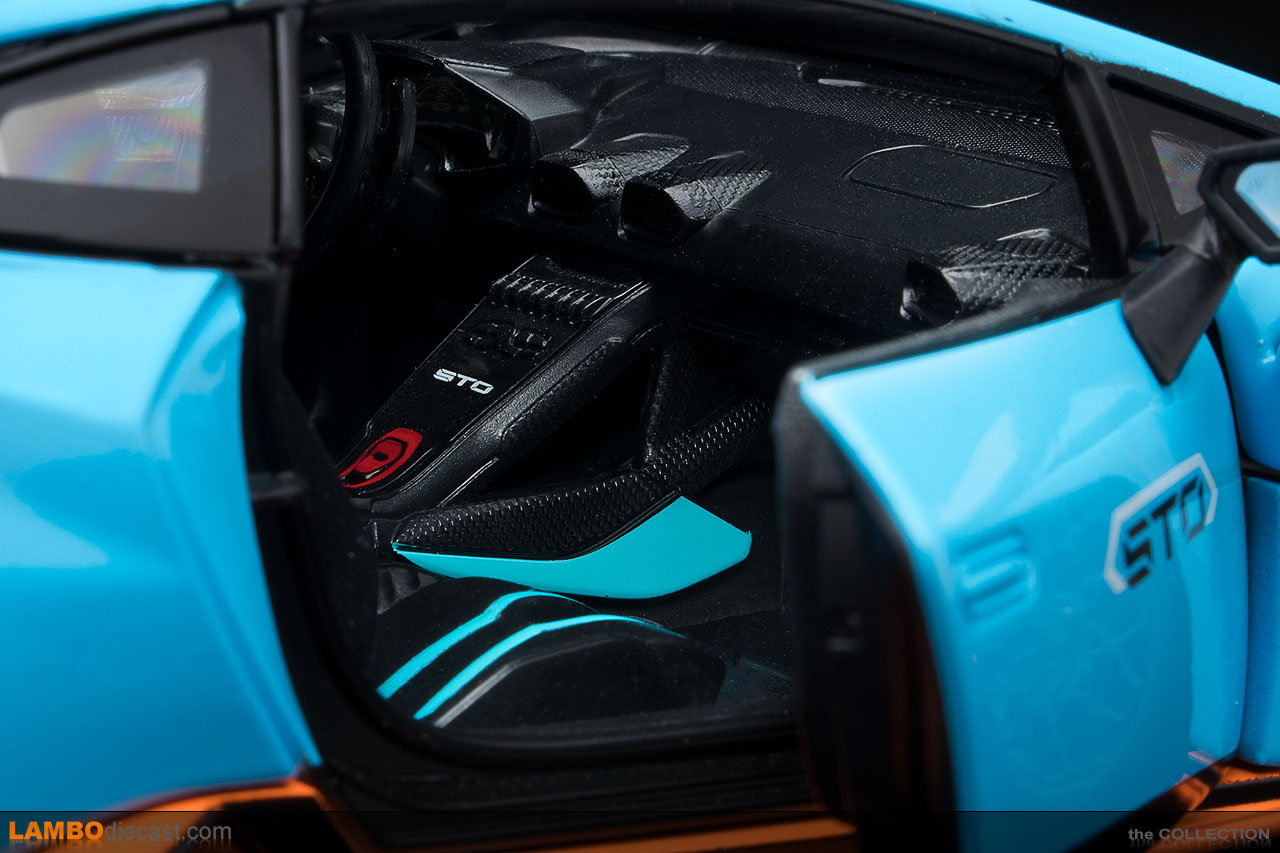 I'll let you take a look at the photos and make up your mind on your own, but from where I'm standing this is an expensive toy, not at the level of current Bburago models in the same price range, but more at where Bburago was about a decade or two ago, the Rastar is just rough, with paint defects, dust specles in the paint, glossy plastic on the interior, and not too much detail on the engine nor the wheels.
But you have to keep in mind it does look decent on the shelve with the doors and the Cofango open, just don't come too close to the model, that's all, other than that I'm still happy I've been able to add it to the collection, it did cost me €80 in the end, but I've seen these being listed on eBay for €130 at the time of writing, and that's just way too much for a model of this level, it should be €50 at most if you ask me.
Originally released in November 2022.
our RATING
| | | |
| --- | --- | --- |
| Exterior | | 8/10 |
| Interior | | 7/10 |
| Engine | | 7/10 |
| Accuracy | | 8/10 |
| Overall rating | | 7/10 |
Original price on January 13, 2023 : € 80