I rather like the 1/18 scale metal kits Bburago sometimes releases on their models, so when their Sian became a kit, and it was a special shade, different from the regular production models, I just had to add it to the collection, at €55 I did think it was bit expensive, but collecting Lamborghini scale models is an expensive hobby anyway, so I went for it, and stored the box as I wanted to keep it 'new'.
That was November 2022, mid-2023 however I noticed this kit went on sale for €30, so me, being me, I ordered a second one, which came shrink-wrapped in plastic, so I stored this one and built the first one I got last year.
I have to admit one thing here, granted, it has been a while since I've built these metal kits, but this Sian one doesn't come with a manual, it's just the back of the box that shows an exploded view of the model with all parts and numbers you'll have to follow, it's all a bit unclear at first sight and it will take some time to get it all right, but in the end, it's a simple click together affair, the only screws are needed to fix the bottom plate to the bodywork, that's it.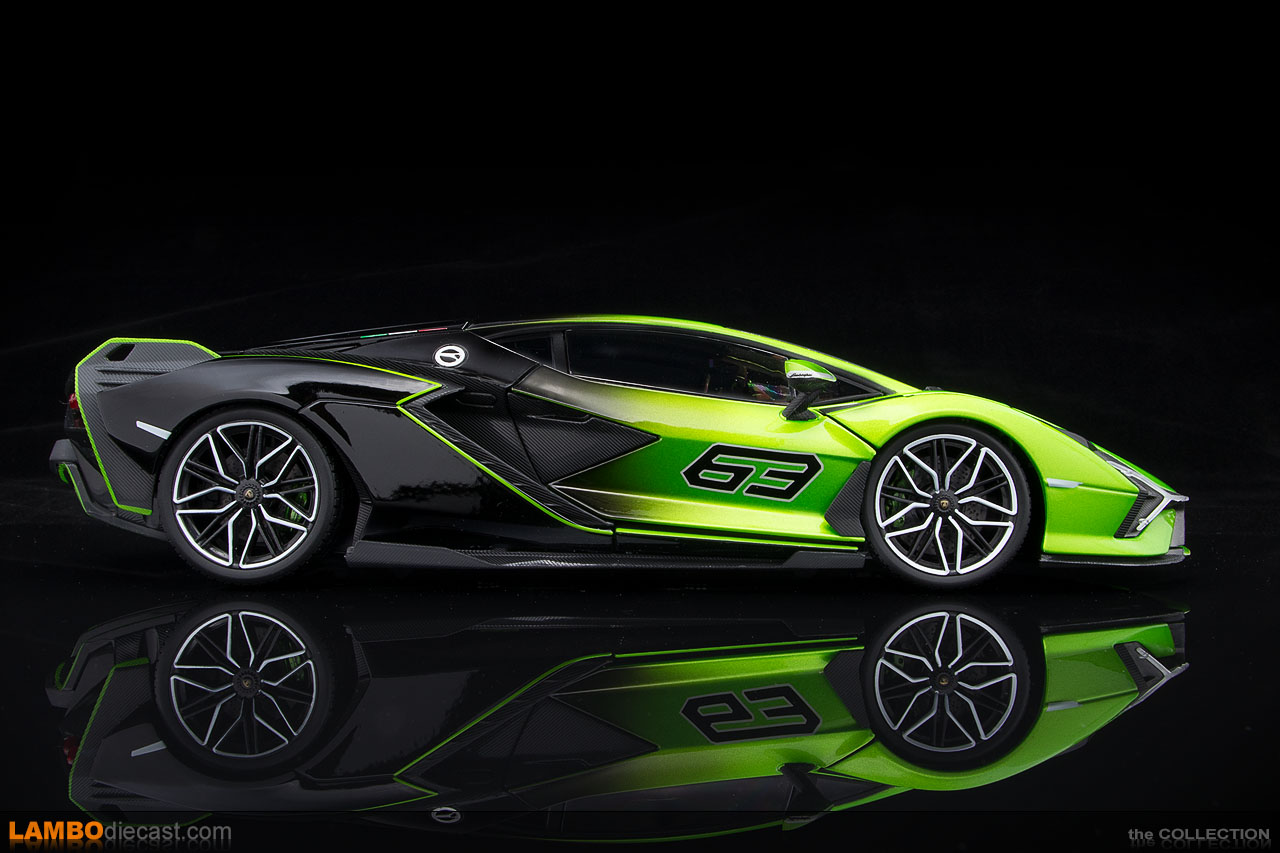 The result is a rather nice looking 1/18 scale Lamborghini Sian in a very special gradient bodywork, running from a bright green metallic into a solid black, this metal kit comes with side windows and green color-coded brake calipers behind the 'diamond polished' black wheels, all in all, a very nice model, and I do like the large '63' on the doors to commemorate the fact that Automobili Lamborghini SpA was founded in 1963.
One thing that I would have preferred differently was the interior, it is the same brown, or Terra, shade as we've seen inside the other shades, I think it would have looked so much better with green details on the inside, but that's an easy fix if I would go down the route of customizing this model.
Especially at the discounted price at the time of writing of just €30, this Bburago 1/18 scale metal kit for the Lamborghini Sian FKP37 is a nice value for money, considering the MR version is at least 10 times the price if you can even find one, and we haven't seen any announcement from AUTOart yet on when their Sian will be available.
Originally released in October 2022.
our RATING
| | | |
| --- | --- | --- |
| Exterior | | 7/10 |
| Interior | | 6/10 |
| Engine | | 6/10 |
| Accuracy | | 8/10 |
| Overall rating | | 7/10 |
Original price on November 17, 2022 : € 55