This Lamborghini Murciélago LP670-4 Super Veloce from AUTOart in what they call Verde Sandag comes with a bit of personal history in my case, I have only just been able to add it to the collection ... again.
Let me explain, back in 2012, when AUTOart item 74614 was released, I bought it as the eighth, and at that time final shade on the Murciélago Super Veloce from AUTOart, and paid €90 for it, sadly a while later I was forced to sell some models because I needed the money, among the ones that left my collection were the Rosso Targa Murcielago Super Veloce and this Verde Sandag one ... I almost immediately regretted selling the red one, but it was necessary at that time.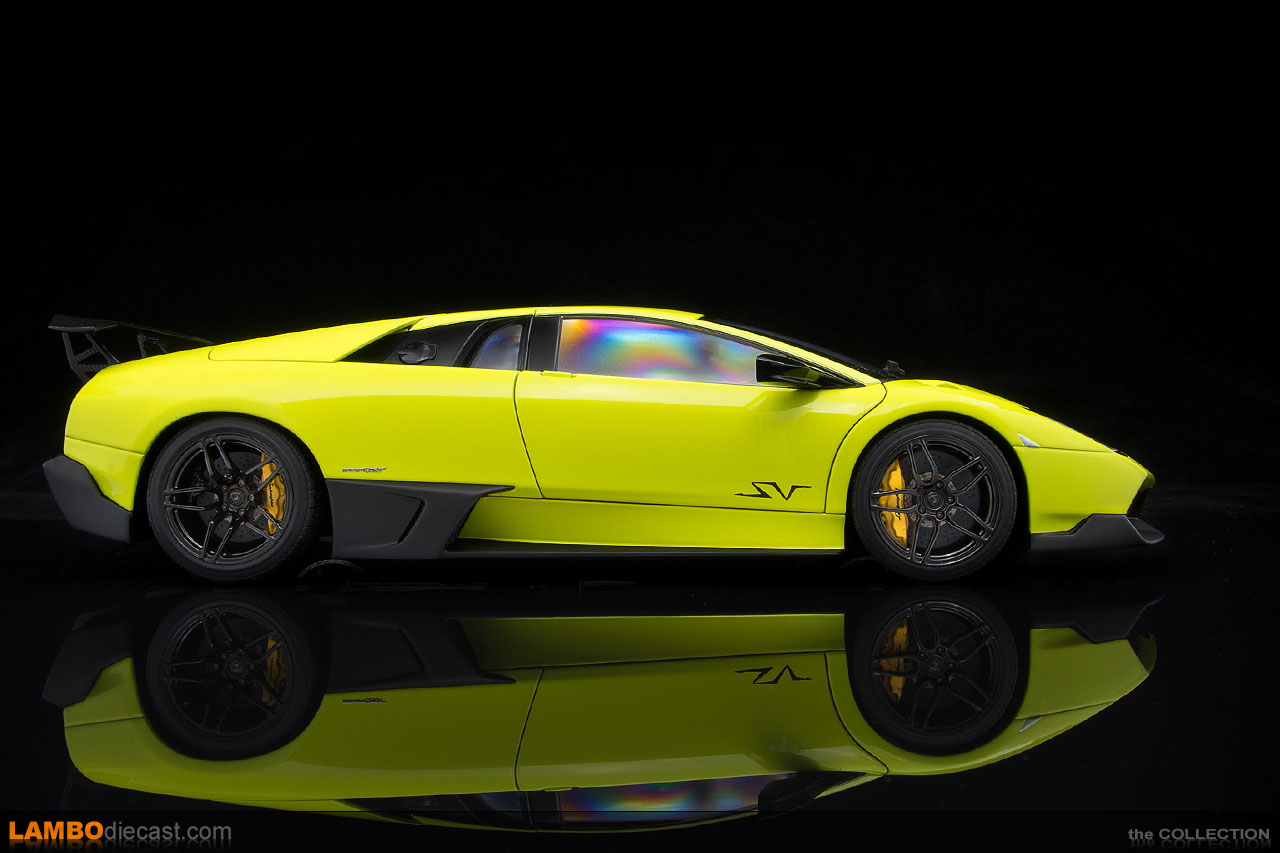 I managed to be able to afford to add AUTOart models to the collection again, but it took me a while to find the Rosso Targa again (April 2019), and I continued completing the AUTOart series, but for some strange reason this Verde Sandag just didn't come up for sale a lot over the last few years, and in the end, it was the only one missing from my collection as I managed to complete the series with the Viola Ophelia and Verde Ithaca already, so I was at nine out of ten.
When I did find this original Verde Sandag on eBay, it was listed from a seller in the UK, and as we know, with Brexit, buying a model from the UK incurs a serious additional cost for me in mainland Europe, and it was almost €470 ... are you kidding me, I sold this model less than ten years ago for less than €100!
But what I found really killed the deal for me, apart from the stupendously high price, was the fact the previous owner had 'corrected' the side sills, remember the initial release on the Murciélago Super Veloce from AUTOart came with satin black on the top of the side sills, which is incorrect, they should be color-coded.
Many owners corrected this mistake by just using a small cotton swab with some alcohol or nail polish remover, and carefully removing the black paint, which AUTOart applied on top of the body color anyway ... but I wanted the exact same one I sold all that time ago, with the 'mistake' still in place, so the search continued.
Until late September 2022 when I finally found one just like it was released by AUTOart ten years earlier, with the all-black side sills still intact, inside the original box, which we all know are those terrible window boxes with the plastic frame that has a tendency to break ... listed as an auction, which I won with a €330 bid ... a lot of money considering these were €90 models in the past, but still within reason for this rare model.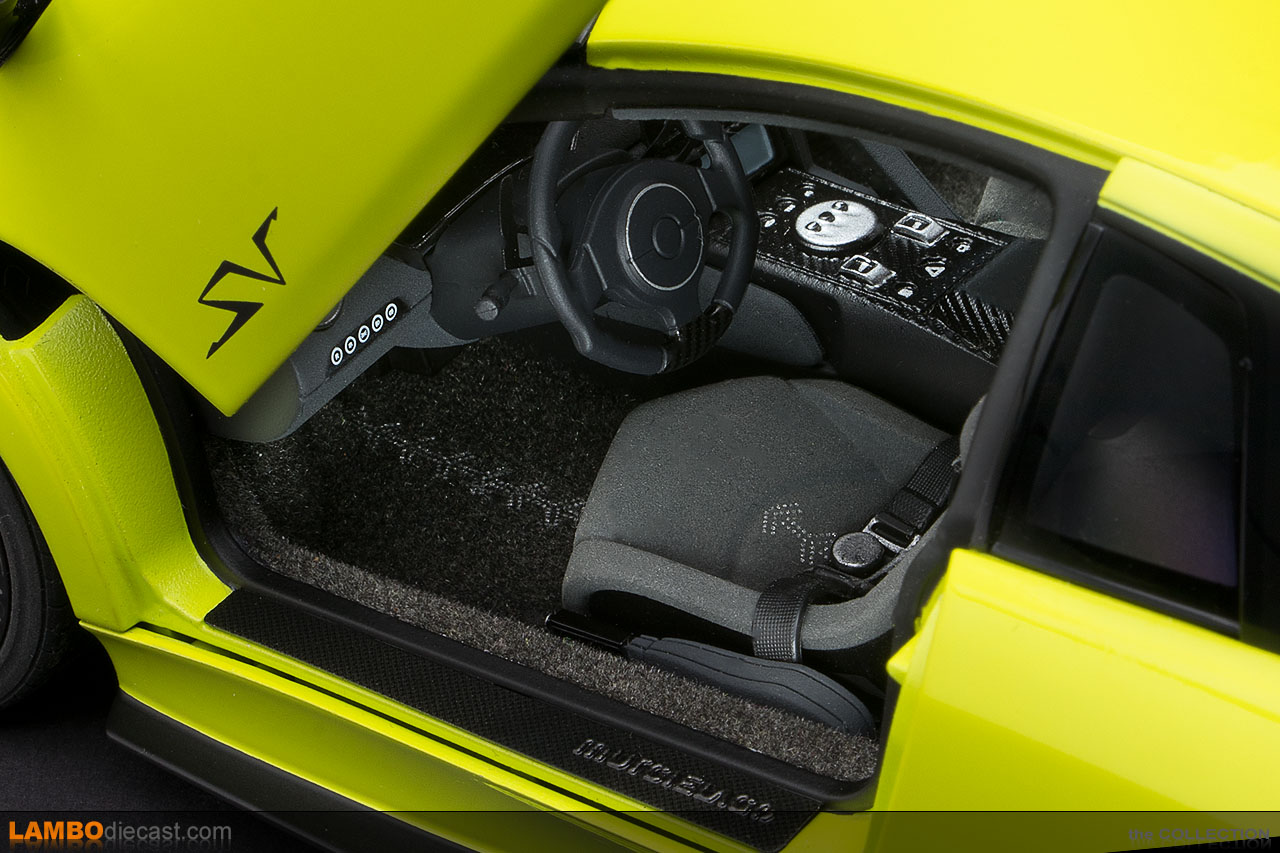 So after about a decade, I was finally able to complete the entire series AUTOart released on the Lamborghini Murciélago LP670-4 Super Veloce on a 1/18 scale, a model which by many is considered to be a masterpiece, even 10 years later, this model and the LP640 edition is highly-sought after today, and some shades demand €500 or more to add to the collection nowadays.
And let's face it, AUTOart was able to make a model like this, in diecast, with this kind of attention to detail, and near-perfection, back in 2012, the Alcantara on the seats looks amazing, the carbon-fiber looks good ... so if you really think about it, they didn't get a lot better over ten years, but we do get composite now instead, which is fine by me, but they are still expensive, but come to think about it, AUTOart 1/18 models have always been expensive for as long as I remember.
But let's talk about the color of this model, AUTOart released it as Verde Sandag, which is also written on the box, but there is no such color on the Lamborghini list, Verde Sandag does not exist in real life, and when AUTOart did two additional colors on this model, later on, Viola Ophelia and Verde Ithaca, they got it right, and the Verde Ithaca not only came with a large SV script above the rear wheel, but it was also a more correct, real shade.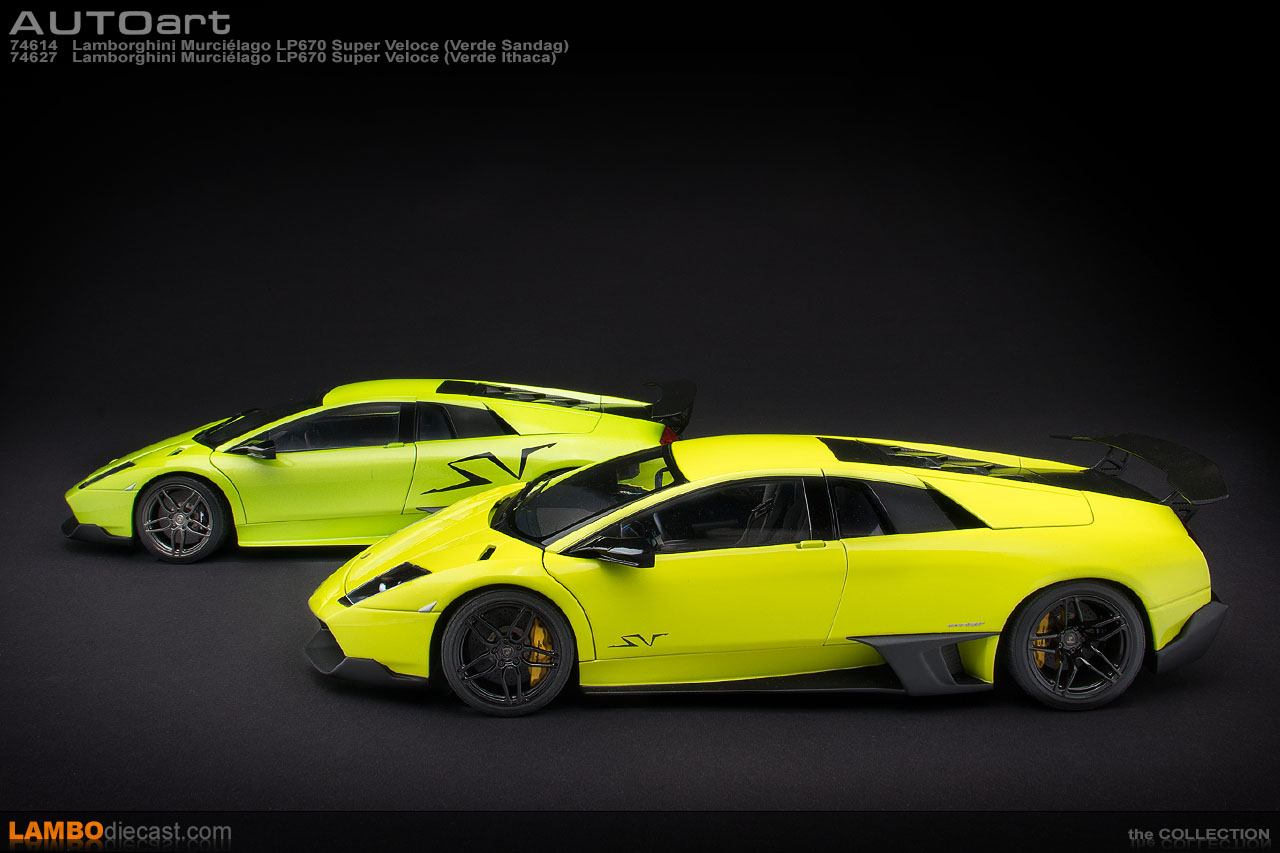 Many considered this Verde Sandag to be a mistake, a miswritten version of what should have been Verde Scandal, which does exist in real life, and which is a kind of 'pale' green shade on the car, but when putting this Murciélago Super Veloce next to the Aventador LP700-4 in Verde Scandal, it is still not the same shade.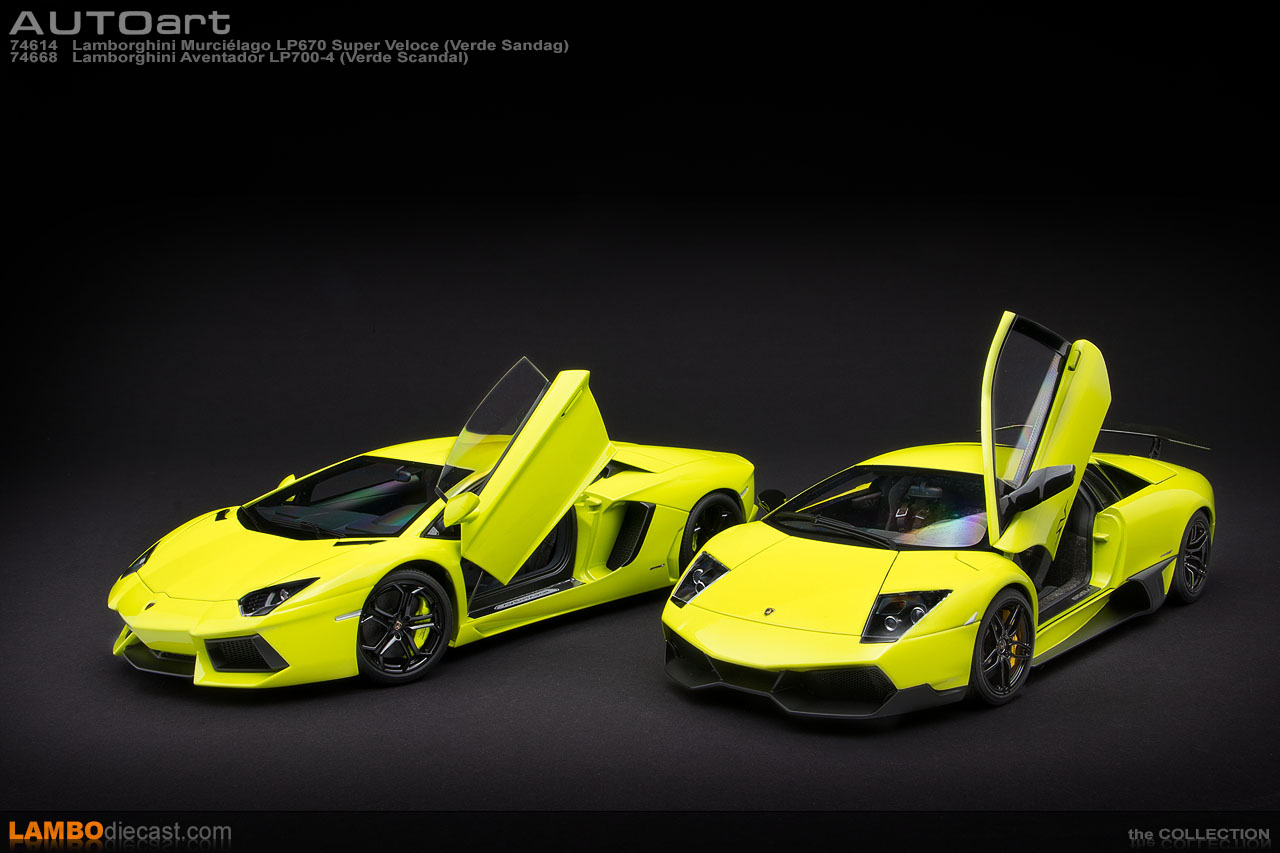 So whatever Verde Scandal is, and why AUTOart used it on this model remains a mystery, but the fact it looks good, comes with black wheels over yellow calipers, and the small SV on the door makes all the difference to me, and I just had to add it to the collection again to have all ten shades AUTOart released, and yes, I know some shades, like the turquoise, were re-released with the correct side sills, I'm quite happy with the ten different models I have today.
our RATING
| | | |
| --- | --- | --- |
| Exterior | | 9/10 |
| Interior | | 7/10 |
| Engine | | 8/10 |
| Accuracy | | 9/10 |
| Overall rating | | 9/10 |
Original price on September 29, 2022 : € 330