I have always been a fan of the Diablo, my interest in Lamborghini started with the Countach, I had several car posters on my bedroom walls growing up, but most of them featured the Lamborghini Countach, and when I started collecting scale models, the very first model I bought purely to display was a black Countach, in the early Nineties the Lamborghini Diablo replaced the Countach, and it was a totally different car, a lot smoother, rounder, compared to the angular Countach, which let's face it, was designed in the Seventies.
We had the Countach 25th Anniversary in 1988, by 1993 it was time to celebrate the 30th birthday of Automobili Lamborghini SpA which was founded back in 1963 by the late Ferruccio Lamborghini, who sadly passed away in February 1993, just two months before his 77th birthday, but his legacy in the automotive world lives on, decades later, unfortunately, he would never see the Diablo SE30 which was only introduced in September 1993, during an event called 'Lamborghini Day 3' at the factory in Sant'Agata.
To really make this model a true 'celebration' version, production would be limited to just 150 units, each of them with a serialized plaque behind the rear driver side window, from 1/150 up to 150/150, although there were a few prototypes, some of which ended up with customers too, and Lamborghini even created a bespoke color just for the Diablo SE30, for Special Edition 30 years, back in 1993 this shade was called Lambo Thirty, but today we know this color as Viola SE30, and this time no leather on the interior, but lightweight Alcantara, in blue for the presentation car.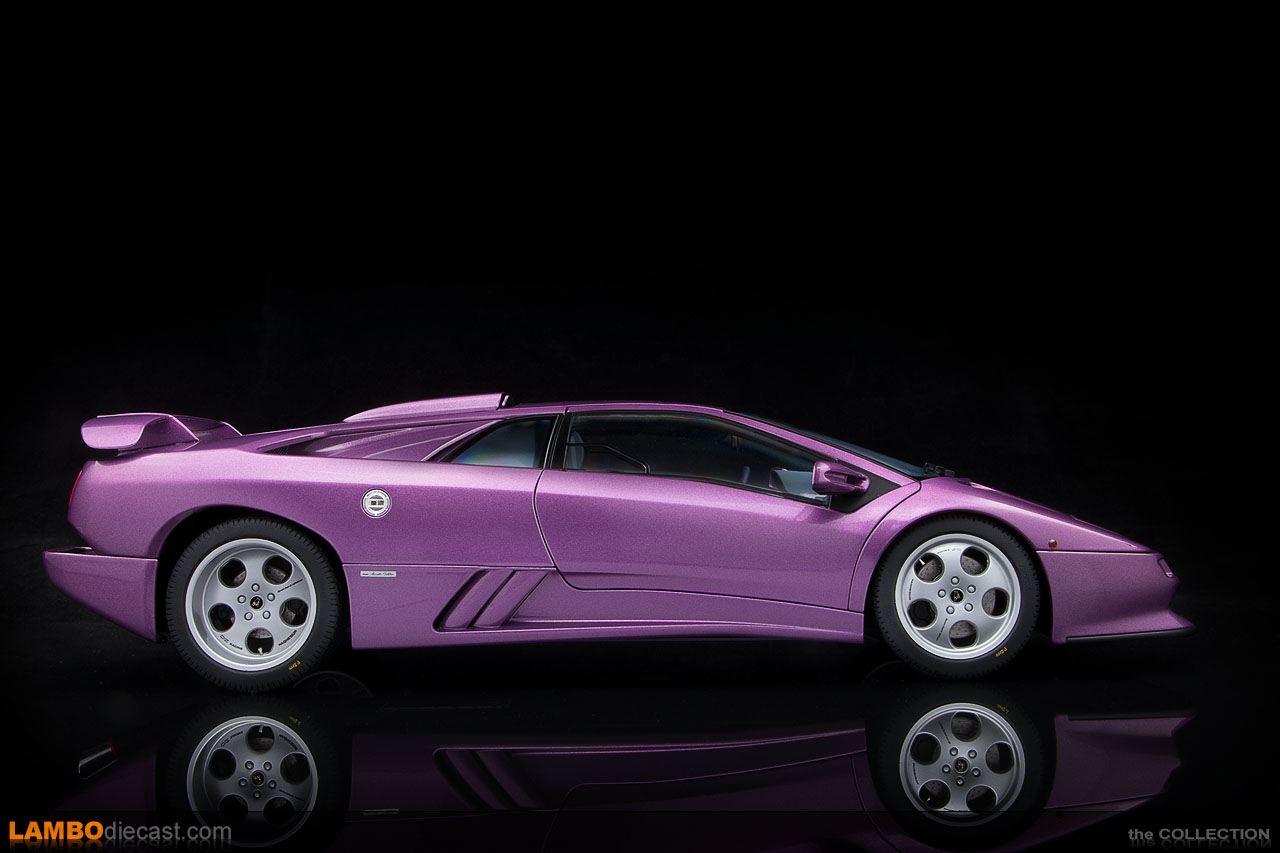 The Lamborghini Diablo SE30 also received a total redesign for the front and rear bumpers, different side sills with vertical fins, and a Miura inspired louvered engine cover, to save weight the interior boasted visible carbon fiber and the side windows normally had only a very small section at the lower that could be opened ... by turning a knob, the Diablo SE30 didn't even have power windows, although you could optionally get the full side windows, with power-operation.
Normally the Diablo SE30 came with lightweight Alcantara upholstery, but again, you could get leather as an option if you insisted, and while initially, the 1993 press kit only came with a very limited number of colors (Deep Metal Black, Titanium, Lambo Thirty, Fly Yellow, and Magic Red), you could ask for any shade possible with the Lamborghini Carte Blanche program, this was comparable to today's Ad Personam Studio.
By mid-1994 the Lamborghini Diablo SE30 production was started, and the first units were being delivered to their fortunate owners, but in 1995, Lamborghini had the bright idea to use this model as a basis for a BPR FIA GT racing car, so Lamborghini Engineering SpA developed the JOTA kit, a reference to the Miura Jota that used the J (pronounced as iota in Italian) for Appendix J in the racing handbook back in the Sixties, keep in mind that you could actually ask for a full race specs roll-over cage on the normal Diablo SE30.
Automobili Lamborghini SpA didn't want to invest a fortune to start their own racing team (today we have Squadra Corse), but they did want to offer the option to clients to acquire a factory-backed race car, something we would later see with the Diablo SVR and GTR, and today the Super Trofeo and GT3 cars, but in 1995 things were considerably different in Sant'Agata.
Rumor has it, in the end, a total of 28 JOTA kits were built, containing a redesigned engine cover with two large air scoops peaking above the roof pulling air onto a pressure plate that was mounted on top of the engine manifold, a complete JOTA modification also included a race exhaust with less back pressure ... more open, hence a lot louder, which made the Diablo SE30 JOTA illegal to drive on the open road, this was a track-only car back in the mid-Nineties.
The glorious V12 engine for the Diablo SE30 JOTA delivered an impressive 600 Bhp by reprogramming the ECU electronic injection system, and installing a pressure plate that required new gaskets for the intake plenums, lighter cranks, and different cams … the result was a racing engine for road use.
But not all of the 28 JOTA kits were fitted to a Diablo SE30 at the factory, by the time the kit became available we were already towards the end of the production of these 150 units so, this meant that only 12 or 14 Lamborghini Diablo SE30 JOTA were built as a JOTA on the Linea Diablo in Sant'Agata, the remaining units were retrofitted to SE30 that were already delivered to their owners, the factory retained two kits for spare parts at first.
I bought a 1/18 scale model of this very rare Lamborghini Diablo SE30 JOTA many years ago, made by Maisto, but let's face it, that one is just a glorified toy, there is no window frame on the doors and overall it just doesn't look too good, my first one was a darker shade of Lambo Thirty while later on, I added a second one in bright blue, similar to Blu Sirena in fact, and I know there was an AMP kit to convert an AUTOart Diablo into the SE30 version, but I never got around adding that one to the collection, they tend to demand a serious price, and actually building it just isn't one of my strong points.
So I was really happy when GT Spirit and Kyosho teamed up in 2017 to make a sealed resin 1/18 scale Lamborghini Diablo SE30 JOTA, the GTS was a metallic white while the Kyosho counterpart was supposed to be Viola 30SE, and while I did add both to my collection, neither was looking too good up close, unfortunately ... and then all of a sudden AUTOart made an announcement they would be releasing a series of new 1/18 scale Diablo models, including the SE30 and the SE30 JOTA.
Save to say I put my order in at once, and after the usual wait I can now say I received the first one in the series, the Viola SE30 Lamborghini Diablo SE30 JOTA complete with the blue Alcantara interior ... and AUTOart nailed it!
This is an amazing looking 1/18 scale model, taking into account we are talking about a car that is nearly 30 years old now, she still looks amazing, and apart from a few very small details, AUTOart recreated this limited edition very nicely, especially the difficult color, Viola SE30 or Lambo Thirty is a very special shade of violet, and apart from MR I haven't seen any other maker getting this close to the real hue.
And that also goes for the interior, when comparing this new AUTOart Diablo to the Kyosho version you immediately notice the difference in the interior, the AUTOart one looks like it tries to resemble the 'fluffy' feeling of Alcantara, the interior of the Kyosho just looks like cheap plastic.
But there is one error on these new Lamborghini Diablo models from AUTOart, I love how the headlights can pop up like on the real car, but the angle and design of the cover over the headlights is slightly wrong compared to the real car, and that's really a shame on an otherwise very correct scale replica ... still, that didn't keep me from getting the two other shades too, Balloon White and Titanio, but more on those two later.
Originally released in April 2022.
our RATING
| | | |
| --- | --- | --- |
| Exterior | | 10/10 |
| Interior | | 9/10 |
| Engine | | 9/10 |
| Accuracy | | 9/10 |
| Overall rating | | 9/10 |
Original price on April 7, 2022 : € 275