I wasn't really looking into adding this white Lamborghini Diablo SE30 Jota by GT Spirit to my collection, I bought the 30th Anniversary lavendar metallic Kyosho version when it was released, and that was enough for me, came with a serious windshield issue (remember) and being the actual factory show car shade with the blue interior it was the one to get for me personally.
A detailed description of the Lamborghini Diablo SE30 Jota was written in the review of the Kyosho version of this model ... the Diablo SE30 was created in 1993 to celebrate the 30th anniversary of the founding of Automobili Lamborghini SpA back in 1963, introduced at the factory to a select group of invited VIP and customer, the Diablo SE30 was shown in a stunning lavendar metallic shade over a blue Alcantara interior, complete with multi-point seat-belts.
Side windows were made of plastic now, only a very small section could be opened ... by turning a knob on the door panel, no electric windows on the Diablo SE30 (some were ordered with full size, glass side windows ... very rare these days), while a new front bumper, new side sills, a new rear bumper and an adjustable rear wing behind a newly designed engine cover covering gold finished manifolds ... as seen on the Huracan Performante now.
The Lamborghini Diablo SE30 production run was limited to only 150 units, power was increased to 525 bhp while overall weight compared to the regular Diablo was lowered by 125 kg ... the wheels were made from magnesium now while the bolts were lightweight titanium ... every little bit counts ... but you could get a very special option on the Diablo SE30 ... the JOTA kit.
The Lamborghini Diablo SE30 JOTA was created by Lamborghini Engineering SpA ... today that department has become the Squadra Corse today, they developed the JOTA kit to turn the Diablo SE30 into a BPR FIA GT race car, you could order a complete roll-over cage on the Diablo SE30 ... actually, the Diablo SE30 JOTA wasn't street legal on every market in the world because an open exhaust was standard with the JOTA kit.
In total 28 JOTA kits were made, only 12 of those were actually fitted onto brand new Diablo SE30 during their production ... a regular SE30 would be taken from the assembly line at Automobili Lamborghini SpA and be transported to Lamborghini Engineering SpA to have the JOTA kit installed. 14 kits were available to dealers worldwide for installation on customer cars that were already sold, effectively retrofitting a Diablo SE30 into a JOTA specs car, complete with the changed manifolds, the large pressure plate and naturally that special engine cover with the dual air intakes.
That leaves 2 kits unaccounted for ... they remained at the factory as spares ... but rumor has it one of these kits has been sold to a customer in the United States and it was also fitted to a Diablo SE30 ... so in total 27 Diablo SE30 JOTA exist in the world (or existed, as at least two have been totaled I've been told, one of them has been rebuilt as a Diablo GT replica).
The scale model
Just about all the details I mentioned in my review of the Kyosho Diablo SE30 JOTA also apply to this metallic white GT Spirit release, the wheels look odd, the intakes are just painted black and don't have any opening, the rear wing looks glued on by a kid ... but one thing looks a lot better on this white version: the interior.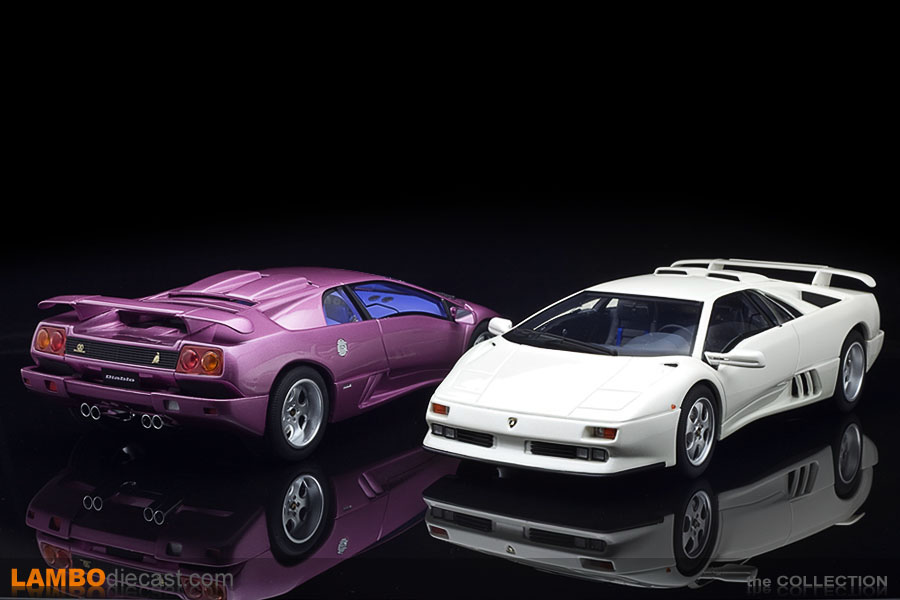 That's right, this GT Spirit version comes with a black interior, now that's a challenge to photograph, but it looks a lot better than the light blue interior inside the Kyosho version ... that blue should be Alcantara, and it just looks like cheap plastic to be honest, but in this version it's black, and you could argue this one has a smooth leather upholstery (which was available on the US market for instance), add in the blue seat belts and it just looks so much better.
I also did a quick search on the Lamborghini registry, and in real life there are two Lamborghini Diablo SE30 JOTA that were finished in white, the nr 137 which was located in Japan at the time of writing, and the nr 150, yes, the very last Diablo SE30 ever built came with the JOTA kit straight from the factory and was sold to Saudi Arabia ... sadly this latter one had a burgundy Alcantara interior ... so it's not this one GT Spirit wanted to mimic.
Bottom line
So should you add this white Diablo SE30 JOTA to your collection?
It's a difficult question, as I said, I wasn't really looking to add it to my collection, but when I saw a listing for it at a serious discount I just ordered it anyway, and I rather like a Lamborghini in white ... this Diablo SE30 JOTA is actually a pearl metallic white so that's even better, in the end I really like this model, sure I would always go for the initial press release shade, but this white metallic is a very nice addition anyway, surely at the discounted prices these are listed today.
One interesting note ... AUTOart will be releasing new Diablo models in the near future, so you might want to wait it out for a full-opening version of the 'Italian Devil' from Sant'Agata ... but somehow I think the AUTOart Diablo will be more expensive, and now I can already admire two shades on the Diablo SE30 while I wait for the AUTOart one to be available.
our RATING
| | | |
| --- | --- | --- |
| Exterior | | 6/10 |
| Interior | | 7/10 |
| Engine | | 5/10 |
| Accuracy | | 7/10 |
| Overall rating | | 6/10 |
Original price on March 31, 2019 : € 81