If you would ask me about my favorite model in the Lamborghini Diablo range I would probably go for the 1999 Diablo SV with the fixed headlights, rear-wheel drive, and two air scoops above the roof, I love that design, and it is still reasonably affordable at the time of writing, but we all know the ultimate Diablo street-legal model is the limited edition GT, but she has become so valuable now it would almost be a risk to take her out of the garage.
Unveiled at the 1999 Geneva Motor Show, the Diablo GT was a road-legal version of the GTR race car Lamborghini used in their prologue to the Super Trofeo series, only 80 were intended to be built, in the end, a total of 83 left Sant'Agata, but not all have survived the last two decades, and with such small numbers made, values have skyrocketed.
The MSRP back in 1999 was a massive $300,000 ... but here comes the kicker, the Diablo GT wasn't street-legal in the US, some were imported through the grey import circuit, but officially none of these stunning Diablo were meant to be sold in the US.
The scale model
I bought the orange metallic 1/18 Lamborghini Diablo GT from Kyosho the moment these came out, another partnership between GT Spirit and Kyosho, with GT Spirit releasing a silver metallic version initially, I added both back in 2018 already, and I was quite happy with that, but a little later GT Spirit decided to do a re-run of their Diablo GT, this time finished in Lime Green, probably to mimic the official Lamborghini Verde Scandal shade ... I didn't buy one at the time.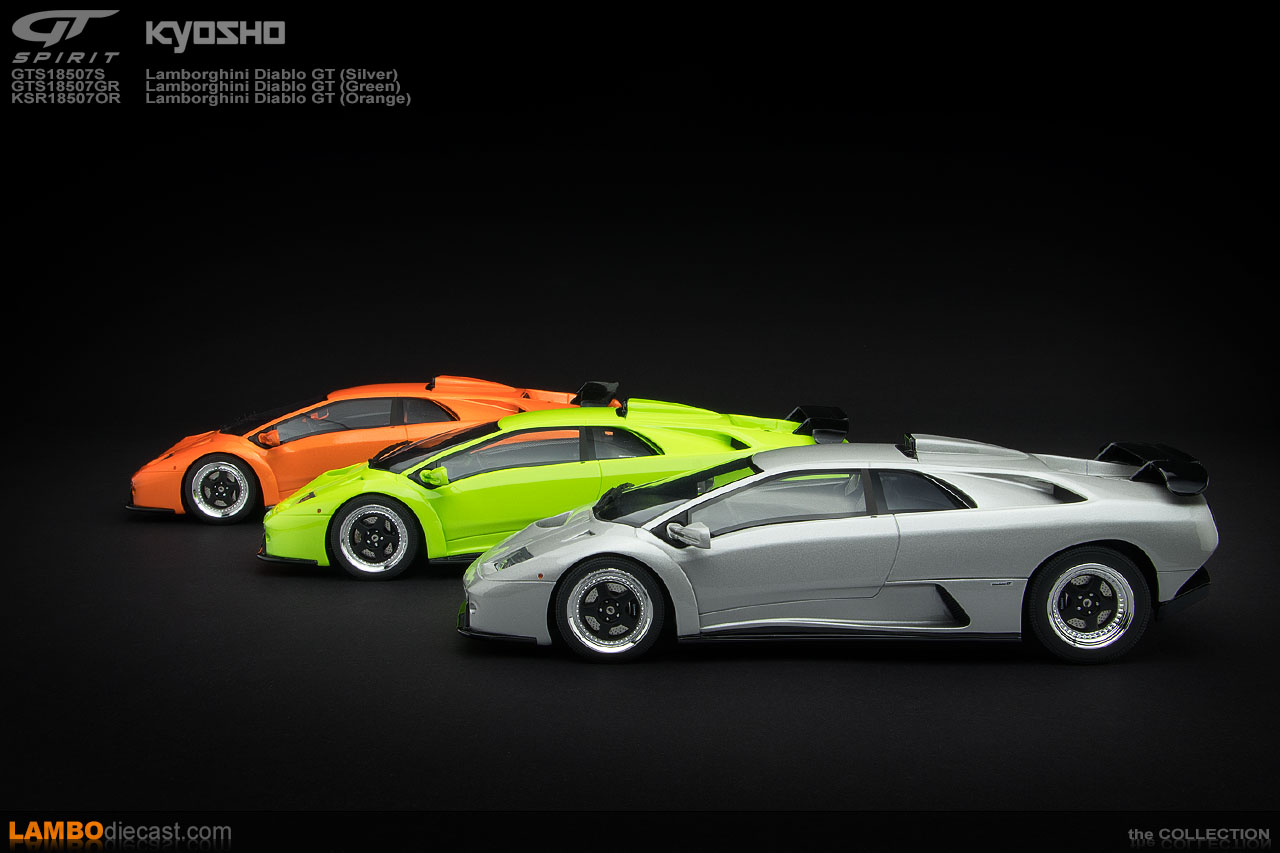 Now all these GT Spirit/Kyosho models are limited edition production runs, in the case of the orange Kyosho version I own nr 473/500, on the silver metallic GT Spirit edition I have number 239/400, so there were 100 fewer silver metallic Diablo GT compared to the 500 units Kyosho released.
And things got even more interesting with this Lime Green version, GT Spirit only made 300 units, so you'll understand they sold out quickly and hardly ever come up for sale nowadays, which is why I'm very grateful to my FaceBook friend who pointed me to an eBay auction from a seller in Germany who was offering this rare shade for sale, I made him an offer and I managed to add number 062/300 to my collection.
I love the orange metallic Kyosho made Diablo GT model, unfortunately it isn't really the correct shade of Arancio Atlas, but I have to admit this Verde Scandal version looks absolutely stunning, and draws attention in the display case just like orange does, I have no regrets adding it to the collection, and at a price only marginally over the original sale price in 2019.
The lights on this GT Spirit Lamborghini Diablo GT look great, at the front we have rectangular turn signals in the gloss black front bumper (which was carbon fiber on the real car, just like some other exterior parts), the fixed headlights look like you could turn them on, very realistic, and even those typical round taillights look amazing, GT Spirit really did a good job on this model.
One thing I did find a little sad was the fact they went for an all-black interior inside this green shade, on the silver metallic one we got a nice two-tone black and grey interior, the orange metallic one naturally came with black and orange, so it would have been nice if this Lime Green version had a splash of green on the seats, but no. On the other hand we do get seatbelts inside this model, and some carbon fiber look decals on the central console ... so for the interior GT Spirit did bother adding carbon fiber, but for the exterior that was too much of a hassle it seems.
The bottom line
Still, this is truly and amazing model, and despite being a sealed resin, I absolutely love these Lamborghini Diablo GT models, they have an amazing shelve presence, and no matter which of the three colors you opt for, they all look great alongside an AUTOart Diablo VT 6.0 or the AUTOart Diablo GTR.
If you can find one of these for sale for a reasonable price, don't hesitate, you won't regret it.
our RATING
Exterior
9/10
Interior
9/10
Engine
Not visible
Accuracy
9/10
Overall rating
9/10
Original price on November 8, 2021 : € 138