When AUTOart released the first pre-production prototype photos for this red Lamborghini Aventador LB-Works Limited I was immediately sold on it, it was a replica of the actual nr 50/02 from Kato-san that was based on a real 2016 Lamborghini Aventador Miura Homage ... but then things changed.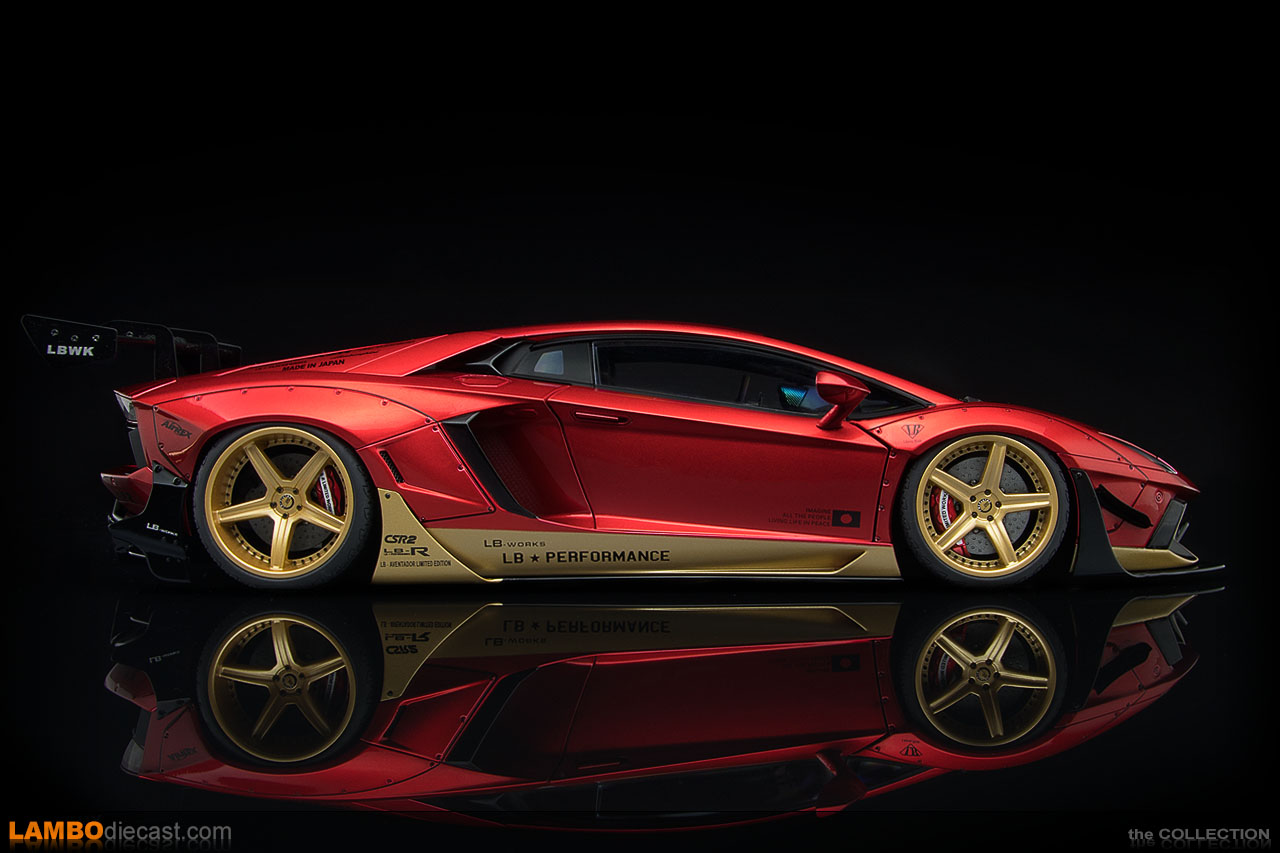 The real car is finished in Rosso Arancio Miura on gold side sills, but the scale model AUTOart showed was a metallic red, not the same shade ... instead of changing the color, AUTOart kept this amazing shade, but ditched the Miura 50th logo on the side plate, making this just another LB-Works Limited Edition ... which isn't a bad thing, just a pity as I really liked the idea of adding that Miura Homage LB-Works version.
I also own the previous Lamborghini Aventador LB-Works from AUTOart in metallic red, a shade that quickly sold out back when it was released, and when you put it next to this newer version, the latter is a little more orange in hue, it's not exactly the same shade, but they are both beautiful nonetheless, although I do prefer the gold wheels on the new model compared to the color-coded red wheels on the older model.
I just couldn't resist buying the black and gold version that was released first, and it looks good, it reminds me of the John Player racing cars from the past, but I have to admit this metallic red on gold version looks even better, if I had to choose between the two, this red one is the one to get.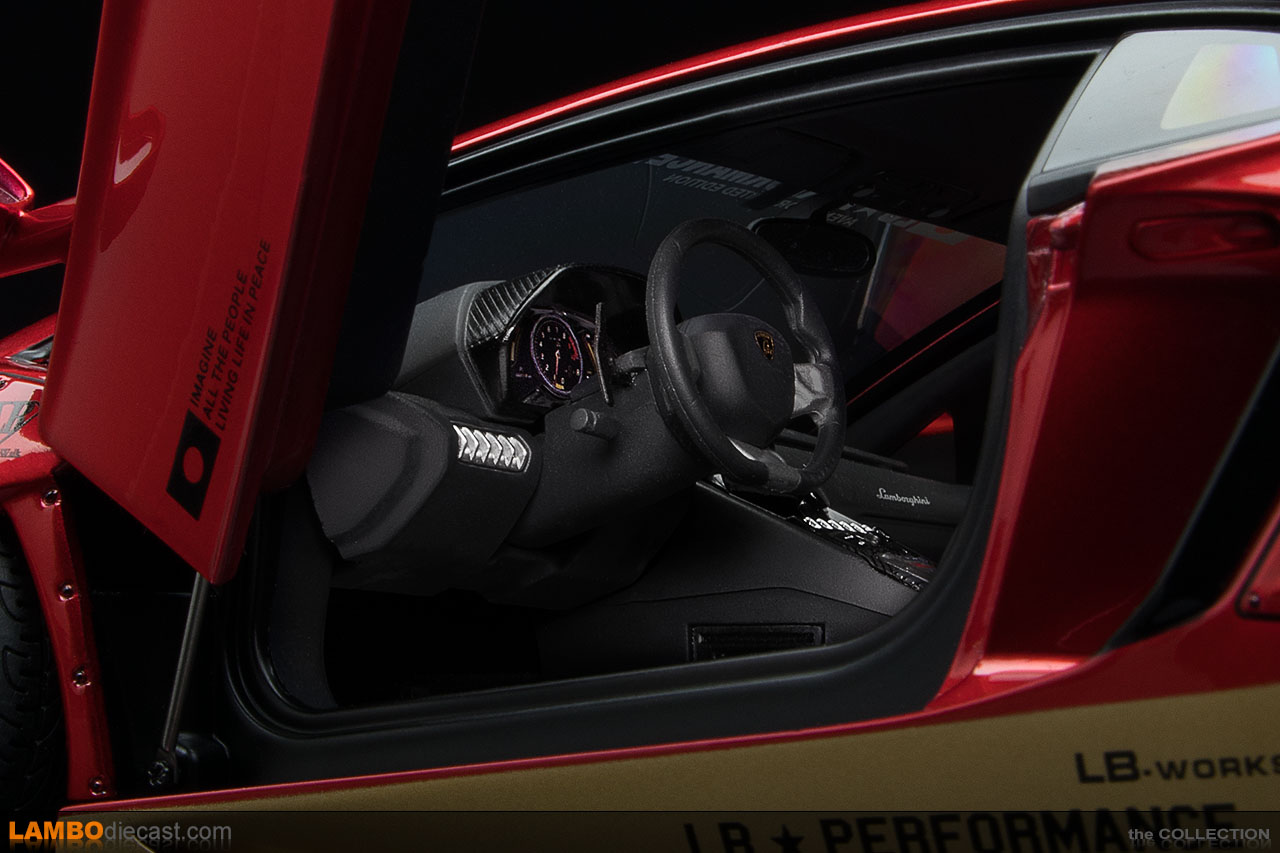 It would have been nice if AUTOart used a two-tone interior inside this shade like on the earlier version, a combination of black and white would have looked nice, but instead, AUTOart went for a full black interior, no contrasting stitching anywhere, only a Raging Bull crest on the headrests and the carbon fiber on the central console, dashboard pod, and the door handles.
When I saw the announcement from AUTOart on these Aventador LB-Works Limited Edition, I knew which ones to get right from the start, this red and gold one, and the satin silver one, because the latter was the Geneva Motor Show car, and you know I love to get scale models of the press release car or the show car, that satin silver one should be 50/22 by the way, but AUToart decided to put 50/00 on all of them, a wise strategy I guess, so we can't really compare to a real car.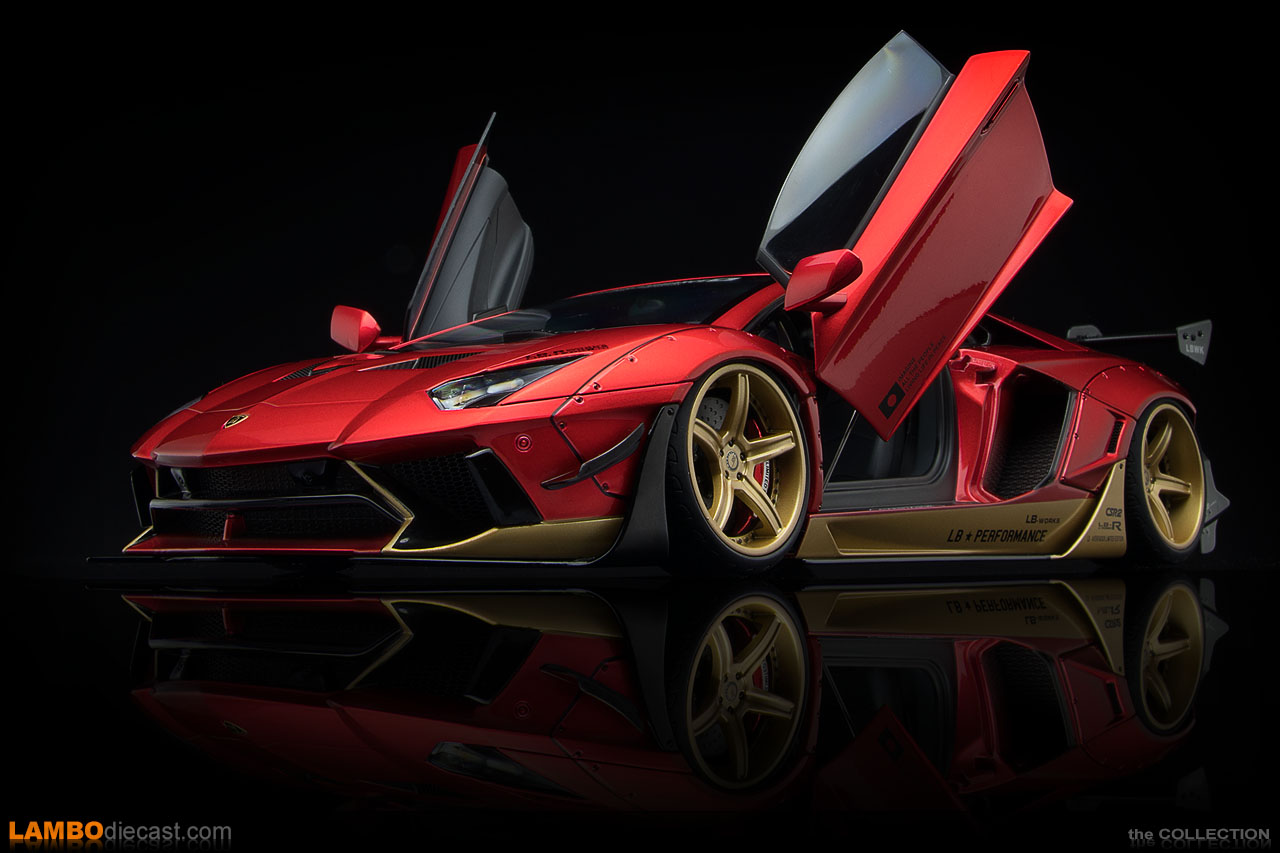 So I liked the black and gold version I got earlier, but I love this red metallic over gold version, it is amazing and I consider it a must-have from the five versions AUTOart is releasing, if you plan on adding only one of them, it should be either this one because it's simply magnificent or the satin silver one for being the show car, and it has a nice red interior.
Originally released in May 2021.
our RATING
| | | |
| --- | --- | --- |
| Exterior | | 9/10 |
| Interior | | 7/10 |
| Engine | | 8/10 |
| Accuracy | | 9/10 |
| Overall rating | | 8/10 |
Original price : € 270