| | |
| --- | --- |
| 106 items listed | Page : 1 2 3 4 5 6 7 8 |
Black
Lamborghini Gallardo LP600
1/18 by Minichamps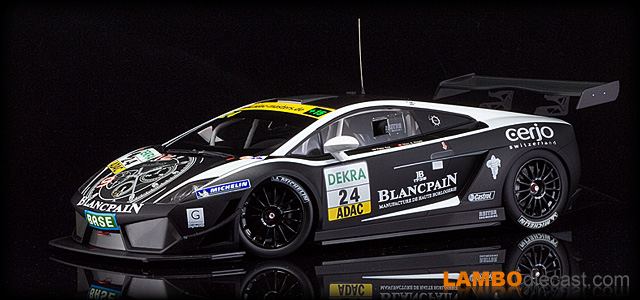 The 1/18 Gallardo LP600 GT3 2011 by Minichamps in the black Blancpain livery driven by Peter Kox and Marc A. Hayek.
Lamborghini Gallardo Nera
1/18 by Norev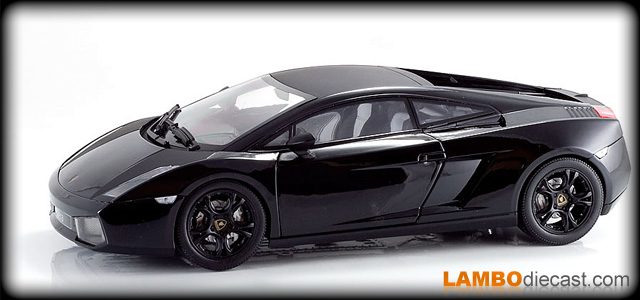 The limited edition Lamborghini Gallaro Nera has been nicely rendered in 1/18 scale by French based Norev, even the Q-Citura stitching on the seats has been reproduced.
Lamborghini Gallardo Spyder
1/18 by Bburago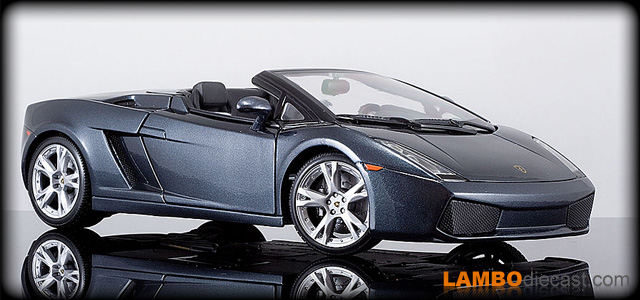 Personally I like a black Lamborghini, so when Bburago made a black Gallardo Spyder in large 1/18 scale I didn't hesitate to add it to my collection, and with the dual tone interior it looks amazing too.
Lamborghini Gallardo Super Trofeo
1/18 by Mondo Motors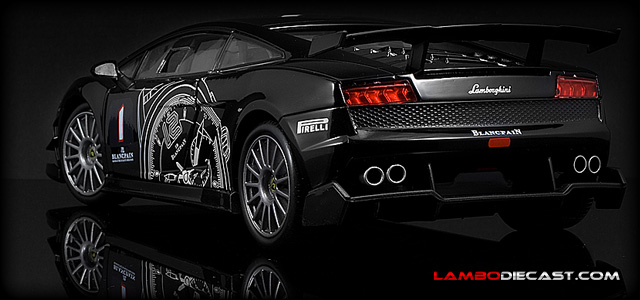 It came as a total surprise to me when I discovered a big 1/18 scale model of the Blancpain Super Trofeo race car made by Mondo Motors. For the asking price these are really well finished by the way.
Lamborghini Gallardo Super Trofeo
1/18 by AUTOart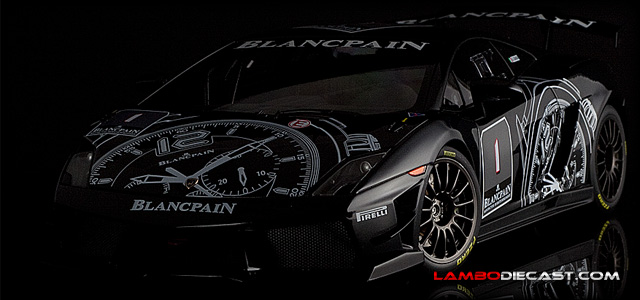 I finally received my black Lamborghini Gallardo Super Trofeo in 1/18 by AutoArt, but the wait was worth it, this is one amazing looking track car.
Lamborghini Gallardo Super Trofeo
1/24 by Maisto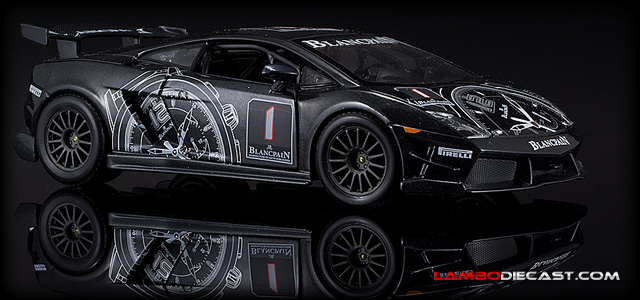 The Lamborghini Blancpain Super Trofeo is one of the most recent additions to the one-make championship scene, based on the Lamborghini Gallardo this race car has been nicely scaled down to 1/24 scale by Maisto.
Lamborghini LM 002
1/43 by Provence Moulage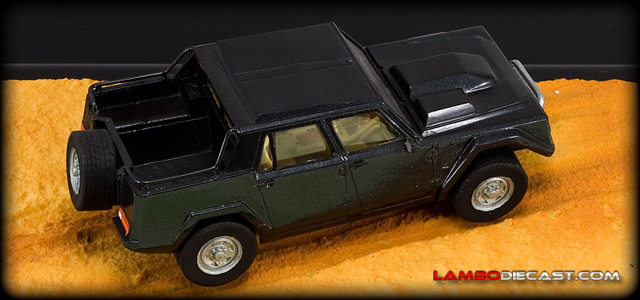 This is a very rare kit, made by French based Provence Moulage, this 1/43 scale model of the impressive Lamborghini LM002 is highly sought after today.
Lamborghini LM 002
1/43 by Minichamps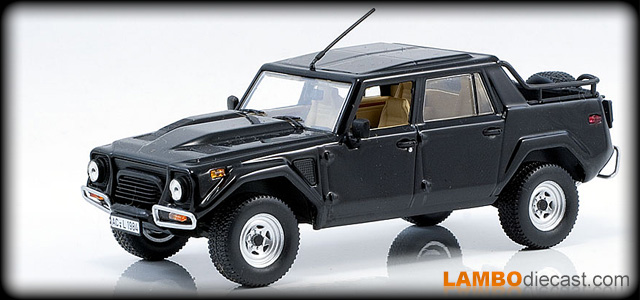 I actually really like the massive LM002, so I naturally got the 1/43 version made by Minichamps in black.
Lamborghini Miura P400
1/87 by Unknown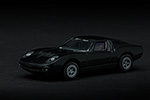 The Lamborghini Miura P400 in the famous HO scale, mostly used for model trains.
Lamborghini Miura SV
1/18 by Kyosho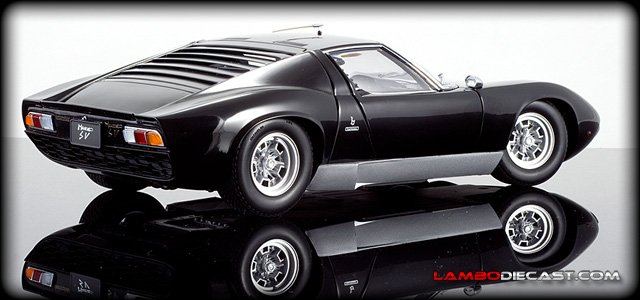 I already own several Kyosho Miura models, but this black SV edition just couldn't be missing from my collection, so when I found one at a decent price I added it to the list at once.
Lamborghini Miura SVJ
1/18 by Kyosho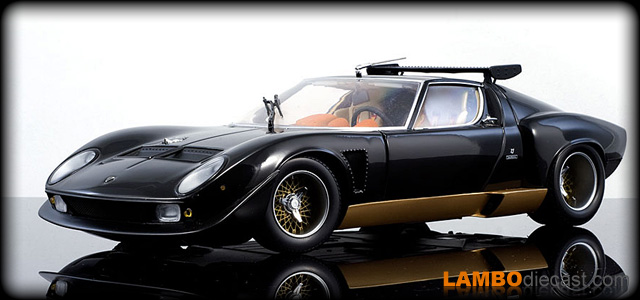 Perhaps not a real, existing car, but this black edition of the legendary Lamborghini Miura SVJ by Kyosho in large 1/18 scale is truly amazing and very nicely detailed
Lamborghini Miura SVJ
1/43 by Kyosho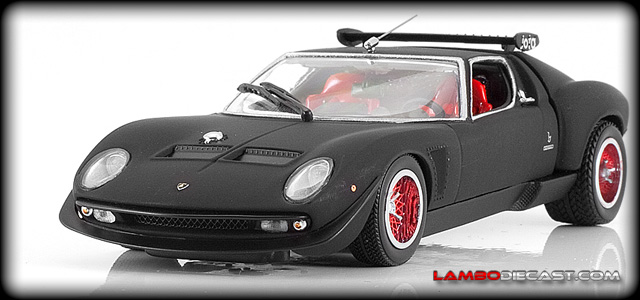 A very special car, the Lamborghini Miura SVJ version, some sort of Jota replica, here in stunning matte black made by Kyosho in 1/43 scale.
Lamborghini Murcielago 6.2
1/18 by Hotwheels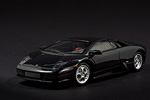 This metallic black Lamborghini Murcielago looks really nice with the two-tone interior in black and red, 1/18 model by Hotwheels.
Lamborghini Murcielago 6.2
1/18 by AUTOart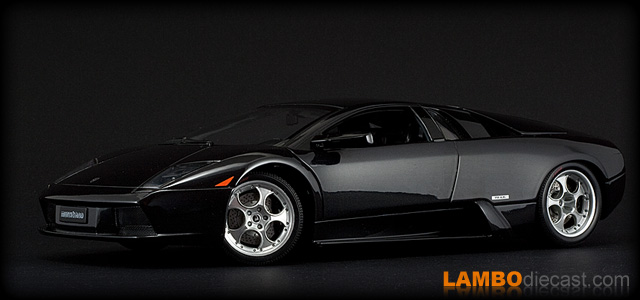 Remember the Murcielago that was introduced back in 2001? Well at the IAA in Frankfurt Lamborghini showed two cars, one in yellow ... and one in this intimidating black. So I just had to get a 1/18 from AutoArt.
Lamborghini Murcielago 6.2
1/18 by Welly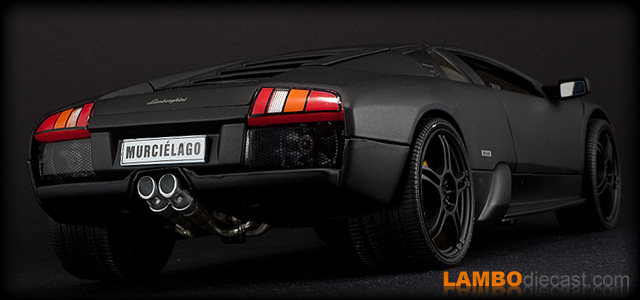 I've been wanting to add this matte black Lamborghini to my collection for a while now, but not at the normal price. In the end I found it on sale, the 1/18 Welly made custom Murciélago.
| | |
| --- | --- |
| 106 items listed | Page : 1 2 3 4 5 6 7 8 |