This Lamborghini Aventador LP700-4 which is now known as the POGTADOR, left the factory doors in Sant'Agata finished in Arancio Argos over a black leather interior with orange stitching, but social media star POG made his car famous by having a custom wrap fitted to it, a graffiti style wrap.
With over 800,000 followers on Instagram, 'Pogfever' has several sportscars in his collection, next to this POGTADOR he also owns the POGHINI, a Huracan Performante Spyder that's also adorned with a graffiti style wrap. But somehow he managed to convince Bburago to create a replica of his POGTADOR as a scale model.
Bburago made a few prototypes in 1/18 scale, but in the end decided to go for the smaller 1/24 scale to do a limited production run of 900 units, which sold out in about 30 minutes on POG's website, even at €45 each, which is a steep price for a 1/24 scale Bburago diecast.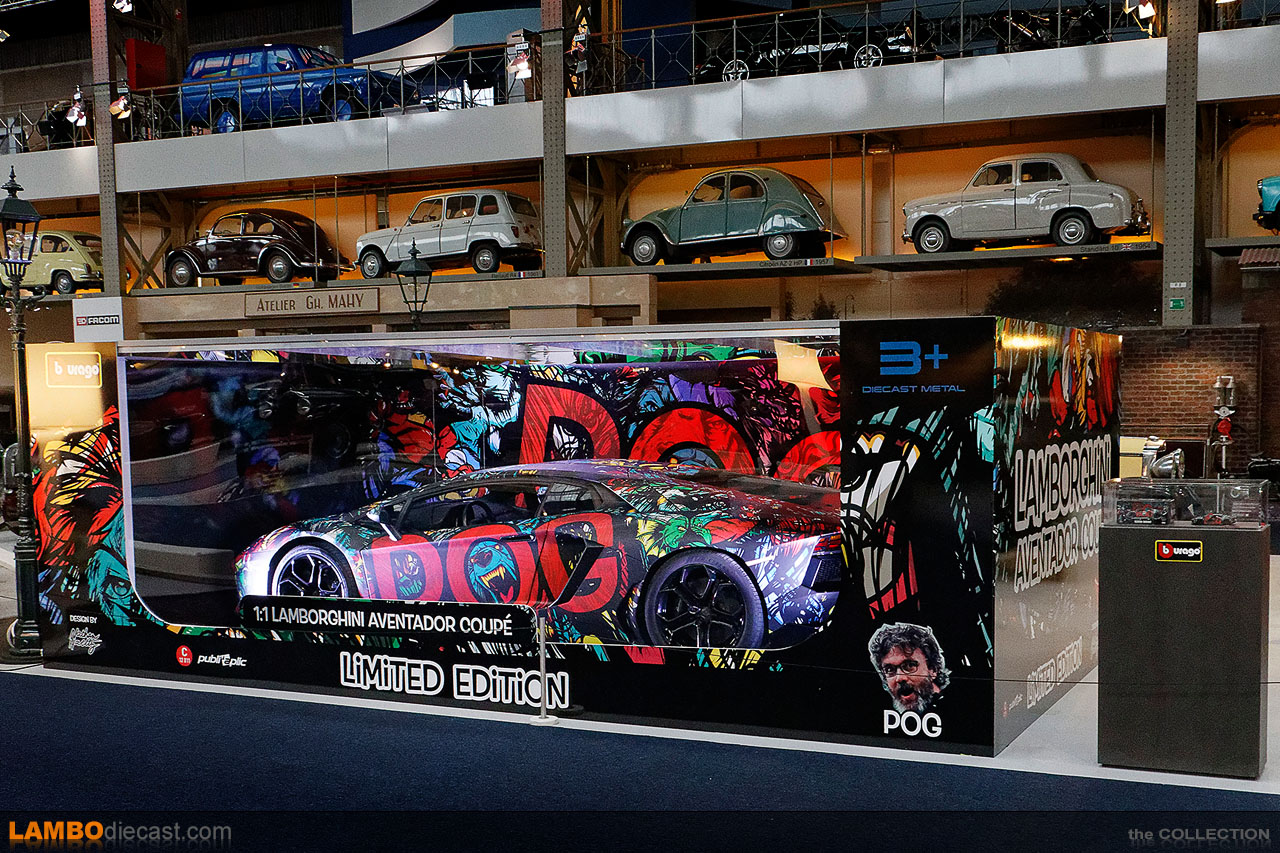 So the only way I could get hold of a copy of this scale model was to drive to Autoworld, a permanent exposition of mostly classic cars in Brussels, right now there is a 'Bburago experience' going on where you buy a scale model of a VW Beetle, and you have a chance to win the real VW Beetle ... but they also have the real POGTADOR on display.
And because of the Bburago Experience, the Autoworld shop still had a few copies of the POGTADOR available, so I took the drive to Brussels and added this special scale model to my collection, despite the inflated price, and I have to admit ... it looks nice with the special wrap on it.
The scale model
I don't have many 1/24 scale models in my collection, sometimes I add these to have a series from 1/18 down to 1/64, I like having the same model in different scales, preferably in the same shade, but this POGTADOR just isn't available in any other shade, I would love to get a 1/18 scale version of it, but as we all know the Bburago 1/18 Lamborghini Aventador is more a 1/19 scale, unfortunately.
And while this is a limited edition model, it's still a 1/24 scale Bburago, so don't expect too much detail on it, let's be honest, these 1/24 Bburago models are more toys than collector models, but I was impressed by the details on the wrap ... it looks really good, even up close.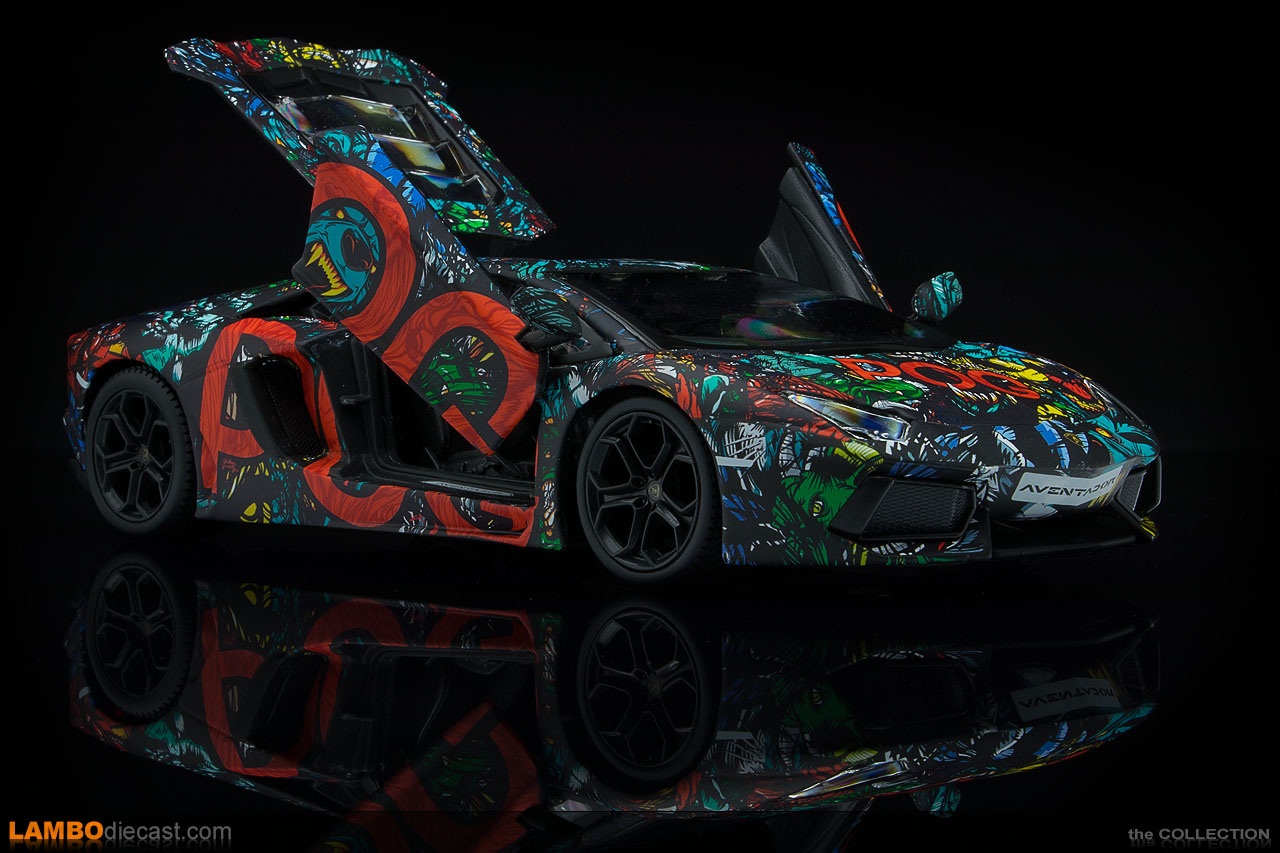 But that's where the good impression ends ... the interior is black with a few grey details, but it's very simple, and the same goes for the engine, sure you can open the glass engine cover, but there isn't anything special to discover underneath. Same with the doors, they open up, but there are no side windows, and the door panels are very, very simple indeed.
The bottom line
So I paid €45 for a 1/24 scale Bburago model, but with the special wrap design on this model, and the fact the car is owned by a Belgian Social Media star, makes up for the high price, also note they only made 900 units of this one, and they are all but sold out (the shop I got mine from had less than 10 units left).
So it's a nice model to add to the collection, nothing high-end or sealed resin, but still nice.
Originally released in November 2020.
our RATING
| | | |
| --- | --- | --- |
| Exterior | | 8/10 |
| Interior | | 7/10 |
| Engine | | 5/10 |
| Accuracy | | 8/10 |
| Overall rating | | 7/10 |
Original price : € 45