We all know the current Lamborghini Huracan Super Trofeo race cars developed by the Squadra Corse department in Sant'Agata, but back when the late Ferruccio Lamborghini was still running the company he was not prepared to invest in racing, the Miura Jota was created by Bob Wallace in his spare time, and while that car was subsequently sold and made money for Automobili Lamborghini SpA, it didn't change Ferruccio's mindset about racing ... he deemed it too dangerous and too costly.
But things changed in 1996, keep in mind Ferruccio Lamborghini passed away on February 20. 1993 ... a little over three years later, at the 1996 Geneva Motor Show, Lamborghini unveiled the Diablo SV-R, the first official entry in racing by the factory (apart from some engines supplied to F1 teams) ... but the Diablo SV-R wasn't a racecar to be entered in regular races ... they set up a mono-brand racing championship where owners could compete against other drivers behind the wheel of the same Diablo SV-R, the Philippe Charriol Supersport Trophy was the forerunner of what we now know as the Super Trofeo Series.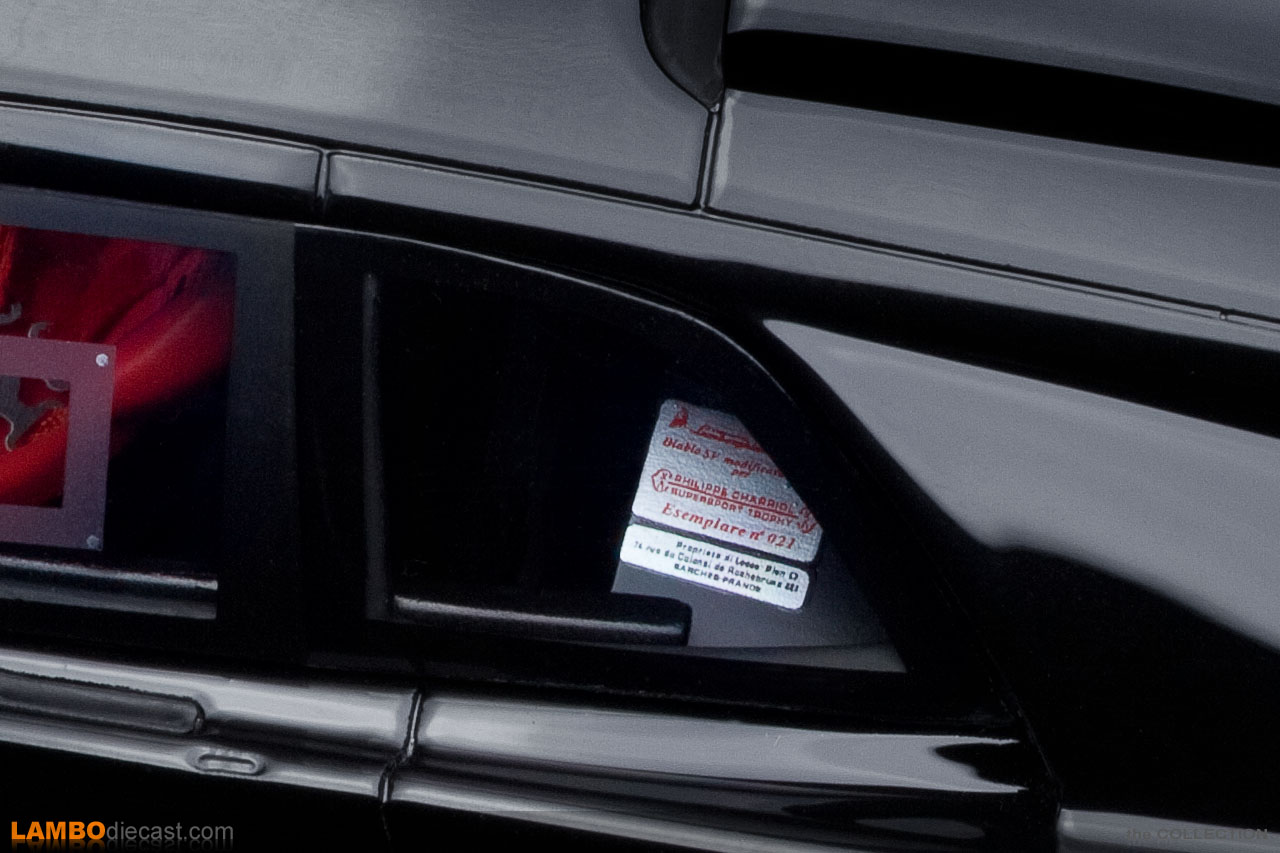 And things got a bit more complicated ... you couldn't buy the Diablo SV-R it seems, every single one of the 31 ever built came with a plaque behind the side window stating 'property of Lease Plan' ... a car leasing company in France, and each one of the Diablo SV-R was numbered, a plaque stating 'Diablo SV modificata Racing per Philippe Charriol Supersport Trophy Esemplara nr xxx' ... this GT Spirit scale model is the nr 021 car in fact, a car that was imported into the US at one time, finished in dark blue ... totally not street-legal mind you.
The Lamborghini Diablo SV-R was built on the same assembly line as the regular Diablo SV, but naturally some major differences were noticeable, like a special V12 engine with 540 hp, or air intakes instead of pop-up headlights, a full roll-over cage inside and only one seat, a racing bucket with multi-point harness seat belts. Probably the most impressive modification could be found at the rear, in the form of a massive, carbon fiber rear wing and the deletion of the Diablo rear bumper to be replaced by four vertical fins for stability at high speed ... add a special, open exhaust and you end up with a Diablo race car.
Initially the Diablo SV-R was shown with OZ-Wheels, but on the track we only saw Speedline wheels on the SV-R, center-lock naturally ... some sources state these Diablo SV-R ran on Dunlop racing slicks, but I have attended one of the Supersport Trophy races on the Spa Francorchamps track, and all of them were running Pirelli P-Zero slicks (240/645 up front, 326/640 at the rear).
Note that the Diablo SV-R was riding so low to the track, they even added rubber skirts to both the front bumper and the sides, you couldn't even get a regular car jack underneath, so in full racing spec style Lamborghini installed four air jacks under the car with a connection at the rear, attach a compressor and you can raise the Diablo SV-R in the pitlane to change the wheels ... the SV-R was a real race car in the end.
The scale model
There are two versions of this model available, as usual, the Kyosho release, which in this case is finished in dark blue on black wheels, and this GT Spirit version which comes in black ... and yellow wheels!
Now, why would you put bright yellow wheels under a black Diablo SV-R, that makes absolutely no sense whatsoever ... but it turns out there is a real Diablo SV-R out there that looks exactly like this scale model ... black on yellow wheels with two seats fitted. Yes ... another mystery, the Diablo SV-R was a pur sang race car, hence only one seat, but somewhere along the line, the owner of this specific Lamborghini Diablo SV-R decided to add a second seat ... so this GT Spirit model is correct to real life.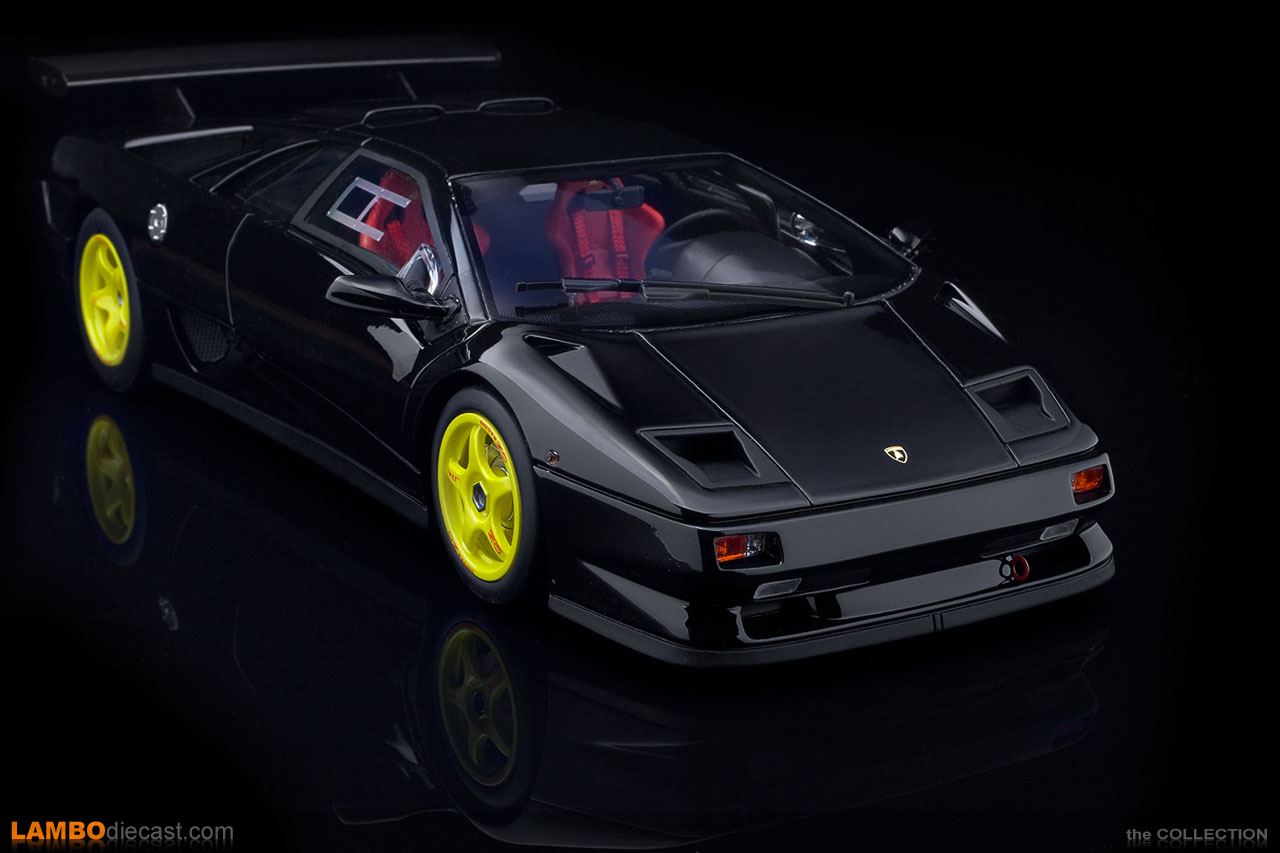 Remember that after the Diablo SV-R trophy was replaced by the Diablo GTR Supertrophy series, these cars were effectively sold, and came with all the required parts to turn them into a more regular Diablo SV, complete with the rear bumper and two original Diablo seats ... several of these Diablo SV-R have been turned into street-legal cars after they retired from racing.
So GT Spirit actually made a scale model of a Diablo SV-R that exists in real life, it would be interesting to know if the Kyosho counterpart as a different serial number on this plaque, one interesting thing to note is the fact these are all limited production scale models, the GT Spirit model is built 250 times while it seems the Kyosho version is built 500 times ... very strange indeed.
Once again, this is a sealed resin model, so nothing opens, which in this case is a pity as I would love to be able to admire the special SV-R engine or take a closer look at the interior inside this race car, but I knew this before buying this model, and I don't have an issue with resin models ... it's a Lamborghini model, so I love it ... and it does look great in this high gloss black with the red seats inside, complete with OMP logo and red seat belts, a roll-over cage ... and decals to mimic the sliding section in the side windows ... how hard can it be to actually have a square in the side window and have some kind of moulded in sliders, that would make it look so much better.
Bottom line
For me this model was a must-have for my collection, the Diablo SV-R is a part of the history at Automobili Lamborghini SpA, and while I doubted a little as to which one to get, the blue Kyosho one or this black GT Spirit version, in the end, I opted for this black one because I was able to pre-order it for a very interesting price, and it turns out only 250 were made in the end ... making it more valuable as a collector's model.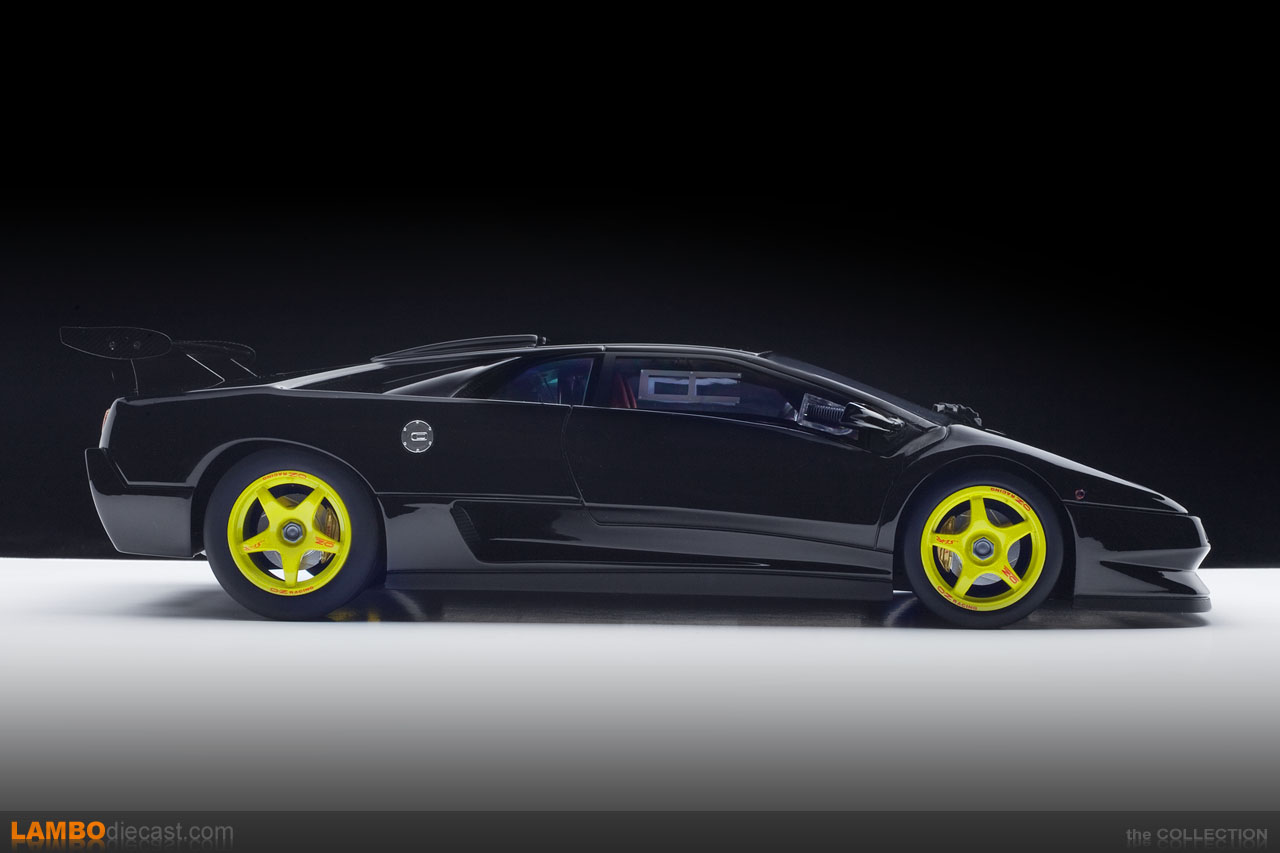 Now as much as I like this scale model, it sure isn't perfect ... the yellow wheels make them look very 'plastic' like, but worse ... a lot of the grilles are sealed, just like on a €35 Maisto model, this €100 GT Spirit model comes with sealed grilles ... it surely can't be that much more expensive to have open mesh grilles on these models, some are open, with black behind them, but several are just sealed altogether ... one that really bugs me is the one on the engine cover, it clearly shows the large 'Lamborghini' script, but it would make this model so much more interesting if at least that grille and the vents on the engine cover would have been open.
Still, I love this model, and have no regrets whatsoever adding it to my collection, I have put her next to my black Diablo SV model from AUTOart (which was in fact the very first AUTOart model I ever bought) and next to my black Diablo GTR racecar from AUTOart ... and this GT Spirit model holds her own next to models that are a lot more expensive ... and that's great if you ask me, so if you want to add one of the more special Diablo models ever made in real life, this Diablo SV-R is the one to get.
Originally released in July 2019.
our RATING
Exterior
8/10
Interior
7/10
Engine
Not visible
Accuracy
8/10
Overall rating
8/10
Original price on July 25, 2019 : € 102