Back in late 2003, at the IAA in Frankfurt, the first derivative of the Lamborghini V12 flagship was shown, developed by Automobili Lamborghini SpA, with the help of Audi Sports Division and well known German-based Reiter Engineering, the Murciélago R-GT will be built to FIA and ALMS specifications, and it looked absolutely amazing in her all carbon fiber, low riding body with massive track add-ons.
Priced at €500,000 for the 2004 racing season, the Murciélago R-GT lost the VT four-wheel drive system from the original 6.2 version, the car shown in 2003 was an early prototype, and was to be further developed by Reiter Engineering GmbH during extensive track trials.
By 2005 we saw several modifications to the original prototype, a new lower rear diffuser, different taillights, larger front fenders with air vents, different side sills and on some cars even vents on top of the front wheels and an air scoop on the roof ... these are race cars, and most of them were bespoke builds on demand by different race teams, the Murciélago R-GT was sold in Europe, the United States and in Japan ... in total between 9 and 14 were made before the Murciélago R-SV took over for the 2010 season.
The scale model
I bought a transkit to turn a regular Murciélago 6.2 into an R-GT many years ago, made by Tremonia, but I never got around to making one myself, probably because it wouldn't be a close resemblance to the real race car anyway ... so I was very happy when I learned about GT Spirit/Kyosho releasing a 1/18 model of this rather special Lamborghini, and the Kyosho version would be a plain livery, satin black version ... perfect for me, as I love plain livery race cars without all those distracting decals and sponsors on the bodywork.
As usual the Kyosho version is a little harder to get in Europe, usually these are 'Asian market' specials, but I have a great source for these special models, only downside, these tend to be a little more expensive than their GT Spirit counterparts, so this specific model was €150 before shipping (the GT Spirit version was €140) ... so I pre-ordered this one and the wait started.
When the model finally arrived I was happy mine came with no issues at all, earlier the GT Spirit/Kyosho quality checks weren't very good, but this model was perfect, no visible flaws whatsoever ... but I did notice something ... comparing this plain livery model to the GT Spirit version I saw several differences ... it turned out Kyosho had a different body from the GT Spirit, the decals weren't the only difference!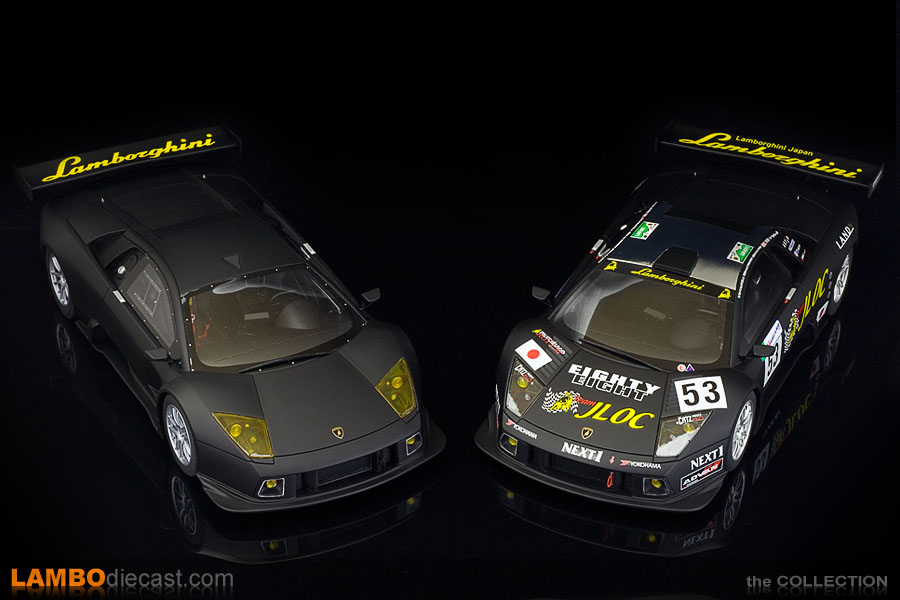 The biggest difference is visible on the side, this plain livery, Kyosho version comes with a massive air vent in the door, the GT Spirit version doesn't have this, also the top of the fenders on this version is closed, the nr 53 Le Mans 2007 version has vents above the front wheels. Also note the triangular air intake on the roof ... the race livery version has a larger, flat intake at that position.
And the differences continue with the taillights, two totally different versions on these two models, and while the headlights on this Kyosho version are behind yellow covers, their configuration is the same as on the GT Spirit version ... do note both headlights and taillights are LED units on these Murciélago R-GT, different from the original, street-going 6.2 version.
One more detail ... the plain livery Kyosho made Lamborghini Murciélago R-GT comes with a passenger seat ... that's right, a race car with a seat next to the driver ... in this case, it has been added for 'taxi drives' on the track, and yes, this was done in real life too. In fact, this very car, with the air vent in the door, is a one-off Murciélago R-GT, no other has this feature, so it is a very rare car indeed.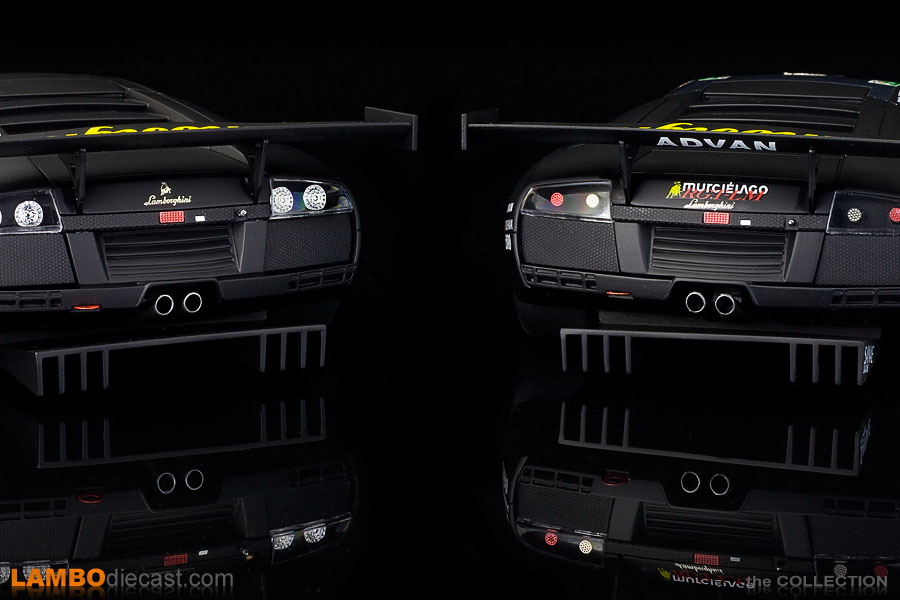 Note that the Kyosho version is actually a 2005 edition of the Murciélago R-GT, while the GT Spirit version is a 2007 edition that ran in the 24h of Le Mans that year ... so same basis, but two different cars ... which meant I had to get the GT Spirit version too to complete my collection.
Even the front and side windows are different, note the rivets on the Kyosho version, but also the look of a small sliding section on the side windows of this version, the GT Spirit edition comes with neither of these.
Bottom line
Keeping in mind the car this model is based on is over 10 years old by now I actually rather like the 1/18 scale model, it isn't perfect, and the lines and details on the body aren't as sharp as on an AUTOart composite model, but still it is a model to have in your collection. If you want to add this plain livery Kyosho version or the special Le Mans edition made by GT Spirit is totally up to you, for me both are important so I spent too much money on getting the pair.
These are sealed resin models, so nothing opens, and admiring the interior isn't too easy either, but you can clearly see what's happening inside, with the race seat from Recaro with Williams seat belts while the added passenger seat seems to have come out of a Diablo GT ... it even has totally different, red seat belts, clearly an aftertought.
One minor complaint I have about this model ... it would have been nice if the vents and intakes would have been open ... both the Kyosho and the GT Spirit model have closed vents and intakes, even that massive vent on the door of this model is blocked, while on the real car you can see the front tire through it ... that's a small negative on these ... but being all-black you only notice this when you really look for it, but still ... would have been nice to have these open.
So my Tramonia transkit will stay inside the box for eternity I think, I'm quite happy with these two Lamborghini Murciélago R-GT models in 1/18 scale, and what's even better, I also own the MR made 1/18 model of the Murciélago R-SV, the successor to this model ... I love admiring these rare cars in my collection.
Originally released in July 2018.
our RATING
Exterior
7/10
Interior
8/10
Engine
Not visible
Accuracy
8/10
Overall rating
8/10
Original price on September 25, 2018 : € 150