When the Lamborghini Aventador LP700-4 was unveiled at the 2011 Geneva Auto Show it didn't take too long for Italian based Bburago to release their 1/18 scale model of this new V12 flagship, naturally the Arancio Argos shade was the first one to be available.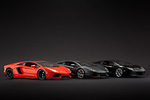 But soon after that a Grigio Estoque shade was released together with glossy black in a first series production ... later on Bburago actually released an updated version with nice disk brakes and calipers, larger wheels and a different angle on the special doors.
In this second series the Bianco Isis came out first soon followed by Giallo Orion, note that the earlier orange, grey and black were re-released with these updates too, making the original first series Bburago models on the Aventador rather sought after these days as they are much rarer than the newer editions.
About two years later Bburago released this nice blue metallic shade on their 1/18 Aventador model, combined with a two tone interior in black and brown it looks rather nice on the silver wheels, for the rest it is just a new shade on the existing second series production model, so all the details are there but we're still talking about a Bburago diecast so we can't really call it a collector's item like the AutoArt versions of this Lamborghini V12 flagship, but that also reflects in the price.
These Bburago 1/18 models on the Lamborghini Aventador LP700-4 are being listed at prices around 30 Euro ... which means you can buy all six shades on the Bburago for just one AutoArt model ... however you might argue it is better to have one high quality model on the Aventador instead of owning six glorified toys to put it bland.
Now I don't have a problem with these Bburago models, I actually own 10 different Aventador models from Bburago, and I like them all ... even if these are actually 1/19 scale instead of 1/18 ... just to be able to fit inside the regular Bburago box.
our RATING
| | | |
| --- | --- | --- |
| Overall rating | | 6/10 |
Original price : € 29