About a year ago I bought the Gallardo LP560-4 Polizia in 1/18 from AutoArt, and it truly is an amazing looking model, all the details are present, just like on the real car, so when I heard about Norev bringing out the very same model I wasn't going to buy it at first, why should I bother with a less detailed model of one I already own.
But you know me, I try to get my collection as complete as possible, and when funds permit I go out to get those models that aren't present in my series at the moment, and this Norev made Polizia version is one of those models I picked up while photographing an Italian car event in the Netherlands, avoiding shipping costs along the way.
My first impressions on this model were rather positive, the shape of the car is correct, the wheels are a bit strange looking but I'm used to this from Norev on their Gallardo models, and most importantly the special Polizia items are present inside this model.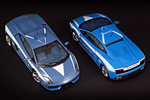 But after the photo shoot I put the model in my display at the home office ... and noticed something rather strange ... Norev got the shade of blue wrong !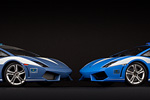 Just like the initial release of the Gallardo Polizia by AutoArt the blue used by Norev is too light, when you put it next to the correct shade used by AutoArt on the second release of the Gallardo Polizia and on the Gallardo LP560-4 Polizia edition is is immediately visible Norev got it completely wrong on their LP560-4 Polizia edition.
I know it might not be totally honest to put a 40 Euro Norev model next to a 100 Euro AutoArt version of the same model ... but I doing it anyway, and the price difference is made quite clear when you are able to put both of them next to each other.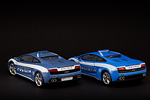 The AutoArt version has open grilles while the Norev version has closed grilles, also the exhaust pipes are open on the AA model while the French made Norev has closed up exhausts, mostly small details, but still important if you are an avid collector like me.
If on the other hand you are looking to add a Gallardo LP560-4 Polizia to your general diecast collection you could go for the Norev version, for one it is a lot cheaper ... and if you can accept the wrong color shade I don't see much reason to pay more than double the price for the AA model.
However if like me you like your models to be the best possible just get the AutoArt version and try to get over the steep premium ... you know the expense will be long forgotten when you admire these models in the future.
our RATING
| | | |
| --- | --- | --- |
| Overall rating | | 6/10 |
Original price : € 40