I was browsing a famous auction site when I came across this massive 1/10 scale Lamborghini Aventador made by Maisto as a remote control model, and I just couldn't resist adding it to my collection, so I use the 'buy now' button and made the payment ... shipping was not cheap ... but when the box arrived I did understand why.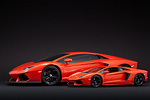 This thing is massive, so it was shipped inside a nicely padded, large cardboard box ... actually my wife signed for it and called me to ask what I ordered this time, she just didn't believe there was only one model inside.
When I came home and opened the box I was very impressed, I already own a 1/10 Gallardo from Maisto so I somehow knew what to expect, but this Aventador is even bigger, it almost didn't fit inside my photo cube ... just to make you grasp just how massive this RC model is I have put it next to a 1/18 Bburago made Aventador ... it almost looks like a Hotwheels toy car next to this big lady.
Sure this isn't the best finished, most detailed model of the Lamborghini Aventador LP700-4 out there, but at this size I am not complaining, sure there is no interior hidden behind the pitch black windows, heck there isn't even an engine visible as Maisto made the glass engine cover entirely black too.
But all those 'defects' are quickly forgotten once you actually drive your very own Aventador ... without spending €300k on the real deal ... and Maisto even put working taillights in, together with headlights offering a normal beam and a high beam setting.
I have to admit the taillights are just two LED that come on when you hit the switch on the remote control, but still it is the idea that counts, and I for one really like it.
Being an RC car they had the bright idea of putting a large black protection bumper at the front and rear, which does take away some of the magic this big lady shows ... they are a clear indication this is an RC model ... but I did find out if you remove two small screws at the back and front these 'bumpers' can be removed ... and it makes this 1/10 Aventador look even better.
our RATING
| | | |
| --- | --- | --- |
| Overall rating | | 6/10 |
Original price : € 70