Owning a Lamborghini is a dream come true for most people when you could buy a brand new Countach back in the Eighties, it meant you had the funds to do so, but you also had the mindset to go for an extreme supercar, which perhaps wasn't too comfortable or came with a lot of amenities, but it was a Countach, period.
Still, for some owners a Lamborghini Countach wasn't exclusive enough, so they turned to tuning their Sant'Agata V12 flagship, and one of those tuners in the Eighties was Willy Koenig, located in Germany, who created some of the most famous 'Koenig Specials' at the time, like a 1,000 hp convertible Ferrari Testarossa, or later on a replica of the Lamborghini Diablo Roadster Concept, but back to the Lamborghini Countach now, based on the LP500S model, Koenig offered a few options to customers, like a different rear wing and a set of wide side sills to match the wheel arch extensions from the factory.
If you really wanted to go all the way, Koenig would team up with Franz Albert and install a twin-turbo onto the V12 engine that would significantly increase the overall power output, while the interior could be fitted with the famous Recaro seats, somewhat of a must-have back in those days, just about every tuner installed Recaro seats in all their high-end cars.
I'm not sure how many Lamborghini Countach were converted into Koenig Specials at the time, but when it comes to 1/18 scale models, we have a few of them from GT-Spirit, and while I initially went for the Candy Apple Red version as seen on the official Koenig sales brochure, I quickly added the black-on-red one later on because it's simply stunning, and surprisingly made in fewer numbers, the red one was a numbered edition with 1,750 units but for the black one they only made 504 units.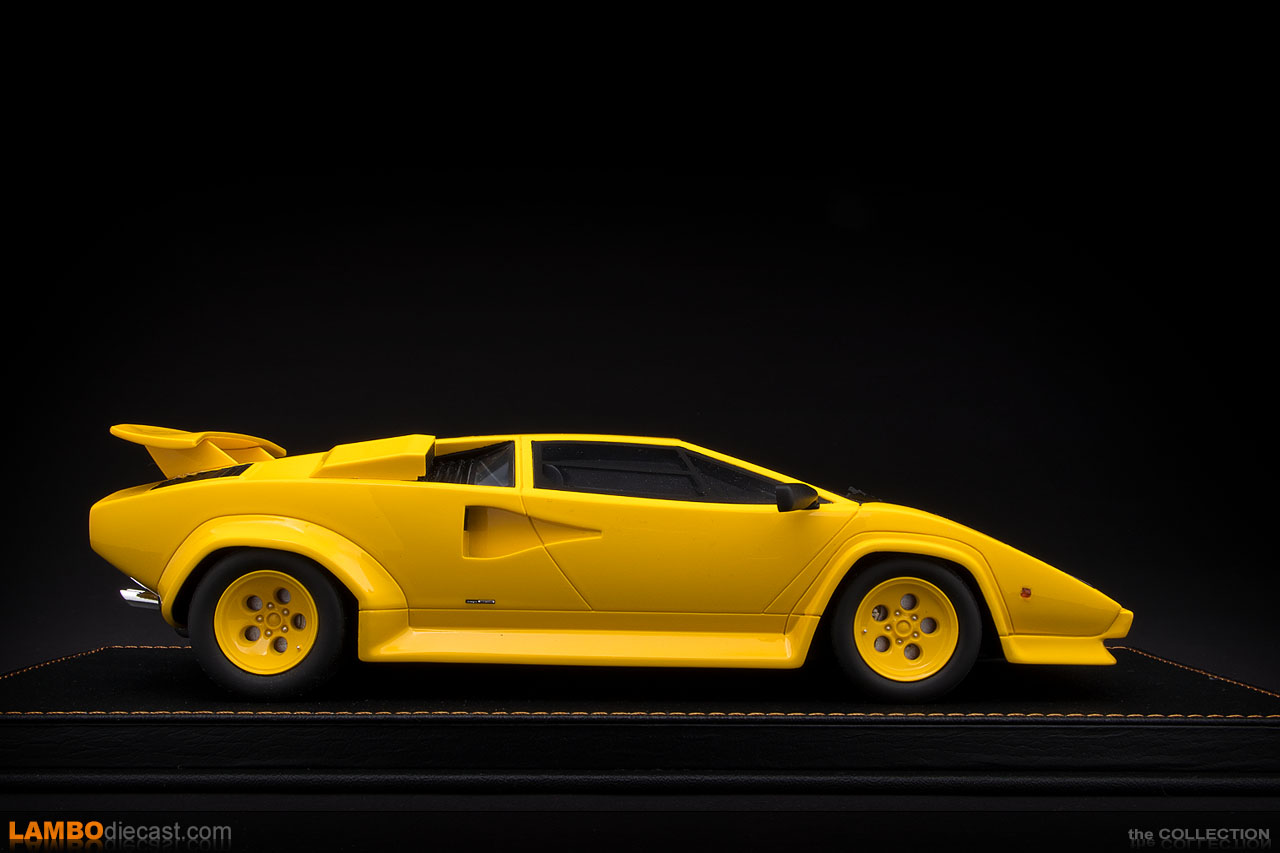 And then we get to this yellow version, I've been told this is the 'Asia' special from GT-Spirit, only officially sold on markets in the Far East, but as we all know some made it to Europe anyway, but usually at seriously inflated prices, and I wasn't prepared to pay that much for this, in my opinion, nice-to-have version.
Back in 2017, when these GT Spirit Lamborghini Countach Koenig Specials were new, both the red one and the black one were around the €100 mark, but this yellow would be €200 to €250, which for a GT Spirit model at that time was just too much, so I discarded the Giallo version ... until 2023 when I saw one being listed on a local marketplace, at €135, so I got in touch with the seller and acquired this one at a price I was comfortable with.
This all-yellow Countach Koenig Special is also a numbered, limited edition from GT Spirit, and just like the black one, only 504 units in total, so it's a lot rarer than the red one, and I haven't seen it being listed for sale too often, now make no mistake, it is still a 2017 era GT Spirit, it isn't perfect, and it isn't even near what we see today on new GT Spirit models.
The thing that always sat the wrong way in my mind on this specific model was the famous NACA air intake on the side, partly on the door, partly on the rear fender, and while it used to be black on most factory original Lamborghini Countach, it made sense for Koenig to paint is color-coded, but look at the part where it should be open for the air to pull onto the radiators ... it's painted matt black, now that wouldn't really be an issue, but for some strange reason only the upper half of the intake is painted black, the lower half is color-coded, what's up with that.
On the black car, it doesn't matter, you can't notice it anyway, but on the red one, and even more so on this yellow one, it just stands out each time I look at the model.
Same story with the air intakes on the front bumper, there should be horizontal fins as a grille in there, these are just black holes, and while we're at it, the interior is a bit bland in all-black inside this bright Giallo Countach, but that could be factory, many Countach were delivered with a simple black leather upholstery.
Other than that, this is still a very nice model of the Lamborghini Countach Koenig Special, even in yellow with color-coded wheels, the details are there, and the taillights look decent, as do the front turn signals under the 'striped' covers, but if you would compare this model to the GT Spirit Lamborghini Countach Quattrovalvole that was released in 2018, it falls really short, the QV is an amazing model, this LP500S is an OK model compared to that one.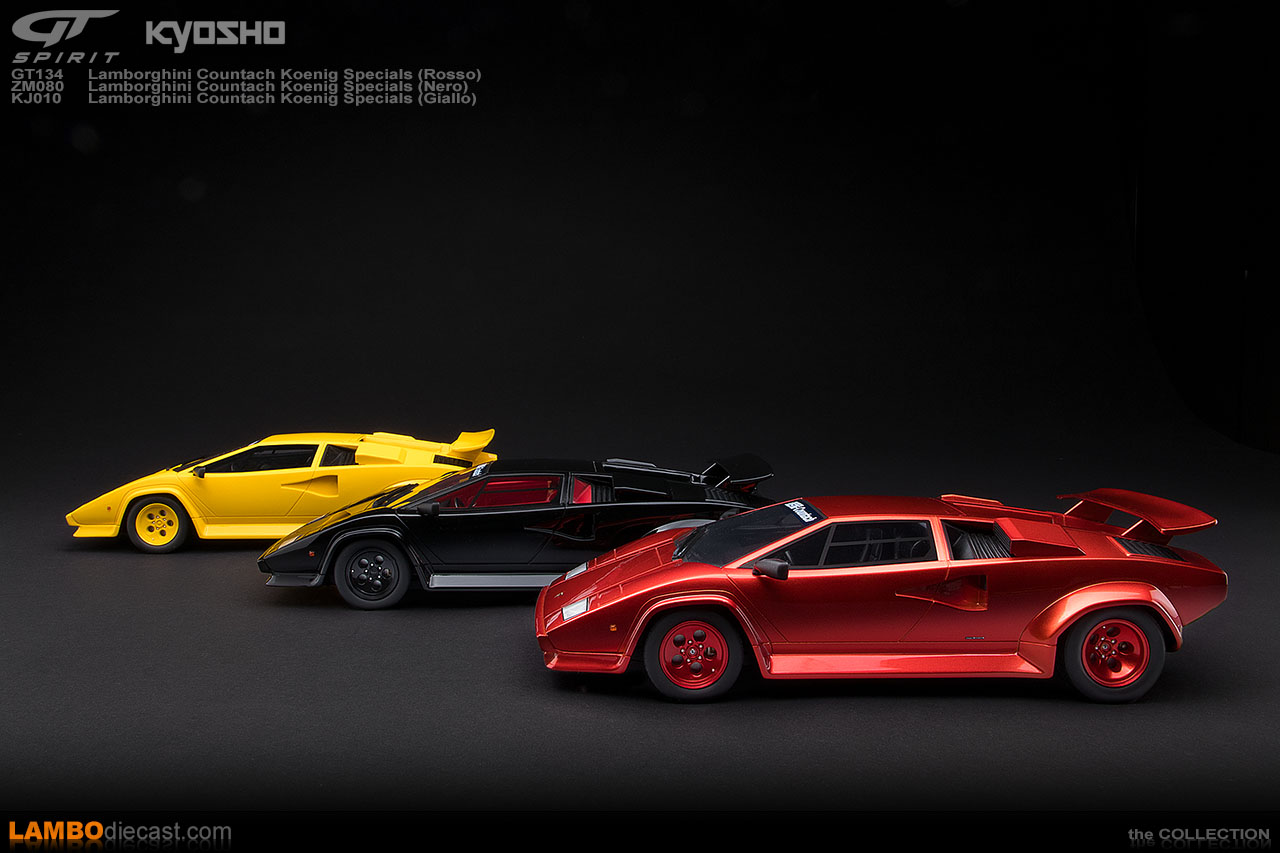 For me, at this time it was more important to be able to complete the series with all three shades released, and not pay a premium for this yellow release, so I'm quite happy with this addition, and she sits proudly beside her red and black friends in the display case.
our RATING
Exterior
8/10
Interior
6/10
Engine
Not visible
Accuracy
7/10
Overall rating
7/10
Original price on September 28, 2023 : € 135