Back in December 2022, I bought my first Ivy Models 1/18 scale Lamborghini Aventador SVJ at a local event, more specifically the Novitec Torado version finished in Arancio Atlas, at first glance a rather nice model, and as I didn't own a Novitec Lamborghini yet, I was quite happy with it, but upon closer inspection it became clear there were some strange issues with it, for one the color doesn't seem to match Arancio Atlas, but more importantly the carbon fiber decals were a bit odd, to say the least.
Fast forward to July 2023, I see a listing on an online marketplace for the LB-Silhouette WORKS Huracan GT finished in the Fighter Grey livery, now I already have the GT Spitir Aventador LB-Works in this livery, and I quite like it actually, and since AUTOart didn't have this specific version among the five they released recently, I got in touch with the seller, and secured a copy for my collection, you can read my review on it, and why I was a little disappointed with it, I felt the model to be too expensive for the quality it showed.
Then the seller contacted me, asking if I would be interested in the new LB-Silhouette Works Aventador GT Evo from Ivy Models, he was bound to receive a few different liveries soon, and one of them was a similar Fighter Grey, but with the Huracan in the back of my mind I just wasn't too sure about spending this kind of money again ... still, I'm weak and I caved in any way, so I ordered it, took a few weeks to arrive, but last week it showed up at my house, safe to say I was a bit apprehensive opening the box, being afraid it would disappoint again.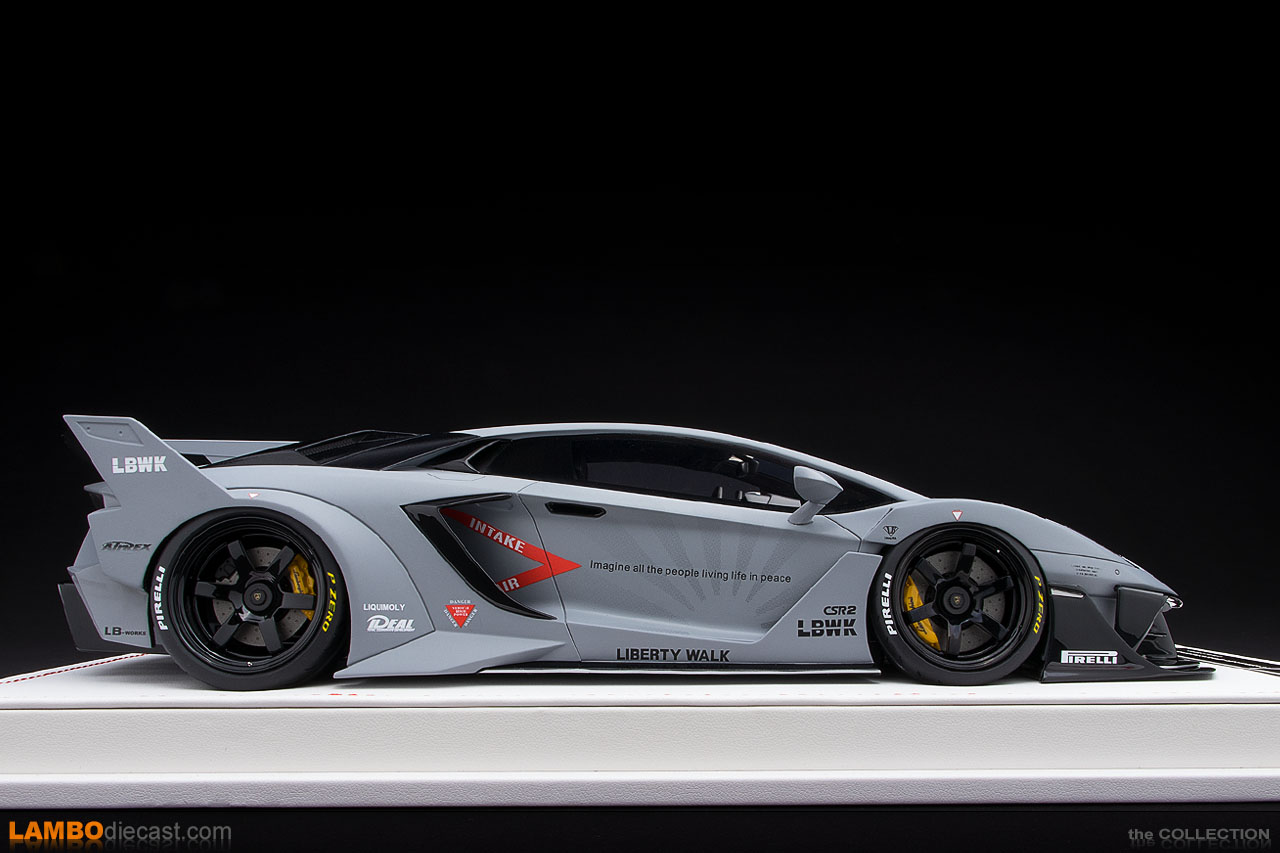 But I couldn't have been more pleasantly surprised, this LB-Silhouette Works Aventador GT Evo from Ivy Models is an amazing model, very nice matt grey paint, beautiful carbon fiber decal on the front hood, sharp decals around the car, and more importantly: very sharp body lines and panel gaps.
Now you might be thinking what are you rambling about panel gaps on a sealed resin model? Just take a look at this comparison between their Huracan and this new Aventador and you'll see what I'm talking about, I still don't understand how they could get away with the door gap on the Huracan, it's atrocious.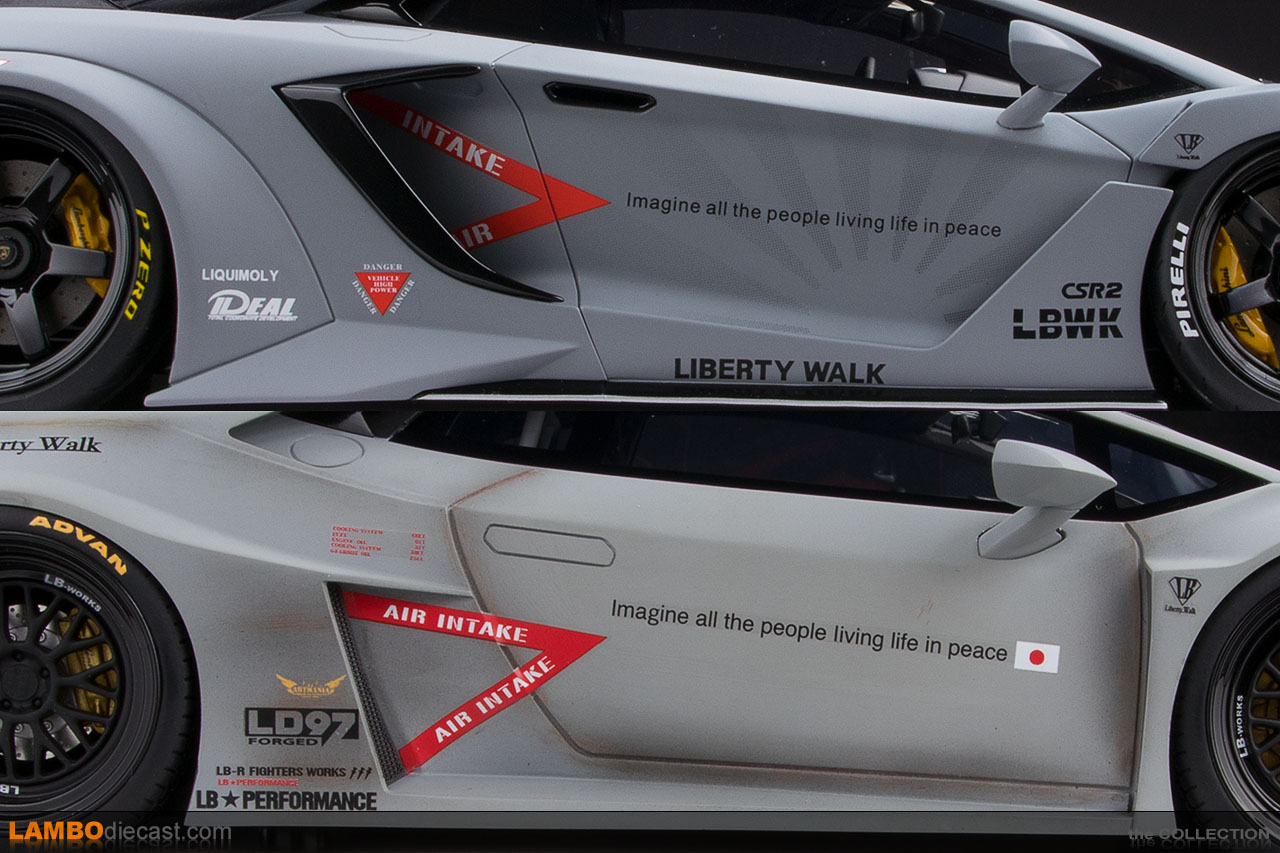 But back to this new Lamborghini Aventador, although not much from the original base car remains once Liberty Walk works its magic on creating the LB-Silhouette Works Aventador GT EVO, apart from the doors and the roof I think just about every single body panel is replaced to create this low-riding, ultra-wide street-legal Le Mans racer, and while I'm sure it won't be to everyone's taste, I can enjoy it, and with the number of Lamborghini Aventador produced, I can see why someone would modify their V12 this extensively.
This brings me to one flaw Ivy Models put on this model, if you look closely at the driver's side headlight on this specific model you'll notice a 50/06 numbering, and that's just completely bogus on this model, Liberty Walk only made 20 units of this model for the world, that number 50 comes from the LB-Works Limited Edition Aventador, not from this model, but that's about the only 'error' I could find going over this sealed model.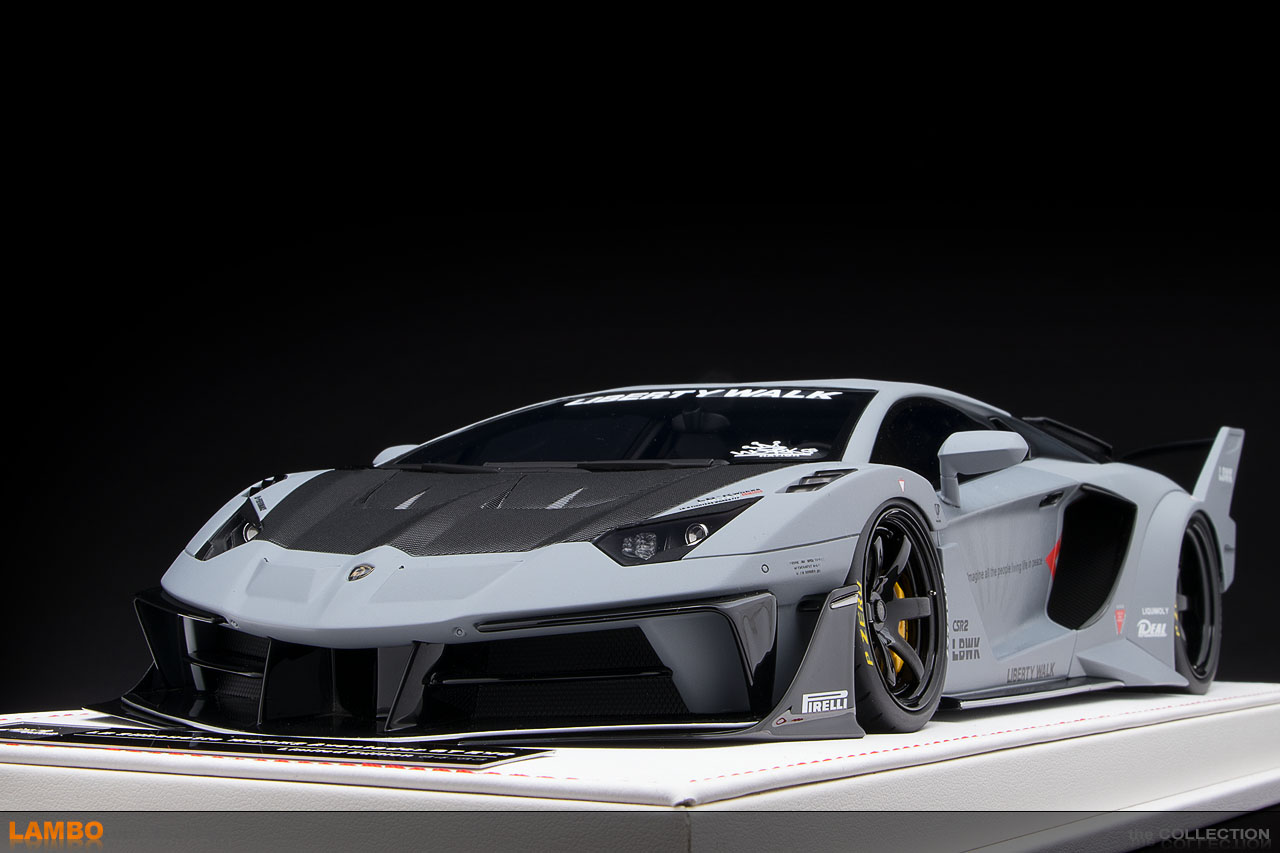 One little detail I can point out is the carbon fiber weave on the front hood, it looks great, but on the real cars from Liberty Walk it would come with a 'V-shape' weave along the center, and that's a detail Ivy Models missed here, but other than that I'm still very happy with this model, and before you mention the fact the vents are sealed on this hood, that's how it is in real life too, even the 'nostrils' on top of the front bumper are closed on the real cars too.
One more thing got me puzzled after really taking a very close look at this Fighter Grey Aventador, at the rear we have some massive vents, all with a very nice mesh in front of satin black painted parts, but at least you have the impression of being 'open vents', even the tailpipes have that blue 'burnt titanium' look, and let's not forget the stunningly detailed taillights, now that's a beauty.
But then you swing to the front of the car, which has two massive air intakes, which also have a mesh in real life, but here Ivy Models went with sealed grilles, why? If you bother to do real mesh in the rear, why skimp out on that for the front ones? Now I do agree that you don't really notice it on the shelf, you have to shine light inside the intakes to notice it, but still, such a small detail would have made all the difference between a good model and a great model.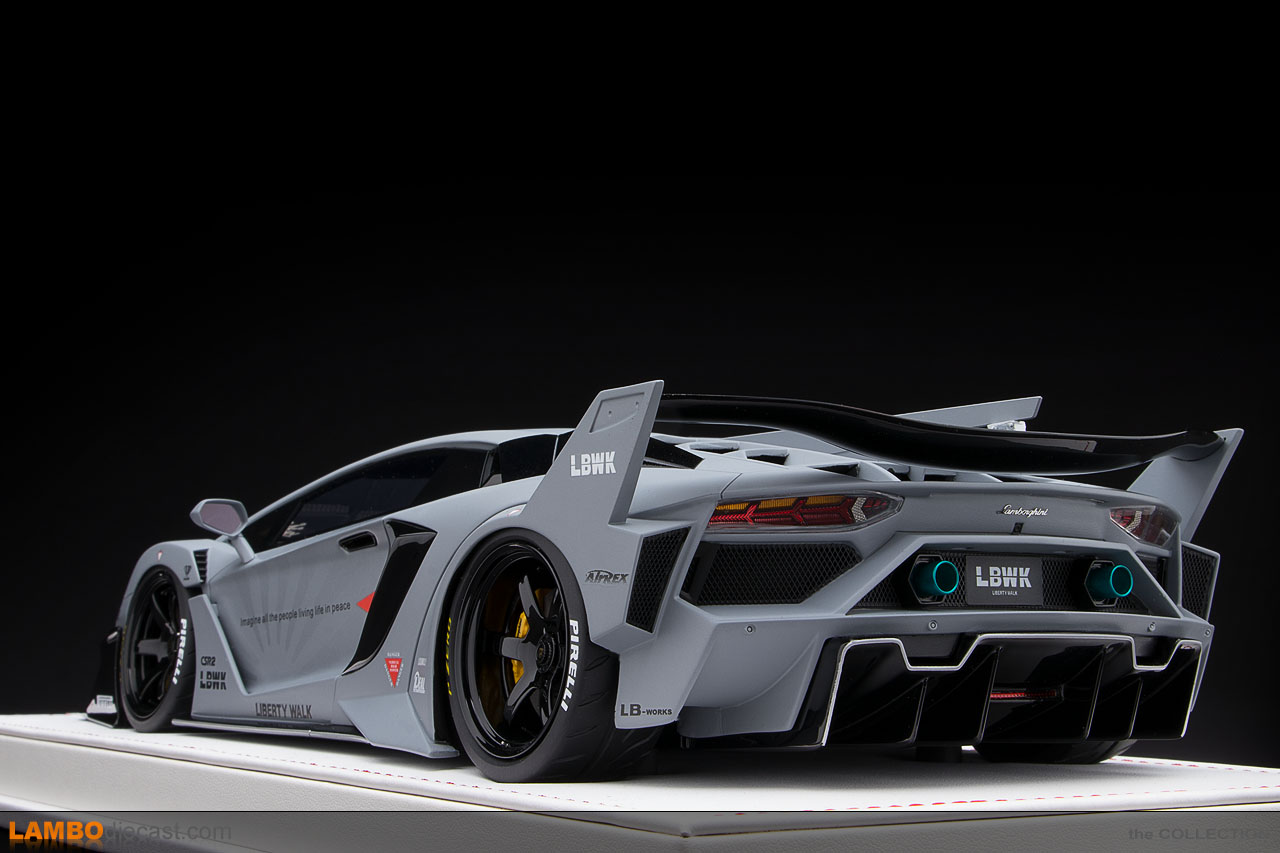 I also own this model from FuelMe, that one if the actual launch spec prototype, and there are quite a few differences between that model and this one from Ivy Models which is the production version, Liberty Walk changed a few things during development, and that's fine. But the FuelMe model is about twice as expensive as this new Ivy Models one, so is it worth that much in hindsight?
I have to agree the interior inside the FuelMe one is just better detailed compared to this Ivy Models one, the latter is a bit bland and less finely detailed, if that is worth twice the price for you is a choice only you can make, remember both are sealed models so you can't really see the interior very well anyway.
One big difference between the FuelMe version and this Ivy Models one is the engine, sure you can't open the engine cover on either model, but at least when you peak into the engine bay there is something to be found on the FuelMe one, on this Ivy Models I can't seem to distinguish anything, which isn't necessarily a bad thing, but still, just a small detail.
The bottom line is that I'm really impressed with this new Aventador from Ivy Models, it is a very nice addition to the collection and I'm not disappointed in any way, and I absolutely love this model on the shelf, it just draws attention to herself each time I pass the display, which is exactly what a Lamborghini model should do, so yes, I'm happy with this one.
Originally released in September 2023.
our RATING
Exterior
9/10
Interior
7/10
Engine
Not visible
Accuracy
8/10
Overall rating
8/10
Original price : € 291