When AUTOart announced their 1/18 scale model of the LB-Silhouette WORKS Huracan GT, they had five shades listed, the first two to arrive in Europe were the white one I've written a review on a few weeks ago, and this pearl metallic yellow one, and it's not just the overall exterior paint that is different between these two, there are quite a few details AUTOart modified on this Giallo track-inspired road car.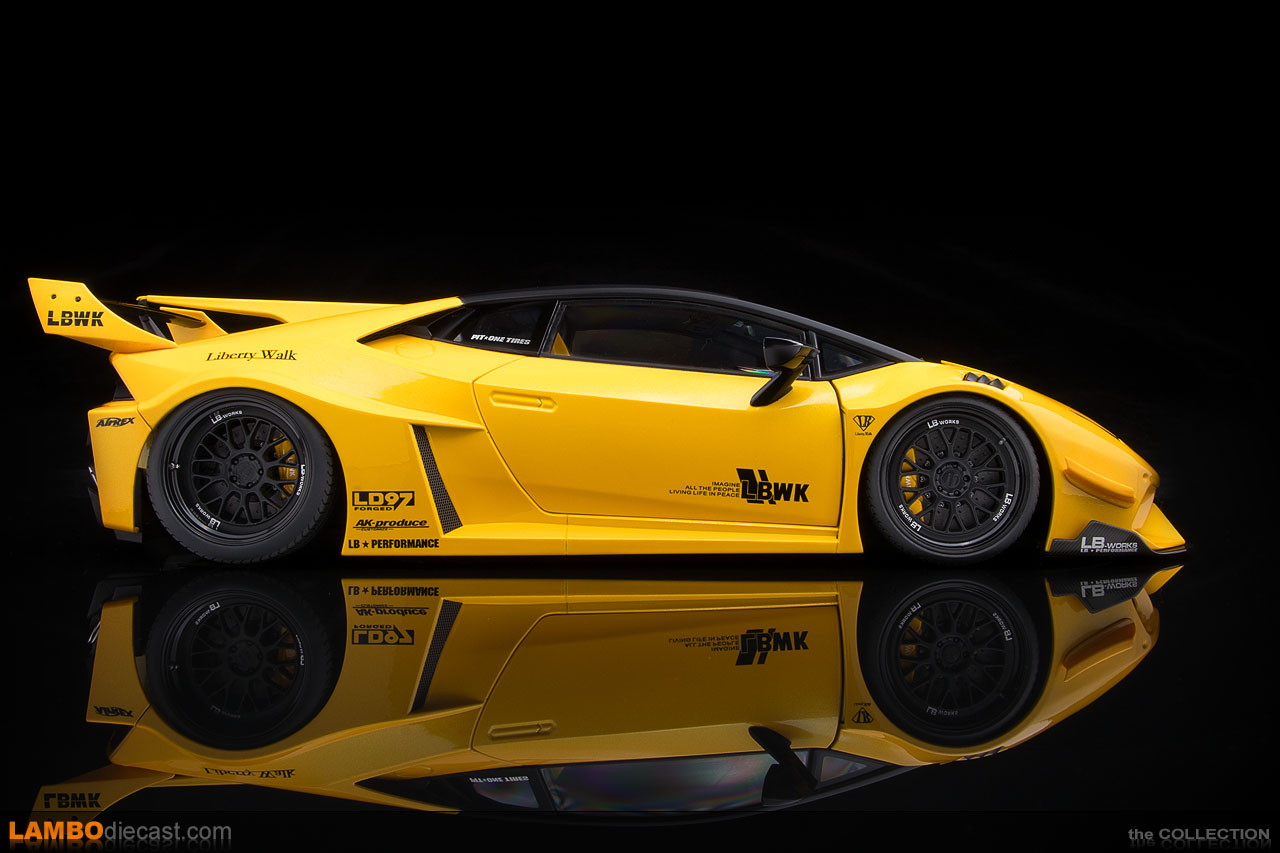 While the wheels remain the same on all five shades as far as I know, AUTOart did put bespoke brake calipers on them, so this one comes with yellow calipers, while the Bianco Monocerus one rocked red calipers, which matched the small red line found on the exterior of that one, which looks amazing, especially on the exterior rear view mirrors, for the yellow version AUTOart switched to black lines on the front spoiler and engine cover, because the rear view mirror housings are gloss black, you don't see a black line on them.
Also note the massive LBWK script on the clear carbon fiber rear wing, on the white car this is written in white, but on this yellow one it is almost a kind of ghost writing as the letters are black, barely visible on the carbon fiber weave, but they are there, and I love that detail.
As could be expected, the interior is color-matched to the exterior, so this Giallo version (AUTOart did not specify a Lamborghini name for the Giallo, just 'metallic yellow') comes with a BiColor Sportive interior in Nero Ade and Giallo Taurus, and it looks magnificent, I love the fact AUTOart didn't go for a boring all-black interior as they did on some of their other Lamborghini models, especially the Urus, but that's a different story.
The next three shades, Rosso, Nero, and Verde on this model should arrive in August 2023 in Europe, at that time I'll be able to put them all side by side so you can decide which shade you would like to add to the collection, for me, I love the white one, but I think the metallic red one will be a beauty too.
Originally released in June 2023.
our RATING
| | | |
| --- | --- | --- |
| Exterior | | 9/10 |
| Interior | | 8/10 |
| Engine | | 8/10 |
| Accuracy | | 9/10 |
| Overall rating | | 8/10 |
Original price on July 4, 2023 : € 275