The Lamborghini Huracán was introduced in 2014 as the replacement for the Gallardo that has been Lamborghini's V10 model since 2003, but by 2019 it was time for the 'mid-life-restyle' for the Huracán, which became the EVO, for evolution naturally.
Different styling on the exterior, a large vertical touch display on the interior and new stitching patterns on the seats, the EVO also came with the higher mounted exhausts at the rear we've seen on the Huracán Performante previously, and a neatly integrated 'duck tail' rear wing, and an increase is power from the original 610 hp to 640 hp.
It took AUTOart a while to release their 1/18 scale model for the Huracán EVO, but when they did I was happy to see they included this Arancio Xanto edition, in the exact spec as seen on the press photos back in 2019, rolling on the 20-inch, five-bolt Aesir wheels in diamond cut design over a set of black brake calipers, exactly like the launch spec from Lamborghini.
On the inside you might think AUTOart missed the ball with the standard seats and their small Arancio inserts, while some press images show the interior with the optional Q-Citura stitching pattern, but those images are 3D renders, on the actual demo units the seats look exactly like the ones inside this AUTOart scale model, complete with the touch or orange on the door panels and the orange stitching on the dashboard, AUTOart got it exaclty right, and I love it like this.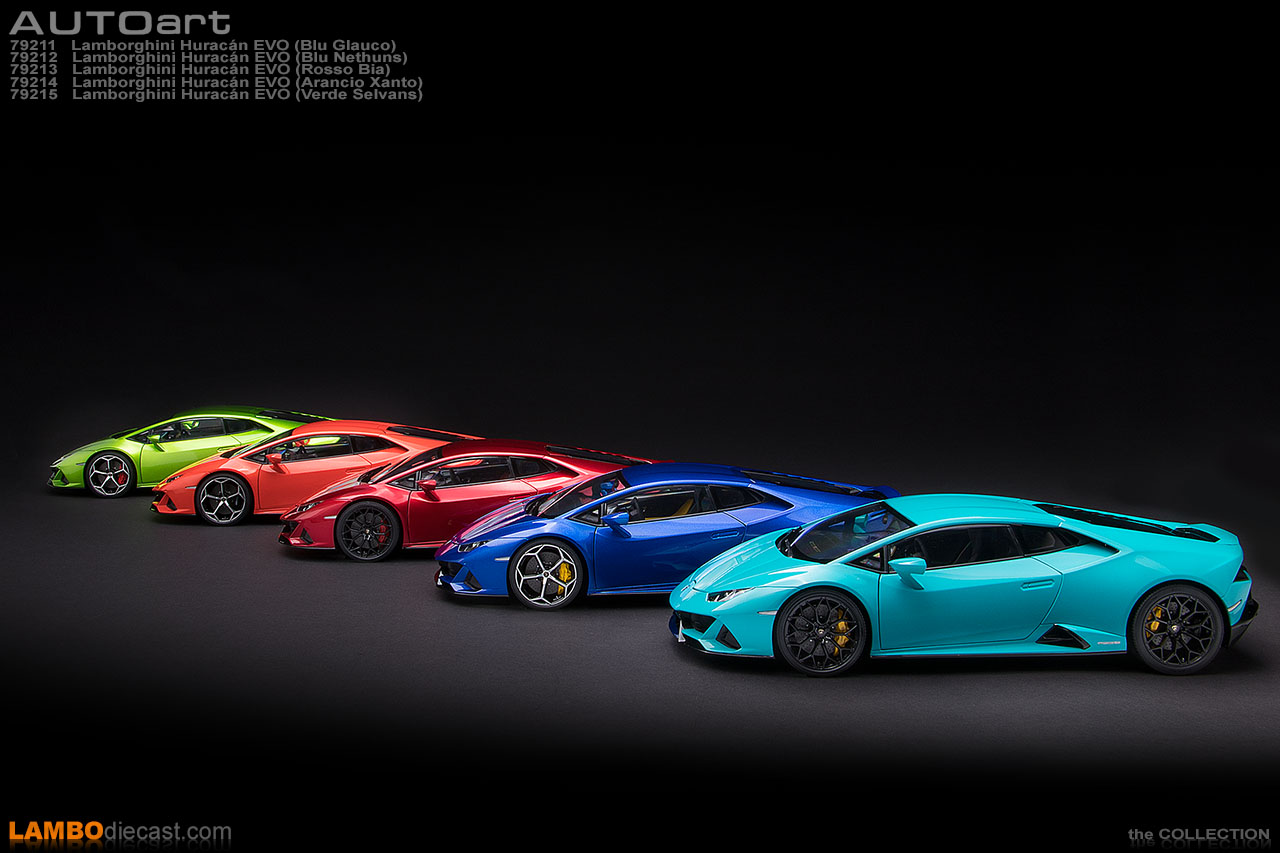 AUTOart released five different shades on this Lamborghini Huracan EVO, with two different wheel designs, but also with colored brake calipers (yellow and red to be exact), while they didn't put orange calipers on this Arancio Xanto version but went with the black units as seen on the presentation car, just the way I like it.
Originally released in April 2023.
our RATING
| | | |
| --- | --- | --- |
| Exterior | | 9/10 |
| Interior | | 8/10 |
| Engine | | 7/10 |
| Accuracy | | 8/10 |
| Overall rating | | 8/10 |
Original price on April 20, 2023 : € 210