Back in the Seventies Lamborghini was building the Countach LP400, introduced as a production-ready 4-Liter V12 in 1974, the Countach was the car that made Lamborghini famous around the world, just a few years earlier the Lamborghini Miura stunned the world, and became the first supercar ever, the Countach took the Raging Bull to the next level.
The rich and famous lined up to get hold of the Countach, and for some a factory-standard LP400 just didn't cut it, Canadian born Walter Wolf was one of those customers that convinced Lamborghini to create a special Countach just for him, with wider wheel arches, a deep chin spoiler, and a massive rear wing ... perfect for the owner of a Formula One racing team.
But the best trick Walter Wolf had up his sleeve was the engine he managed to get on loan from Lamborghini ... an experimental 4.8-liter, 480 bhp unit, not the same as the one from the Countach prototype, but still an enlarged unit compared to the regular production version of the Countach.
He received his first bespoke Countach as early as September 1974, at that time chassis 112.0148 was still factory standard, but Wolf sent the car to Gian Paolo Dallara for a complete conversion in mid-1975, where the car was finished in red and came with a modified suspension to keep the massively wide Pirelli P7 tires as flat as possible to the tarmac, finished in Rosso with black wheel arches and an adjustable rear wing, a little over a year after that Wolf took delivery of his second custom Countach, in August 1976 he took delivery of a Blu Metallizato Countach, still with black wheel arches, front spoiler, wide wheels, special brakes, a special clutch ... and the 5-Liter V12 was removed from the first car and fitted into chassis 1.120.202.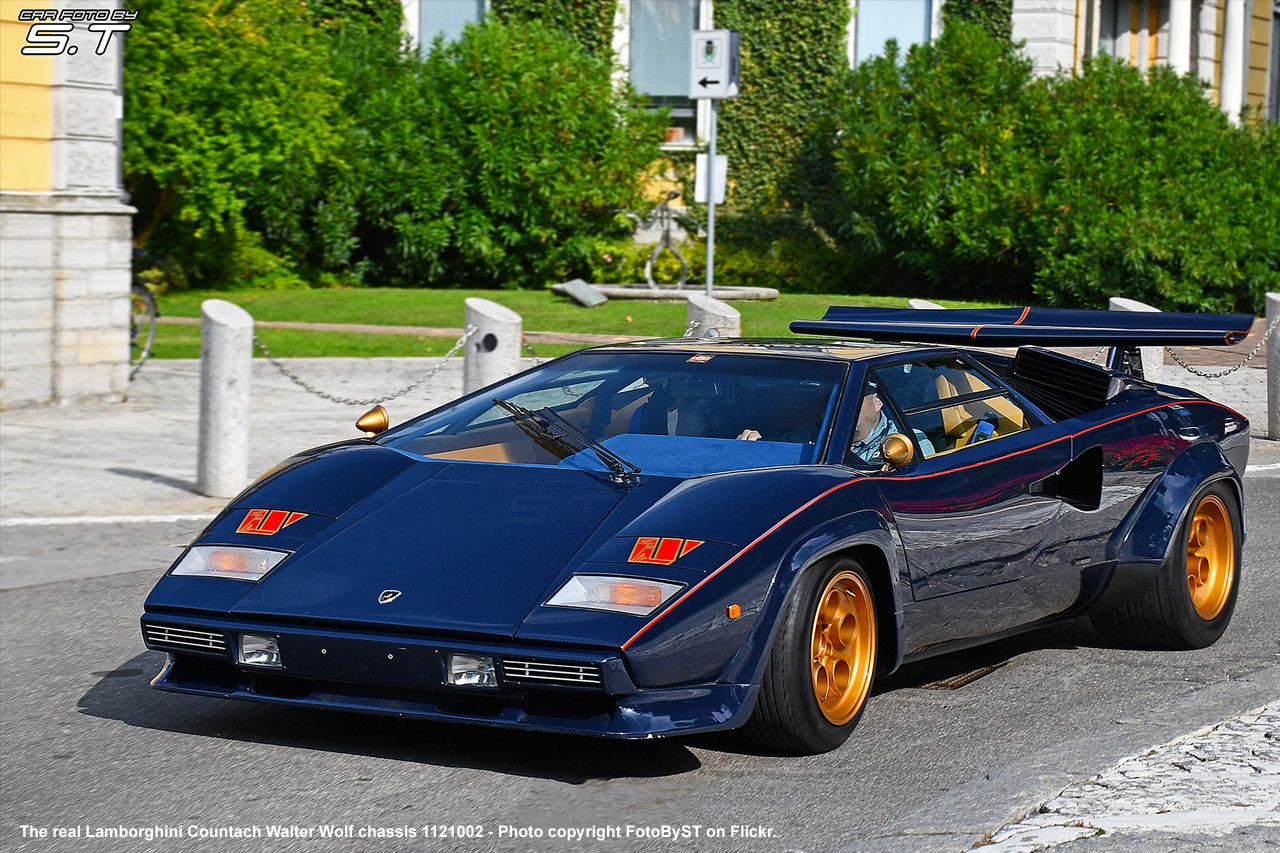 Walter Wolf's third 'special' was chassis 1.121.002, and this was in fact the first official Countach LP400 S ever built, but with one big difference, Wolf had the 5.0-Liter engine he had on loan installed, together with his double-disc Borg & Beck F1-type clutch and the eight-caliper disc brakes, which were now fully adjustable from within the cockpit.
Keep in mind this car was used as the launch version of the Countach LP400 S at the 1978 Geneva Motor Show before Wolf could take delivery, finished in a very dark Blu Speciale, which looked almost black, the Countach S looked so impressive that orders started coming in, and many owners of an LP400 asked the factory to convert their cars to S spec, with the spoilers, wheel arch extensions, and wide wheels.
After the Geneva Motor Show, chassis 1.121.002 went back to Sant'Agata to have the gold pinstriping added, the Walter Wolf Racing logos, and the massive rear wing, which actually never got homologated for the Countach, not a single Countach had the rear wing installed inside the factory, it wasn't legal for them to, so for those customers that insisted on the massive rear wing on their Countach, it was installed outside of the factory.
He received his Countach in April 1978, but Walter Wolf wasn't satisfied with what Lamborghini could do for him, so once again he had his car shipped to Dallara in Parma for some additional modifications, including Lockheed eight-piston calipers, a Borg & Beck racing clutch, a quick steering rack, an F1 steering wheel, and cockpit-adjustable brake balance control.
it seems Walter Wolf liked this 3rd Countach better than his two previous units, he kept this one for several years, and by April 1982 he went even further in creating a truly special Lamborghini Countach, he turned to BB in Frankfurt, Germany, to have their DINFOS system installed inside his Countach, which is a digital dashboard to replace the analog dials usually found inside a Countach, he also added some high-fidelity components to the car at the same time.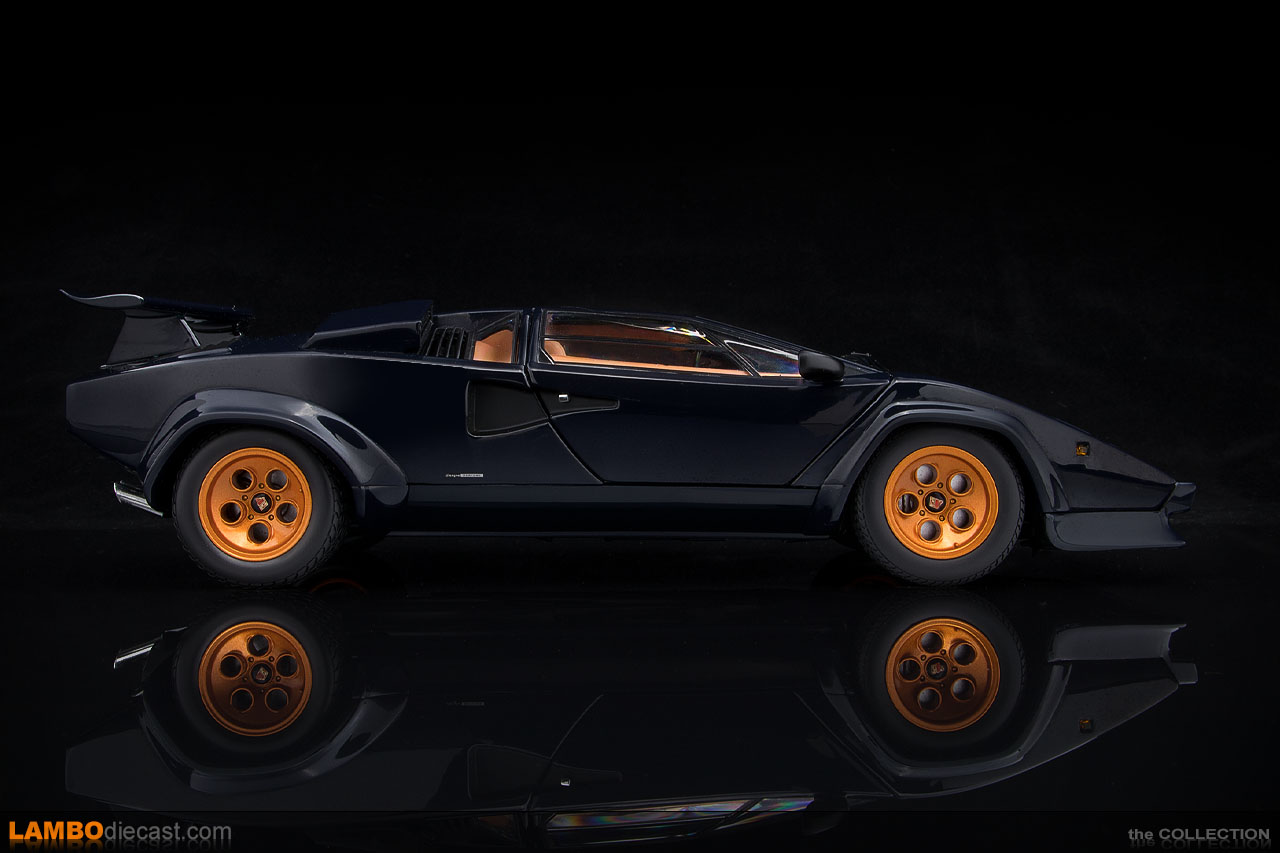 And it is this final version Kyosho decided to recreate on a 1/18 scale, announced a long time ago, but something went wrong and this model was not produced until recently, so when I heard about this, I was quick to put in my pre-order and started waiting for this new model to arrive in Europe.
Now, I must admit, I have been very fortunate to be able to get hold of the IDEA-made version of this specific car a while ago, very rare, a little expensive, and a sealed resin, but I love the IDEA car, the only thing I was looking for was this exact same car, but with opening doors and hoods, and that is one of the reasons I just had to but this new Kyosho release, I had such high hopes for this diecast, I already owned all the earlier Walter Wolf Countach from both Kyosho and AUTOart, so I was getting my hopes up this new release would be at the same level, if not better, as we're over a decade later compared to the earlier Rosso and Blu Metallizato ... boy was I wrong!
When the box finally arrived from Italy I couldn't wait to open up the package and finally be able to admire an all-opening, diecast version of the third Walter Wolf Countach Speciale, and while I had seen photos already, which looked a bit off, I know online photos usually do not convey the correct impression ... but in real life, the model is even worse.
This Kyosho version is finished in a very, very dark blue, almost black shade, which seems totally wrong compared to photos of the real car, I rather like a dark, intimidating Countach, but it just isn't correct, so that was my first disappointment ... well, things can only get better now, right?
Wrong again, while on the real car, the wheels aren't finished in the usual gold we've seen on other Countach S models, rather on this Walter Wolf car they are a more bronzy orange shade, Kyosho got it nearly correct, they seem a little darker, but still close ... but then we get to the mirrors, Kyosho fitted the large, black units from the later version of the LP400S model while all three Walter Wolf Countach Speciale had those small bullet shaped mirrors, a mistake I just don't get because on both versions of the Rosso and on the initial release of the Blu, Kyosho did get it right, so why mess it up now?
You might argue those mirrors were fitted later on, but also when this car was on display at the Geneva Motor Show it had the small bullet units in the corner of the doors, and the mistakes add up, while at the Geneva Show, the car didn't have the Walter Wolf logos applied, nor the massive rear wing ... all of which Kyosho added to this model, complete with the BB DINFOS dashboard, so we're looking at a recreation of the car after 1978, at which time there was also a pinstripe along the upper edge of the bodywork, and in the middle of the rear wing, Kyosho didn't bother adding that.
One thing they did get right, there isn't a stylish 'S' on the rear fascia of the Walter Wolf cars, despite this one being the first actual production version of the Countach LP400S, this specific car didn't have the S at the rear as most other units did.
On the interior things look a bit odd too inside this Kyosho, I know Walter Wolf had a custom steering wheel fitted to his Countach Speciale, and in this Kyosho version it looks like a wooden unit, a plastic rendition, but still, however when I saw the real car at the 2021 Villa d'Este event, it had a black leather MOMO unit fitted, not a wooden steering wheel.
And the mistakes continue, the BB DINFOS digital display seems to be executed rather well by Kyosho, but on the large central console, where Wolf had a custom sound system fitted, things went wrong again for Kyosho, at the top there is a silver cassette player, which while being rudimentary, is there inside this model, but underneath it sits an equalizer in the real car, I don't know what Kyosho put there, but it's so wrong in so many ways, further down there is a set of black switches on the real car, Kyosho just made them color-coded to the dashboard, which for some strange reason Kyosho made to look like Alcantara by 'speckling' the entire thing.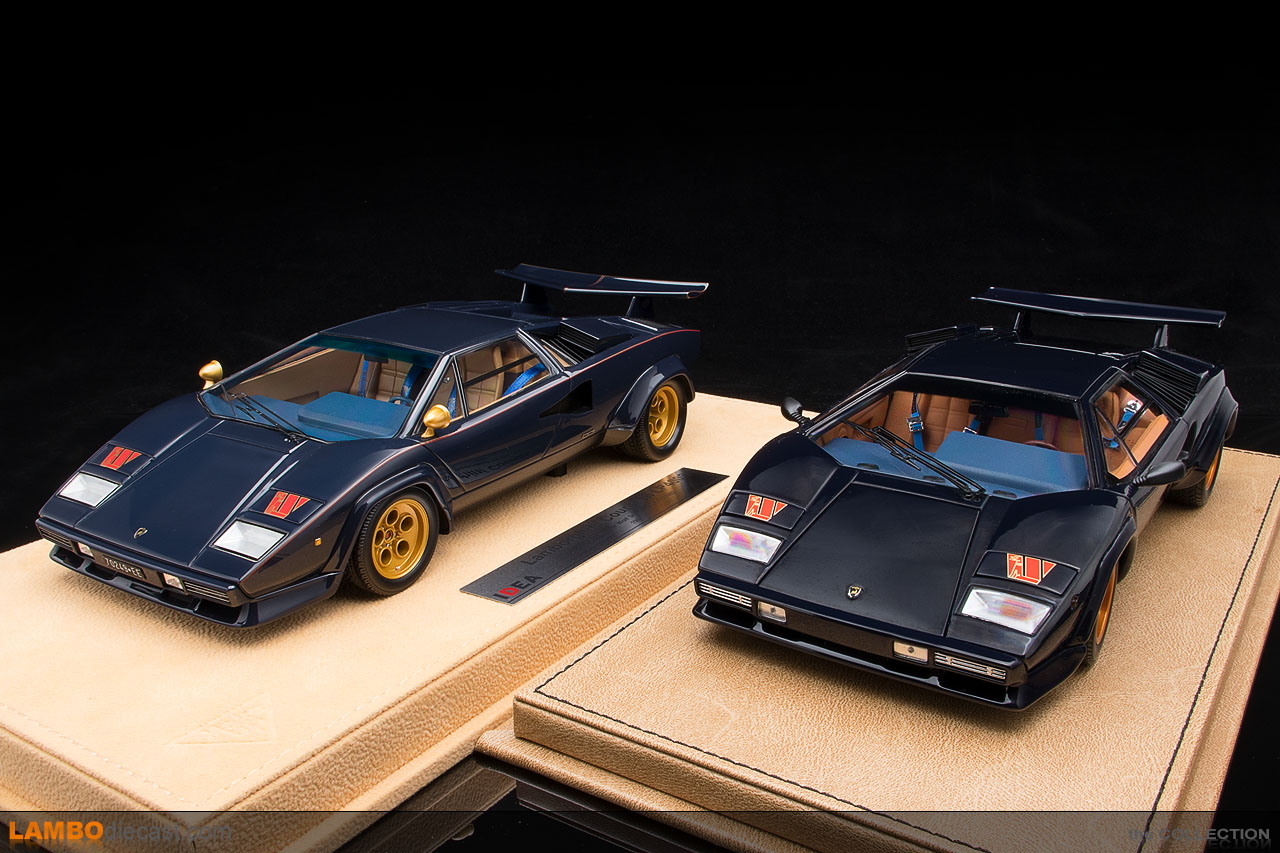 I know this Countach Speciale had Willans seat belts fitted, but just take a closer look at the details and finish inside this Kyosho model ... that's just horrible, they did a better job about a decade ago on the Rosso and Blu models, such a pity, and more importantly, such a missed opportunity for Kyosho to release such an important Lamborghini Countach.
I know I might be sounding a little harsh on this model, but when you see one small mistake, you go 'ok, that happens, nothing is perfect', but it is a continuing list of things they got wrong, almost as if they never even bothered comparing it the real car, that is out there today, completely restored and functional, just do an internet search and you find tons of photos, I guess that is what IDEA did, they even released three versions, the 1978 Geneva Motor Show version, the later 1978 version with all the Walter Wolf additions like the decals and rear wing, and then the version I got, the 1982 one with the BB DINFOS fitted ... if IDEA can do that, why can't Kyosho, which in my opinion is a much larger company with a lot more resources.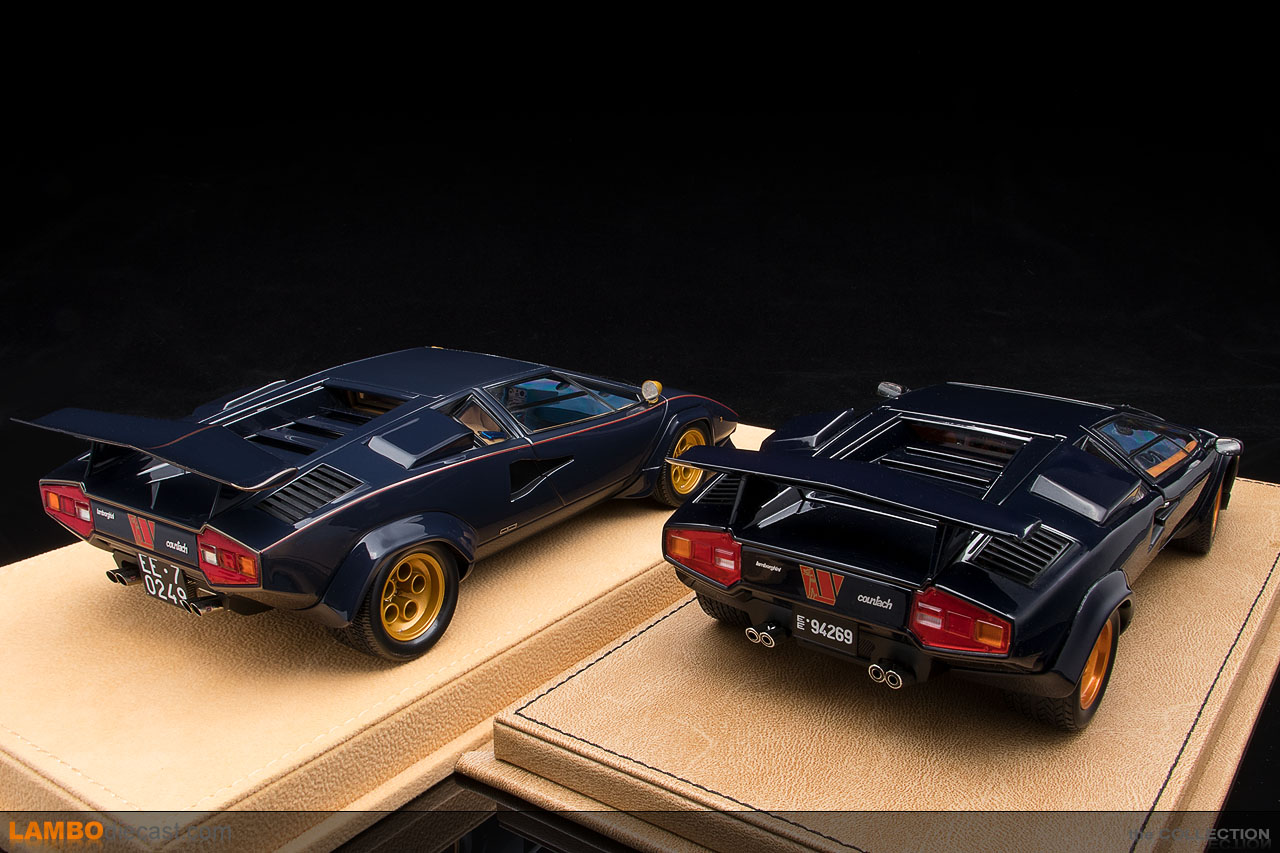 And it gets even worse, somehow I must have received a 'Monday' model, and one that was put together after someone had a really rough weekend I guess ... the headlight pods don't open up all the way, and just fall down again, they don't stay up, so I couldn't even get a photo of them, the doors don't open as high as they do on the older diecast versions, I even compared it to the newly released white-on-red Countach LP500S, they open up higher, so yes, I'm really disappointed in this Kyosho model, which is the first time ever for me, and with most of these being listed at €250 and more, I have to say, it isn't worth it in this condition, so for me, it's a fail, and I couldn't be happier with my IDEA version, even if it is sealed.
One final remark, the entire Kyosho model was covered in some oily residue, I had to thoroughly clean it with a soft cloth to remove that stuff, I guess it is a kind of sealant or something, but the problem with a dark model like this is that when you clean it with a cloth, it becomes a dust magnet ... so much fun.
Originally released in March 2023.
our RATING
| | | |
| --- | --- | --- |
| Exterior | | 7/10 |
| Interior | | 8/10 |
| Engine | | 8/10 |
| Accuracy | | 7/10 |
| Overall rating | | 7/10 |
Original price on March 14, 2023 : € 225