I initially missed out on the Giallo Tenerife Lamborghini Aventador SVJ from AUTOart, I wasn't too sure about the shade and missed the deadline to get my order in, the first production run was sold out already, so I pre-ordered the other four shades at the same time, I wasn't going to miss out again, and fortunately I found the yellow one at another dealer for a reasonable price ... so I was set, over a period of a few months I managed to add all five shades to my collection, the press release version finished in Verde Alceo, the Rosso Effesto, and the aformentioned Giallo Tenerife, all of these three roll on the glossy black Leirion wheels, which are an option in real life, the other two shades, Blu Glauco and Viola Pasifea came with a different wheel design called Nireo Forged, so I was set, a lot poorer, but happy.
Until AUTOart decided to do a sixth shade, as if I didn't spend enough money already, and to make things worse, this additional model would be finished in Blu Nethuns, an absolutely stunning dark blue metallic paint from the Lamborghin Ad Personam range, so I just had to add that one to the collection too, pre-ordered it months in advance, and she finally arrived in May 2022.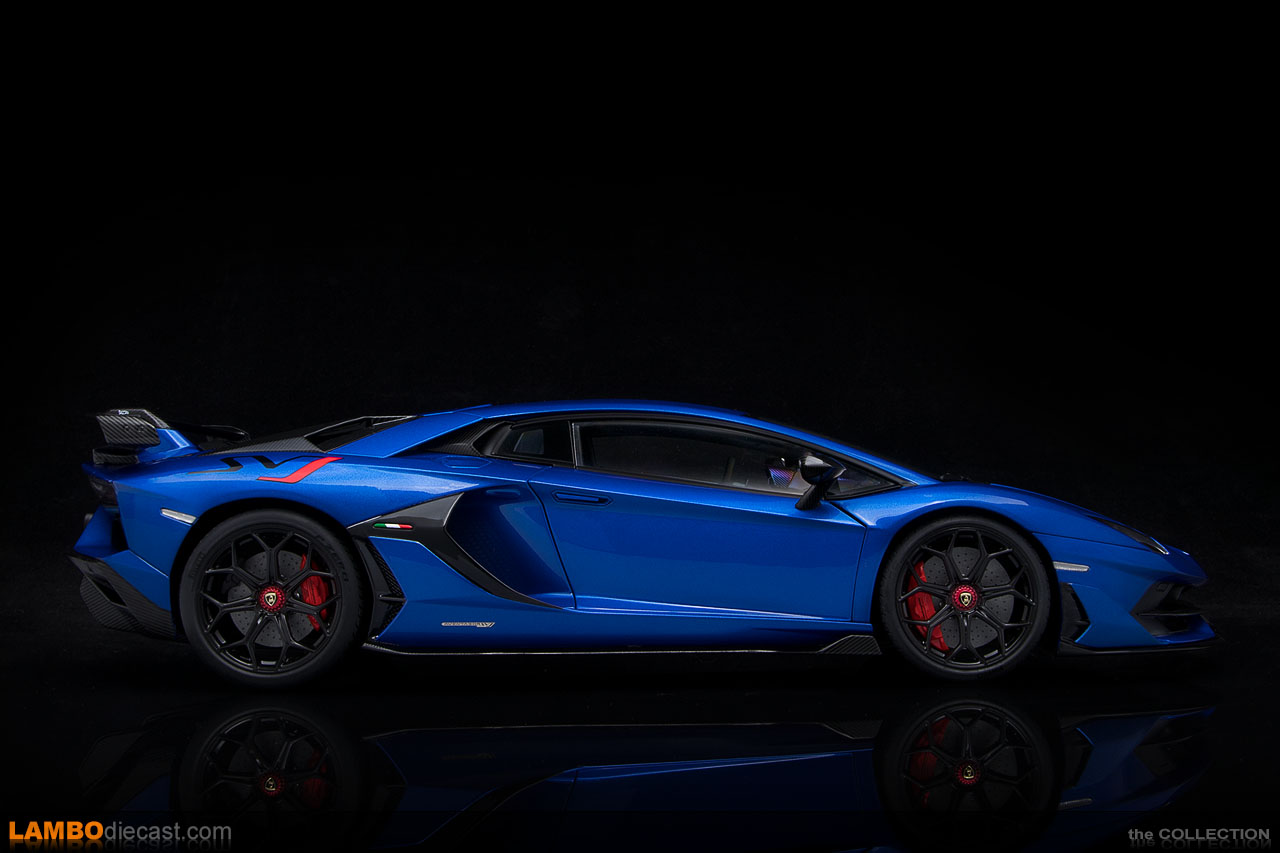 Now this may come as a surprize to some, but seeing all six shades from AUTOart side by side on the aggressive looking Lamborghini Aventador SVJ ... I still prefer the Verde Alceo one among all of them, that shade just suits this car so well, I really like the Rosso Effesto and this new Blu Nethuns too ... but those hues are almost too 'safe' for such a race inspired car with active aero.
Viola Pasifae is a great color, but it needs light, just sitting on the shelve inside a display case without a bright light on it, she just doesn't draw attention, the Blu Glauco is a really nice shade too, and the Nireo wheels over yellow calipers work really well on this one, but it's a strange hue, it's not blue, it's not green, its Blu Glauco ... period.
And then we get to the Giallo Tenerife ... and I really like yellow on a Lamborghini, the Giallo Orion or Giallo Midas are stunning, very aggressive looking, attention grabbing hues of yellow ... but somehow Giallo Tenerife is such a 'cold' yellow, I'm just not a fan, sorry.
But back to the brand new Lamborghini Aventador SVJ 1/18 scale from AUTOart in Blu Nethuns (item 79174), this one comes with the Leirion wheels, in gloss black, with a red center-lock screw and red brake calipers, with match perfectly with the large red 'J' of the SVJ script above the rear wheels, so yes, I like it like this, but I would have loved it if AUTOart went with bronze finished Leirion wheels instead, that hue just works perfectly with the dark blue pearl metallic paint.
I do find it a little strange AUTOart decided to put the Leirion wheels on four of the six cars, why not go three/three, those titanium finished Nireo wheels would look great on Blu Nethuns too, but I guess that's an executive decision made in China, so who am I to second-guess that.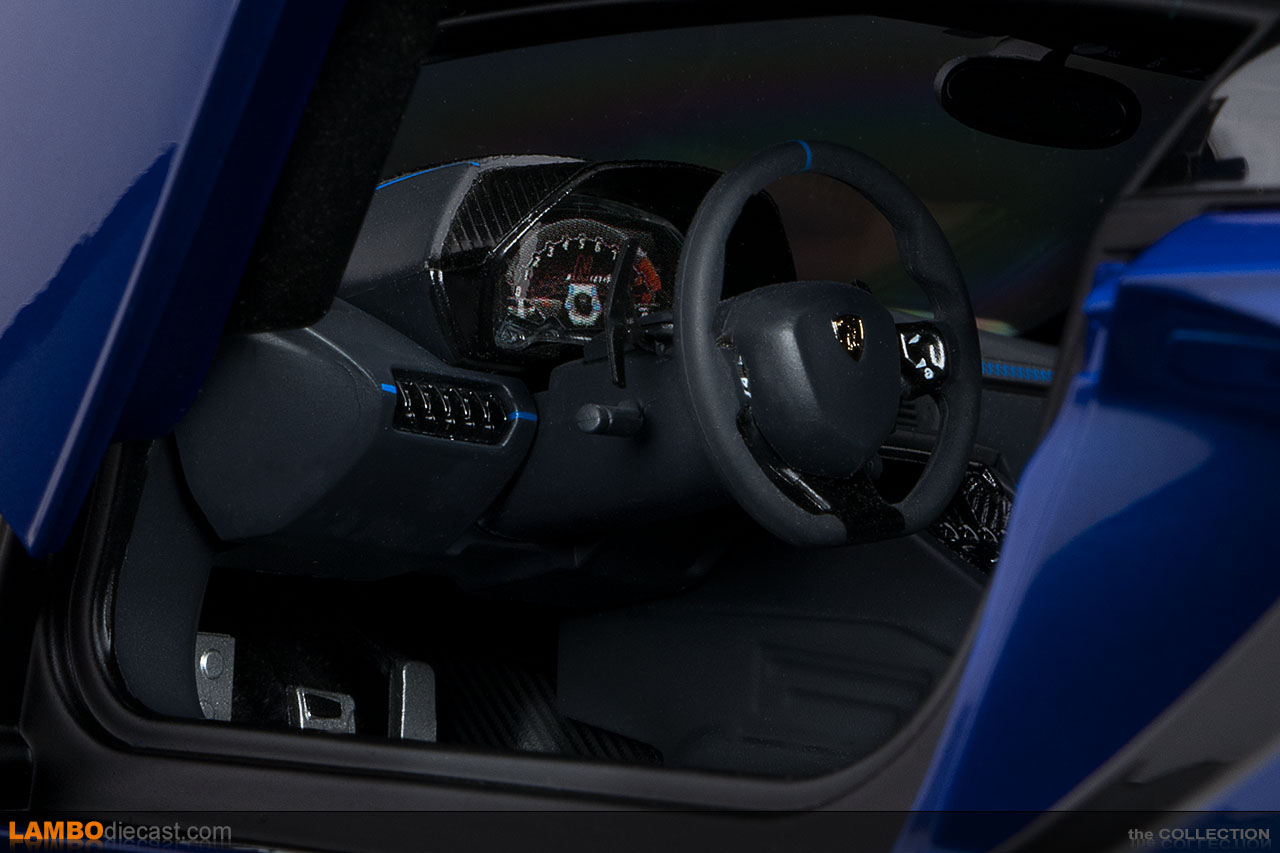 Honestly I would have expexted there to be a red livery on the interior too, color-coded to the center-lock and calipers, but instead AUTOart went with a blue theme inside, and I do like it, there is blue cross-stitching on the dashboard, blue piping on the seats and around the headrest, while the latter also boast a Raging Bull crest in blue ... all very nice indeed.
Removing the engine cover reveals those stunning gold manifolds that work so well with this Blu Nethuns exterior, and AUTOart also fitted the red springs on the suspension, at least these match the calipers, so that's a great look.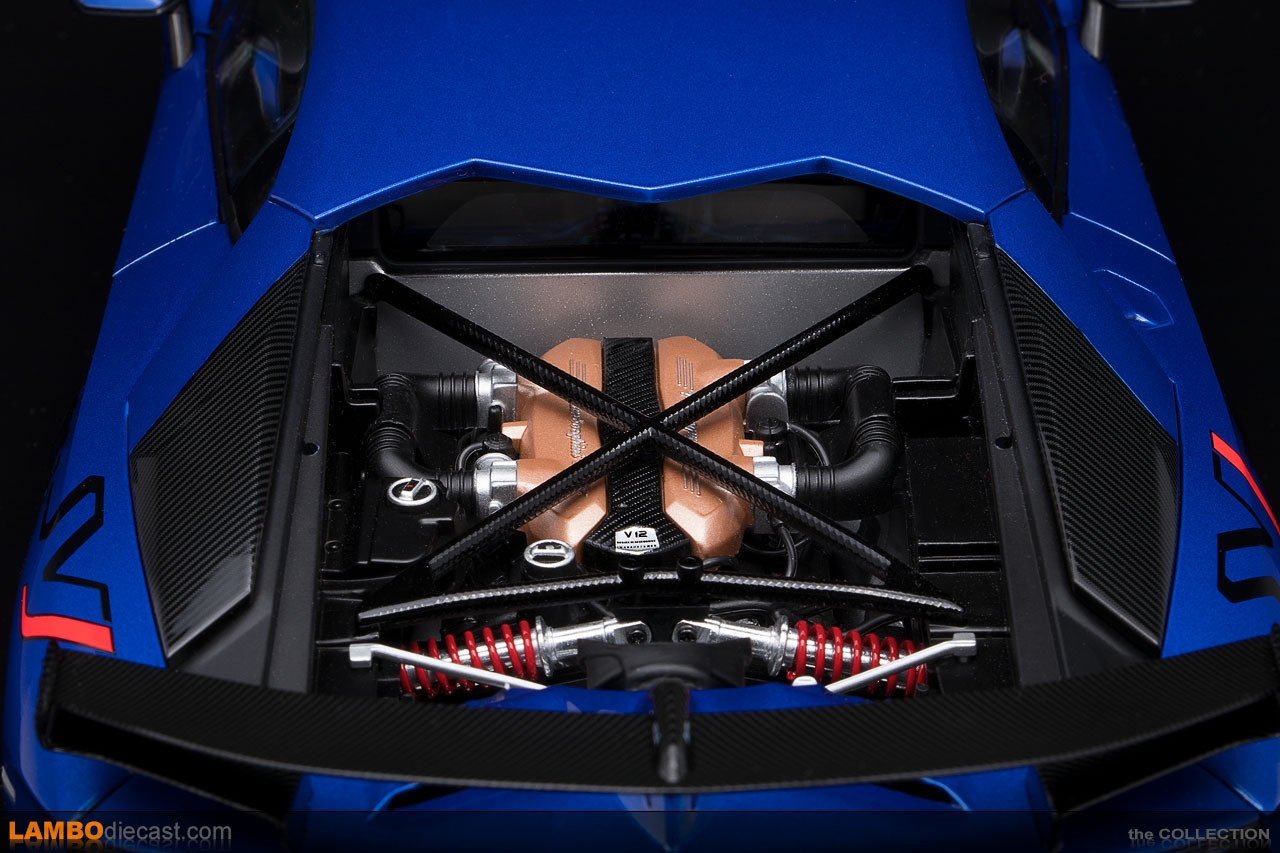 So is this additional shade released by AUTOart well after the initial production run of five hues a must-have, or should they have kept it at five for the Aventador SVJ, or perhaps went for a different shade instead?
It all depends on the fact if you already have one or more shades from the first production run, or do you really like blue cars? If not, despite this being an amazing model, very detailed and close to perfect to the real car, I would have to say it wouldn't be my first choice to add the Aventador SVJ to the collection.
As I mentioned earlier, I'm still going for the Verde Alceo shade if I had to choose only one out of these six that are now available, it's an aggressive looking satin metallic green that suits this specific model from Lamborghini perfectly, adding a second one would really have me doubting between the Blu Glauco and the Viola Pasifae, but only because that would show both wheel designs in the collection.
That being said, putting the Rosso Effesto and this new Blu Glauco side by side is just a perfect match, both shades are less 'in your face' and come with an air of class and luxury about them ... so I'm really glad I didn't have to make a difficult choice, and just got all six of them.
Originally released in May 2022.
our RATING
| | | |
| --- | --- | --- |
| Exterior | | 9/10 |
| Interior | | 8/10 |
| Engine | | 9/10 |
| Accuracy | | 9/10 |
| Overall rating | | 9/10 |
Original price on May 24, 2022 : € 290