I rather liked the MTV show Pimp My Ride, especially the earlier seasons where they took the cars to West Coast Customs, as far as I know, WCC only had a Lamborghini Murciélago in their workshop once, and it turned out as a white car with black front hood, roof, and engine cover, naturally with a custom body kit, wheels, and an angular rear wing.
So initially, I didn't get this yellow Murciélago from Hotwheels in a 1/18 scale from their WHIPS series, complete with West Coast Customs branding, when new I got the orange version Hotwheels labelled 310 Motoring, but recently I found one online, it wasn't as cheap as original about ten years ago, but I managed to get all shades Maisto released in their Playerz series, so I wanted to have both shades Hotwheels released, hence I got it anyway.
Hothwheels released another Lamborghini model in this WHIPS series, the Diablo GTR, available in a gold metallic with Team Baurtwell branding which I also have in my collection, but there is also a black version from 310 Motoring, which I'm still looking for at this time, back to the yellow Murciélago WCC edition.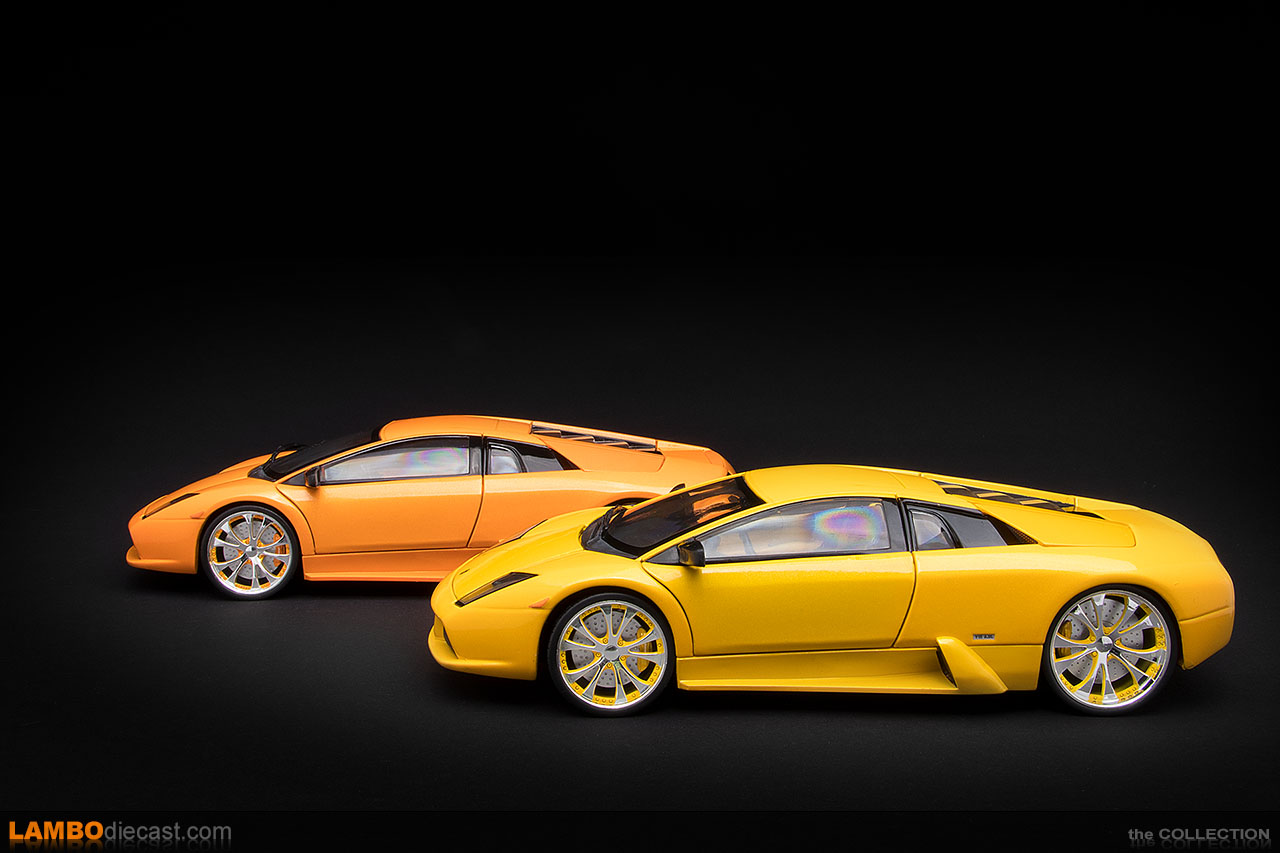 The Hotwheels WHIPS series are so-called 'tuner' editions, much like the Maisto Playerz, and come with chrome wheels which are so oversized they hardly fit inside the fenders, however, contrary to the Maisto counterparts, these WHIPS Murciélago still have steerable front wheels, they can only move ever so slightly, but they still steer nonetheless.
There is also a splash of color on the engine cover, more specifically the manifolds get color-coded to the exterior, as is the interior, parts of the seats and the doors are yellow inside this one, underneath the front hood there is luggage space unlike the Maisto Playerz editions where they fitted a stereo system, these Hotwheels WHIPS show an empty luggage space.
I would categorize these Hotwheels WHIPS Lamborghini Murciélago as a 'nice-to-have' model, these surely aren't AUTOart level, but they come with some nice details like full size side windows for instance, Hotwheels also released the Murciélago 6.2 in the original guise in a few colors, but these WHIPS are just so over the top I had to get both of them anyway.
Originally released in December 2003.
our RATING
| | | |
| --- | --- | --- |
| Exterior | | 7/10 |
| Interior | | 7/10 |
| Engine | | 6/10 |
| Accuracy | | 8/10 |
| Overall rating | | 7/10 |
Original price : € 80