When I heard Spark would be doing a 1/18 scale model of the 2010 Lamborghini Murciélago R-SV race car from Reiter Engineering, I immediately knew I just had to add this model to my collection, I have seen this car in action during the 24h de Spa weekend in the GT1 series, and I had a great contact with Hans Reiter himself and Peter Kox, a driver of the nr 24 car at that time, so this was a trip to memory lane for me.
I already owned the prototype of this car, shown by Reiter Engineering in 2009 at Spa Francorchamps, from MR in a 1/18 scale, but the actual 2010 race car was still heavily modified from that presentation prototype, so I needed both, but it took a really long time to finally find one online, so my patience was put through a lot before I could finally admire this black Bull in my collection.
I bought the Lamborghini Huracán GT3 EVO in 1/18 scale from Spark a while ago, and while it's a really nice model, I wasn't really impressed with it, it felt a but cheap, and while all the details are there, it's just not at the level of the AUTOart made Huracan GT3 I had, but it's the EVO version, so I just had to add the press release green version, but as the Murciélago R-SV wasn't an official Squadra Corse car, but a bespoke race car built by Reiter Engineering, there wasn't a press car release, so because I had spoken with Peter Kox in the past, I added this 2010 FIA GT1 livery to the collection, and you have to admit that black and white paint scheme does look impressive with that Blancpain watch face at the front and the Blancpain script on the doors, and personally, I feel Spark did a much better job on this Murciélago R-SV compared to the Huracán GT3 EVO.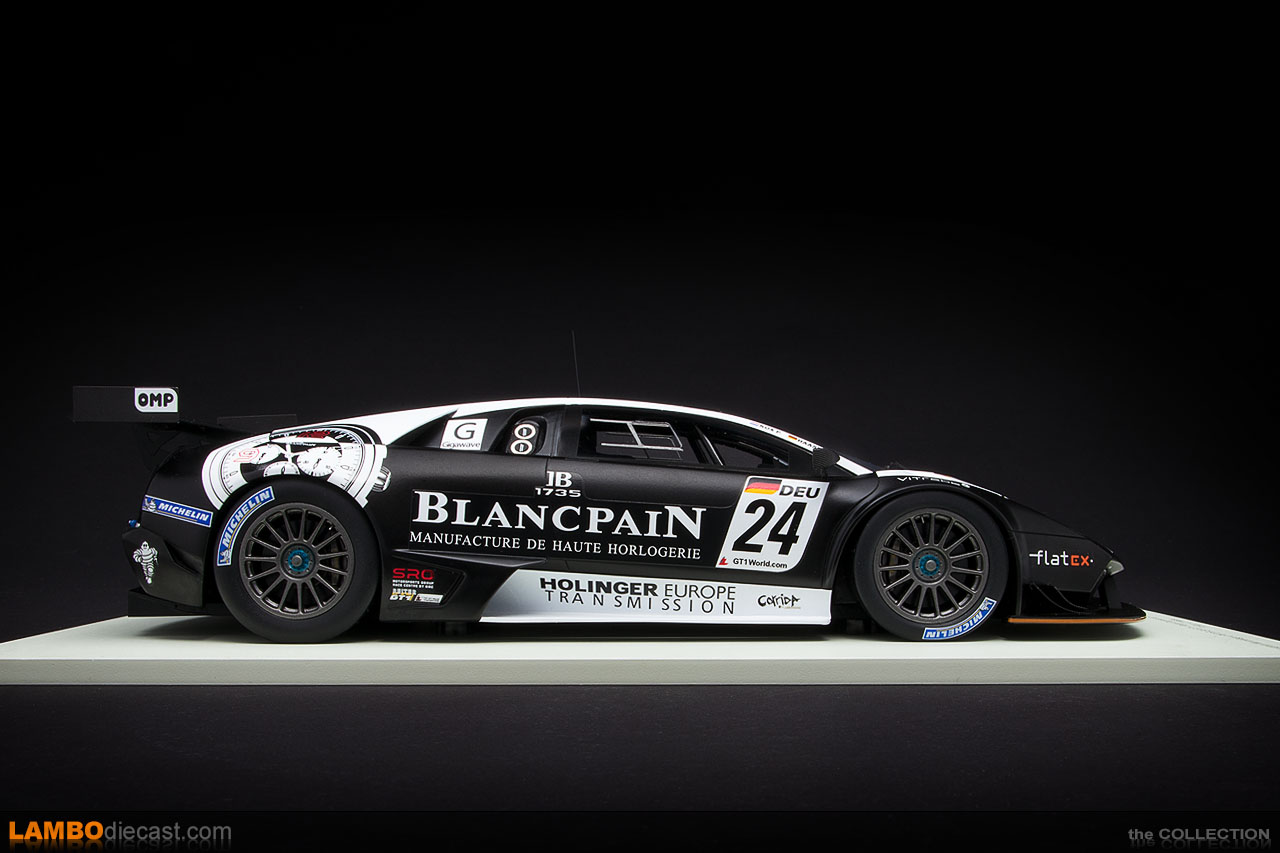 The Lamborghini Murciélago R-SV was a 2010 model based on the LP670-4 Super Veloce, and Reiter Engineering actually kept the original 6.5 liter V12 engine, with some modifications to get it ready for the track, but back in 2010 you could buy a race-prepared, track-ready R-SV for less than €500,000, which was impressive as most other GT1 racecars were close to, or over €1,000,000 at that time.
For the 2010 FIA GT1 season a total of four Murciélago R-SV were entered, the nr24 car we see here piloted by Peter Kox and Christopher Haase, the sister car with number 25 driven by F. Kechele and R. Zonta, but also two All-Inkl.com cars in a red/white/black livery, number 37 with Ch. Bouchut, M. Basseng, and T. Jäger behind the wheel, and the number 38 with N. Pastorelli and D Schwager, all during the 24h de Spa weekend FIA GT1 World Championship session in july 2010.
The Lamborghini Murciélago R-SV LP670 GT comes with a Holinger M6S 6-speed sequential gearbox, Holinger Reiter differential and a 3-plate clutch, both disk brakes (380mm at the front, 350mm at the rear) and even the brake pads themselves are made of carbon-fibre, while the double wishbone suspension comes with 4-way adjustable dampers all around.
The 2010 season was the inaugural year for the FIA GT1 World Championship, there was a 2011 season with four Murciélago R-SV entered too, but the two Reiter Engineering cars were taken over by Swiss Racing team for the 2011 series, All-Inkl.com did continue with their 2010 R-SV GT1 cars, strangely enough the 2012 FIA GT1 World Championship featured GT3 cars, All-Inkl.com switched to Mercedes and Reiter Engineering entered two Gallardo LP600+ ... the magnificent Murciélago R-SV LP670 GT1 only competed for two years, the high costs of running GT1 cars became their downfall unfortunately.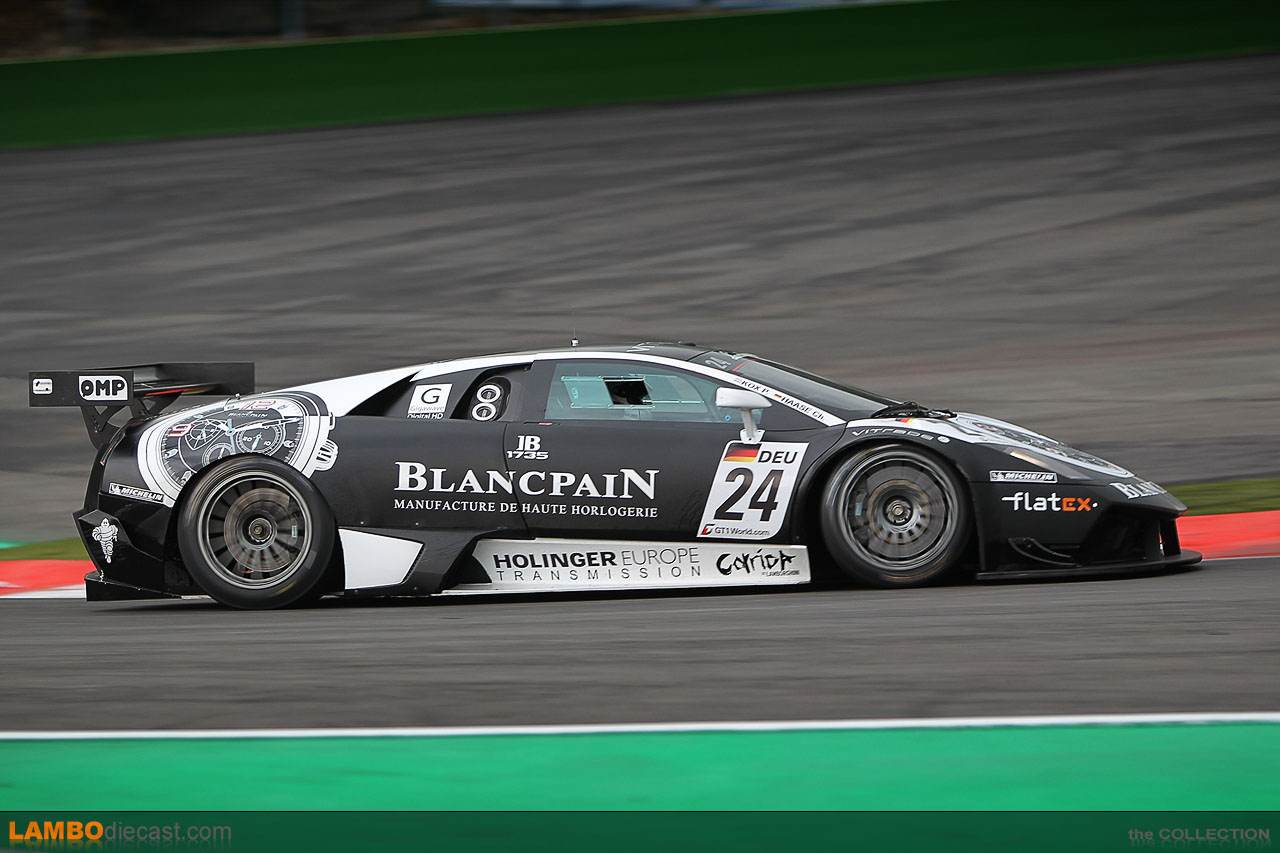 I have seen four units of this impressive Murciélago R-SV compete in 2010 and 2011, and as far as I know only these four were ever made, making this an extremely rare car indeed, so finally having a nice 1/18 scale model this Raging Bull is a real milestone for me.
Spark did an amazing job on this car, there are actual open grilles found at the front and rear of this scale model, the interior looks correct with the roll-cage and Reiter Engineering badges competition seat, even the quick-release steering wheel is a nice replica of the real deal.
The custom panel of buttons on the central console seems to be as close as possible to the real car too, sadly the engine cover doesn't open, and the little detail you can see through the hexagon windows doesn't really convince either, which is unfortunate.
What I really didn't like was the way how Spark treats the exhaust system, the two massive tips are there, and they look great, but on the real car you can see the pipes behind it as the lower diffuser is almost entirely open on the actual car ... Spark just put a black wall there with the two pipes fixed to it, which is sad, but I get it, leaving that part open would mean a whole lot more intricate details to make, which would probably increase the price considerably.
Other than that the only major difference I found between the Spark scale model and the real number 24 car are the rearview mirrors, while the number 25 did come with black carbon fiber mirrors, the number 24 car actually had different mirrors which were painted white, a small details, but still a mistake nonetheless.
Bottom line
But I'm still really happy with this 1/18 scale model from Spark of the rare Lamborghini Murciélago R-SV LP670 GT1 race car, and especially because they went with the Peter Kox number 24 livery, so I have no regrets adding this model to the collection, and if you are contemplainting about adding one too, I would suggest you get one, it is a very nice model indeed.
Originally released in February 2022.
our RATING
Exterior
9/10
Interior
8/10
Engine
Not visible
Accuracy
9/10
Overall rating
9/10
Original price on February 16, 2022 : € 165