The Lamborghini Aventador Roadster based on the original LP700-4 model was introduced in 2013, only two years after the coupe made her appearance at the 2011 Geneva Motor Show, and there were three important color combinations at that time, the official European show car and press release car was finished in a brand new shade called Azzuro Thetis, a very light blue metallic that is sometimes also called Azzurro Thetys, with a Sabbia Nefertem interior, a light brown, almost tan leather.
So when AUTOart released their 1/18 scale model of this convertible Aventador, I naturally opted to get the Azzuro Thetis shade, but there was a second show car color combination, this one was used for the motor show in the United States, finished in a stunning Blu Hera over Sabbia Nefertem, a deep, luxurious looking metallic blue shade, another shade AUTOart released in 2015, but one I was only recently able to add to the collection.
I was also fortunate enough to find the yellow Lamborghini Aventador LP700-4 Roadster AUTOart released on a 1/18 scale, they called it Giallo Orion, but it was more a Giallo Maggio shade, something that wasn't even available on the regular Aventador Roadster at that time, but she's one of only four shades released by AUTOart, so she did receive a place in my collection after all ... which brings us to the fourth and final shade from AUTOart.
The scale model
Bianco Isis over a two-tone black and white interior, the spec I was always looking to add to my Azzuro Thetis ever since I bought that one in early 2015, but I just couldn't afford a second Roadster back then, and over the years the price on the second-hand market for these AUTOart Aventador Roadster just went balistic.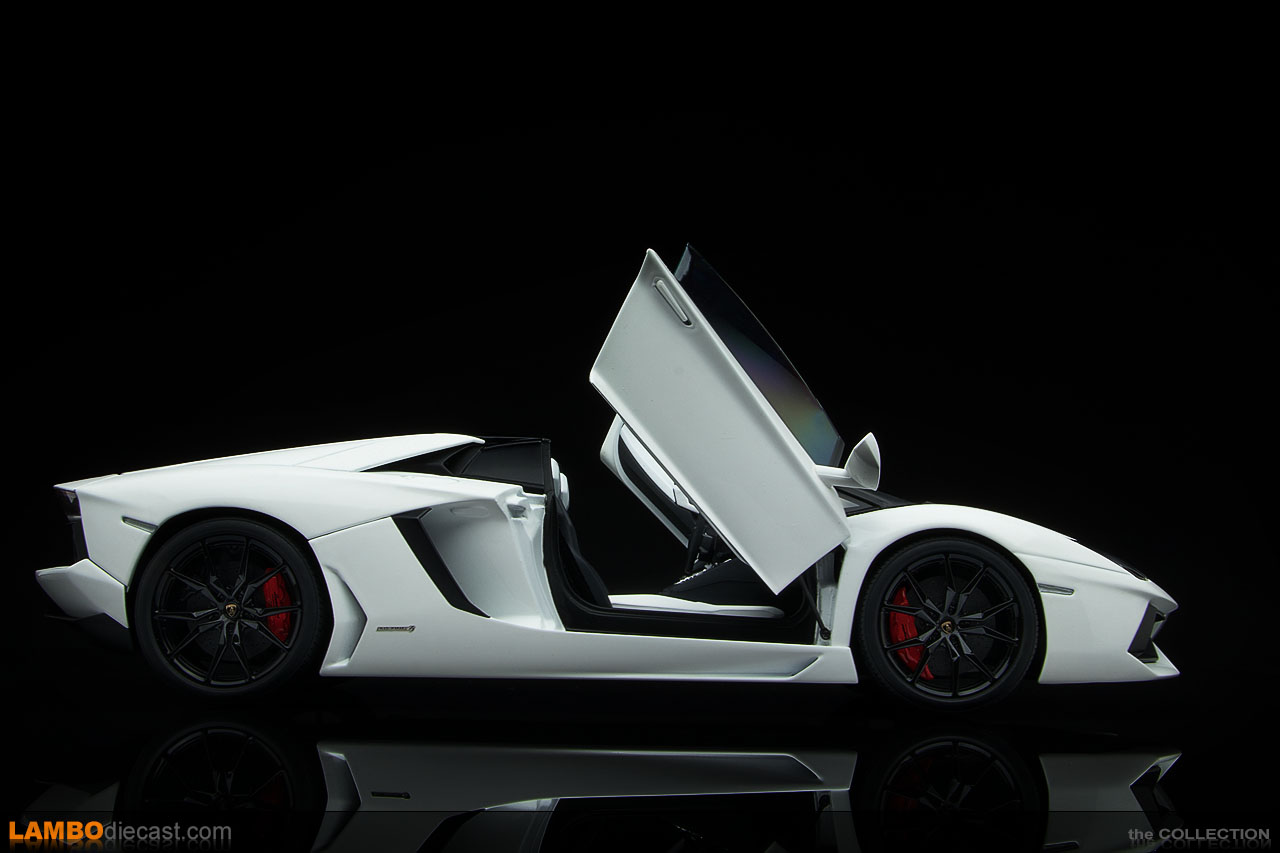 But I just had to add this one to the collection, it is the color combination I love most on the Aventador Roadster apart from the press release shade, and it's a very important configuration too ... this happened to be the car that was sent out to authorized Lamborghini dealerships to offer for test drives if a client came in, rumor has it they weren't allowed to sell this Bianco Isis Roadster for several months.
And it is the exact spec AUTOart replicated on a 1/18 scale, a Bianco Isis exterior, which is a solid white, no metallic, no pearlescent, just a regular white, with the optional Dione wheels in glossy black over red brake calipers, while the interior came in a Bicolore Sportivo configuration combining Nero Ade with Bianco Leda ... I have seen this specific car in real life several times, and she looks amazing.
AUTOart just nailed it with this 1/18 scale replica, it is just about perfect, an almost identical scale model of the real dealer demonstrator, and I love the fact AUTOart ships these with the two removable roof panels, but also with the small wind deflectors to fit at the top of the black trimmed windshield.
Also, note the Aventador Roadster in this specification didn't have contrast stitching or an embroidered Raging Bull on the headrest, the stitching was tone on tone, and the Bull logo was embossed on the headrest, so that's exactly what AUTOart also did on this model, and both the door handles and the central console surround were silver, no carbon fiber option yet in 2013, and while AUTOart might have made the mistake of having a black cover on the start button in their first release Aventador Coupe, in this later Roadster release it's the perfect shade of red.
Bottom line
I finally have all four different shades AUTOart ever released on the Lamborghini Aventador LP700-4 Roadster, it took over 6 years, in the end, to get them all together, and way more money than I wanted, but I just love these, and finally finding this Bianco Isis one, the one I was looking for since the beginning when they went out of stock is a milestone for me, I know I have mentioned it before, but I have several holy grail models on my wishlist, and I've been fortunate enough to add a few to my collection over the last year or so.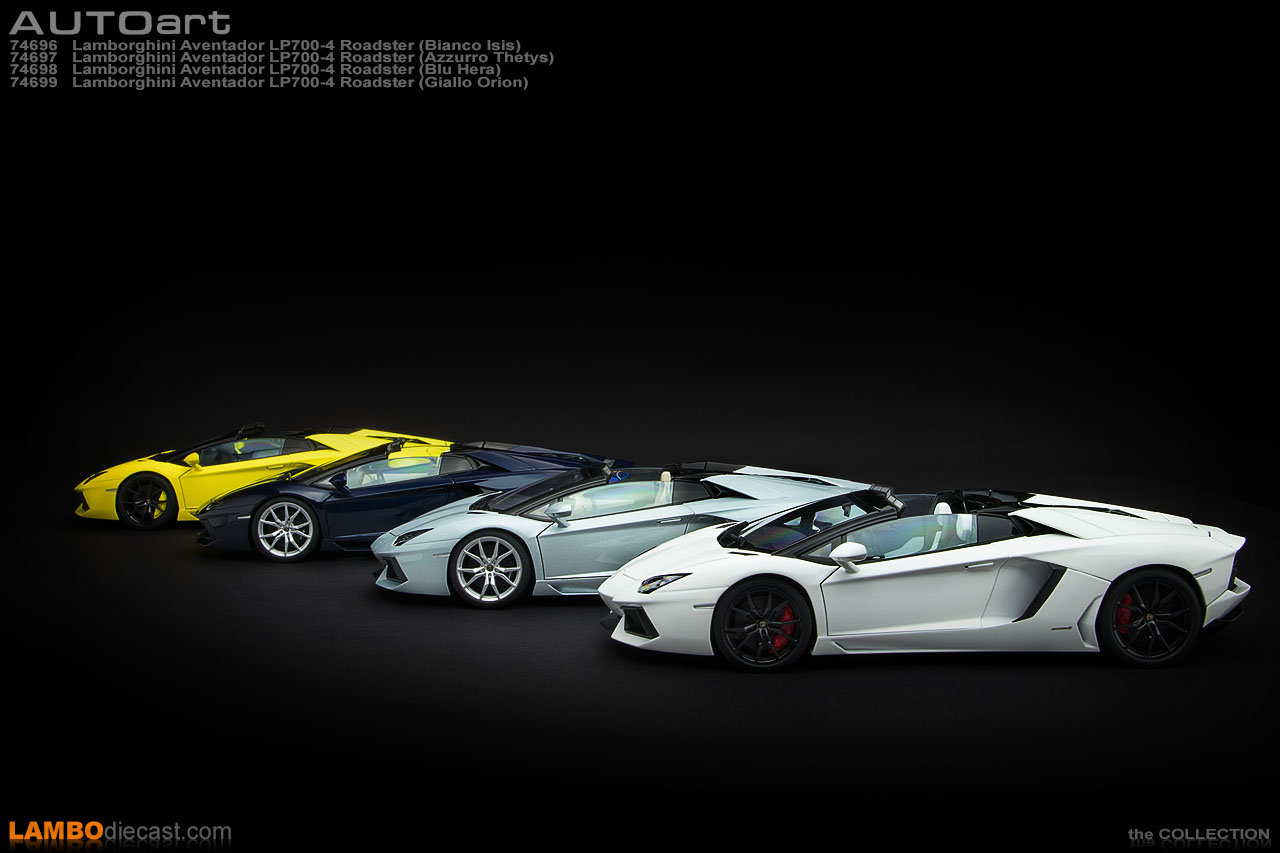 There are still some models out there I would really love to add, but I have to say that with this latest addition I'm in a happy place, I love admiring these models in my display, and while there is more on the list, I feel I have reached just about all my 'must-have' models, up next are the 'nice to have' ones.
our RATING
| | | |
| --- | --- | --- |
| Exterior | | 9/10 |
| Interior | | 9/10 |
| Engine | | 8/10 |
| Accuracy | | 9/10 |
| Overall rating | | 9/10 |
Original price on October 29, 2021 : € 510