Back in the early Eighties, we didn't have movies like The Fast and the Furious or Need for Speed, nor could we watch these on our phone or tablet, we had to go to the movie theatre to view a movie like the 1981 Cannonball Run with famous actors like Burt Reynolds, Jackie Chan, Roger Moore … and let's not forget Farrah Fawcett, but probably the biggest star of the movie was shown during the long opening scene of this 1981 movie: a sinister-looking black Lamborghini Countach.
Remember the Countach S was only a few years old at that time, and most people had never even seen one, so using a 1979 Lamborghini Countach LP400 S turned out to be a genius idea, this specific car was chassis number 1121112, originally delivered to SEA Auto, the Lamborghini distributor for Rome, Italy, who almost immediately had the car exported to the United States of America. This black over mustard yellow Countach S ended up with her first owner in Florida, a close friend of Hal Needham … and the latter would make this Countach unforgettable, this Raging Bull was set to make history.
This black Lamborghini Countach S was a 1979 model, so when filming began on the Cannonball Run, this car was virtually still brand new when the owner 'lend' her to Hal Needham who was directing this movie, but they decided the factory original Countach wasn't wild enough for the movie, so they modified her, this car was imported into the USA by Jas Rarewala, at the time an official Lamborghini importer, the custom front wing and rear bumpers were fitted to make the Countach street-legal in the US.
But it didn't end there, remember this movie depicted an illegal race, and while cell phones were first made as early as 1973, they didn't become popular until the 90s, so racers would use CB radios to communicate with each other, hence the addition of three massively long antennas to the Countach, and to make that famous V12 engine really loud a total of 12 exhaust pipes were fitted for the movie in which actress Adrienne Barbeau would regularly use her 'assets' to get out of a ticket.
As this is a 1979 Lamborghini Countach LP400 S, we are talking about one of the early 'Low Body', or Series 1 models, these rare cars sit about 2 inches lower on their chassis compared to later Countach S models, but this isn't an S model with the periscope roof, and while very few Countach were fitted with that big wing on the front, this will forever be a rare car, a one-of-one famous movie car.
The car was bought by Ron Rice while she was still being used in the movie that was recorded between May 1980 and June 1980, driven by Adrienne Barbeau and Tara Buckman, Ron would keep this one of a kind Countach in Florida until 2006, when he sold her to a local collector, who had the interior replaced with burgundy leather by the time the car was listed for auction in 2009, with an estimate between $250,000 and $350,000 she didn't sell at that time.
The Hagerty Drivers Foundation helps to shape the future of car culture by celebrating automotive history, in September they have an event on the National Mall in Washington where they show car that changed history, this specific black Countach Cannonball Run version is the 30th car added to the National Historic Vehicle Register, a program created in partnership with the U.S. Department of the Interior and Library of Congress.
The scale model
I was really excited several years ago when I saw a Kyosho catalog that announced this black Lamborghini Countach Cannonball Run version, but sadly that model never materialized, just like several other models Kyosho announced, so I was out of luck ... until MakeUp IDEA announced this very model in 2021.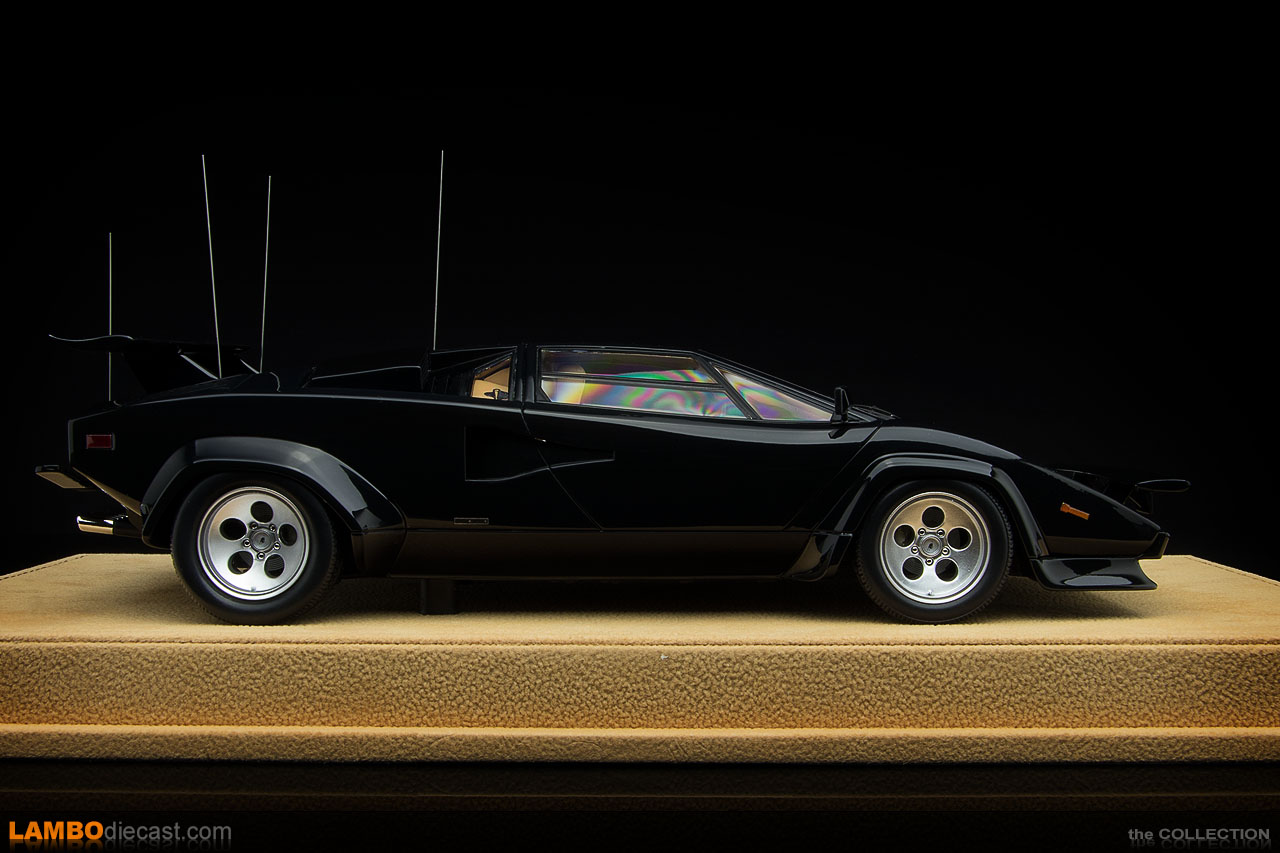 These IDEA models are really nice, I already own a stunning copper metallic Countach LP400 S with the classic Bravo style wheels, but these are sealed resin models, and they come at a price, being limited-edition, but without a numbered certificate, still, these IDEA models in large 1/18 scale tend to sell out quickly and come with a rather steep MRSP from new, which gets inflated quickly once they hit eBay.
So I asked around and found out I could get one in pre-order, time to start saving up to be able to afford it once it would arrive, which happened in October 2021, the big box with a lot of padding finally arrived and I could admire this beautiful black Lamborghini Countach that I loved so much in the movie, a movie I saw several times, not just once.
From what I can see this IDEA scale model of the famous Lamborghini Countach S chassis 1121112 is a near-perfect replica of the real car, which recently underwent a two-year restoration process to return her to the beauty and the specs she had back in 1981, complete with the twelve exhaust pipes on a row, the thin rear bumper, and that iconic spoiler at the front with the additional lights, even the four tall antennae were fitted on the right spots.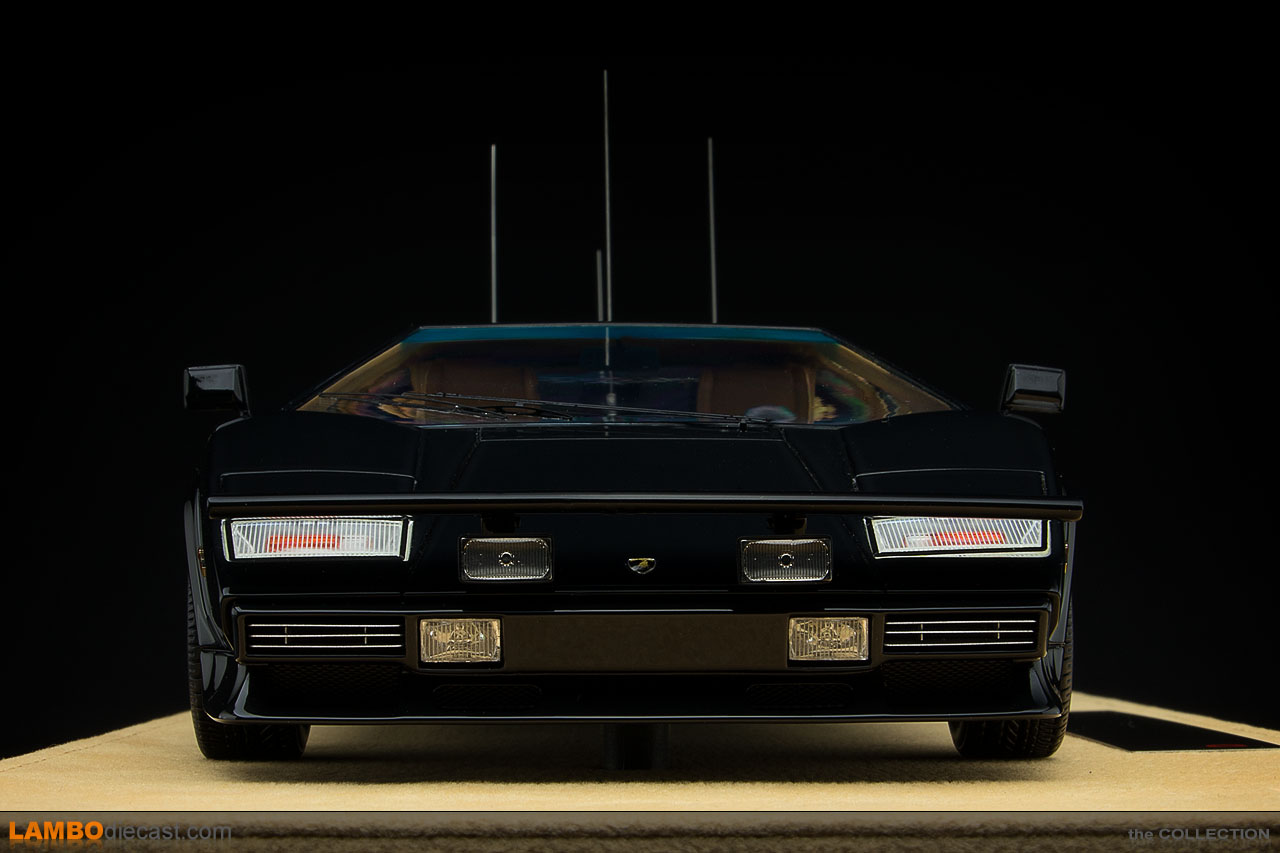 What really impressed me on this IDEA made scale model was the attention to detail, take a look at the side marker lights, at the rear a regular red rectangle (remember this was a US registered car so it had to come with sidelights front and rear), but at the front we find a rather strange looking amber light, it's also a rectangular shape, but thinner than the one at the rear, and the front one has a round shape at the end, IDEA replicated this perfectly, as they did with the special exterior rearview mirrors, the US-style rectangular ones fitted to only a handful of Countach in those days.
So I mentioned IDEA made a near-perfect copy, what's wrong then you might ask? There are a few small issues as far as I can see, but some are forgiven as the car was modified between filming and today, when compared to chassis 1121112 as she's presented today there is one mistake IDEA made, on the dashboard, in front of the passenger next to the cover for the glove box the real car has two additional gauges fitted, IDEA didn't to that.
Also note the car in the movie had very dark tinted side windows, even today the side windows are tinted, not so on this IDEA scale model, now that I can live without as it would make admiring the interior a lot more difficult, but I bought this car as a Cannonball replica, so I wouldn't mind if the side windows were darker, it's part of the car.
But while the car was driven in the movie there was a CB radio fitted on top of the angular dashboard pod, it would have been nice for IDEA to have fitted that too, but I have to admit that the real car doesn't have it anymore either, so let's say the IDEA model is a replica of the car in her current condition, IDEA did put the old-school, white telephone next to the steering wheel on the left, that's an amazing detail I really love they got right.
And guess what, IDEA made the same mistake as they did on my copper metallic Countach LP400 S, fitting the wrong tires, once again this black Countach LP400 S Cannonball Run edition comes with Pirelli P-Zero thread on the tires, while the car should be rolling on Pirelli Cinturato tires, during the restoration of the real car they even managed to obtain brand new, but old-style Pirelli Cinturato tires to fit on the silver wheels, IDEA missed that detail completely.
Bottom line
I know some might ask if this model is a must-have, even if it's a sealed resin and it comes with a high price ... and I would have to say yes, wholeheartedly yes! This is an icon, not only in the history of Lamborghini but also in both automotive history and in movie history, and despite the small issues, this IDEA scale model looks amazing and while a black car usually doesn't attract attention inside a display, this one does, just because it's so wild and different from the other Countach alongside.
I don't know if you'll be able to locate one of these IDEA IM046 models today, but if you can, try to add it to your collection, you won't be disappointed, I love this model, and while I was just collecting different makes at that time, I'm sure seeing this black Countach in the Cannonball Run pushed me into collecting Lamborghini models specifically ... or it might have been the actress, who knows?
Originally released in October 2021.
our RATING
Exterior
10/10
Interior
9/10
Engine
Not visible
Accuracy
9/10
Overall rating
9/10
Original price on October 26, 2021 : € 370