In 2013 Automobili Lamborghini SpA was celebrating their 50th anniversary, they released the Veneno at that time, but also the limited-edition Aventador LP720-4, with slightly more power than the regular LP700-4 and modified front and rear design, and more importantly, only 100 units were made in coupe form, together with 100 Roadsters.
When this celebration model was introduced it also showed a new color, created just for this model, called Giallo Maggio, and it was only available on the Lamborghini Aventador LP720-4, either Coupe or Roadster, and it was a yellow metallic with a lot of metal flake in it. Lamborghini also introduced the Q-Citura optional stitching on this model, the amazing pattern on the seats, the door panels, and also on the roof, later you could also have the panel behind the seats done in Q-Citura.
So when AUTOart released this model back in 2015, I could only afford to get the Giallo Maggio version, remember these AUTOart were always expensive models, some go down in price after the first few years, while others only go up, and that's exactly what happened with most of their Lamborghini Aventador models, prices have doubled, sometimes tripled over the last five years.
So when I saw a Blu Cepheus version listed on a second-hand website for a really decent price, I got in touch with the seller, and then he screwed me over ... long story short, he wanted almost double what he listed this one for, so I refused, I didn't want anything to do with that fraud anymore, I even reported him, but as usual, they couldn't care less.
A few weeks later I met up with a fellow collector from whom I've bought a few other AUTOart models in the past, turned out he bought this Blu Cepheus Aventador LP720-4 from that guy, for the inflated price that is, and we agreed I would add it to my collection as he now owned two of these.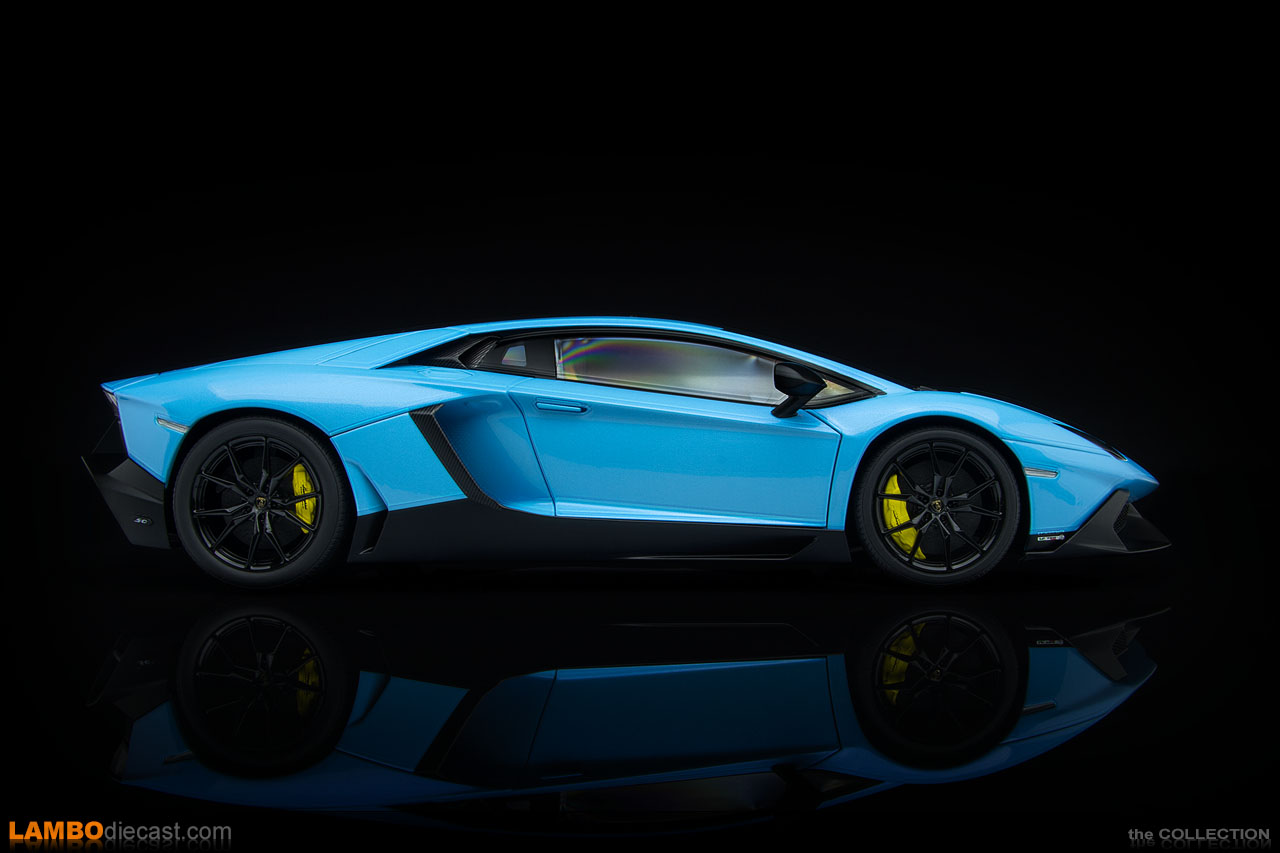 Having the model under the spotlights I have to admit this is an absolute stunner, that light blue metallic paint just shimmers under light, and the combination with that brown interior somehow works perfectly, there is even some red stitching patter on the dashboard, and black stitching on the seats.
While on the outside we get the gloss black Dione wheels, which were still an option of the LP720-4 edition, that cover yellow brake calipers, that match the springs of the suspension visible in the engine bay, keep in mind back in 2013 you had a very limited amount of colors available from the factory on these calipers, while color-coded would look amazing, that would not have been possible in real life anyway.
So in the end I couldn't be happier with this bright blue metallic 50th Anniversary edition, and while I love a white Aventador, I have to admit this blue is probably the best-looking finish overall among the four shades AUTOart released, being Giallo Maggio, Blu Cepheus, Nero Nemesis, and Bianco Canopus, I now have two of them, with two more to go, which I will add eventually just to have the complete series in my collection.
As this is just a quick review on this specific model, feel free to take a look at our in depth review of the Giallo Maggio Lamborghini Aventador LP720-4 by AUTOart.
Originally released in January 2015.
our RATING
| | | |
| --- | --- | --- |
| Exterior | | 9/10 |
| Interior | | 8/10 |
| Engine | | 8/10 |
| Accuracy | | 9/10 |
| Overall rating | | 9/10 |
Original price on October 16, 2021 : € 400