The Lamborghini Aventador LP700-4 was introduced in 2011 as the replacement for the Murciélago, at that time the LP640-4 and LP670-4 Super Veloce editions, and while we did get the Aventador J in 2012, that completely roofless V12 was a one-off, not a production car, and that meant we were all eagerly awaiting the March 2013 Geneva Motor Show to finally be able to admire an Aventador Roadster ... but that didn't happen.
We got to admire this car a little earlier, in November 2012, a few days before the LA Auto Show in the United States, Lamborghini officially unveiled the Aventador LP700-4 Roadster, and while the Murciélago Roadster had to do with a terribly difficult to mount canvas roof, that officially limited top speed to 180 km/h for safety, the Aventador Roadster used two roof lightweight, but rigid roof panels that could be stored in the frunt luggage compartment when not fitted.
The color combination of the official press release for the Aventador Roadster was a stunning Azzuro Thetis exterior over a light tan interior, a very light blue metallic shade created specifically for the Aventador Roadster, it looks like a silver metallic shade with a blue hue over it, a very nice, but not very popular color in the end on the V12 range.
AUTOart released this Azzuro Thetis as nr 74697 back in January 2015, and it is a highly sought after model today, but so are the three other shades AUTOart released, being a Giallo Orion that turned out to be more of a Giallo Maggio, a Bianco Isis that is an almost exact replica of the dealer demonstrator cars Automobili Lamborghini SpA made available before actual customer cars were ready, and a stunning, very dark metallic blue called Blu Hera, which was combined with a tan interior and silver Dione wheels.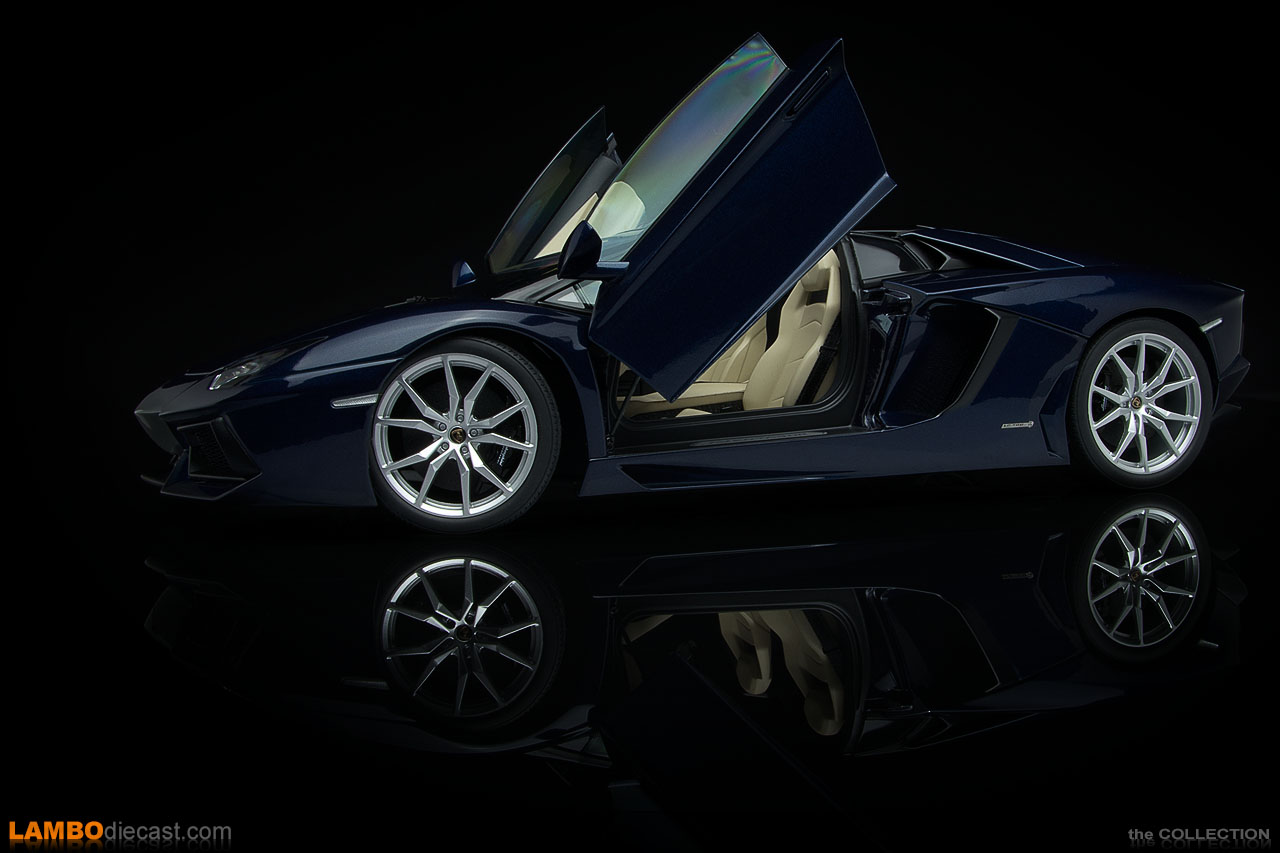 And it is this Blu Hera, nr 74698 that I was just able to add to the collection over 6 years after the Azzuro Thetis one, making it a trio now together with the latter and the Giallo one, I'm still looking for the white one as we speak, but it has to be said this dark blue metallic looks really nice, it's a very 'classy' color combination, not wild like the yellow one, or special like the press release shade, but just a classic dark blue on silver wheels with a light interior ... just a beautiful model, and AUTOart replicated it almost perfectly in 1/18 scale.
While the Azzuro Thetis was the shade seen on the press release car, the LA Auto Show car was finished in this special Blu Hera over Sabbia Nefertem, a rather light tan leather, on silver Dione wheels, exactly like this AUTOart scale model, so I'm very happy with finally being able to add this rare model to my collection.
Note that these AUTOart actually come with the two removeable roof panels, and if you really insist you can even fit them under the front hood, but I'm not trying that, to be honest, it's too fiddly. On the real Aventador Roadster you have small wind deflectors to fit at the top of the windshield when the roof is removed, even those come in the box from AUTOart, an amazing detail they got perfectly right.
I'm still looking to add the Bianco Isis version of AUTOart's Aventador Roadster, but for now I'm very happy with the trio that I already have in the collection, the fourth one will join them in the future, I'll just keep looking to find the white one for a reasonable price, and that seems to become an issue with asking prices going crazy lately, but I can wait until a deal comes up.
our RATING
| | | |
| --- | --- | --- |
| Exterior | | 9/10 |
| Interior | | 9/10 |
| Engine | | 8/10 |
| Accuracy | | 9/10 |
| Overall rating | | 9/10 |
Original price on October 16, 2021 : € 450