The LB-Works wide fender kits from Liberty Walk's Wataru Kato are a kind of 'love or hate' item in the world of high-end exotic supercars, you either like them, or you hate them ... but there is something tantalizing about rivetting fender extensions onto a $300,000 Italian made V12 exotic, slam it to the floor courtesy of an AirRex suspension and add some massive wings ... and you end up with a genuine LB-Works creation.
I already have two Lamborghini Aventador LB-Works in my collection, the famous 'Zero Fighter' livery made by GT Spirit and a near perfect replica of the first LB-Works Aventador made by Kato-San finished in bright blue made by AUTOart, so why do I need a third one you might ask?
Simple ... this one is a scale model of the new LB-Works Lamborghini Aventador Limited version, also referred to as the LB-Works v2.0, and if you look closely you'll notice a lot of difference between this one and the earlier version, for starters that stunning carbon fiber front hood with functional air vents carved into it, or those vertical fins on either side of the front bumper that complete a new lower splitter ... and let's not forget those track inspired 'canards' on the edges of the front bumper.
It looks like the front fender extension is slightly modified, but the rear fender received a nice air intake while the new side sill also shows a large vertical fin ahead of the rear wheels. The new rear diffuser boasts similar vertical fins for stabilization at high speed, both under the rear bumper and on either side of the bumper ... and just look at that amazing FI Exhaust with tips that remind us of the Aventador J, it's just a $12,000 option on the $60,000 aero kit, and that's without the nearly $10,000 AirRex air ride suspension and those stunning Forgiato wheels.
Only 50 of these LB-Works Aventador Limited kits will be made, 30 of those for the Japanese market and 20 that are sold worldwide, and it wouldn't be a Kato-San creation without an amazing new rear wing ... this time in a 'hanging' configuration, the massive carbon fiber aerofoil actually hangs from her supports, a very nice design.
The scale model
I have been looking at adding a scale model of the LB-Works Aventador Limited to my collection, but so far only Davis & Giovanni had a 1/18 scale version available ... but those are expensive, very expensive ... so I waited a little longer as I was informed another manufacturer was getting ready to release a cheaper alternative.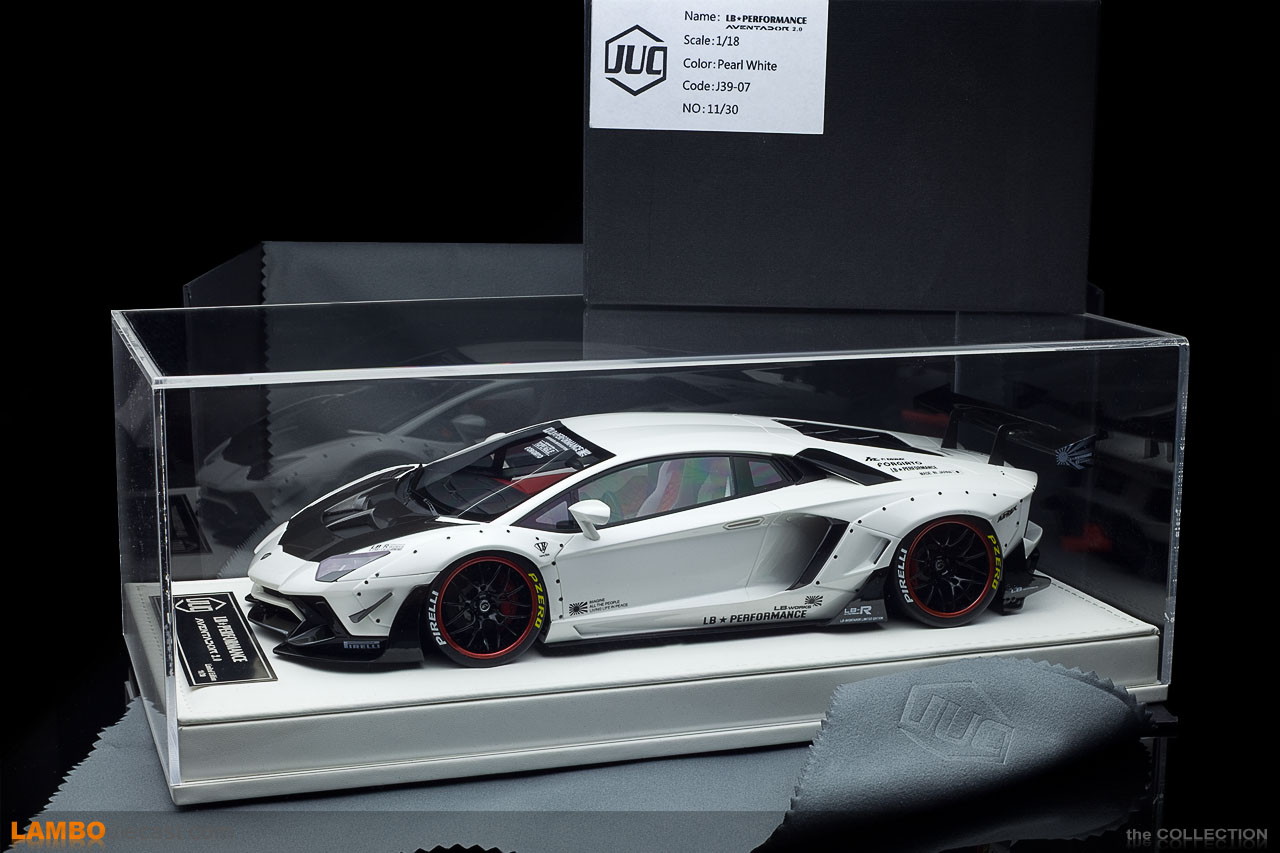 So I ended up buying this pearl white version made by JUC, and at only €240 straight from Rare118modelcars, I couldn't be happier with this one. When the large box arrived from Portugal I was really impressed by the weight of the package, this model comes on a white leather plinth (there is a carbon fiber plinth version too) with a dust cover inside a black cardboard box while being protected by a soft, grey cloth ... with JUC impression ... just amazing at this price level. And things got even better, it's limited to only 30 units.
I was very impressed with this model, the level of attention is just unbelievable at this price, now I know this is a sealed resin 'brick' and many collectors frown upon that, but I collect Lamborghini models, and I couldn't care less about this being a resin model. I would love to be able to open the doors and the engine cover ... but that would result in a much higher price, so this one will do for me very nicely.
This being a white model automatically results in a thick layer of paint, and that's visible on the model, the sharp lines of the Aventador are a bit muted by the amount of paint it seems, but still this one looks very, very nice, especially with the gloss black parts of the aero kit and the carbon fiber decals on the front hood and large rear wing ... a very nice touch from JUC is the LB Performance script on the bottom of the rear wing.
One small detail I just have to mention ... as much as I love the carbon fiber on the exterior, I can't help but notice the fact it's one large piece covering the front hood and rear wing ... on the real car I think the pattern would switch in the center of the hood, just as it would probably on the rear wing, but that's a minor detail and I'm not liking this model any less for that.
The deep concave Forgiato wheels are replicated very nicely, finished in gloss black to tie in with the front splitter, side sills, rear diffuser, and those vertical fins, these wheels cover some very nicely detailed disk brakes and red calipers, complete with 'Limited Works' script ... amazing attention to detail, just like all those decals we usually see on these Liberty Walk cars by Kato-San. I really like the 'imagine all the people living life in peace' decal on the doors of these cars and in this case, the serial number of the actual LB-Works kit mounted ... which is nr 16/50.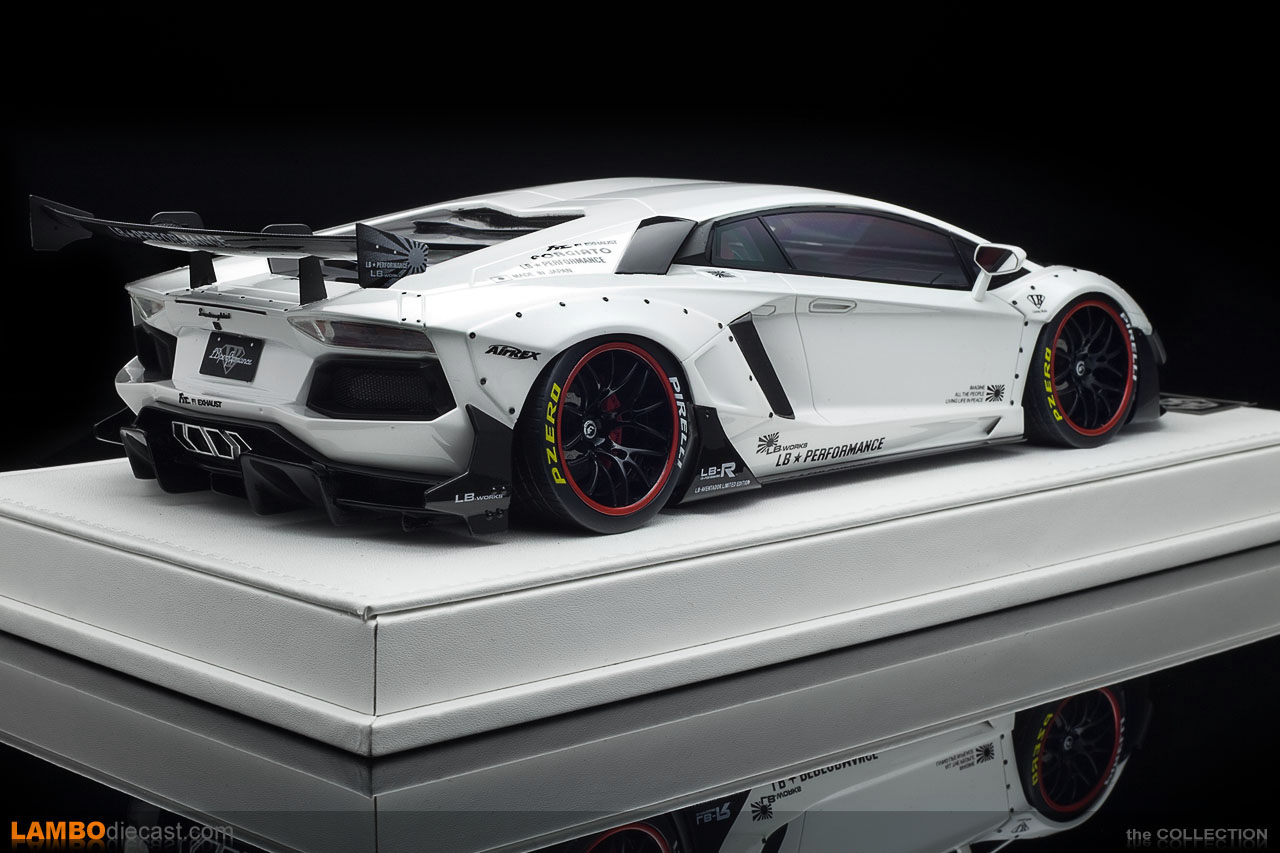 I don't know if the real 16/50 LB-Works Aventador Limited is finished in this pearl white over a white and red interior, I can't find an image of the real car, but I can just imagine someone that is going to spend nearly $100,000 extra on a Lamborghini Aventador to create one of these Kato-San specials might just go for that Q-Citura red inset on white seats combined with full carbon fiber on the door handles, central console, and the dashboard pod ... all nicely replicated by JUC inside this 1/18 scale model.
Bottom line
For me this was a real must-have model to add to my collection, I have seen a real LB-Works Aventador Limited Roadster at the Essen Motor Show and I was blown away by it, sure it isn't to everyone's taste, but the attention to detail by Kato-San to create something really special on an already exclusive car is second to none.
So is this 1/18 model by JUC perfect? In my opinion, no scale model can be 100% perfect, but this JUC is very close ... the biggest issue I found with this model is the interior, more specifically the attempt at showing the stitching pattern on the seats by using indents. These are just too large and don't look good in the end, JUC should have just left the seats alone with no stitch pattern, or use a fine line decal ... they put beautiful carbon fiber decals on the central console, dashboard pod and the door handles ... a little extra decal to mimic the stitching on the seats would have made this a near perfect model if you ask me.
The engine on this JUC model is nicely painted, I really love the red springs on the suspension and the gold anodized X cross-brace over the engine ... but it could have been ever so slightly better detailed, with the glass engine cover it looks a little forgotten when you compare the amazing looking exterior.
But in the end, I am extremely happy with this addition, I love this model and it fits perfectly with my other LB-Works Lamborghini I have in my collection, and while some might think €240 is a lot of money for a resin model, I actually think it is a very nice value for money compared to MR or D&G models ...
our RATING
| | | |
| --- | --- | --- |
| Exterior | | 9/10 |
| Interior | | 7/10 |
| Engine | | 6/10 |
| Accuracy | | 9/10 |
| Overall rating | | 8/10 |
Original price : € 240