I wasn't going to buy this model initially, it is a complete fantasy created by Khyzyl Saleem, a concept artist and illustrator living in Manchester, UK and working at EA Ghost Games ... three years ago he rendered a very wild Countach inspired model he called the Huratach ... for some reason GT Spirit decided to make a 1/18 scale model of this concept render.
We can still recognize the overall wedge shape of the legendary Lamborghini Countach, but Khyzyl Saleem turned her into a low-riding, extremely wide caricature of one of the most famous cars ever to leave the factory gates in Sant'Agata, add an extremely tall rear wing, change the taillights, put some 'canards' on the front fenders and remove the aging pop-up headlights in the process, installing small LED lights just above the front bumper, a pair of side sills run from the front wheel arch to the very, very wide rear wheel arch extension covering a set of deep dish, five-spoke wheels.
With all the modifications on the exterior, it is almost a shame neither Khyzyl Saleem nor GT Spirit came up with an interesting interior, here we still see the old, Eighties seats from the original Countach, same with the central console, dashboard, gear lever, and steering wheel ... if you are going to create a modern-day Countach with Huracan inspired taillights, why not create a more modern interior too, with Huracan lightweight carbon fiber seats, a digital dashboard and naturally a DCT transmission ... a manual gearbox on a V12 supercar is a thing of the past these days.
The scale model
So did GT Spirit do a good job on turning the Khyzyl Saleem Huratach into a 1/18 scale model? Without a real car to compare to, and only a few 3D renders found on the internet, it is hardly possible to make up a statement about this ... as far as I can see this model looks close enough in the end.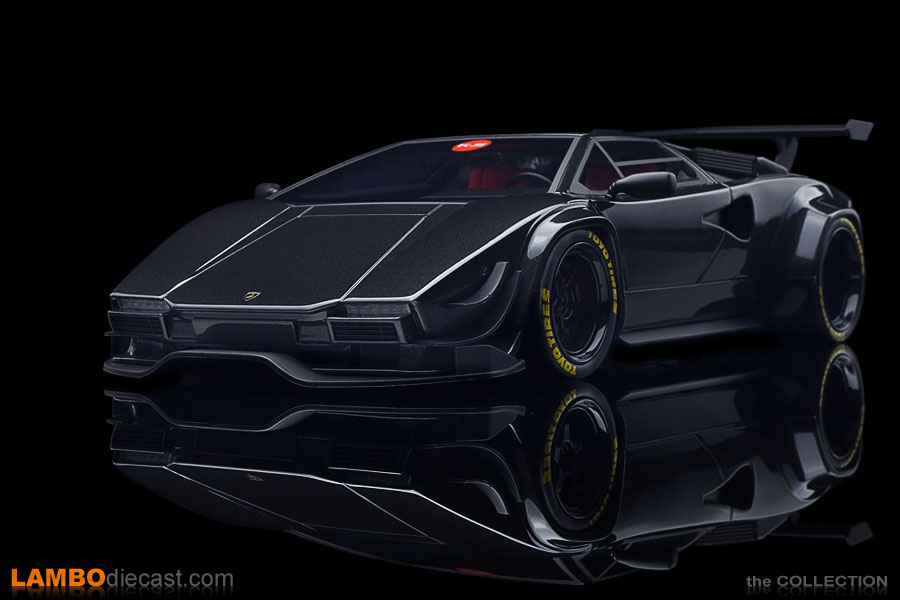 The red dot on the windshield with the KS logo seems a 'liberal interpretation' as the only render I could find of the dark grey version came with a 'Toyo Tires' logo on the windshield, a rear view of a white Huratach showed a more standard Countach rear wing ... so I guess GT Spirit took some liberties with this model, or they contacted Khyzyl Saleem and he gave them new, slightly different renders to work with.
I was under the impression the render showed a black Huratach, but the GT Spirit model comes in a very dark grey metallic shade with red seats on the inside, also note there is a dark red metallic edition available too, which honestly looks rather nice ... but I preferred this intimidating looking dark shade for my collection.
Bottom line
So I always try to answer the question of adding this model to your collection ... and this one is even harder than usual for me ... I usually do not even buy a fantasy shade on a specific model, for instance, the Sesto Elemento ... in real life, they only made this car in clear carbon fiber, so why would you add a model finished in black, or pink, I just don't get it, same with the Veneno ... I really love it in satin black made by AUTOart, but it doesn't exist in this shade in real life, so I don't buy it.
Now, this one comes along ... a car that doesn't even exist in real life, so why did I buy it? I have to admit I was in doubt for a long time about this model, there is no Huratach on the road or in a museum, so what's the point of owning a scale model then ... well, I couldn't resist the looks of this model, and I'm one of those people that had a poster of a Countach on their bedroom wall, so the Countach has a special place in my heart ... this is a crazy model by all accounts ... a non-existent car ... but it looks good and I added it anyway.
Originally released in January 2019.
our RATING
Exterior
8/10
Interior
8/10
Engine
Not visible
Accuracy
8/10
Overall rating
8/10
Original price : € 110