diecast
Lamborghini P132
1/43 by White Box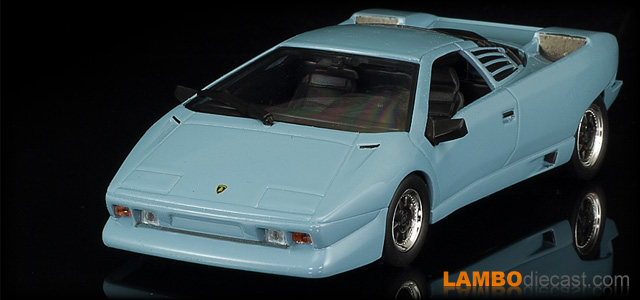 The Lamborghini P132 Prototype was built as a replacement for the Countach, this would later evolve into the Diablo
Lamborghini P140
1/43 by White Box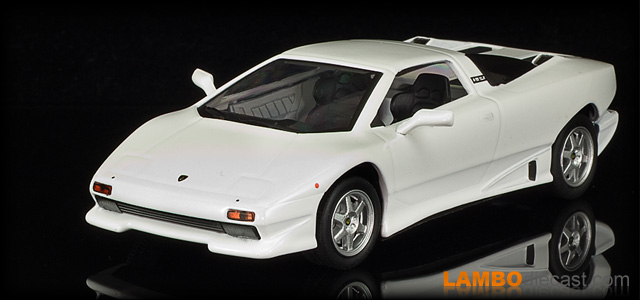 The Lamborghini P140 was a prototype meant to succeed the Jalpa, it never materialized into production until the Gallardo came around
Lamborghini Reventon
1/18 by Mondo Motors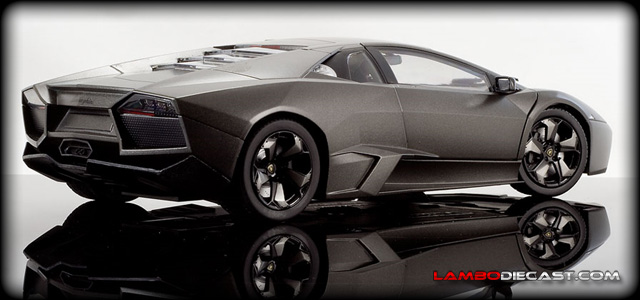 The very limited Lamborghini Reventon was nicely re-created in 1/18 scale by Mondo Motors, fit and finish are good and it even features side windows and boasts the amazing matte paintjob.
Lamborghini Reventon
1/18 by Bburago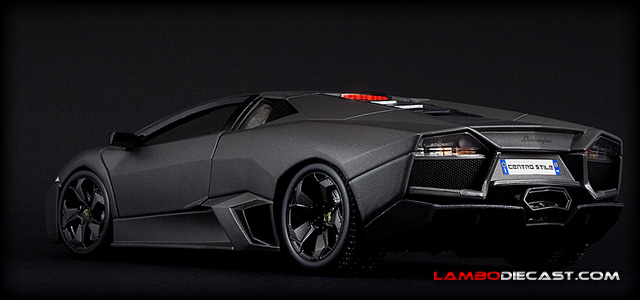 I had this Bburago made 1/18 scale Lamborghini Reventon in my collection for a while now, until I found out I didn't add it to the line up ... so here it is.
Lamborghini Reventon
1/24 by Mondo Motors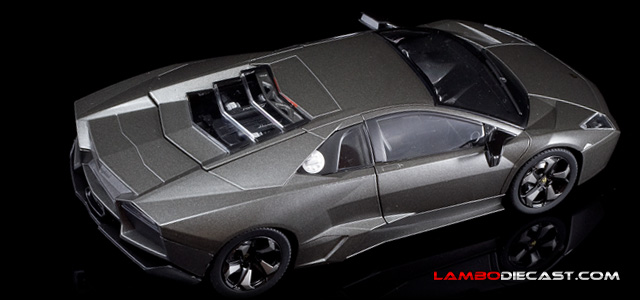 Yet another Lamborghini Reventon made by Mondo Motors, this time in a smaller 1/24 scale however, and frankly it looks really nice, especially if you display it together with it's larger and smaller counterparts.
Lamborghini Reventon
1/43 by Mondo Motors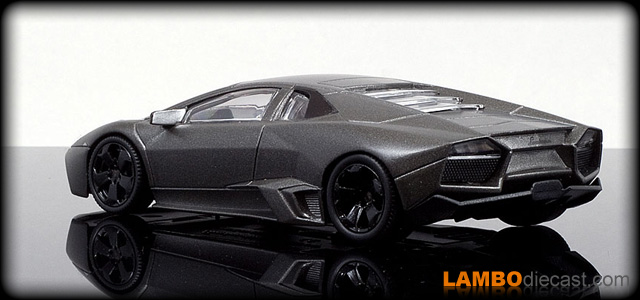 The small 1/43 scale model of the Lamborghini Reventon by Mondo Motors is more a toy than a die cast, but still it's a part of our collection.
Lamborghini Reventon GT
1/18 by APM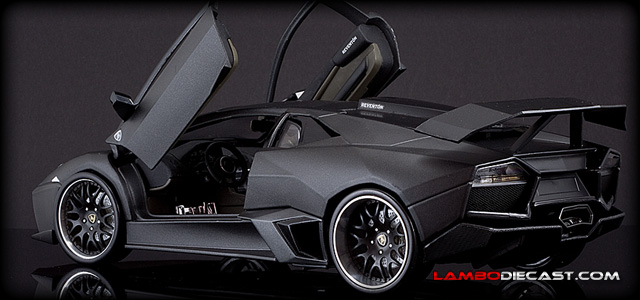 This modified 1/18 model has been turned into a Reventon GT, I don't think it actually exists in real life, but you must admit that it looks different nonetheless.
Lamborghini Sesto Elemento
1/24 by Bburago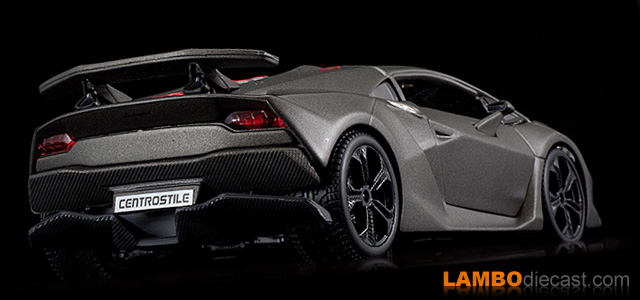 Another diecast model of the unique Lamborghini Sesto Elemento has been released by Bburago this time, only in the smaller 1/24 scale, but still it is a Lamborghini.
Lamborghini Tractor
1/24 by Ros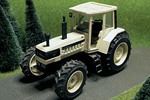 Lamborghini tractors are not so obvious in smaller scale, Ros made two, this is one of them.
Lamborghini Tractor
1/24 by Ros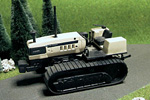 This Lamborghini tractor has caterpillar tracks, amazing in this 1/24 scale
Lamborghini Tractor 190 Racing
1/24 by Ros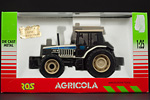 An older version of a Lamborghini Tractor, this time a 1/25 scale model by Ros.
Lamborghini Tractor DL 30C
1/43 by Universal Hobbies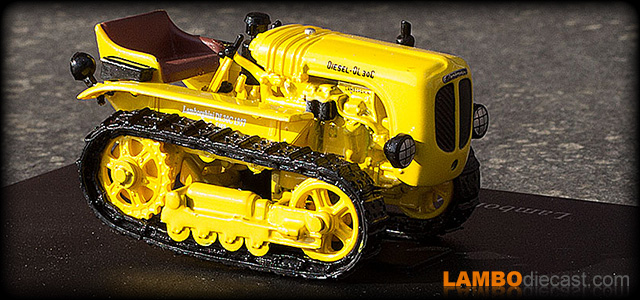 A very nice, small scale Lamborghini tractor, the DL30 C was built in 1957 and came with tracks instead of wheels, nicely scaled down by Universal Hobbies
Lamborghini Tractor Nitro 130 VRT
1/32 by Universal Hobbies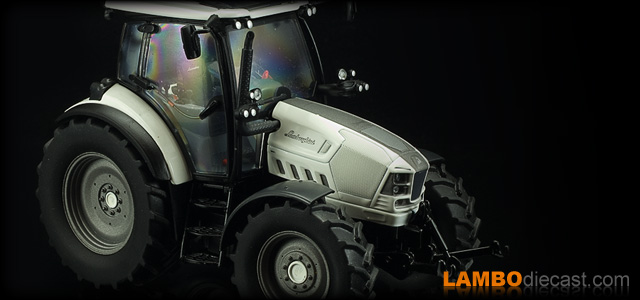 The Lamborghini Nitro 130 VRT is another modern tractor from Lamborghini Trattori finished in their new, white metallic shade.
Lamborghini Tractor R3 EVO 100
1/32 by ROS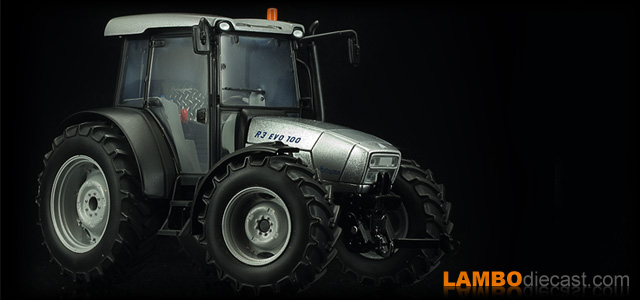 The Lamborghini R3 EVO 100 tractor is a smaller version of their large R8 model, but it is still a real Lamborghini
Lamborghini Tractor R6 165.7
1/32 by ROS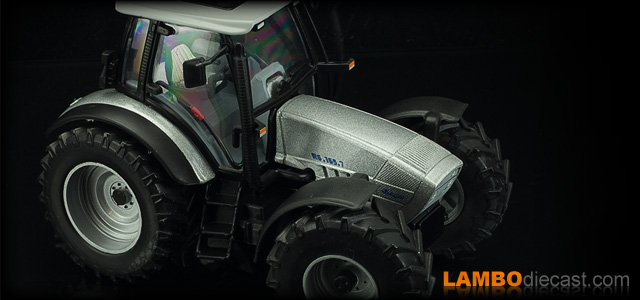 The Lamborghini R6 tractor might not be the largest they offer, but it is another big tractor from the famous Lamborghini Trattori company