I took an in-depth look the 1/18 scale version of the 1999 Lamborghini Diablo GT made by Kyosho last week, finished in orange metallic, that model is a near exact replica of the actual press release car Lamborghini showed back in 1999, the same livery that was tested by several car magazines, and that specific Arancio Atlas shade was also used on the Diablo GT that was kept at the Museo Lamborghini in Sant'Agata, next to the factory.
You all know I always try to get hold of a model finished exactly like the original presentation model, so I was happy when Kyosho released just that, despite the little plaque behind the driver's seat showing 37/80, which denotes that specific car belonging to a customer (the factory kept nr 80/80 for the museum) ... this was almost identical to the factory presentation car (00/80 by the way) ... and then I found out just how good the silver metallic GT Spirit made version looked ... I just couldn't resist adding that one to my collection too.
The scale model
I've gone over the details of these 1/18 Lamborghini Diablo GT models by GT Spirit/Kyosho in my review of the orange model (linked above), but a quick overview shows that there is in fact only one flaw to be really important on these models, the glossy black parts on the exterior (rear wing, rear lower diffuser, side sills, and the front bumper) should all be finished in glossy carbon fiber, not in gloss black, even the taillight surrounds should be showing the carbon fiber weave ... but not on these models, so we'll have to live with it.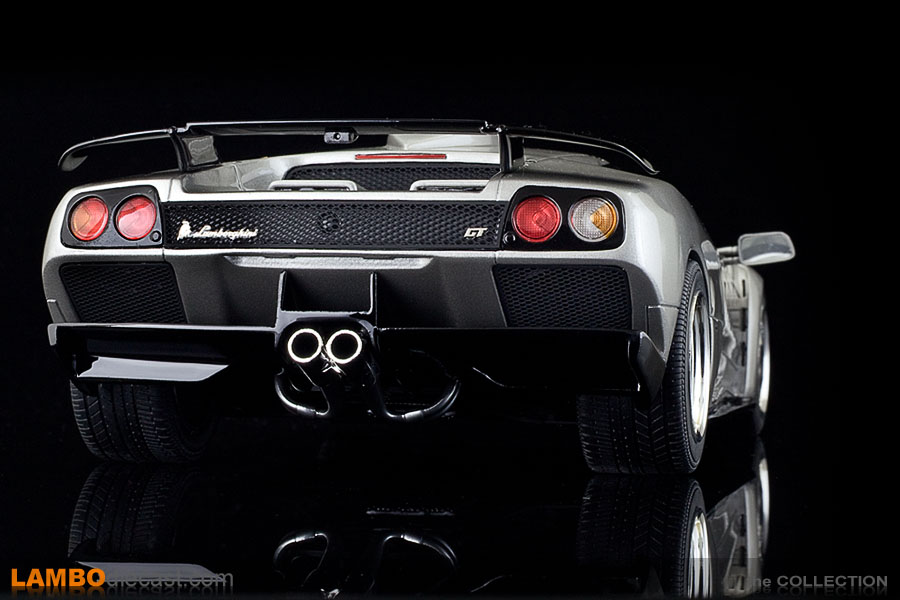 One interesting detail I noticed about this GT Spirit version was the fact they used a different serial number between the two, the orange metallic Kyosho release shows nr 37/80, while this silver metallic GT Spirit one comes with number 11/80 on the plaque ... a very nice detail ... which they got totally wrong.
The Lamborghini Diablo GT 11/80 isn't finished in silver metallic, it's a black car that was located in Japan in August 2018, and to make things even worse ... the actual nr 11/80 is fitted with black leather comfort seats, and not these impressive two-tone racing seats ... so while it seems Kyosho got it right with nr 37/80 being an orange metallic Diablo GT in real life, their GT Spirit counterpart not only got the shade wrong on nr 11/80, but also the seats on the actual car.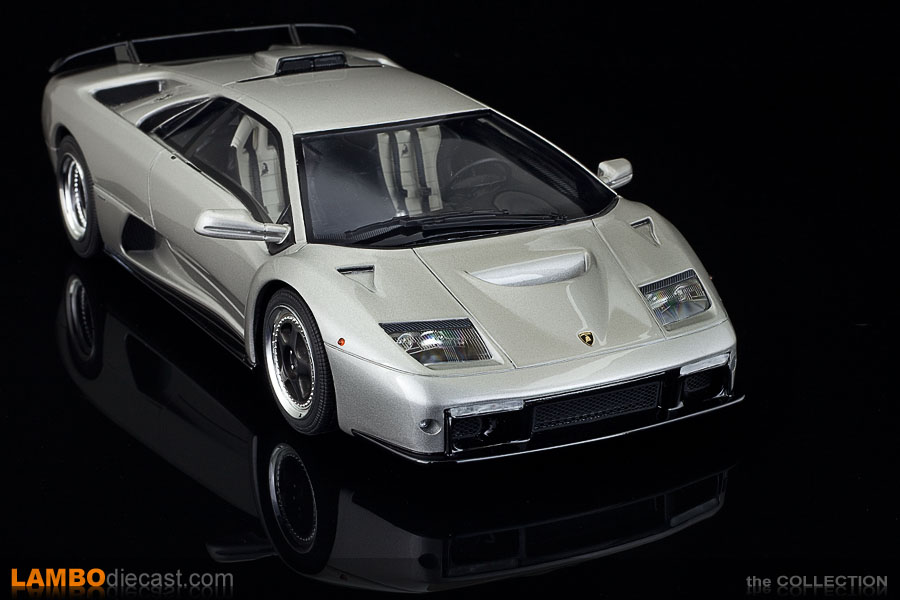 Now that is unfortunate, but only a handful of insiders would notice this mistake, and in the end I have to admit this silver metallic, 1/18 scale Diablo GT looks extremely nice, the paint finish is amazing, even on a shade like this, they managed to get a very deep shine, and the two-tone black and grey seats on the inside complement the exterior perfectly ... and this actual combination with the racing seats does exist in real life, so why didn't they use that serial number for their model ... I don't know, licensing perhaps?
Bottom line
I already owned the orange Diablo GT from Kyosho, so why did I buy this silver metallic GT Spirit version too? Just because it looks absolutely gorgeous, even in this less impressive shade ... you have to admit a bright orange metallic Lamborghini draws more attention than a silver one.
If you would ask me to make a choice between the two ... I would keep the orange one for sure, it is so beautiful, even if Kyosho didn't get the shade right (it's too saturated compared to real life) while silver metallic is a little plain on an intimidating car like this, but that's my personal opinion, if you like this one better, please go ahead and add it ... I also think the orange one is a lot harder to obtain now, it's been sold out quickly.
One more thing about the Lamborghini Diablo GT ... one sold for €815,000 at auction in 2018 ... this clearly shows the Diablo GT and the Diablo SE30 are the most sought after Diablo models in real life today, so you really should add these to your scale car collection too.
Originally released in October 2018.
our RATING
Exterior
8/10
Interior
8/10
Engine
Not visible
Accuracy
8/10
Overall rating
8/10
Original price on November 26, 2018 : € 120